For one of my live-streams for the Food Network, I made a cake with a cookie dough filling.
I've made a few cookie dough cakes in the past (like my funfetti cookie dough cake or my ultimate cookie dough cake), and feel like I've finally perfected my recipe for edible cookie dough.
I love filling cakes and cupcakes with cookie dough, and I figured it was time I post the recipe for my cookie dough cake filling.
Why This Cookie Dough is Safe To Eat Raw
This cookie dough is safe to be consumed raw for two reasons.
The first is that this recipe doesn't use eggs! The second reason is that the flour is heated to a safe temperature before being added into the dough.
To ensure your cookie dough is safe to eat raw, you can either use heat-treated flour (if you can it), or you can microwave your flour.
To make sure your flour is safe, you can pasteurize in the microwave.
I know it sounds a little crazy, but if you heat it for a little over a minute, it should be good to go!
Just be sure that the internal temperature reaches 160 degrees Fahrenheit.
Ways to Use this Cookie Dough Cake Filling
This recipe is so versatile, and can be used in so many different ways! Of course, edible cookie dough balls are the first thing that come to mind for me.
You can snack on them, add them on top of ice cream, or roll them into tiny balls to top just about any dessert. I like to think of them as cookie dough sprinkles!!
You can also use this recipe to make cookie dough disks to fill cakes! This takes a bit more time. The good news is you can shape them in ahead of time to make cake assembly a breeze.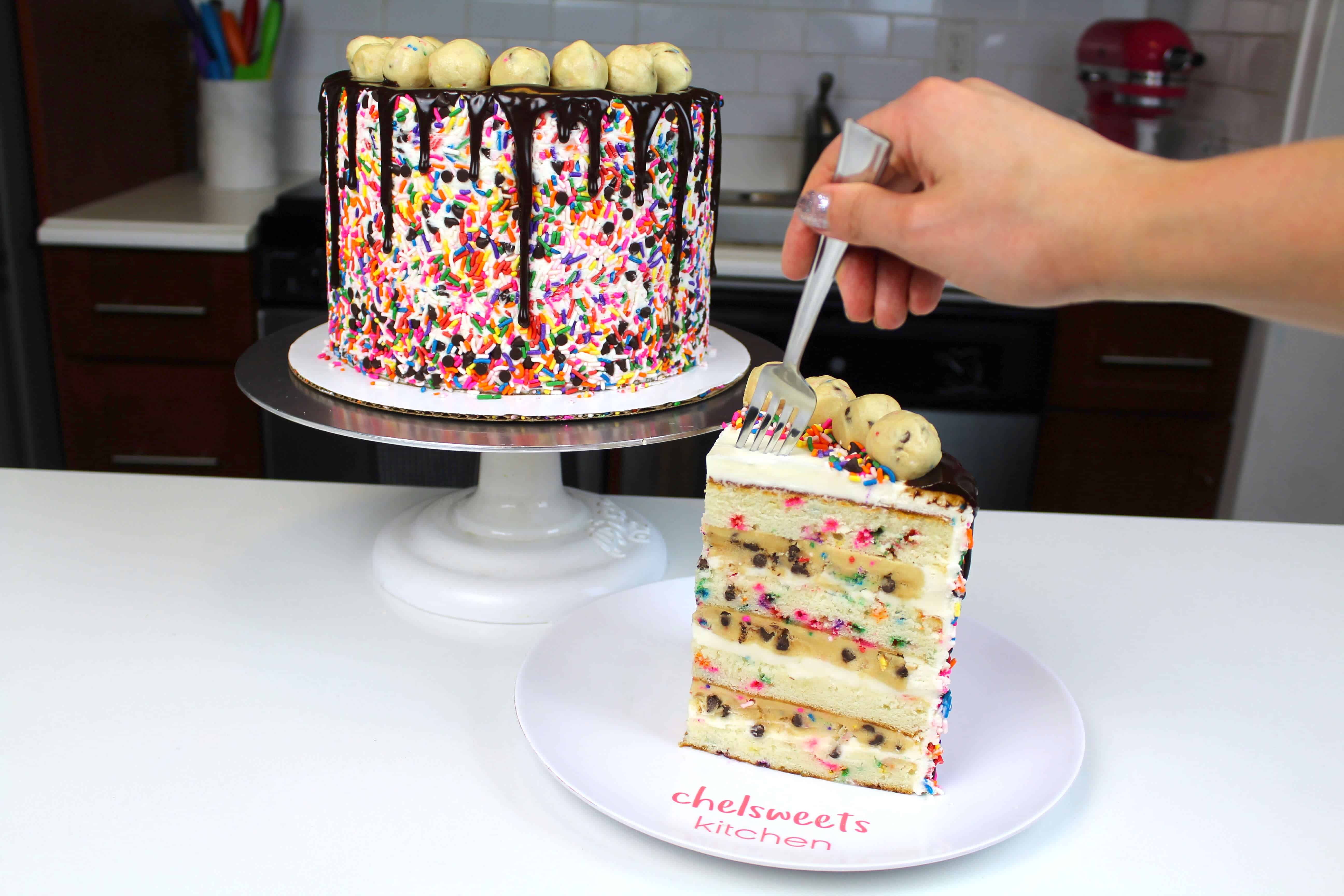 Making This Edible Cookie Dough in Advance
This cookie dough can be made far in advance, and frozen! It keeps for up to 1 month in the freezer, if you can resist eating it 😛
I like to form the cookie dough into whatever shape I will need down the road once I make a batch.
This could mean rolling a batch into uniformly sized balls to decorate a cake.
It also could mean shaping disks slightly smaller than the size of my cake layers, to use as cake filling.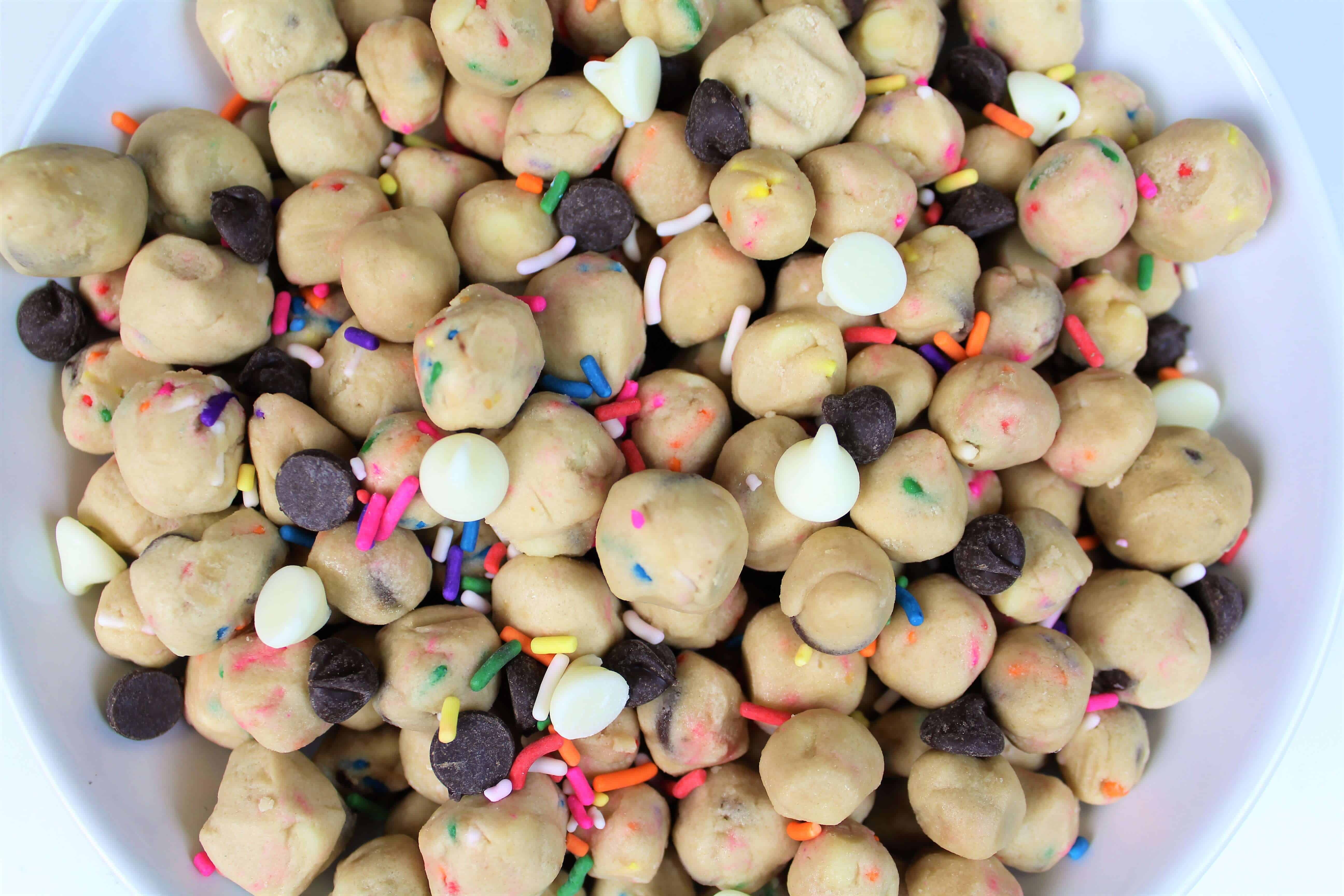 With cookie dough balls, I usually place them in an airtight container before popping them into the freezer.
My cookie dough disks are prepped a bit differently though!
I like to double wrap them in plastic wrap, and place then on cake boards so that they freeze nice and flat.
I also LOVE making mini cookie dough balls to snack on! They're so cute when they're bite sized.
It makes you feel like you're allowed to eat wayyy more when they're miniature sized.
If you ever want to be the hero of a party, bring these edible cookie dough bites. Just make sure you bring a ton, because these things go fast!!
Tips for Making the Best Cookie Dough Filling:
Don't overmix the dough! Mix until the flour is just incorporated
Feel free to have fun adding in your favorite mix-ins! In this recipe I chose mini chocolate chips, white chocolate chips and sprinkles, but butterscotch chips, peanut butter chips, or even bits of Oreo would be delicious!
Be sure not to use more than 2 cups of mix ins, otherwise the dough can have a hard time sticking together
This recipe makes enough batter to fill and decorate an 8 inch layer cake. If you don't want to make that much cookie dough, I recommend making a half batch.
A half batch of this recipe is enough to fill and decorate 1-2 dozen cupcakes, or a 6 inch layer cake
Let Me Know What You Think!
If you try this cookie dough cake filling recipe, I'd love to hear what you think!
Please leave a comment below, and let me know how you liked it.
Yield: 4
Cookie Dough Cake Filling
This cookie dough cake filling is super easy to make, and absolutely delicious! It tastes great on its own, and also an amazing inside cupcake and cakes!!
Ingredients
Edible Cookie Dough Filling
1 1/2 cups unsalted butter, room temperature (339 grams)
2 1/4 cups light brown sugar (495 grams)
1 tsp salt (6 grams)
1 tsp vanilla extract (3 grams)
1 cup mini chocolate chips (160 grams)
1/2 cup mini white chocolate chips (86 grams)
1/2 cup rainbow sprinkles (88 grams)
2 1/4 cup all-purpose flour, heat-treated (or heated in the microwave for about 1 minute to reach 160 degrees F) (292 grams)
2 Tbsp heavy cream (30 grams)
Instructions
Cookie Dough Cake Filling:
Cream together the unsalted butter and light brown sugar in a large bowl with a whisk or paddle attachment.
Add in the salt and vanilla extract. Mix on a low speed until incorporated.
Mix in the heat treated flour on a low speed. Scrape the sides of the bowl with a rubber spatula as needed.
Add in the heavy cream, and mix on a low speed.
Pour in the chocolate chips, mini white chocolate chips, and rainbow sprinkles. Gently pulse your stand mixer or hand mixer to slowly mix in these ingredients.
Notes
This makes bout 4 cups of edible cookie dough, which is enough cookie to fill and decorate a layer cake made with 4, 8 inch cake layers.
If you want to use this cookie dough filling to fill and decorate a dozen cupcakes, make a 1/4 of a batch.
If you want to be sure your flour is safe to consume raw, you can pasteurize it by microwaving it! Just be sure that the internal temperature reaches 160 degrees Fahrenheit.
This cookie dough can be made in advance, and stays good in the fridge for up to a week in an airtight container, or up to a month in the freezer.
Nutrition Information
Yield
4
Serving Size
1
Amount Per Serving
Calories

1723
Total Fat

98g
Saturated Fat

57g
Trans Fat

0g
Unsaturated Fat

36g
Cholesterol

196mg
Sodium

647mg
Carbohydrates

210g
Fiber

5g
Sugar

148g
Protein

11g