When my initial avocado frosting recipe was a success, I naturally progress to adding avocados to my cake recipe. That's how this chocolate avocado cake came to be.
I couldn't quite picture vanilla avocado cake layers. It just seemed too creepy. Instead, I ended up incorporating them into my go-to chocolate layer cake recipe.
I decided to use the same strategy as before, swapping the butter for avocado, using a 1:1 ratio.
The chocolate cake batter ended up having a similar consistency and baked up very nicely!
I leveled the fully cooled layers and then tackled my next challenge.
Filling This Avocado Chocolate Cake
While I loved the way the avocado frosting tasted, I wanted it to be a bit stiffer, so that it would be easier to frost with.
I decided to use some of my American buttercream to act as a dam. This helps keep all the wonderful avocado frosting in place.
Even with the normal buttercream, each bite of cake still had a faint (and refreshing taste) of avocado.
Begin by baking four, seven-inch chocolate avocado cake layers, and preparing the avocado frosting and american buttercream.
Assembling This Chocolate Avocado Cake
Once the layers are fully cooled, stack and frosting them.
Spread an even layer of vanilla buttercream on the cake layer. Chill the cake in the freezer for a couple minutes.
Once it has started to firm up, pipe a second layer of avocado frosting on top of the first layer of frosting, leaving a 1 inch border.
If desired, pipe a ring of vanilla buttercream around the avocado buttercream, to ensure it does seem out the sides of the cake.
Repeat this process with the remaining cake layers, until they are all stacked.
Cover the cake in a thin crumb coat of vanilla buttercream.
Chill in the freezer for about 5 minutes, until the frosting is firm to the touch.
Next I went a little rouge, and decided to just cover the whole cake in avocado buttercream!
Decorating This Avocado Cake
To really get the avocado point across, I decided to place an avocado rose on top!
Before this avocado-inspired baking streak, I'd never purchased an avocado. I also had never attempted an avocado rose!!
But YouTube is a beautiful thing. After watching a quick tutorial, I tried my hand at making my first avocado rose.
The most important things to keep in mind as you make an avocado rose? Try to cut the avocado as thinly and uniformly as possible.
I don't really cook, so my knife skills are far from perfect. Please note the destroyed avocado I tried to quickly cut on the left side of the cutting board.
But if you take your time, you'd be surprised at what you're capable of 🙂
I think my avocado may have been slightly overripe, but it still came together pretty well!
I was very gentle as I shaped my avocado slices into a tall U shape, and then rolled the whole thing into itself, to create a swirl.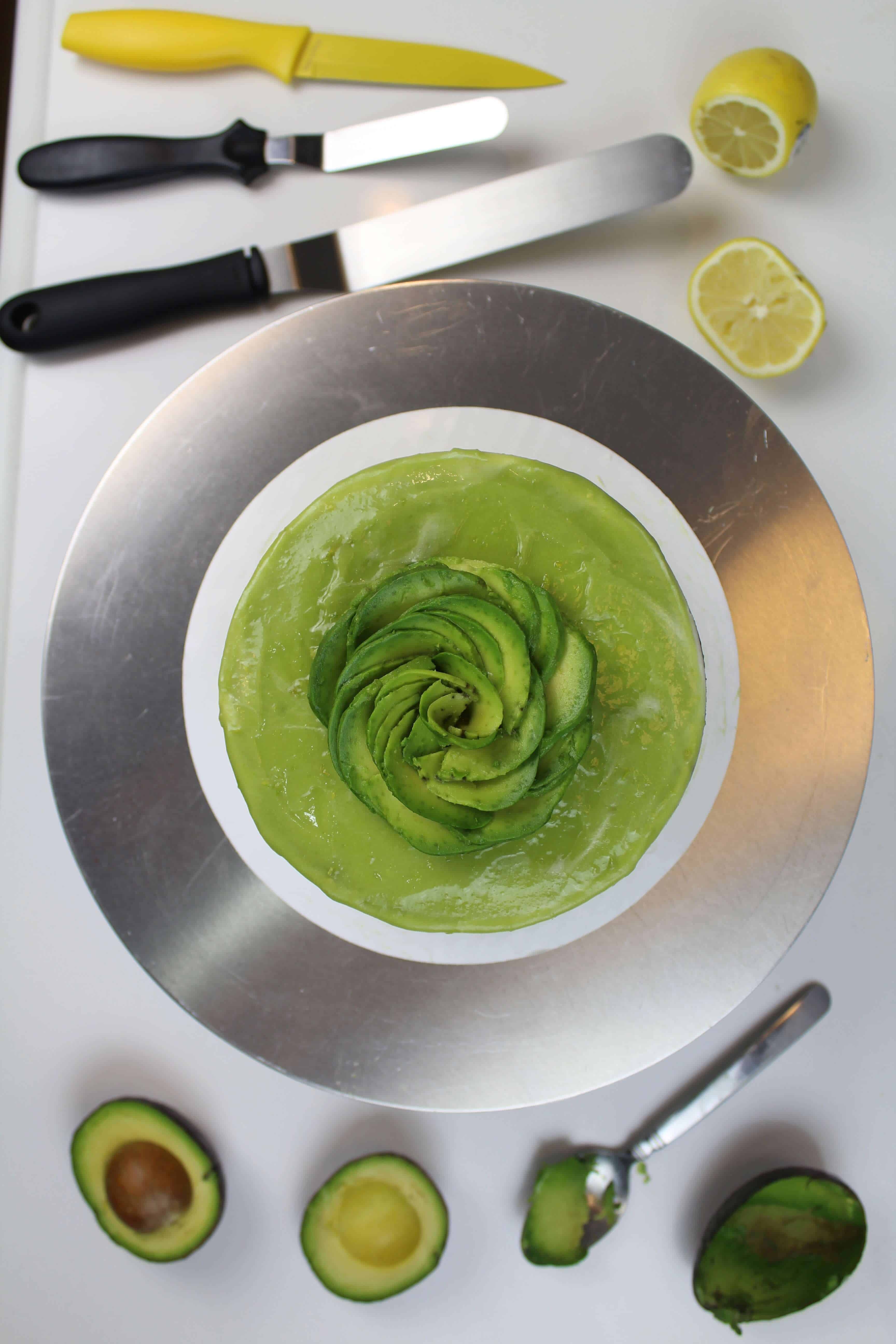 Once it was fully shaped, I fanned out the edges of the avocado rose to give it a bit more life. I sprinkled some lemon juice over it to prevent it from browning.
And that was it! Nothing to crazy on this cake! Just a lot of avocado, and a bit of chocolate 🙂
Let Me Know What You Think!
If you try this chocolate avocado cake recipe, please tag me @chelsweets. Please leave a rating, and let me know your thoughts in the comments section.
Also use the #chelsweets so that I can see your baking!
Avocado Chocolate Layer Cake Recipe
This is a play on my go-to chocolate cake recipe, but I've swapped the butter for avocado! The result is an indulgent, moist chocolate cake with subtle hints of avocado.
Servings
1
seven-inch layer cake
Ingredients
3

cups

all-purpose flour

2.5

cups

granulated sugar

1

tsp

salt

1.5

tsp

baking powder

1

tsp

baking soda

4

eggs

room temp

1

cup

ripe avocado meat

1

cup

hot water

1

cup

buttermilk

room temp

1

cup

black cocoa
Instructions
Instructions
Begin by preheating the oven to 350 degrees Fahrenheit. Line four 7 inch or 8 inch pans with parchment rounds, and spray with non-stick spray.

Add the sugar and avocado into the bowl of a stand mixer, and whisk on high for 1 minute. The mixture should become lighter in color.

Add in the eggs, one at a time. Then add baking soda, baking powder, and salt. Mix on high for another minute.

In a separate bowl, combine the cup of hot water, and cup of buttermilk. Pour in the cup of black cocoa, and whisk until no clumps remain.

Next, add 1 cup of flour into the avocado /egg mixture. Scrape the sides of the bowl with a spatula, to ensure the flour is fully incorporated.

Pour in half of the buttermilk / cocoa mixture, and gently pulse the mixture to incorporate the liquid (if you don't, you'll end up splattering the cocoa mixture all over you kitchen!

Mix in the 2nd cup of flour, at a medium speed. Pour in the remaining buttermilk / cocoa mixture, and again gently pulse, then mix on low until fully combined.

Add in the last cup of flour, and mix on low until the flour is incorporated. Mix on high for 30 additional seconds, to incorporate a bit more air into the batter.

Evenly divide between the four prepared pans. I like to use a kitchen scale to ensure each pan has exactly the same amount of batter.

Bake according to the size of pan. For 7 inch layers, bake for 35-37 minutes. For 8 inch layers, bake for 32-33 minutes, or until a skewer comes out clean.

Allow layers to cool in the pans for about 10 minutes, then run an offset spatula around the edge of the pans to help separate the layers from the pans.

Place the pans in the freezer for about 45 minutes, to accelerate the cooling process. Once the layers are fully cooled, carefully flip the pans and remove the layers.

Use a serrate knife to level the tops of the layers, and then frost as desired.
Avocado Frosting Recipe
This recipe only uses 3 ingredients, and is VEGAN! It also is delicious, and perfect for anyone who loves avocados!
Ingredients
1

cup

ripe avocado meat, about 2 small avocados

(8 oz)

4

cups

powdered sugar

(450 grams)

1

Tbsp

freshly squeezed lemon juice
Instructions
Instructions
Slice and remove pit from avocados. Place into mixing bowl, and beat on a low speed using the whisk attachment until relatively smooth.

Mix in lemon juice. This will prevent the avocados from browning.

Gradually mix in the powdered sugar, one cup at a time. Scrap down the sides of the bowl after each addition, to ensure the ingredients are fully incorporated.

This frosting can be made in advance, and stored in the fridge for up to 3 days.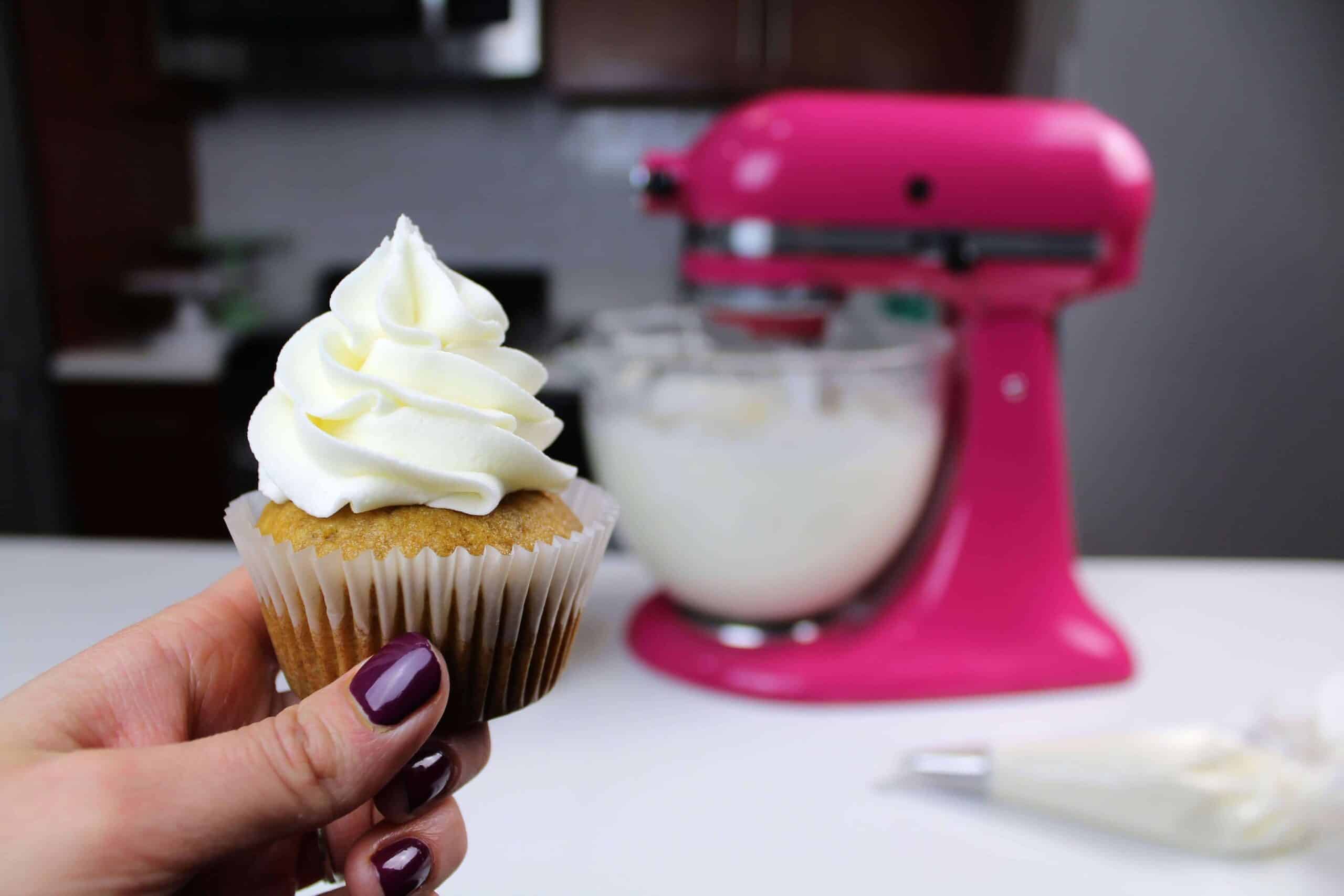 Small Batch Vanilla Buttercream Recipe
This is a smaller batch of my favorite vanilla buttercream! It's great for a batch of cupcakes, or a smaller cake (6 inches or less).
Ingredients
1

cup

unsalted butter, room temperature

(217 grams)

4

cups

powdered sugat

(454 grams)

1

pinch

salt

(2 grams)

1

Tbsp

heavy cream (or whipping cream)

(15 grams)

2

tsp

vanilla extract

(8 grams)
Instructions
Instructions
Beat the butter on a medium speed for 30 seconds with a paddle attachment, until smooth. Slowly add in the powdered sugar, 1 cup at a time. Alternate with small splashes of cream.

Once fully mixed, add in the vanilla and salt, and beat on low until the ingredients are fully incorporated, and the desired consistency is reached.

If the frosting is too thick, add in additional cream (1 teaspoon at a time). If the frosting is too thin, add in more powdered sugar (quarter of a cup at a time).
Recipe Notes
If you are making frosting for a cake, it is important to mix the buttercream on low at the end of the process for a couple minutes, to get out any extra air that might have be incorporated during the mixing process. This will make it easier to get super smooth sides on your cake!