Even though it's not quite s'mores season right now, there's no reason we can't enjoy this s'mores cupcake recipe!
The gloomy winter weather always gets me a little down, and the thought of toasted marshmallows and chocolate perks me right up.
These cupcakes are made with moist chocolate cupcakes, and the centers are filled with marshmallow cream and chocolate ganache.
I also threw some graham cracker crumbs in there, because it isn't a s'more without graham crackers!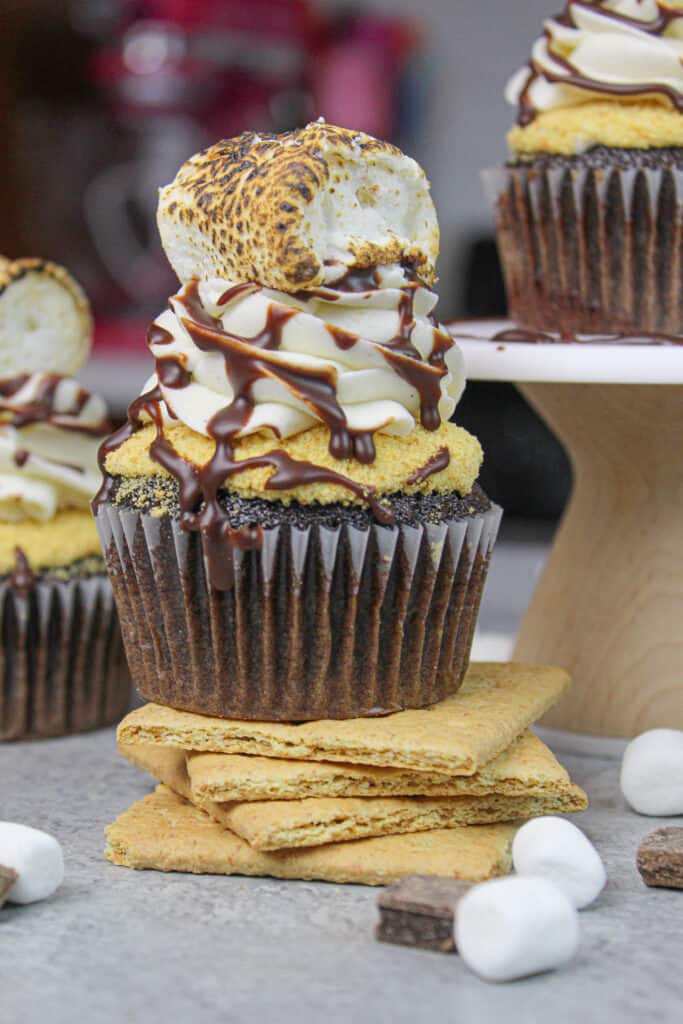 Chocolate Cupcake Base
I used my moist chocolate cupcake recipe as the base for this cupcake. However, I did make a couple changes to it!
For this s'mores cupcake recipe, I decided to include less instant espresso to let the marshmallow flavor shine through. If you're not a fan of coffee, you can omit it from the batter.
I also chose to use regular baking cocoa rather than black cocoa like the original recipe calls for. While I think black cocoa is great, it's not really that classic chocolate flavor that you image when you think of a s'more.
It sounds a little crazy, but this cupcake recipe uses chocolate chips. You add them into a bowl with hot water and cocoa powder, which melts the chocolate into a smooth chocolaty mixture.
I like my s'mores with milk chocolate, so I also used milk chocolate chips in this cupcake recipe. However, if you prefer dark chocolate you can use that too!
Marshmallow Cream Filling
These cupcakes also have a fun surprise inside. They're filled with marshmallow cream! To keep things simple, my marshmallow cream filling is made with just two ingredients.
I would've just filled the cupcakes with marshmallow fluff, but it's a little too stiff to pipe. To thin it out, I mixed in some heavy cream.
This makes it much easier to add the filling into each cupcake. It also makes the texture of the filling a bit creamier, which is an added bonus!
Adding That Toasted Marshmallow Flavor
The finishing touch on this s'mores cupcake recipe is a toasted marshmallow.
I initially thought about adding the toasted marshmallow into the center the cupcake, but I worried it would firm back and up once the cupcake was decorated.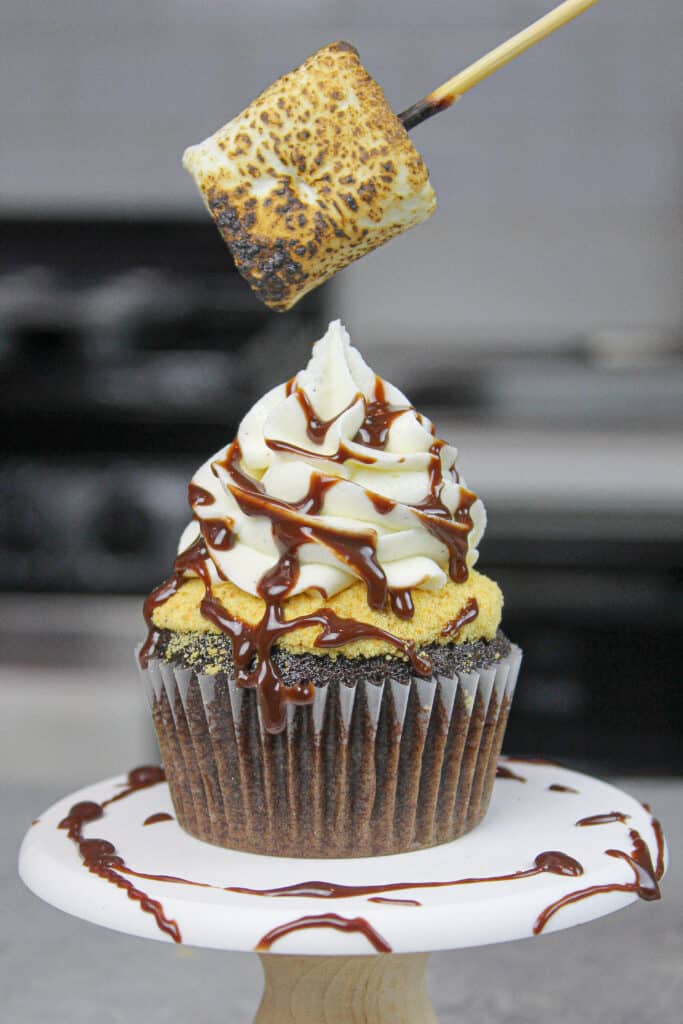 Instead, I decided to add it to the top of the cupcake, almost like a massive, gooey garnish! I liked this idea better, because it enables you to add the marshmallow right before serving the cupcakes!
This guarantees the marshmallow will be warm and gooey as your friends and family bite in!! And to me, that's the most important and defining characteristic of a s'more 🙂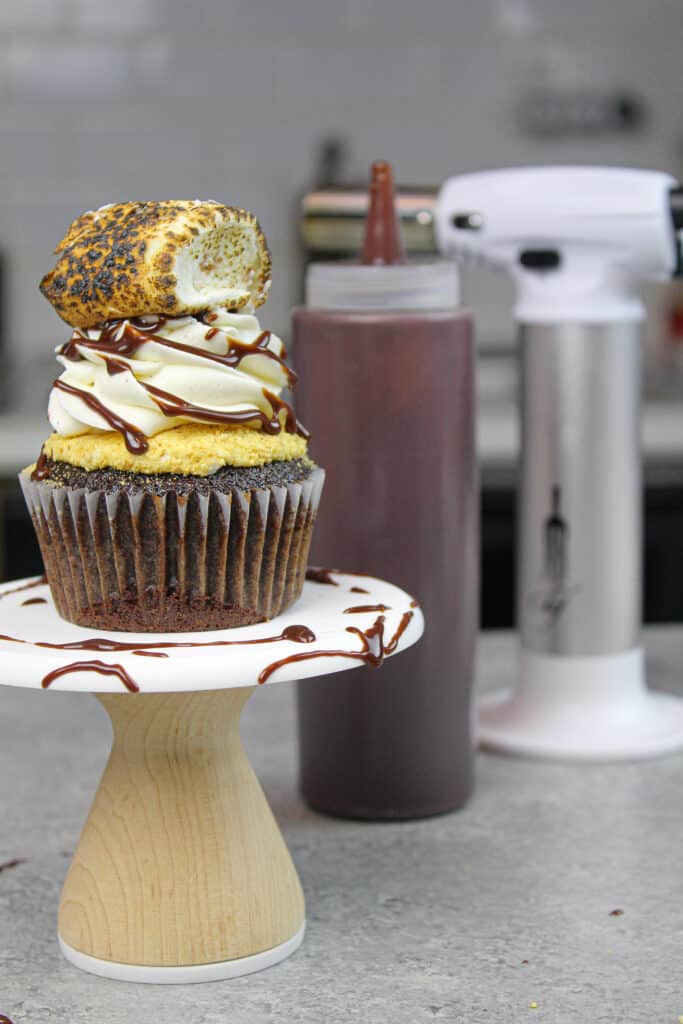 I toasted my marshmallows with a wooden skewer and a kitchen torch, but you can also broil yours in the oven.
Tips for Making the Best S'mores Cupcakes:
Don't overmix your batter, and stir until the flour is just combined into the batter
Be sure to properly measure your flour (spoon into the cup measure, then level), or even better, use a kitchen scale when making the cupcake batter
Make sure your ingredients are at room temp
Bang your cupcake pan on the counter before putting it in the oven, to bring any air bubbles that are trapped in the batter to the surface
Top your cupcakes with a toasted marshmallow just before serving, so that it's still warm and gooey when it's eaten
Let Me Know What You Think!
If you try this s'mores cupcake recipe, I'd love to hear what think of it!
Please leave a rating and let me know your thoughts in the comments section.
Yield: 12
Smores Cupcake Recipe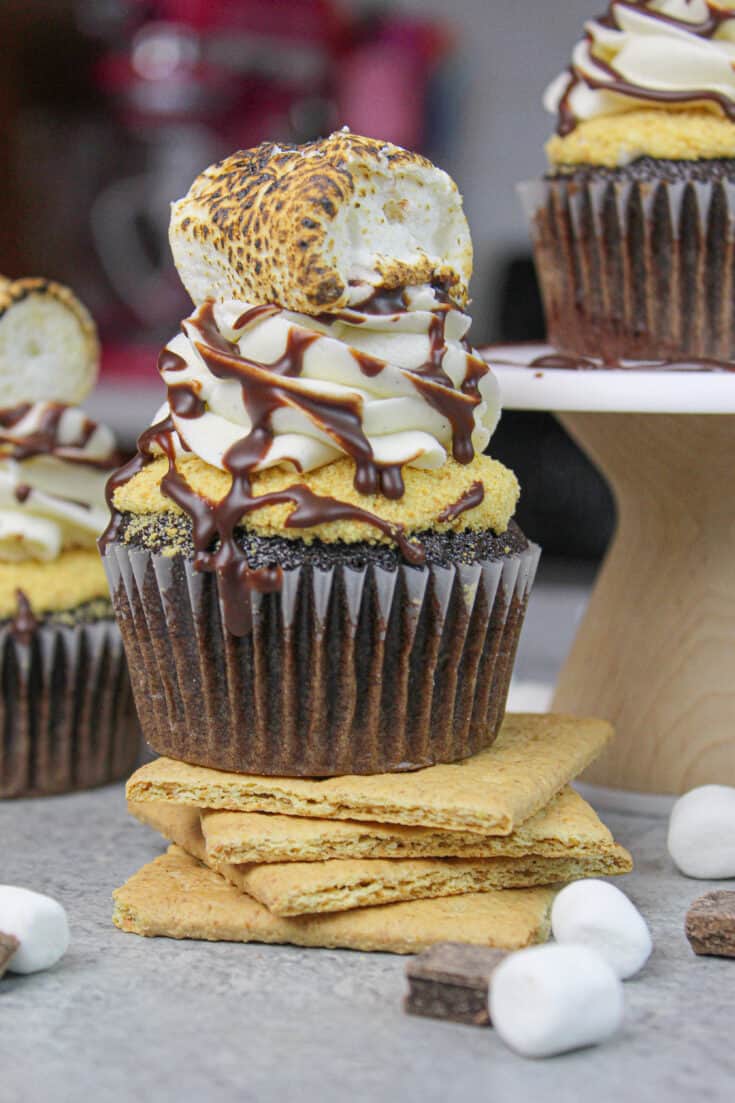 Looking for an awesome smores cupcake recipe? These moist chocolate cupcakes are filled with a marshmallow cream, and topped with a toasted marshmallow!!
Additional Time
15 minutes
Ingredients
Chocolate Cupcake Batter
Marshmallow Cream Filling
Vanilla Bean Frosting
Additional Decorations
Instructions
Chocolate Cupcake Recipe:
Begin by preheating the oven to 350°F. Place 12 cupcake liners in a muffin pan.
Add 3/4 cup of (VERY) hot water into a large bowl. Mix in 1 tsp of instant coffee or espresso powder, and stir lightly until dissolved.
Carefully pour in 1/3 cup chocolate chips and 1/3 cup of cocoa powder. Let this sit for 2 minutes to melt the chocolate chips, then stir until smooth.
Sift in the dry ingredients (3/4 cup flour, 3/4 cup sugar, 1/2 tsp baking soda and 1/2 tsp salt) into chocolate espresso mixture, and stir until just combined. Scrape the sides and bottom of the bowl as needed with a spatula.
Mix in the eggs, stirring just until they're incorporated.
Then add 1/3 cup vegetable oil, 1 tsp vinegar, and 1 tsp vanilla, and mix until the batter is smooth.
Fill cupcake liners 3/4 full, and bake for about 18 minutes, or until a toothpick comes out clean (or with minimal crumbs).
Allow cupcakes to cool in pans for 10 minutes, then remove and place on a wire rack to finish cooling.
Marshmallow Cream Filling
Scoop the marshmallow fluff into a medium sized bowl, and pour in the heavy cream.
Mix together with a spoon until smooth, then place in a small piping bag and set aside.

Vanilla Bean Buttercream:
Beat the butter on a medium speed for 30 seconds with a paddle or whisk attachment, until smooth.
Mix in the salt and vanilla bean paste or vanilla extract on a low speed.
Slowly add in the powdered sugar, 1 cup at a time. Alternate with small splashes of cream.
Beat on low until the ingredients are fully incorporated, and the desired consistency is reached.
If the frosting is too thick, add an extra Tbsp of heavy cream. If it's too thin, add in another 1/2 cup of powdered sugar.
Stir by hand with a rubber spatula to get the frosting SUPER smooth.
Place in a piping bag fitted with a Wilton 1M tip, and set aside.

Decorating These S'mores Cupcakes
Once the cupcakes are fully cooled, use a 1 inch circle cutter or a small knife to remove the center of each cupcake.
Place the graham cracker crumbs into a small bowl.
Add a tsp of graham cracker crumbs into the cutout center, then fill the hole to the top with marshmallow cream.
Add a drizzle of chocolate ganache over the marshmallow cream in the center of the cupcakes, then pipe a small swirl of frosting over the filling.
Dunk the cupcake frosting first into the graham cracker crumbs to completely cover the frosting.
Pipe a large swirl on top of the graham cracker dusted base.
Drizzle with chocolate ganache, and top with a toasted marshmallow.
Notes
If you want to add a chocolate drizzle like I did, I recommend using my chocolate ganache recipe! I heated it up to allow me to drizzle it over the cupcakes.
If you want to make mini chocolate cupcakes, this recipe can be baked in mini muffin tins! It makes about 40 mini cupcakes, and they only need to bake for 9-10 minutes.
These cupcake can be made in advance! If stored unfrosted in an airtight container, they can last for:
2 days at room temp
Up to a week in the fridge
Up to 3 months in the freezer
If you have extra buttercream you don't use, it can be stored in the fridge for up to 2 weeks.
Nutrition Information
Yield
12
Serving Size
1
Amount Per Serving
Calories

436
Total Fat

16g
Saturated Fat

6g
Trans Fat

0g
Unsaturated Fat

9g
Cholesterol

45mg
Sodium

322mg
Carbohydrates

70g
Fiber

1g
Sugar

54g
Protein

5g
Other Recipes You Might Like: