I am planning to make a cake for my friend's wedding this spring, and she can't eat gluten. This is the catalyst behind my recent gluten free baking spree, and these gluten free chocolate cupcakes.
Gluten free baking is different than conventional baking in a lot of ways, and really throws the rule book out when it comes to baking. It's a totally different animal, which has taken a lot of trial and error for me to get comfortable with.
What's In Gluten Free Flour??
There are a lot gluten free flour blends out there. Each brand uses a unique mixture of wheat flour alternatives, like rice flour, brown rice flour, and even almond flour!
It can be difficult to get the texture of gluten free flour just right for baking. A lot of these alternative flours have a finer texture than all-purpose flour.
Some type of starch is usually added to help give the mixture better structure, and a bit of binding power. Tapioca and potato starch are the most commonly used starches.
One other ingredient in gluten free flour that might sound a little strange is xanthan gum. It's a key ingredient in gluten free baking. Xanthan gum has a big impact on the texture of gluten free baked goods too.
Gluten adds an elasticity and stickiness to dough and batter. Xanthan gum emulates these characteristics in gluten free baking, and helps lock in moisture.
Does It Matter What Brand of Gluten Free Flour I Use?
I've tried this recipe with a few different brands of gluten free flour, and so far each of them has worked great:
My favorite brand of gluten free flour for this recipe was King Arthur. However, any brand of gluten free flour you can find at your grocery store should work.
My only word of caution is to be sure you use some sort of gluten free flour blend.
Using a single type of gluten free flour like almond flour or cassava flour in this recipe will not yield the same results!
Most grocery stores carry at least one blend of gluten free flour. Stores like Whole Foods or Trader Joe's also have lots of great options.
If all else fails, amazon is another easy way to get your hands on a gluten free flour blend. I order a majority of my baking supplies on amazon, including most of my specialty ingredients ?
Why This Recipe Works With Gluten Free Flour
This gluten free chocolate cupcake recipe is based on my moist chocolate cupcake recipe.
Gluten free baked goods have come a long way in the past few years, but a lot of people still think of them as gritty, dense, and even gummy.
One of the main reasons this cupcake recipe works is because it uses oil as a fat instead of butter. Oil is easier for the gluten free flour to absorb.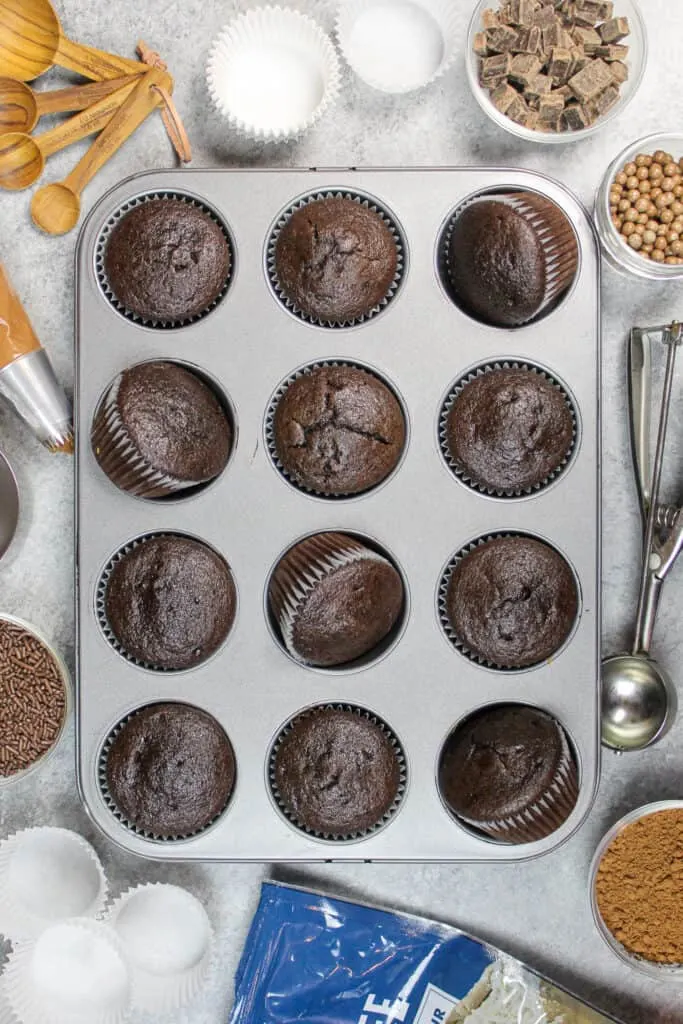 The cupcake texture was spot on, with the help of the following gluten free baking tips.
Tip #1: Overmix Your Batter
While I strongly advise against over mixing batter in other recipes, and even design my recipes to have as little mixing as possible, gluten free batter is different.
The whole reason you don't want to over mix your batter is that it develops thick strands of gluten, which can lead to dense, tough cupcakes. But when you're using gluten free flour, this isn't a problem.
In fact, overmixing gluten free flour can actually give the cupcake better structure! This helps cupcakes rise better as they bake, and gives the cake a more tender crumb.
The additional mixing can also make it easier to bite into these cupcakes and enjoy them. The incremental structure helps prevent the cupcakes from crumbling as they're bitten into.
Tip #2 Let Your Batter Rest
Remember earlier when I said that gluten free flour blends can have a hard time absorbing moisture and fats?
If you let the batter sit for a bit before baking it, you give the flour more time to absorb all that goodness. This helps thicken the batter, and prevents your cupcakes from having a gritty texture.
I unintentionally did this as I was photographing and filming this gluten free chocolate cupcake batter. You'd be surprised how long it takes to get a perfect shot of scooping cupcake batter into a pan!
Letting the batter sit for about 30 minutes drastically improves the texture of these cupcakes, so be sure you don't skip this step!!
Tips for Making The Best Gluten Free Chocolate Cupcakes:
Making These Cupcakes Cake In Advance & Storage Tips: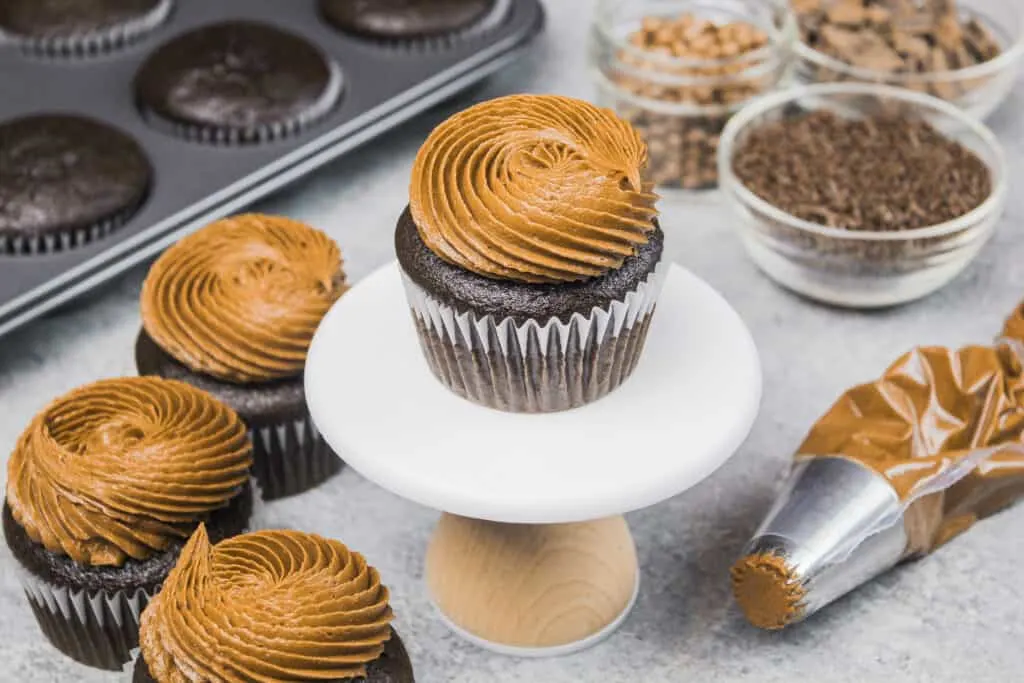 Let Me Know What You Think!
If you try this recipe for gluten free chocolate cupcakes, I'd love to hear what think of it! Please leave a rating, and let me know your thoughts in the comments section.
Other Gluten Free Recipes You Might Like:
Yield: 12
Gluten Free Chocolate Cupcakes
This recipe for gluten free chocolate cupcakes is incredibly moist and fluffy, and is fool-proof using two simple gluten free baking tips!!
Additional Time
45 minutes
Total Time
1 hour
13 minutes
Ingredients
Gluten Free Chocolate Cupcake Batter
3/4 cup hot water (177 grams)
1/3 cup milk or dark chocolate chips, melted (57 grams)
1 tsp instant espresso or coffee (2 grams)
1/3 cup baking cocoa powder (32 grams)
3/4 cup gluten free flour (92 grams)
3/4 cup granulated sugar (150 grams)
1/2 tsp salt (2 grams)
1/2 tsp baking soda (3 grams)
1/3 cup vegetable oil (73 grams)
2 large eggs, room temperature (114 grams)
1 tsp white vinegar (4 grams)
1 tsp vanilla extract (4 grams)
Chocolate Buttercream Frosting
1/2 cup (or 1 stick) unsalted butter, room temperature (113 grams)
1 1/2 cups powdered sugar (188 grams)
1/2 cup melted dark chocolate, cooled (90 grams, 4 oz.)
1/4 tsp salt (2 grams)
1/2 tsp vanilla extract (2 grams)
1/4 cup heavy cream (60 grams)
Instructions
Chocolate Cupcake Recipe:
Begin by preheating oven to 350°F (175°C), and place 12 cupcake liners in cupcake pan.
Add 3/4 cup of (VERY) hot water into a large bowl.
Carefully pour in 1/3 cup melted chocolate chips, 1 tsp instant espresso powder, and 1/3 cup sifted cocoa powder.
Whisk together until the ingredients have combined.
Sift the dry ingredients into the wet ingredients (3/4 cup gluten free flour, 3/4 cup granulated sugar, 1/2 tsp salt and 1/2 tsp baking soda) into chocolate espresso mixture, and stir until combined.
Scrape the sides and bottom of the bowl as needed with a spatula.
Add 2 large eggs, 1/3 cup vegetable oil, 1 tsp vinegar, and 1 tsp vanilla, and mix until the batter is smooth.
Mix the batter for an additional 2 minutes, to help give the batter structure. You don't have to worry about overmixing, because there's no gluten in this batter!
Cover and let the batter sit for about 30 minutes, to give the gluten free flour tiem to absorb more of the liquid in the batter.
Fill cupcake liners 3/4 full, and bake for about 18-19 minutes, or until a toothpick comes out clean.
Allow the cupcakes to cool for 5 minutes before moving them to a cooling rack to finish cooling.
Chocolate Buttercream:
Beat the butter on a medium speed for 30 seconds with a paddle attachment, until smooth.
Mix in the vanilla extract and salt on a low speed.
Slowly add in the powdered sugar in two installments. Alternate with the heavy cream.
Mix in the cooled, melted chocolate.
Beat on low until the ingredients are fully incorporated, and the desired consistency is reached.
If the frosting is too thick, add an extra Tbsp of heavy cream. If it's too thin, add in another 1/2 cup of powdered sugar.
Stir by hand with a rubber spatula to get the frosting SUPER smooth.
Place in a piping bag fitted with an Ateco 869 tip, and pipe a swirl on top of each cupcake.
Notes
This recipe can also be used to make mini cupcakes! This recipe makes about 40 mini cupcakes, which only need to bake for 9-10 minutes.
These cupcake can be made in advance! If stored unfrosted in an airtight container, they can last for:
2 days at room temp
Up to a week in the fridge
Up to 3 months in the freezer
If you have extra buttercream you don't use, it can be stored in the fridge in an airtight container or piping bag for up to 2 weeks.
Nutrition Information
Yield
12
Serving Size
1
Amount Per Serving
Calories

417
Total Fat

18g
Saturated Fat

7g
Trans Fat

0g
Unsaturated Fat

9g
Cholesterol

43mg
Sodium

230mg
Carbohydrates

62g
Fiber

2g
Sugar

50g
Protein

4g