We're in the midst of the final heat waves of summer and my ice cream consumption is at an all-time high. While this rocky road cake isn't actually made with ice cream, it's inspired by all the chocolatey, marshmallow-filled, nutty goodness of rocky road ice cream.
Rocky road ice cream is one of those flavors you're either crazy about, or not a fan.
It is traditionally made with chocolate ice cream, bits of marshmallow and crushed nuts marbled throughout each scoop.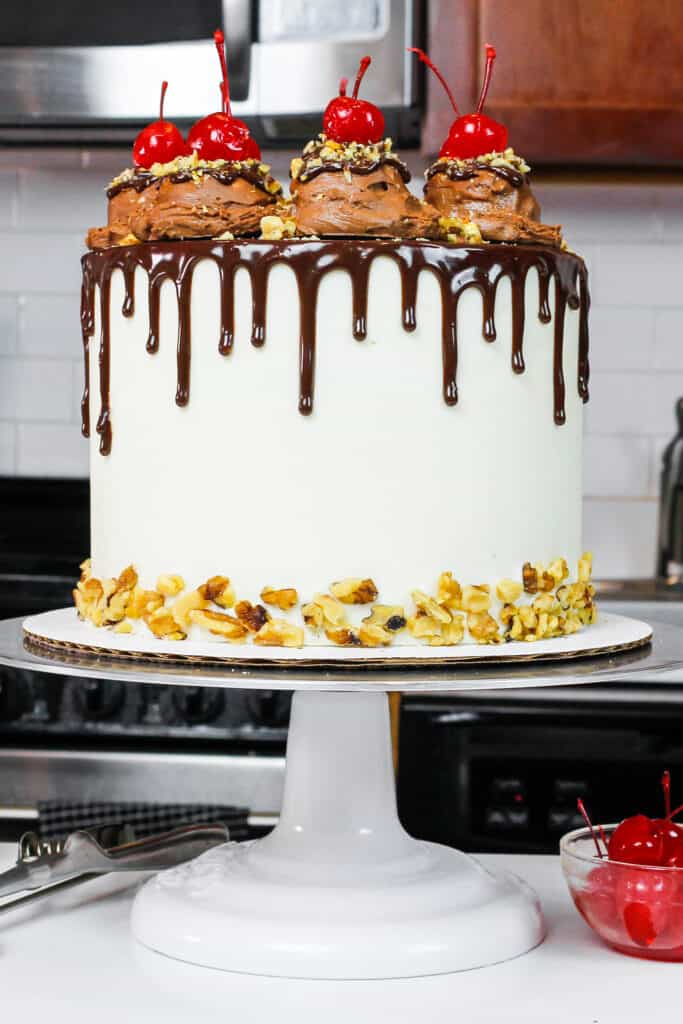 I did my best to do this flavor justice! From the tender chocolate cake layers, marshmallow buttercream, chocolate and nut filling, to the playful ice cream scoop decorations, I think I did.
Chocolate Cake Layers
Like I mentioned above, rocky road has a chocolate ice cream base. Chocolate is the main flavor, so I decided to follow suit. This cake is made with fluffy, chocolate cake layers.
I chose to use my go to chocolate layer cake recipe. It's a wonderful hybrid between a sponge cake and a butter cake.
This means it has a great crumb, and you don't need to soak the layers in simple syrup. It's already moist enough on its own!
I also like this chocolate cake recipe because it has great structure. It stacks well, and keeps it shape.
Rocky Road Cake Filling
The filling of this cake is really where the rocky road flavor shines. I chose to fill and frost this cake with a marshmallow buttercream.
The base frosting is my American buttercream recipe, plus some marshmallow fluff!
It sounds weird, but it gives the frosting that delicious marshmallow flavor without changing the consistency of the frosting.
I added a generous drizzle of chocolate ganache on top of each layer of frosting. I topped the ganache with a sprinkle of chopped walnuts and loads of mini marshmallows.
This cake has a lot going on between each layer, so I added a tiny bit of frosting on top of the mini marshmallows.
This helps the next cake layer stick in place once it's added, and gives the cake a bit more stability.
It also ensures there are big pockets of air stick between the cake layers, which can hide between the mini marshmallows.
Rocky Road Cake Decoration
Once I figured out how to incorporate the rocky road flavor through the cake, I went to work dreaming up the decoration of this cake.
I wanted this cake to have serious ice cream vibes, and believe the end design gets that point across.
This cake is decorated with a chocolate drip, using the same ganache that's in the cake filling.
Chocolate drips always add so much flare to a cake. They take a bit of practice, but with a couple tips it's an easy look to master!
I associate chocolate drizzles with ice cream sundaes, so chocolate drips felt very on theme for this cake.
I topped the cake with scoops of a mock rocky road ice cream, which I made with buttercream!
This is definitely my favorite part of the cake. I placed 2 cups of frosting in a small bowl, and added in some melted chocolate, mini marshmallows, and chopped walnuts.
With a small cookie scoop, I carefully placed scoops of this rocky road buttercream onto a parchment lined baking tray. I froze these for about 20 minutes.
Once the buttercream scoops were firm to the touch, I carefully added them to the top of the cake.
Each little scoop is topped with more chocolate ganache, chopped nuts, and a cherry!
The cherries add a nice pop of color, and break up all the white and brown. You could also add some sprinkles if you don't have maraschino cherries on hand.
Tips for Making The Best Rocky Road Birthday Cake:
Make your own buttermilk if you don't any! Add 1 Tbsp of lemon juice or vinegar to 1 cup of whole milk.
Be sure to properly measure your flour (spoon into the cup measure then level) or use a kitchen scale to measure your dry ingredients.
Ingredients at room temp mix together better, so be sure you set out any cold ingredients ahead of time.
Mix your cake batter just until the ingredients are incorporated. This will ensure your cake layers are tender and fluffy.
Chill your cake layers in the freezer for about 20 minutes before assembling the cake. This makes it easier to stack and frost.
One batch of batter can be also be used to make one 9×13 inch sheet cake. Bake it at 325F for 33-38 minutes.
You can make this rocky road cake vegan or dairy free! Use your favorite type of dairy free milk to replace the buttermilk and heavy cream, use vegan butter sticks in place of the butter, and use flax seed eggs!
Making This Rocky Road Cake In Advance & Storage Tips:
Make your cake layers in advance and freeze them. It breaks the process up and make it more approachable.
Make your frosting ahead of time too or save any leftover frosting. It can be stored in an airtight container in the fridge for up to a month. Or store it in the freezer for up to 3 months! Be sure to give it a good stir once it thaws to get the consistency smooth again.
A frosted cake can last in the fridge for up to a week. In the freezer it can last for up to a month! The buttercream locks in all the moisture, keeping the cake fresh and delicious.
If you cut into the cake and have leftovers, use any remaining frosting to cover the cut section to keep it moist. It can be stored in the fridge like this for up to a week.
Let Me Know What You Think!
If you try this rocky road cake recipe, I'd love to hear what think of it! Please leave a rating and let me know your thoughts by sharing a comment.
Also please tag me @chelsweets! Use the #chelsweets so that I can see your amazing creations on social media.
Other Recipes You Might Like:
Yield: 24
Rocky Road Cake
If you love rocky road ice cream, this is the cake for you! It incorporates all the chocolate, marshmallow, and nutty goodness into a layer cake!!
Additional Time
45 minutes
Total Time
1 hour
50 minutes
Ingredients
Chocolate Cake Ingredients
3 cups all-purpose flour (390 grams)
2 1/2 cups granulated sugar (500 grams)
1 tsp salt (6 grams)
1 1/2 tsp baking powder (6 grams)
1 tsp baking soda (6 grams)
4 large eggs, room temp (224 grams)
1 cup unsalted butter, room temp (2 sticks, 226 grams)
1 cup hot water (237 grams)
1 cup buttermilk, room temp (240 grams)
1 cup black cocoa (100 grams)
Chocolate Drip
1/2 cup milk chocolate chips (88 grams)
1/3 cup heavy cream (77 grams)
Marshmallow Buttercream Frosting
2 1/2 cups unsalted butter, room temperature (565 grams)
8 cups powdered sugar (1000 grams)
1/2 tsp salt (3 grams)
1/2 cup heavy cream (or whipping cream)
1 Tbsp vanilla extract (12 grams)
3/4 cup marshmallow fluff
Rocky Road Ice Cream Scoops
2 cups marshmallow buttercream (recipe above)
1 cup milk chocolate, melted and cooled (175 grams)
1 cup mini marshmallows
1/2 cup chopped walnuts
maraschino cherries (garnish)
Instructions
Chocolate Cake Layers
Begin by preheating the oven to 350 degrees Fahrenheit.
Line four 7 inch or three 8 inch pans with parchment rounds and spray with non-stick baking spray.
Add 2 1/2 cups sugar and 1 cup butter into the bowl of a stand mixer. Cream together on a high speed for 1-2 minutes with a whisk attachment or hand mixer. The mixture should become light in color.
Mix in 4 large eggs on a medium speed, two at a time.
Add 1 tsp baking soda, 1 1/2 baking powder, and 1 tsp salt. Mix on high for another minute.
In a separate bowl, combine 1 cup of hot water, and 1 cup of buttermilk. Pour in 1 cup of black cocoa and whisk until no clumps remain.
Next, add 1 cup of flour into the butter/egg mixture. Scrape the sides of the bowl with a spatula, to ensure the flour is fully incorporated.
Pour in half of the buttermilk/cocoa mixture and gently pulse the mixture to incorporate the liquid (if you don't, you'll end up splattering the cocoa mixture all over you kitchen!)
Mix in the 2nd cup of flour, at a low speed. Pour in the remaining buttermilk/cocoa mixture, and again gently pulse, then mix on low until fully combined.
Add in the last cup of flour, and mix on low until the flour is incorporated.
Evenly divide between the prepared pans. I like to use a kitchen scale to ensure each pan has exactly the same amount of batter.
Bake for 32-35 minutes, or until a toothpick comes out clean.
Allow layers to cool in the pans for about 10 minutes, then run an offset spatula around the edge of the pans to help separate the layers from the pans.
Place the pans in the freezer for about 45 minutes, to accelerate the cooling process. Once the layers are fully cooled, carefully flip the pans and remove the layers from the pans.
Use a serrated knife to level the tops of the layers, then set aside.
Chocolate Ganache Drip
Place 1/2 cup milk chocolate chips in a heatproof bowl, and set aside.
Heat 1/3 cup of heavy cream in a heatproof bowl in the microwave for 45 seconds to 1 minute, until gently bubbling.
If you don't have a microwave or prefer to use the stove top, you can heat the cream over a medium heat in a pan until it begins to simmer. Remove from heat.
Gently pour the heavy cream over the chocolate chips, making sure they are covered with cream. Allow mixture to sit for 1-2 minutes.
Stir slowly until the cream and chocolate are fully combined, and ganache is silky smooth. Pour into a plastic squirt bottle to easily add drips to a cake. If you don't have any plastic bottles on hand, you can also use a spoon to drizzle it over cakes.
Set aside to cool for about 20 minutes (or place in fridge for about 10 minutes), until the mixture is just slightly warm to the touch.
Before adding around the entire cake, complete a test drip on the cake once it is frosted and chilled to check the consistency. If the test drip seems too thick, try heating up the ganache for 5-10 additional seconds in the microwave. If the mixture seems too thin, allow it cool a bit longer, then try another test drip.
Marshmallow Buttercream Frosting
While the cake layers bake and cool, make the marshmallow buttercream frosting.
Beat 2 1/2 cups of butter on a medium speed for 30 seconds with a paddle attachment until smooth.
Add in 1/2 tsp salt, and 1 Tbsp vanilla extract and mix on a low speed until combined.
Slowly add in 8 cups of powdered sugar, 1 cup at a time.
Half way through adding the powdered sugar mix in 1/2 cup of heavy cream on a low speed.
Once the powdered sugar is fully incorporated mix in 3/4 cup of marshmallow fluff.
Beat on low until the ingredients are fully incorporated and the desired consistency is reached.
If the frosting is too thick, add an extra Tbsp of heavy cream. If it's too thin, add in another 1/2 cup of powdered sugar.
Stir by hand with a rubber spatula for a couple minutes to get the frosting SUPER smooth.
Rocky Road Buttercream Scoops
Once the marshmallow butter is made, place 2 cups of marshmallow frosting into a separate bowl.
Mix in 1 cup of melted and cooled milk chocolate and stir until combined.
Fold in 1 cup of mini marshmallows and and 1/2 cup chopped nuts.
Use a cookie scoop to make mock ice cream scoops. Scoop them onto a parchment lined baking sheet and place in the freezer until they're firm to the touch.
Rocky Road Cake Assembly
Stack and frost cake layers on a greaseproof cake board, using a dab of frosting to help stick the first cake layer to the board.
Add an even layer of marshmallow buttercream between each cake layer.
Top with a drizzle of chocolate ganache. mini marshmallows, and chopped walnuts.
Repeat with remaining cake layers.
Add a thin coat of frosting around the the cake, to fully cover the cake layers. Smooth using a bench scraper, then chill the cake in the fridge (10 minutes) or freezer (5 minutes) until the frosting is firm to the touch.
Add a second, thicker layer of frosting to the cake and smooth using a bench scraper.
Add chopped walnuts around the base of the cake.
Add a chocolate drip to the sides of the cake.
Top the cake with mock rocky road ice cream scoops, and decorate them with more ganache, nuts, and maraschino cherries.
Notes
These cake layers can be made in advance!! Learn more about how far in advance they can be made, and how to properly wrap them in my post on how to make cake layers ahead of time.
This buttercream can also be made in advance!! I highly recommend making it ahead of time to make the decoration of a cake less stressful and more fun. It keeps in the fridge for several weeks, if stored in an airtight container.
When you're ready to use the chilled buttercream, remove it from the fridge a few hours in advance (or overnight) and allow it to come to room temperature. Give it a good stir with a rubber spatula or your kitchen aid, to get rid of any air bubbles that may have formed. Once the buttercream is smooth again, it's ready to use!
Nutrition Information
Yield
24
Serving Size
1
Amount Per Serving
Calories

721
Total Fat

36g
Saturated Fat

21g
Trans Fat

0g
Unsaturated Fat

13g
Cholesterol

115mg
Sodium

283mg
Carbohydrates

96g
Fiber

2g
Sugar

78g
Protein

6g