I can't help but feel sentimental as I write this post. Billionaire bars (what I dubbed these double chocolate millionaire bars 6 years ago) were my first real blog post.
At the time I didn't realize that most people think of billionaire bars as millionaire bars with cookie dough. I just figured since I chose to use both white and dark chocolate, the name should be fancier.
The History Behind This Millionaire Bars Recipe
Ironically, I pinned an image of these bars (that I took in a windowless conference room at work), and it went viral on Pinterest (as seen below).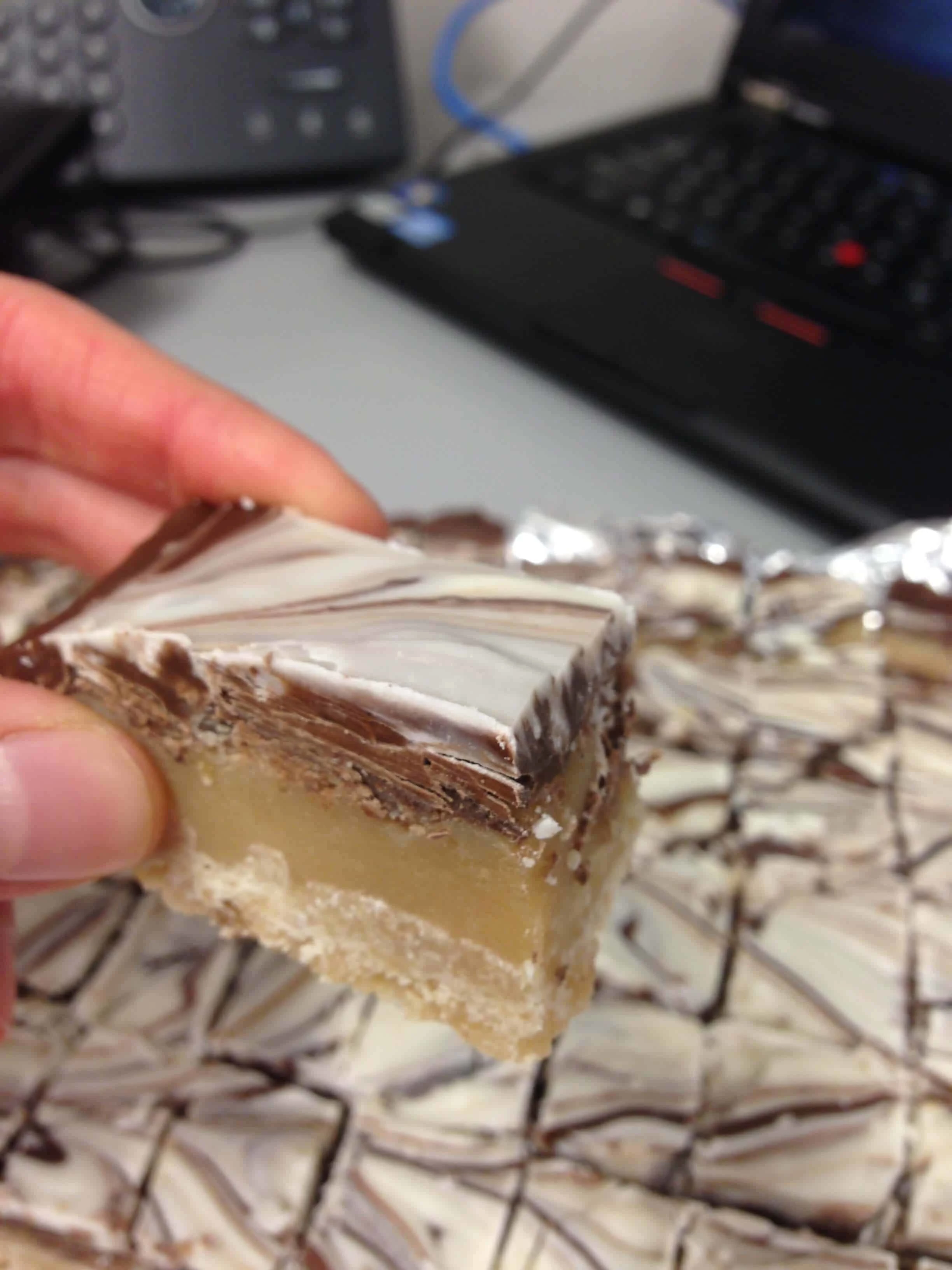 That was such an exciting time, but even with all the traffic to my blog, it never crossed my mind that I could make a living doing that. I just thanked my lucky stars that I had such good fortune in that moment.
Back then I had no clue what I was really doing in terms of blogging, photography, or even social media! But I knew I loved baking.
I started baking as a hobby as a young adult (you're never too old to learn something new), and was hooked. Back then I had just graduated college, and was working as a Financial Services Auditor.
I didn't have much free time outside of work, but desperately felt like I needed a creative outlet. Whenever I did find myself with a free weekend or evening, I eagerly spent them in my tiny Manhattan kitchen.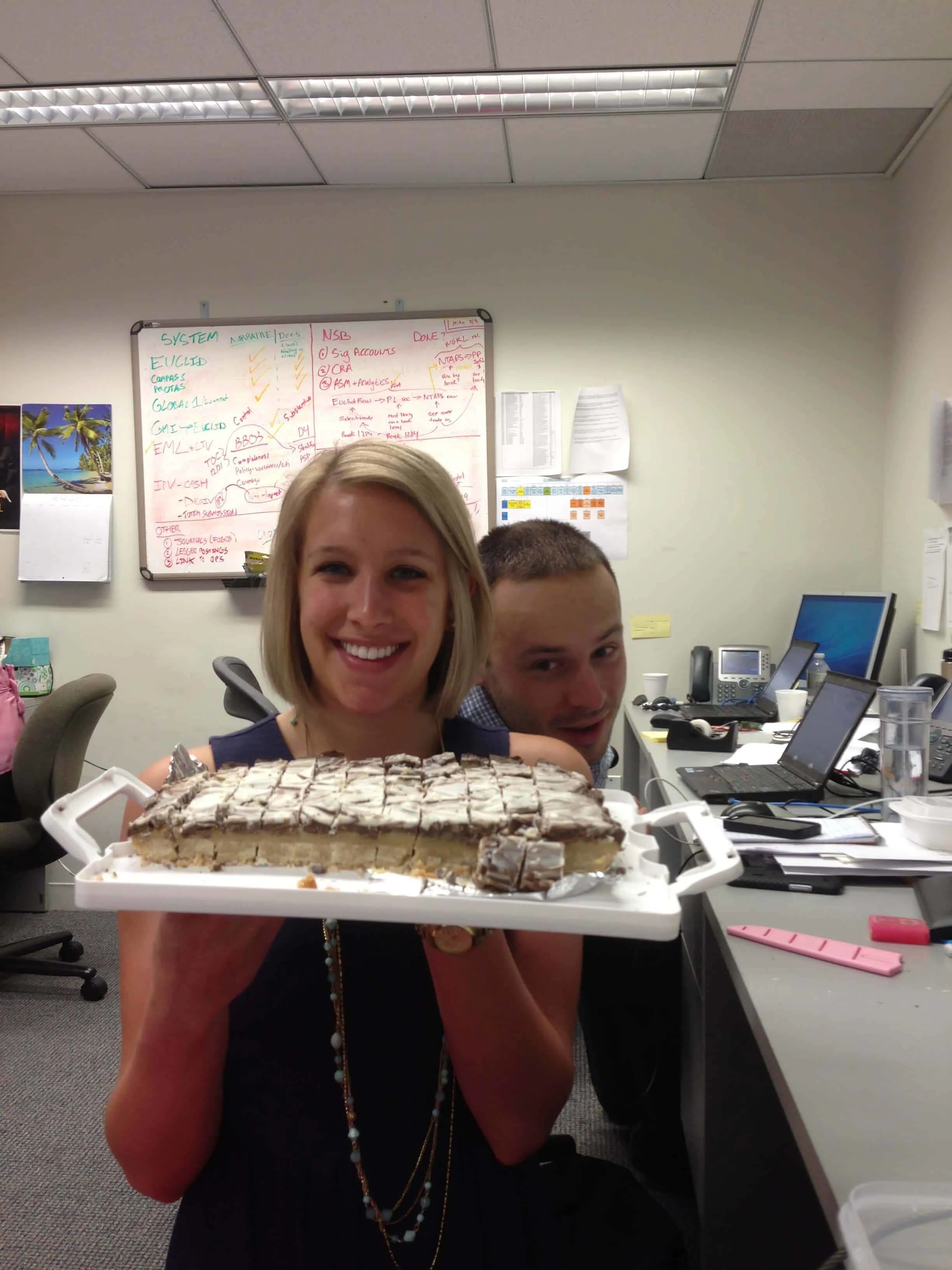 I can't believe how much my life has changed since then.
But one thing has remained constant since the beginning, and that's my love and enthusiasm for baking. Those two things have kept me going this whole time.
It's also what allows me to still enjoy what I do, despite the fact that it's my job now.
My Millionaire Bar Glow-Up
I'll be honest, I cried when I finished making this batch of (what I now call) millionaire bars.
It was half laughing over how much better they were than my original batch in 2013, and half reflecting on everything that's happened in the last 6 years.
I get caught up in the everyday grind most days, and rarely take the time to reflect on how far I've come in my baking journey.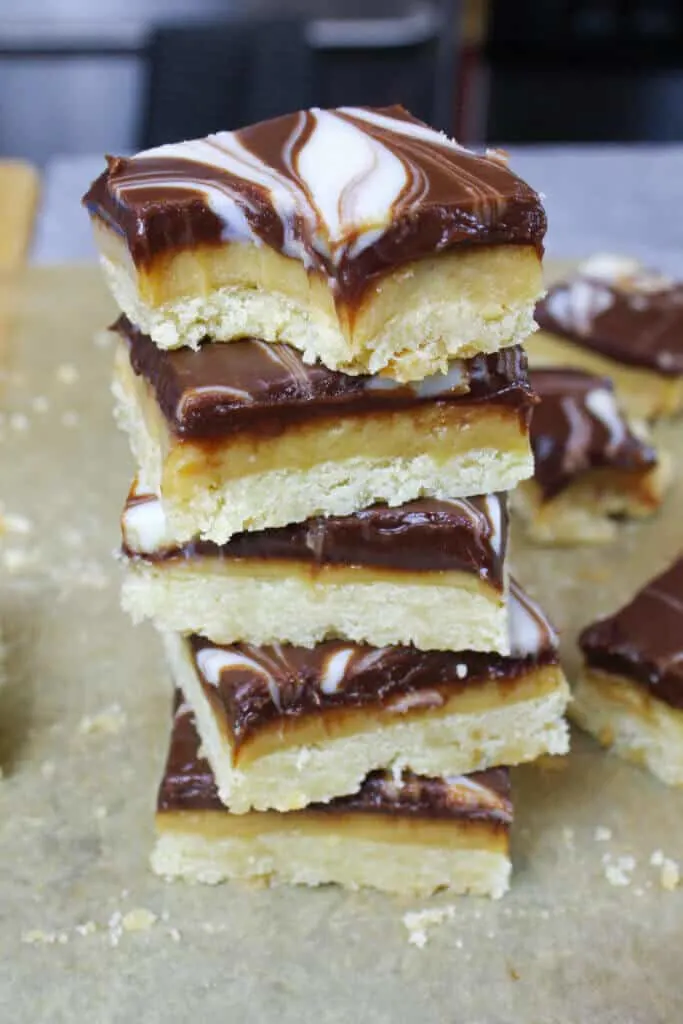 Millionaire Bar Recipe Update
On a more related note, I changed this billionaire recipe a bit, to make the ganache topping smoother, and easier to bite!
The original recipe just added melted chocolate over the top. This was still delicious, but it made the bars a lot harder to cut and eat.
By topping with bars with ganache, the tops are smooth, and each square is way easier to enjoy.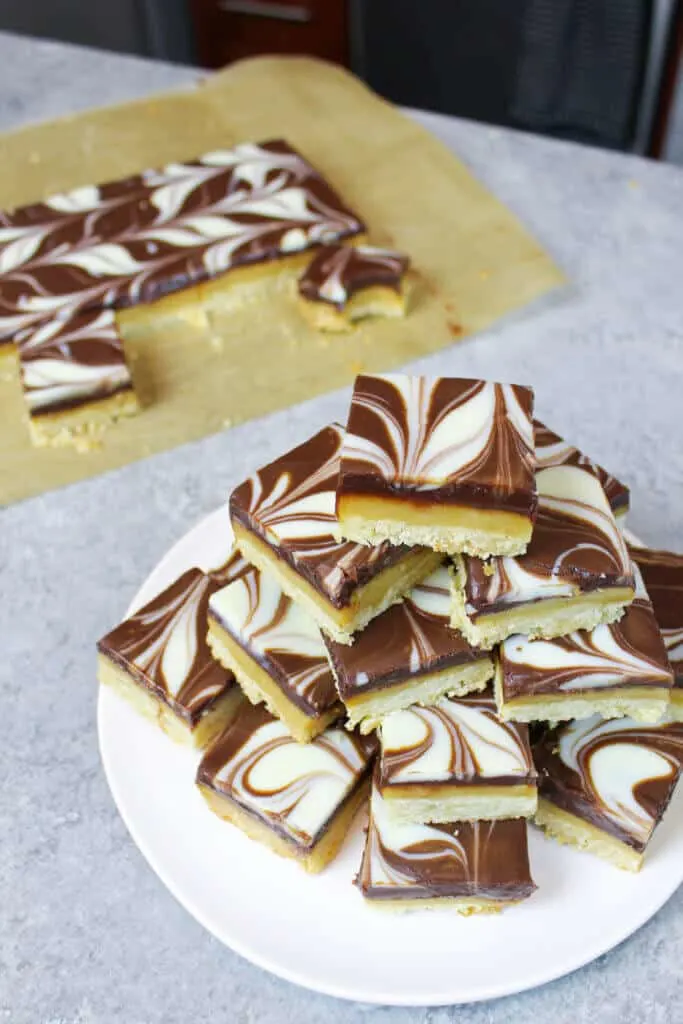 Other than that, it's pretty much the same. A delicious, buttery shortbread crust, topped with a thick, decadent layer of caramel filling, and chocolate.
They tasted just as delicious as I remembered.
Let Me Know What You Think
If you try making this millionaire bars recipe, I'd love to hear what think! Please leave a rating, and let me know your thoughts by sharing a comment.
Or if you share your creations on social media, be sure to tag me @chelsweets!
Other Recipes You Might Like: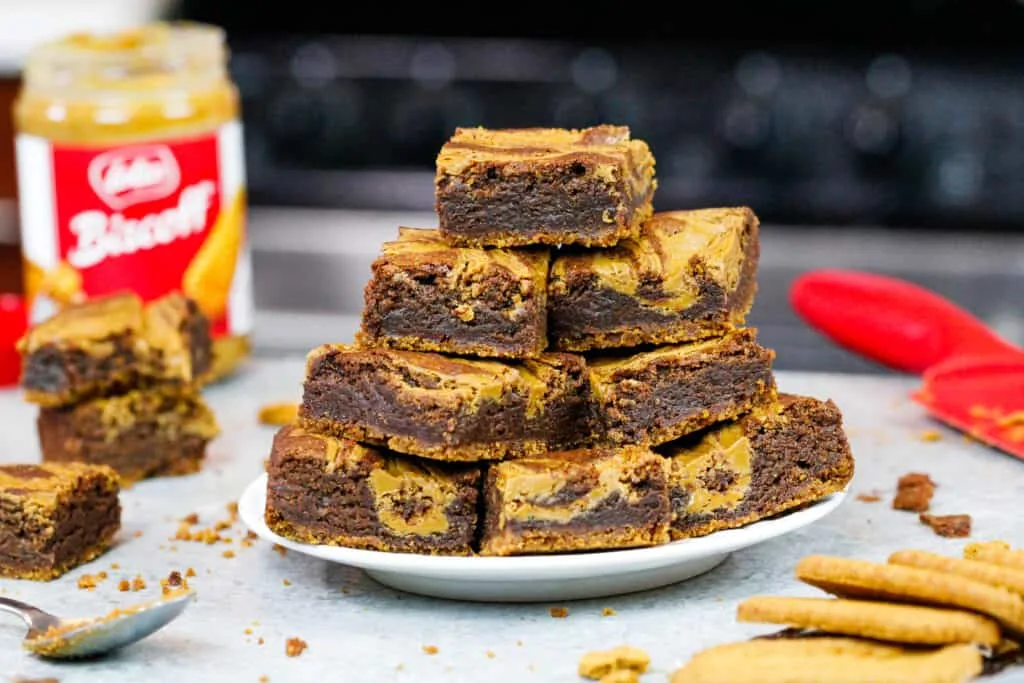 Yield: 30
Millionaire Bars
These millionaire bars are super easy to make, and are irresistable! They're made with a delicious shortbread base, and thick, decadent layers of caramel filling and chocolate ganache.
Additional Time
20 minutes
Ingredients
Butter Cookie Base
1/2 cup white sugar (100 grams)
2 Tbsp packed light brown sugar (25 grams)
1/4 tsp table salt (2 grams)
2 1/4 cups flour (293 grams)
1 cup unsalted butter, melted (226 grams)
Caramel Filling
1/2 cup unsalted butter, cut into chunks (113 grams)
1/2 cup light brown sugar (100 grams)
1 (14 oz.) can sweetened condensed milk (396 grams)
1 tsp vanilla extract (4 grams)
Chocolate Ganache Topping
1 cup heavy cream (230 grams)
1 1/2 cups milk chocolate (263 grams)
1/2 cup white chocolate (88 grams)
1 1/2 Tbsp unsalted butter (22 grams)
Instructions
Shortbread Butter Cookie Base:
Preheat oven to 325 degrees. Line a 9 x 13 inch baking pan with parchment paper, and spray with non-stick cooking spray.
Stir together the melted butter, sugar, brown sugar, and salt in a large bowl.
Stir in the flour in two additions.
Gently mix ingredients until the dough just starts to hold together. Be careful not to over mix, and stir until the ingredients are just combined.
Spread the dough evenly into the prepared pan, and prick thoroughly with a fork.
Bake for 25 minutes (until the edges are golden brown). Set aside to cool.

Caramel Filling
While the shortbread base cools, make the millionaire bar filling.
Heat the butter, brown sugar and sweetened condensed milk over medium heat in a heavy saucepan.
Stir frequently, and allow the mixture come to a gentle boil.
Once this happens, turn the heat down to allow the caramel to simmer.
Continue to stir frequently until the mixture thickens and becomes a medium caramel color (about 10 minutes).
Remove from the heat, and stir in the vanilla extract.
Pour the filling over the cooled cookie base, and spread evenly.
Let this cool completely before adding the chocolate topping (or place in the freezer for 20 minutes to accelerate the cooling process).

Chocolate Ganache Topping
As the caramel filling cools, make the chocolate ganache topping topping.
Place the milk chocolate chips in a heatproof bowl, and the white chocolate chips in a separate heatproof bowl.
Add 1 Tbsp of butter to the bowl with milk chocolate chips, and add 1/2 Tbsp of butter to the bowl with white chocolate chips.
Heat 1 cup of heavy cream in a heatproof bowl in the microwave for 45 seconds to 1 minute, until gently bubbling.
If you don't have a microwave or prefer to use the stove top, you can heat the cream over a medium heat in a pan until it begins to simmer. Remove from heat.
Carefully pour 3/4 cup of the hot heavy cream over the milk chocolate chips, and the remaining 1/4 cup of heavy cream over the white chocolate chips.
Make sure the chocolate is fully covered with cream. Allow mixture to sit for 1-2 minutes.
Stir slowly until the cream and chocolate are fully combined, and the ganache is silky smooth.
Pour the milk chocolate ganache over the cooled caramel filling. Spoon drops of the white chocolate ganache on top of the milk chocolate ganache, and swirl using a butter knife.
Set aside to fully cool, then cut and enjoy!
Notes
These millionaire bars can be made in advance! Store them in an airtight container for up to 5 days at room temp, or store them in the freezer for up to 2 weeks.
Nutrition Information
Yield
30
Serving Size
1
Amount Per Serving
Calories

240
Total Fat

16g
Saturated Fat

10g
Trans Fat

0g
Unsaturated Fat

5g
Cholesterol

38mg
Sodium

35mg
Carbohydrates

22g
Fiber

1g
Sugar

14g
Protein

2g