While Love Actually is my favorite holiday movie, The Grinch (the Jim Carrey version) is a close second. I love it so much it inspired me to make these Grinch cupcakes!
I watch it every holiday season and I love it every time.
My favorite part is when the Grinch's heart grows 3x, so I centered the flavor and decoration of these cupcakes around that.
Picking the Right Cupcake Flavor for These Grinch Cupcakes
I was super torn over what color these cupcakes should be. Red or green?!
Luckily the decision just came down to the color, because I knew I wanted to use my red velvet cupcake recipe for this.
I ended up making a batch of both green velvet and red velvet and then decided to go with red velvet. It had a better contrast with the green cream cheese frosting.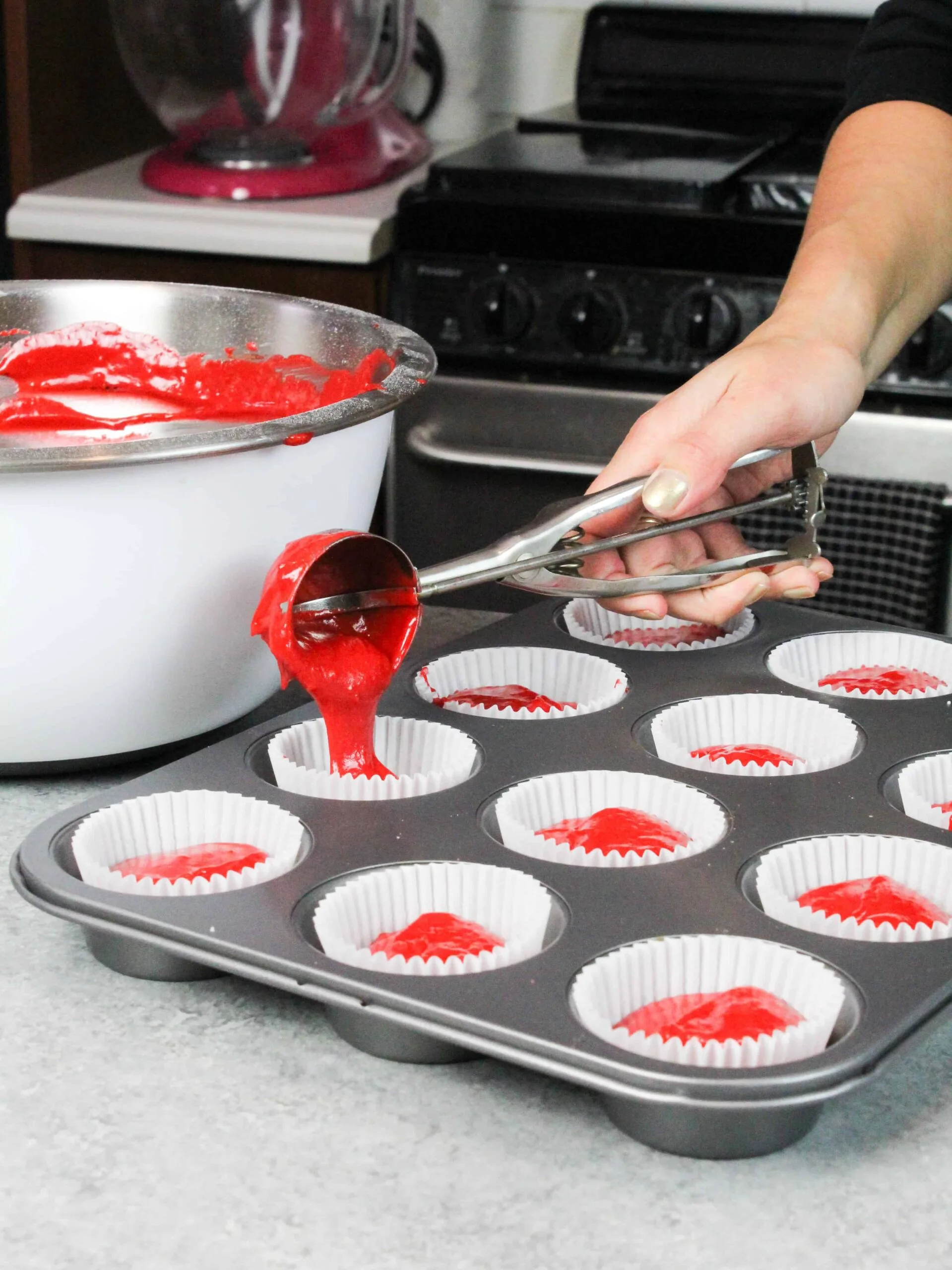 I also thought it did a better job signifying the love and Christmas cheer that the Grinch has at the end of the movie.
Decorating These Grinch Cupcakes
All jokes aside about how delicious these cupcakes are, the Grinch's growing heart is the inspiration for the decoration of the cupcakes.
I used a set of heart shaped cutters to cut out three different sized hearts with red fondant.
I don't work with fondant much, so I usually just use pre-made fondant I order on Amazon. If you feel really adventurous, you can definitely make your own!
However, you don't need much for this design. You only need to cut out 12 hearts, which uses about 1/2 cup of fondant.
Pre-made fondant worked great for this. I usually use Wilton or Satin Ice fondant for small decorations like this.
I cut out my fondant hearts and set them aside for about an hour before adding them to the cupcakes.
This gives them a chance to firm up, so they can keep their shape once you press them into the frosting.
Making the Grinch's Fur with Buttercream
I used a large grass tip to make the fur on these Grinch cupcakes. I prefer using the Wilton 234 frosting tip, which is quite a bit larger than the classic grass tip.
I love it because it lets you pipe the fur so much quicker! However, if you only have the smaller grass tip on hand, that will work just fine! It just will take a bit more time.
When piping buttercream, the heat from your hands can transfer into your buttercream.
This can change the consistency of your frosting and make it thinner. It also can deepen the color of your buttercream if it's colored with food coloring.
It sounds wild, but it happens to most people! Luckily my hands are almost always cold, but even I get some heat transfer.
If you find this is happening to you, you can wrap either a thin kitchen towel or a paper towel around your piping bag.
This will help protect your frosting and minimize the transfer of heat from your hands.
Adding a Pretty Sprinkle Base to These Grinch Cupcakes
I'm sure you also noticed the pretty sprinkle base that all that green cream cheese frosting fur is sitting on top of.
This step is totally optional, but I think it really adds to the finished look.
The technique is super simple. You just pipe a dollop of frosting onto each cupcake, and then dunk them into a bowl filled with a pretty sprinkle blend.
This sprinkle blend had a nice variety of greens and blue, and for some reason it felt Grinchy to me.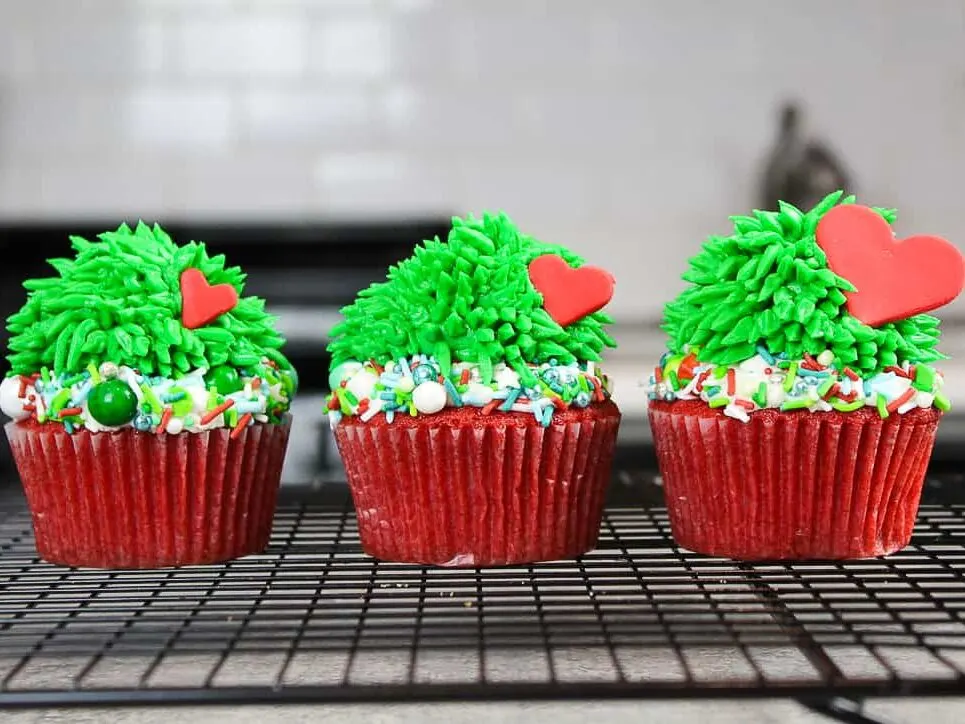 If you need to refresh your sprinkle collection, or want to try out a fancy sprinkle blend, I highly recommend trying these!
Let Me Know What You Think!
If you make these Grinch cupcakes, I'd love to hear what you think of it! Please leave a rating and comment below.
And don't forget to tag me @chelsweets and use the #chelsweets so that I can see your amazing creations on social media.
Yield: 12
Grinch Cupcakes
These Grinch cupcakes are so easy to make & absolutely delicious! They're made with red velvet cupcakes and cream cheese frosting.
Additional Time
30 minutes
Ingredients
Red Velvet Cupcakes
1/4 cup vegetable oil (56g)
1/4 cup melted butter (56g)
1 large egg, room temperature (56g)
1/2 cup buttermilk, room temperature (120g)
1 tsp white vinegar (4g)
1 tsp vanilla extract (4g)
1 cup granulated sugar (200g)
1 tsp unsweetened cocoa powder (4g)
1/2 tsp baking soda (3g)
1/2 tsp fine salt (3g)
1 1/4 cups all-purpose flour (160g)
1 squirt of red gel food coloring (or 1 1/2 tsp liquid food coloring)
Green Cream Cheese Buttercream Frosting
3/4 cup unsalted butter, room temperature (170g or 1 1/2 sticks)
1/4 cup full-fat cream cheese, room temperature (56g or 2 oz.)
1 tsp vanilla extract (4g)
1/2 tsp fine salt (3g)
3 cups powdered sugar (375g)
1 Tbsp heavy cream or whipping cream (15g)
Green gel food coloring
Additional Tools
Piping bag
Wilton 234 frosting tip
Fancy Christmas sprinkles
Red fondant
Heart shaped cutters
Instructions
Red Velvet Cupcakes:
Preheat oven to 350 F / 175 C and line a standard sized muffin tin with 12 cupcake liners.
In a large bowl, whisk together 1/4 cup of vegetable oil and 1/4 cup melted butter.
Mix in 1 egg, 1/2 cup buttermilk, 1 tsp white vinegar, and 1 tsp vanilla extract.
Add 1 cup granulated sugar and whisk for 30 seconds to help dissolve the sugar.
Sift in 1 tsp cocoa powder, 1/2 tsp baking soda, and 1/2 tsp salt. Whisk until no clumps remain.
Add a squirt of red gel food coloring and mix until the batter is evenly colored a deep shade of red.
Mix 1 1/4 cups of flour into the batter until it is just combined, and no streaks of flour remain.
Divide the batter evenly between the cupcake tins and bake for about 18-20 minutes or until a toothpick comes out with a few moist crumbs.
Remove the cupcake pan from the oven and let them cool in the pan for 10 minutes. Then carefully remove the cupcakes from the pan and place on a wire rack to finish cooling.
Cream Cheese Buttercream Frosting:
Beat 3/4 cup butter and 1/4 cup cream cheese on a medium speed for 30 seconds with a paddle attachment until smooth.
Add in 1 tsp vanilla extract and 1/2 tsp salt. Beat on low until the ingredients are fully incorporated.
Gradually mix in 3 cups of powdered sugar on a low speed and 1 Tbsp of heavy cream.
Add in a generous squirt of green gel food coloring and mix until the frosting is a bright green.
If the frosting seems too thick, add in additional cream (1 tablespoon at a time). If the frosting is too thin, add in more powdered sugar (1/4 cup at a time). If you're unsure what consistency you're look for, check out my frosting consistency post.
Place frosting in a piping bag fitted with a large grass frosting tip (like a Wilton 234).
Grinch Cupcake Decoration:
Once the cupcakes are fully cooled, pipe a small swirl of buttercream frosting on top of each cupcake. Dunk each cupcake into a bowl of fancy sprinkles.
Pipe another medium swirl on top of the sprinkle base and pipe fur around this using a Wilton 234 frosting tip.
Cut out 3 different sized hearts with red fondant, then place it on the green frosting.
Notes
How Many Cupcakes Does This Recipe Make?
This recipe makes 12, standard sized cupcakes. It can be doubled or halved as needed.
This recipe can also be used to make mini Grinch cupcakes! It makes about 50 mini cupcakes, which only need to bake for 9-10 minutes.
If you want to make a Grinch cake, I recommend using my Grinch cake recipe.
Making These Grinch Cupcakes in Advance
Frosted cupcakes can sit out at room temperature for a few hours. If you frost these cupcakes further in advance, I recommend storing them in the fridge in an airtight container. Frosted cupcakes can be refrigerated for up to 5 days.
If stored unfrosted in an airtight container, they can last for:
A day at room temperature
Up to 5 days in the fridge
Up to a month in the freezer
You can make your frosting ahead of time too or save any leftover frosting! It can be stored in an airtight container in the fridge for up to a month, or in the freezer for up to 3 months.
Be sure to give it a good stir once it thaws to get the consistency nice and smooth again.
Nutrition Information
Yield
12
Serving Size
1
Amount Per Serving
Calories

437
Total Fat

24g
Saturated Fat

12g
Trans Fat

0g
Unsaturated Fat

10g
Cholesterol

66mg
Sodium

321mg
Carbohydrates

55g
Fiber

0g
Sugar

44g
Protein

3g