Somehow Halloween is already here! Every year I try to come up with new and spooky cake ideas, and I've made some pretty awesome (if I do say so myself) Halloween cake decorations in the past.
While I love to have fun with different designs, and I always try to keep them pretty simple. Spooky, yet simple. I was reminiscing on my past cakes, and decided to share a little halloween cake round up!
Below are some fun halloween cake decorations to get you inspired!
Use a Spooky Silicone Mold
Sometimes all you need is a little black buttercream, and a great silicone mold! I got this spooky skull mold on amazon, and it was perfect for this cake!
Silicone molds are super easy to use. You simply dust them with a bit of cornstarch, and press just enough fondant into the opening to fill the mold. With the help of the cornstarch, the fondant should pop out of the mold quite easily.
I brushed a bit of black cocoa powder into the eye and nose sockets, to give them more dimension and make them look even scarier.
These skulls are made with fondant, because I'm too impatient to wait for chocolate to cool!
I only had four skull molds, and needed about 20 of these skulls. You could definitely use white chocolate instead of fondant if you prefer though!
Other halloween molds or accents you could add to cake include pumpkins, spiders, bats, or even ghosts!
Wrap Your Cake with Marshmallow Cobwebs
Marshmallow cobwebs are a classic halloween look, thanks to the Cake Blog for sharing this technique back in 2012!! It's a messy, yet stunning technique that is a lot simpler than you'd think.
Ocne your cake is frosted and chilled, place a cup of marshmallows in a heat proof bowl. Heat it in the microwave for 30 seconds.
Remove from the microwave, and give the melted marshmallows a good stir.
They will be too hot to handle right out of the microwave, so stir them for about a minute, to help them cool down a bit.
Continue to stir until they are cool enough to touch and not burn your hands.
Pick up a bit of marshmallow with both hands, and pull your hands away from each other to create long, thin strands of marshmallow.
Wrap this around your chilled cake, and repeat until your cake looks like a cobweb!
Make Sugar Glass Shards
Now I'm stepping up the ante. If you're looking for a more intense (and slightly gory) Halloween cake decoration, sugar glass shards are right up your alley!
The end result is wild, especially if you incorporate some strawberry jam "blood" into the mix.
While any recipe involving a candy thermometer may seem intense, I promise making edible glass is easier than it seems.
Here is the recipe and tutorial for my shattered glass cake.
Fill Your Cake with Jam "Blood"
Everyone loves a good surprise inside cake. But instead of cheerful sprinkles tumbling out of cake, imagine red "blood" slowly oozing out of a cake!
That's exactly the effect you get when you fill a cake with strawberry jam! I added a touch of red gel food coloring to mine to make it super dramatic.
I used this effect with my vampire bat cake, and it was a huge hit!!
Swirl Together Leftover Frosting to Make A Monster Mash Cake
When I do lots of holiday baking, I usually end up with tons of colorful frosting. I try to save leftover frosting, and repurpose it for future projects.
After making a bunch of different halloween cupcakes I had tons of green, orange, and purple frosting leftover.
I didn't want them to go to waste, so I swirled them together on top of sheet cake! I added some spooky sprinkles and some candy eyeballs and loved how it looked!
Make A Pumpkin Shaped Cake
If you're feeling adventurous, you can try to match the shape of your cake to its flavor! I decorated this pumpkin spice layer cake to look just like a pumpkin!!
With a bit of carving, and a LOT of orange buttercream, I was able to create perfect little panels around the cake.
I mixed together some leftover cake scraps and frosting to shape the stem, and then brushed it with a bit of melted dark chocolate to give some texture.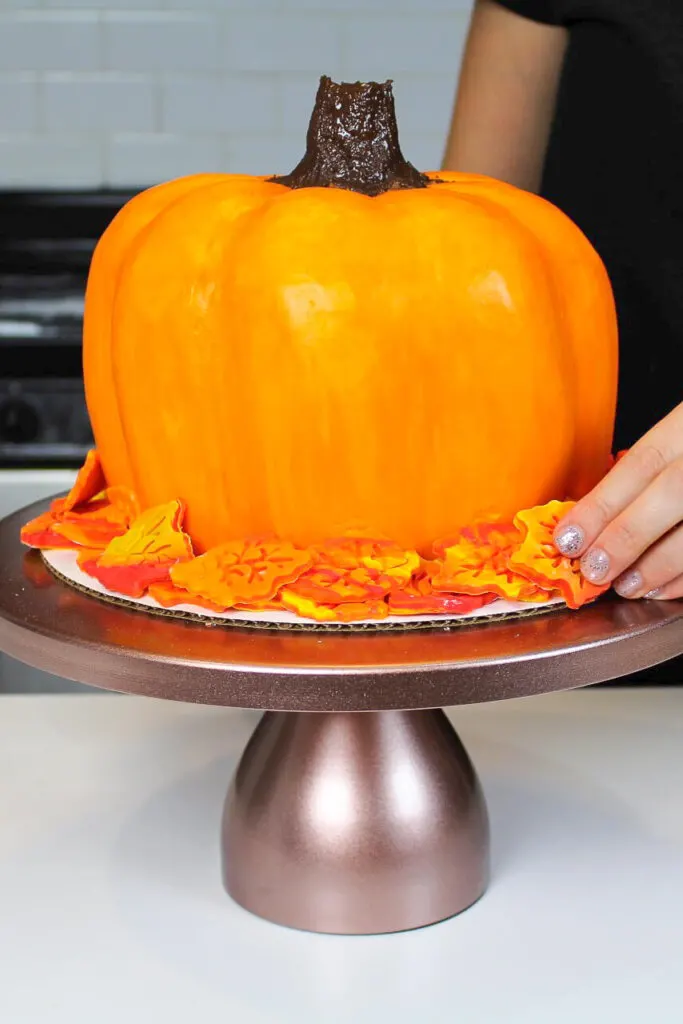 Sculpted cakes definitely take quite a bit of time to make, but then end result makes it all worth it 🙂
Use Cupcakes to Make Mini Monster Cakes
Sometimes you don't need to make a huge cake for a party, or want to keep things a bit more simple. Layer cakes take a long time to make, and feed SO many people.
A great way to save time and ingredients is to make mini cakes with cupcakes!!
My vanilla cupcake recipe can be made in one bowl (by hand!), and are ready to go in no time.
I made a dozen cupcakes, and stacked them to made the cute little monsters below!
The best part is that you can use whatever leftover frosting you have on hand, and whatever frosting tips you have!
You can get creative with the colors, designs, and their cute little facial expressions.
This also a fun idea to do with kids! They can each make their own monster.
Create a Candy Corn Inspired Layer Cake
Candy corn can be a very polarizing candy, but if you're a fan of it, it's a great idea for a cake.
To stay true to that sweet candy corn flavor, you can use a marshmallow frosting!
I cheat when I make marshmallow frosting, and just add marshmallow fluff into my American buttercream. It's quick, easy, and delicious!!
To make this candy corn cake a bit more exciting I rolled it in some sanding sugar, and used a Wilton 1M to make the swirls on top.
Let Me Know What You Think!
If you try any of these Halloween cake decorations, I'd love to hear how they turn out!
Please let me know in the comments section below or by tagging me on social media @chelsweets.
Other Recipes You Might Like: