As we get closer to Halloween, my mind is completely filled with Halloween-themed cake ideas!! This vampire bat cake is made with my favorite chocolate layer cake recipe, frosted with my black buttercream frosting, and has a strawberry "blood" filling!! This cake is just as spooky as it is silly 🙂 The full recipe can be found below, along with a quick tutorial:
Recipes:
Bake four, seven inch chocolate cake rounds. While the cake layers bake and cool, make the bat's wings and facial features. Use circle cutters to create the eyes, and wings. Insert wooden skewers or tooth picks into the wings, to make it easier to secure them onto the cake. Place the fondant details onto parchment paper to dry.
Once fully cooled, use a 3 inch circle cutter to remove the centers of two of the layers. Begin assembling the cake using an uncut cake layer. Frost with an even layer of vanilla buttercream, then top with one of the cake layers. Gently frost the cake ring, the stack with the other cut layer. Spread an even layer of buttercream on top of the second cake ring, then smooth frosting into the cut-out center of the cake.
Mix one squirt of red gel food coloring into the strawberry jam, and then carefully pour into the center of the cake. Fill to the top, then place the last cake layer on top. Cover the cake in a thin crumb coat, and chill in the freezer or fridge for about 5 minutes. Once the crumb coat is firm to the touch, add a second, thicker layer of frosting using the black chocolate buttercream. Smooth using a bench scraper. You can see a full tutorial on how to frost a cake with smooth sides here.
Add facial features onto the side of the cake, and insert the wings 2/3 of the way up the cake, on each side of the face.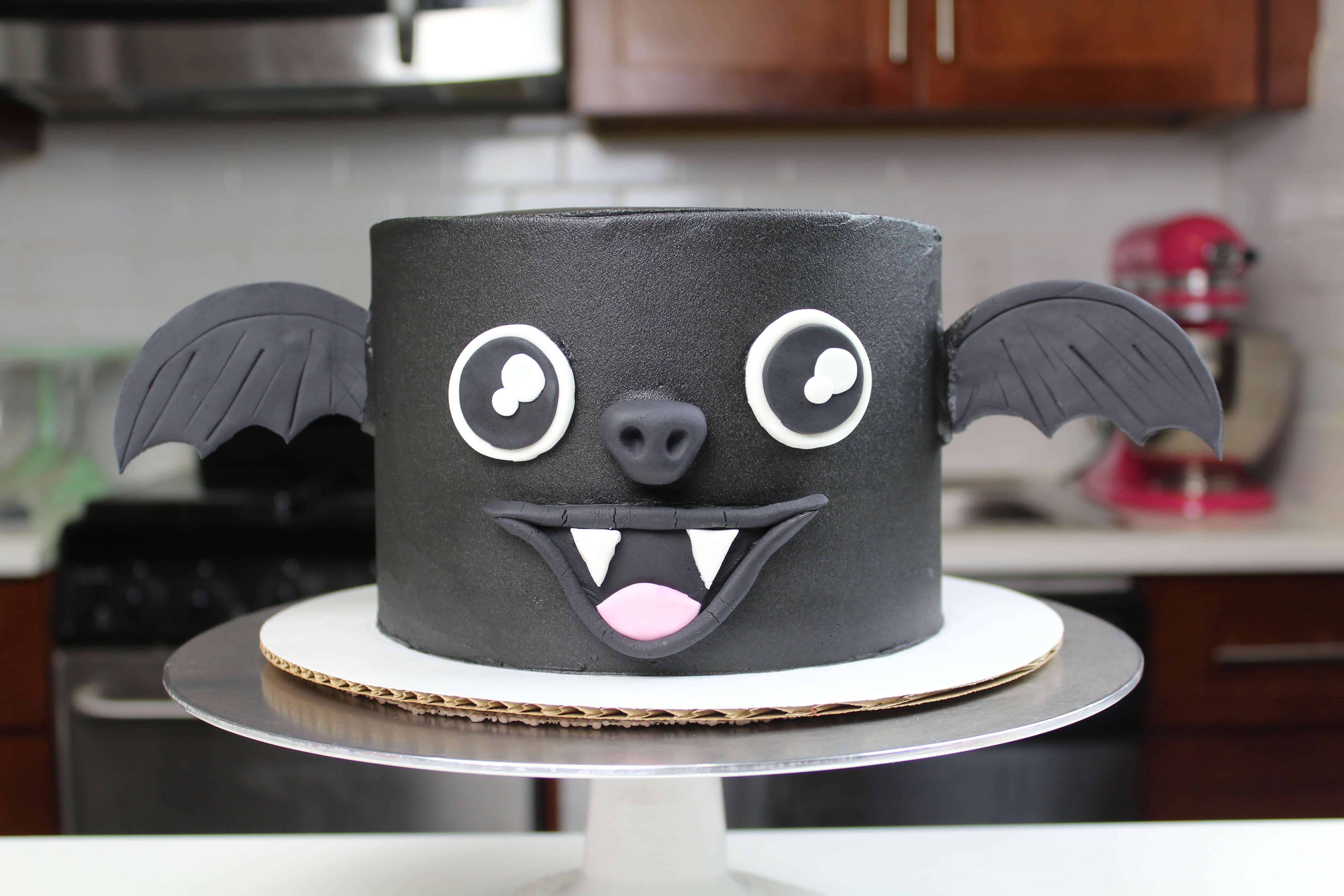 Then gather everyone around for the dramatic cut!!! The strawberry jam will begin oozing out as soon as you remove the first slice, so be prepared!