As we approach Christmas, I wanted to do a round up of fun christmas cakes I've made in the past! I'm hoping this will help spark some ideas for your own Christmas Cake decorations, and inspire some amazing christmas cakes this year.
Below are 15 awesome and (relatively) easy christmas cakes that are sure to be the star of your holiday celebrations.
Easy Christmas Lights Cake
This Easy Christmas Lights cake is one of my favorite christmas cake decorations. All you need is some dark green frosting and some almond M&Ms!! I used a small round piping tip and a small piping bag to get the string of my christmas lights nice and smooth.
However, if you don't have those on hand you can always use a freezer ziploc bag, and snip off one of the corners.
Simple Present Cake
Baking for someone can be a great gift, in and of itself! This simple present cake is definitely a play on that idea.
To be totally honest, I'd be just as happy receiving a cake as a gift! I kept the decoration of this Christmas gift cake simple by using premade fondant to make the ribbon.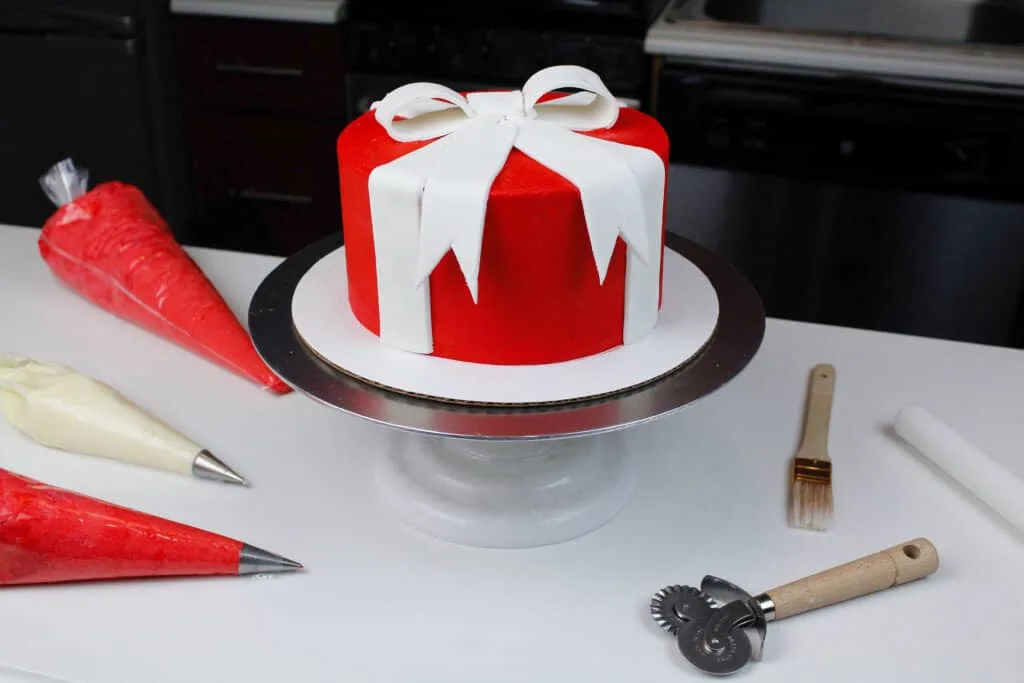 Floral Christmas Cake
Another simple way to decorate a Christmas cake is with flowers! To make this floral Christmas cake, simply add fresh, organic flowers to the top of your favorite layer cake.
There are a few things you should know before you add flowers to a cake though!
I recommend wrapping the flower stems with floral tape before adding them to your cake. This will prevent the fluids from the stems of the flower from leaching into your cake.
I also add a few gold brush strokes around the cake to make it feel even more festive.
Winter Wonderland Cake
Maybe you're an artist, and you feel like getting creative with frosting. This winter wonderland cake is the perfect way to let your creativity flow, and channel your inner Bob Ross.
I like to use these palette knives to spread buttercream for this style of painted cake. They help you create unique textures and patterns, which are great for adding the mountains and trees to this cake.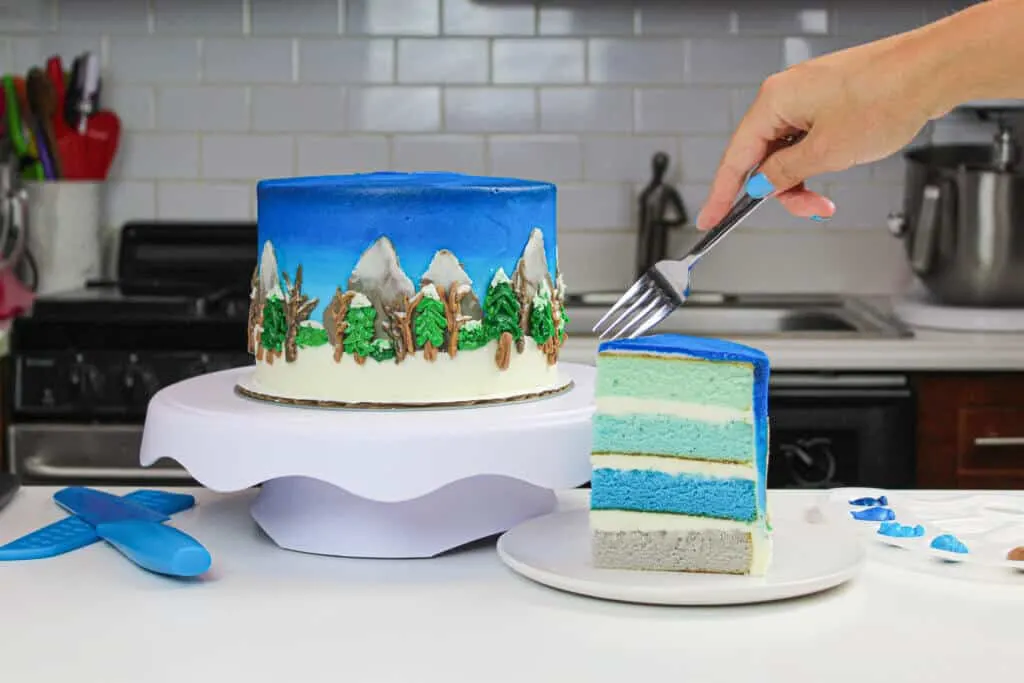 A Santa Cake
Christmas cakes really don't get jollier than this Santa Cake! This cake uses buttercream to create good old Saint Nick. His fluffy beard is piped with a Wilton 1M frosting tip, along with the white fur on his hat.
The key to this cake is making super red buttercream! I recommend making it in advance and letting it sit for a few days in fridge. The color will deepen overtime.
A Reindeer Cake
Reindeer are almost as important to Christmas as Santa, so I wanted to include a fun reindeer cake.
I ended up adding some eyelashes to this reindeer cake, along with a sassy little smile. You can omit those and add a red nose if you want to go for more of a Rudolph vibe 🙂
This little reindeer cake is made with peanut butter and chocolate, and is sure to light up any holiday party.
Festive Striped Christmas Cake
Another cute idea for Christmas cake decorations is to add green and red stripes to the sides of a layer cake! That's what I did for this festive striped Christmas cake, and I was obsessed with end result!
I highly recommend using a couple flat piping tips to create those thick stripes. They make the process a lot easier!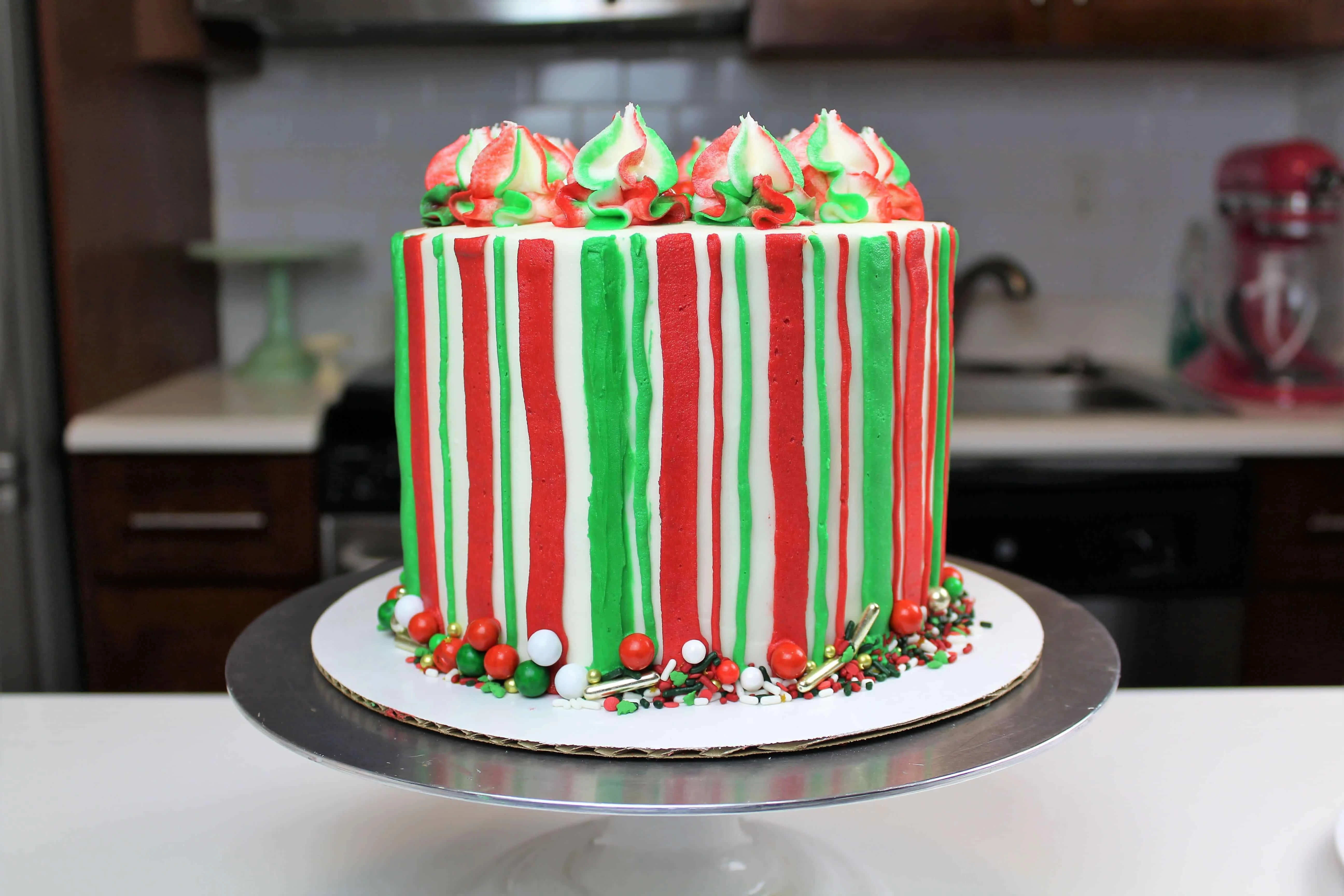 Christmas Cranberry and Orange Bundt Cake
If layer cakes aren't your thing, I recommend making a festive bundt cake! This orange and cranberry bundt cake is bursting with citrus flavor, which is balanced beautifully by the tartness of the cranberries.
Better yet, this bundt cake takes hardly any time to decorate! You simply drizzle a fresh orange glaze over it, toss on some sugared cranberries, and it's ready to go.
My tip is to use a fun bundt pan to bake it in, like this one made by Nordic Ware.
A Festive Yule Log Cake
A fun spin on the classic buche de noel, this Festive Yule Log Cake (or as I like to call it, a holiday tree stump cake :P) is a ton of fun to make! It's a rolled cake, so it has vertical layers when you cut into it.
It's frosted with a decadent dark chocolate ganache, which sets nice and firm, and keeps those cake layers in place. Throw on some marzipan mushrooms and some chopped pistachio moss, and you're ready to party!
An Ugly Christmas Sweater Inspired Cake
If you feel comfortable with piping bags, you could always tackle my knitted sweater cake! This christmas cake design is inspired by all those festive Christmas sweaters we see this time of year.
In full disclosure, this cake decoration is a bit challenging. The repetitive pattern doesn't leave much room for error.
However, every cake has a back, and if you run into any issues with the pattern, you can always make that the back of your cake.
A Gingerbread House Cake
While everyone is making gingerbread houses, why not make a gingerbread house cake??
You can let your holiday spirit soar as you frost gingerbread cake layers with spiced cinnamon buttercream, and decorate with all the best gumdrop decorations.
Wintery Snowflake Cake
Maybe your favorite part of the holiday season is snow! If that's you, consider making this striped snowflake cake!
It has some serious winter vibes, and the buttercream snowflakes on the side are almost too cute to handle. I used a plastic stencil from amazon to make them, which easily helps you add a wintery touch to any cake.
A Grinch Cake
If you aren't the biggest fan of the holidays, this may be the Christmas cake for you! This Grinch cake is decorated based on the original 1966 version of the grinch.
His homemade buttercream and edible compost cookie dough filling are so delicious, they'll help your heart grow 3x in size this Christmas.
Chocolate Red Wine Cake
For most of us, the holidays are all the more cheerful with a drink or two. If you love red wine, this is the cake for you. It's made with chocolate cake layers soaked with red wine simple syrup, red wine frosting, and a red wine ganache.
A slice of this chocolate red wine cake is sure to help you get through the holidays…one bite at a time 🙂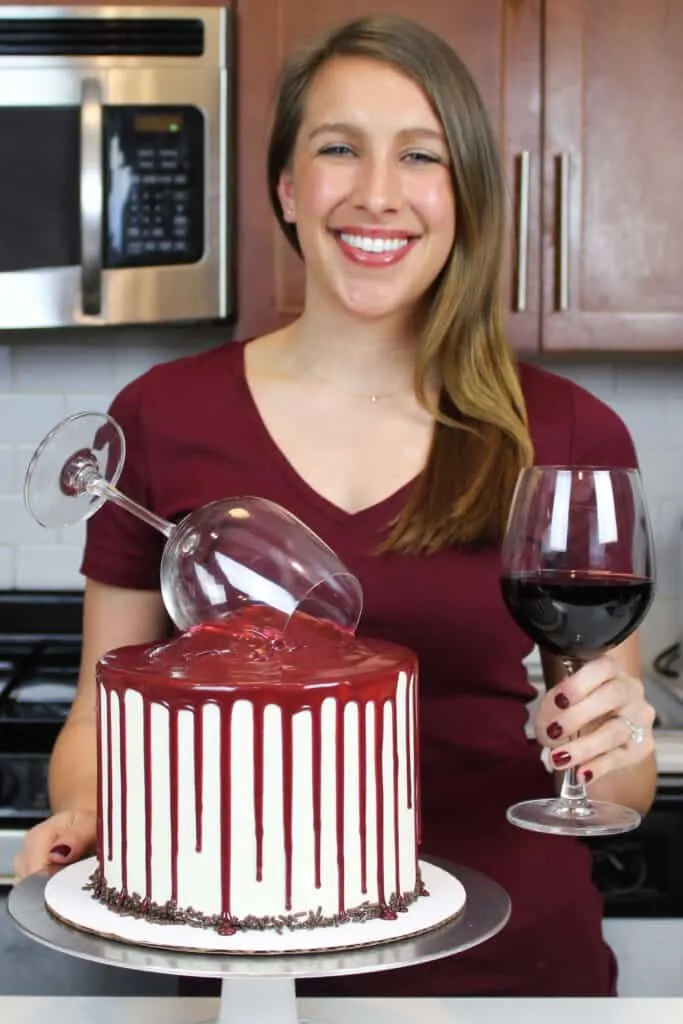 Mini Christmas Tree Cakes
My final Christmas cake decoration idea is actually a mini cake!
These little Christmas tree cakes are made with stacked cupcakes! They're easy to make, and the perfect little treat to whip up with friends, or with kids. Just be sure to have lots of pretty sprinkles on hand to decoration them.
Let Me Know What You Think!
If you try any of these Christmas cake decorations, I'd love to hear what think of it! Please let me know your thoughts in the comments section below.