If you've been following me for a while, you know how much I love funfetti!! I've made a ton of funfetti desserts over the years, and this funfetti recipe round up includes all my favorites!
There is just something about funfetti- maybe it's the nostalgia, maybe it's the colorful sprinkles, maybe it's the little pop of texture they add but I truly cannot get enough of it.
As usual, we are kicking off our round-up with a classic! This funfetti layer cake is the ultimate crowd pleaser. It's perfect for birthdays, anniversaries, and even weddings.
Yes, I did make our entire 4-tiered wedding cake with this recipe!
A quick note – I find that the best sprinkles for making my funfetti cake recipe are these rainbow jimmies.
This recipe for funfetti cinnamon rolls is packed with sprinkles and is the perfect cinnamon roll flavor for a fun brunch with friends and family!
When making the perfect vegan funfetti cake there are lots of things to consider. But, this being a funfetti recipe, the sprinkles are the star of the show. However, a lot of sprinkles aren't vegan!!
I love using these vegan rainbow sprinkles and I like to decorate with the gorgeous vegan sprinkles blends made by Sweetapolita.
I've made so many different flavors of banana bread but this funfetti banana bread is my favorite variation!
This recipe uses a generous amount of sprinkles to the batter and is topped it with a delicious vanilla glaze, which really takes it to the next level.
If there was any way to make a funfetti cake any better, it's with edible cookie dough as a cake filling.
I use this recipe for my cookie dough cake filling and my secret to keeping it even is rolling it out into an even disk. It adds a great texture to the cake and it's not too sweet!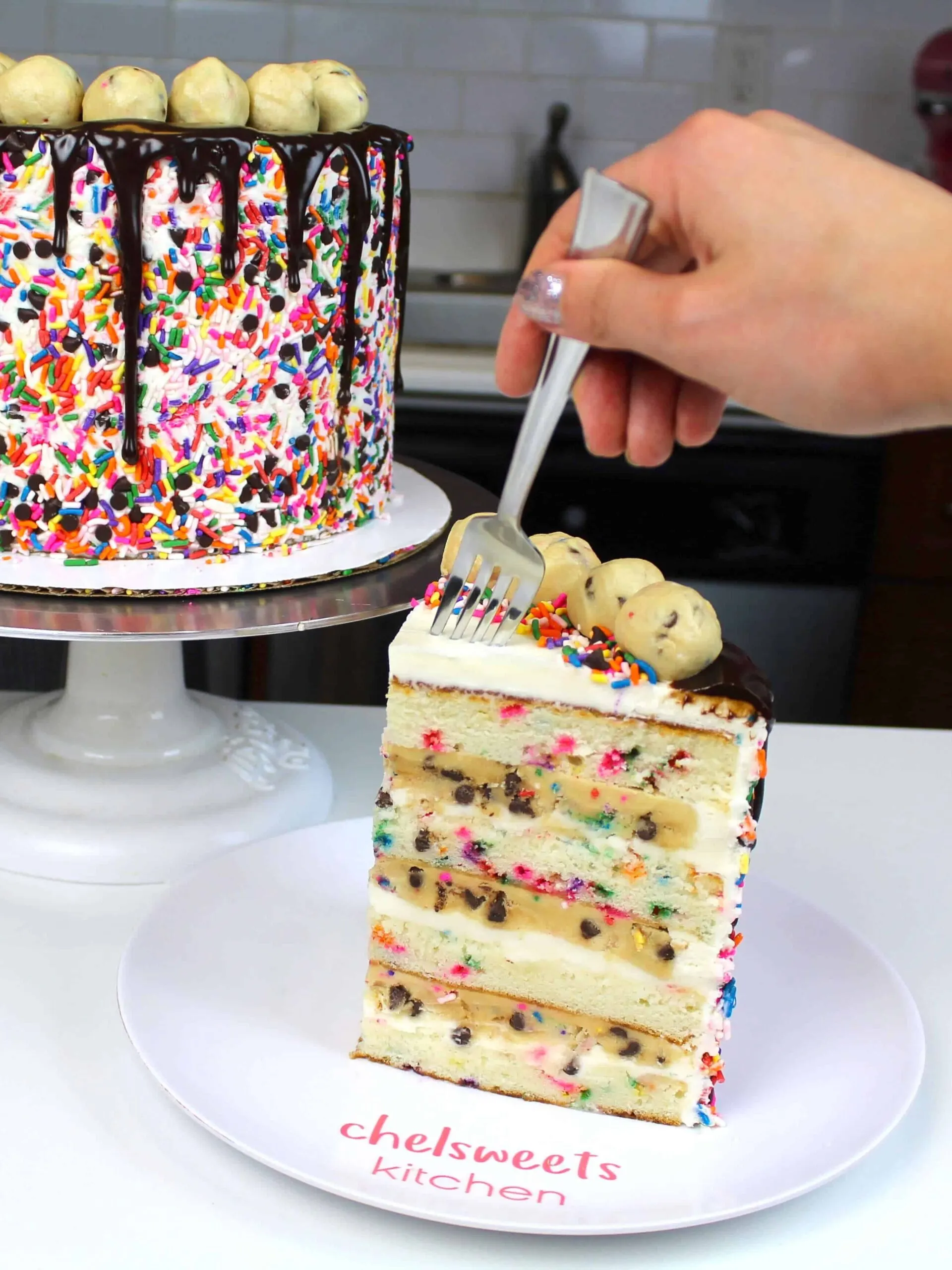 I love Oreos just about as much I love sprinkles, so it was only a matter of time before I brought the two together! This funfetti Oreo cookie recipe shows that they are the perfect pair!
They bake up soft and chewy and the Oreos and sprinkles give these cookies a beautiful look once they're baked!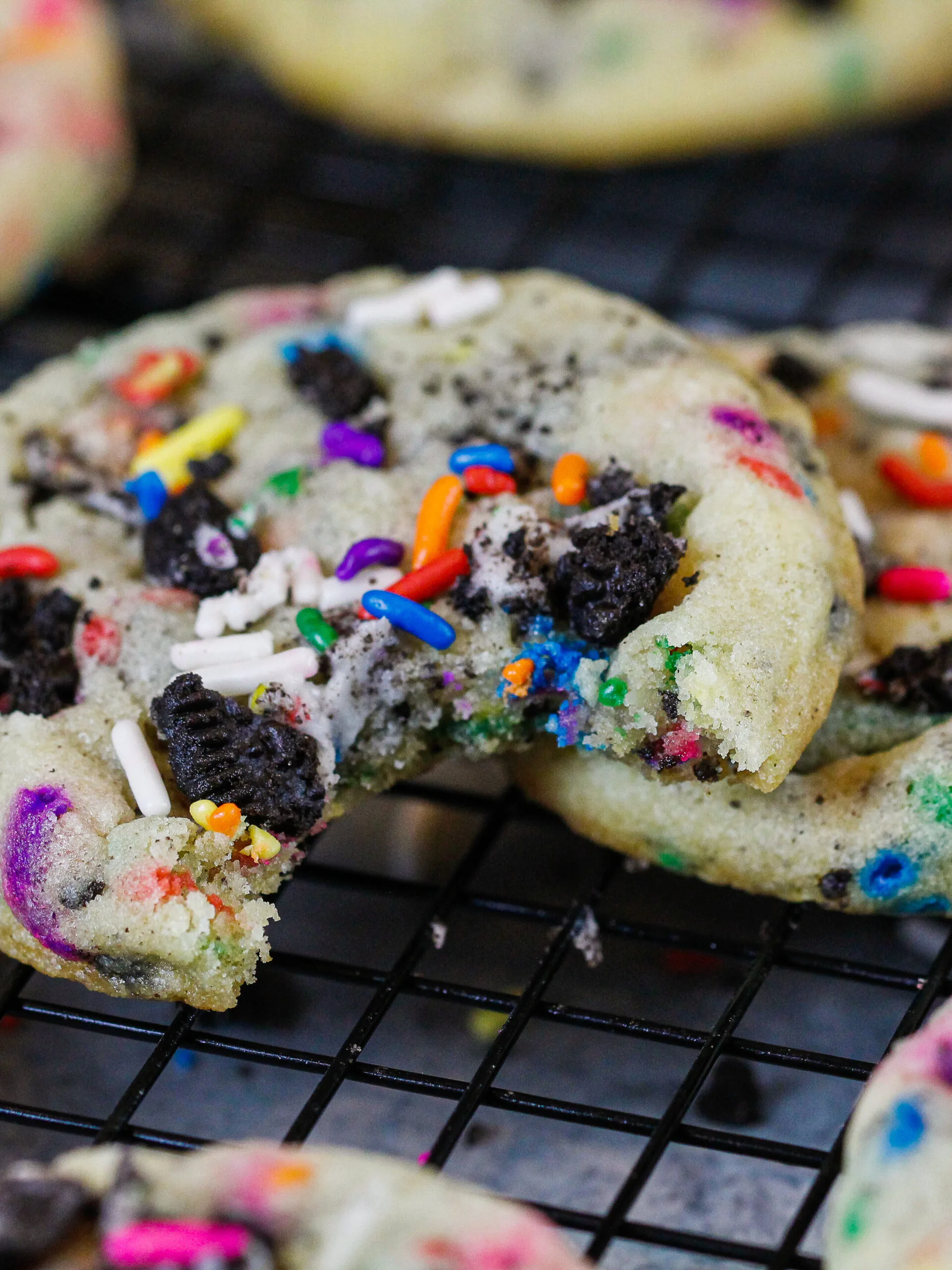 I'm a strong believer that everyone deserves great cake, including my gluten free friends! So naturally, I had to make a gluten-free funfetti cake to make sure everyone gets in on the fun.
I love using gluten-free King Arthur flour, which helps these cake layers bake up incredibly moist and fluffy! When you bite in, you can't even tell this cake is gluten free.
Here's another classic recipe – the funfetti cupcake! The bright pops of color from the sprinkles along with their crunch make these so fun and give you an excuse to celebrate ANY day.
Last but not least we have these adorable funfetti macarons! I've shared a lot of macaron recipes, but felt like it was time to get some sprinkles involved!
These funfetti macarons are covered with sprinkles and filled with delicious cream cheese buttercream.
Let Me Know What You Think!
If you try any of the recipes from this delicious funfetti recipe round up, I'd love to hear what you think!