I've started sharing my Valentine's Day cakes across social media, and a few of them are decorated with super vibrant, red buttercream.
This has to led to tons of comments and messages asking how I make such red frosting!
Use The Right Type of Food Coloring
There are a few tips I have to make frosting that is a deep, true red color. The first is to use gel food coloring or powdered food coloring!
When it comes to coloring your frosting, these are an absolute must.
Liquid food coloring can throw off the consistency of your icing, especially if you have to add a ton to achieve the color you're after.
Gel food coloring is much more concentrated, so you can add less and still get a deep color. The brand you use can affect the color too, as some are more true to color than others.
I always use the Americolor brand (not sponsored, just my very favorite food coloring)! I like to use the super red shade when making red buttercream.
Powdered food coloring is less commonly used, but is another wonderful way to get a bright red frosting.
This red powdered food coloring isn't expensive, and you can order it on amazon. The biggest benefit to using it is that it has NO bitter aftertaste.
There also are some wonderful natural red powdered food colorings. If you're looking for a natural way to make red buttercream, I suggest going this route.
Most of my cakes are frosted with an American-style buttercream frosting. My frosting is naturally pretty white, which makes it a great base to be colored!
If your frosting is somewhat yellow, this can make it harder to make brightly colored frosting.
Make Your Red Frosting In Advance
My second trick to making red frosting is to make it in advance. Yes, time is another secret!!
If you make the frosting a few days (or more) in advance, the color of the frosting will deepen over time.
This buttercream can be made weeks in advance, and stored in the fridge until you're ready to use it.
I take the frosting out a few hours before I need it, to allow it to come to room temperature. Once it's thawed, it always is a darker color than when I initially made it.
While we're on the topic, I have one important piece of advice around making frosting in advance. As buttercream sits and/or thaws, it usually gets tons of tiny air bubbles in it!
When you make frosting, it's almost impossible not to incorporate air into it as you mix in the powdered sugar (I recommend using a paddle mixing attachment to help minimize this).
This becomes more noticeable overtime as the buttercream sits, and tiny air bubbles form.
To make your buttercream smooth again, all you need to do is give the frosting a really good stir with a rubber spatula.
Work the frosting slowly from side to side, and spread it across the sides of your bowl for a few minutes.
It's definitely an arm workout, but after working the frosting around the bowl and pushing out the excess air, you'll be left with silky smooth frosting.
Avoid The Bitter Taste
My final tip helps manage the bitter flavor that bright red buttercream usually has. I am the first to admit that most frosting made with lots of food coloring tastes bitter.
Red frosting is one of the worst offenders, and there are a few ways around this. The first option is to use a "no taste" red gel food coloring, which helps reduce the bitter aftertaste.
It's harder to find online, and while it does make the frosting taste better, there still is a tiny bit of aftertaste.
Like I mentioned above, another great way to avoid bitter taste is to use powdered red food coloring! It works great, and you can't taste it at all!!
My way around this is to flavor the frosting, either with a strong extract (like almond or coconut), or with cream cheese! I love using my cream cheese buttercream recipe when making red frosting.
The cream cheese flavor helps counter the bitter taste of the food coloring. My cream cheese frosting is thick enough to pipe with, and is what I used to make this red buttercream rosette cake.
Start With A Pink Base Frosting
My final trick to making red frosting is to start with a pink frosting. Strange, I know. But pink food coloring doesn't have the same bitter taste that red food coloring does.
It's way easy to turn pink buttercream red than to start with a white buttercream base and make it red.
It also allows you to use way less red food coloring, which I think we can all agree is the goal here.
Whether you're making a cake for Christmas, Valentine's Day, or an angry birds cake, I hope these tips help you make the brightest, most delicious red buttercream!!
Tips For Making SUPER Red Frosting:
Use gel food coloring (preferable Americolor Super red) or powdered food coloring
Make this frosting several days in advance to allow the shade to deepen
Flavor the frosting with cream cheese or a strong extract (like almond) to avoid a bitter taste
Start with a pink frosting base to allow you to add less red food coloring
Add a tiny drop of black gel food coloring to deepen the shade more if needed
Share Your Creations With Me!
If you try this red frosting recipe, please tag me @chelsweets. Also use the #chelsweets so that I can see your amazing creations!
Nothing makes me happier than when I get emails or DMs with photos of your amazing cakes. Please don't hesitate to reach out to me with your triumphs, or questions <3
If you have any questions about red frosting that I didn't cover, or if you have any tips of your own, please share them in the comments section below.
Yield: 6 cups
Bright Red Buttercream Frosting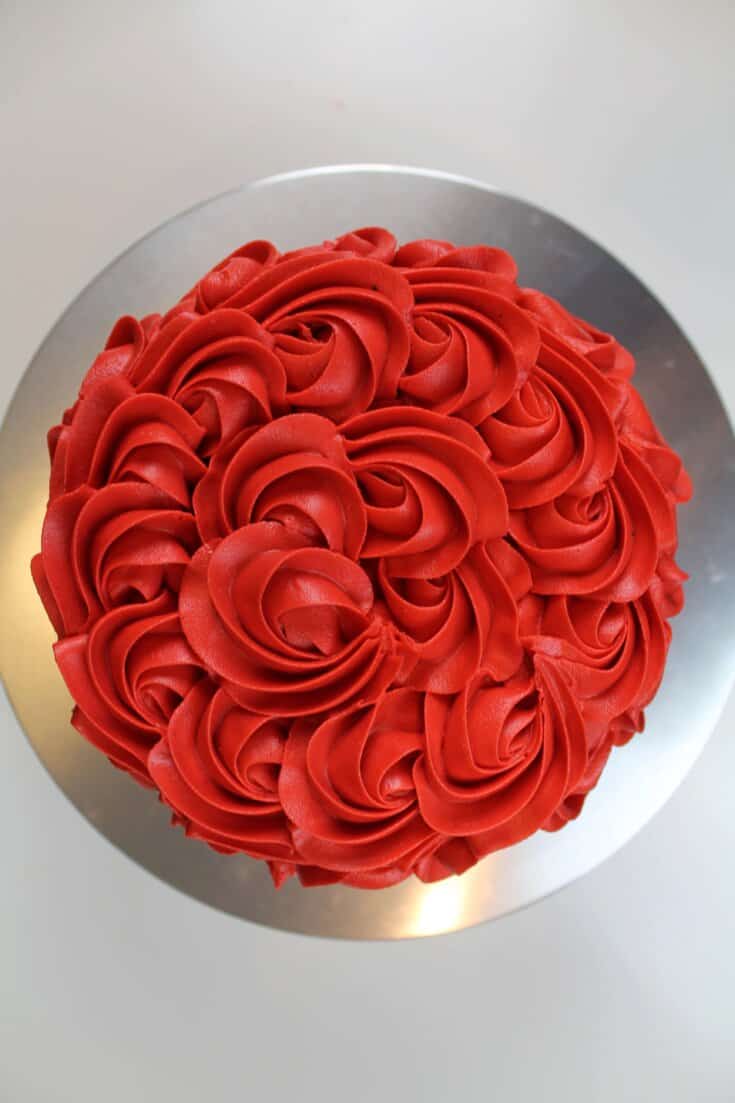 Struggle to make truly red frosting?? Learn my tips for making the brightest red buttercream, with a simple recipe that comes together in minutes.
Ingredients
2 cups unsalted butter, room temperature (434 grams; 1 lb box)
7 cups powdered sugar (907 grams) - or a 2 lb bag
1/2 tsp salt (3 grams)
2 Tbsp heavy cream (or whipping cream) (30 grams)
1 Tbsp vanilla extract (13 grams)
Instructions
Beat the butter on a medium speed for 30 seconds with a paddle attachment, until smooth. Mix in the vanilla and salt on a low speed
Slowly add in the powdered sugar, 1 cup at a time. Alternate with small splashes of cream.
Beat on low until the ingredients are fully incorporated, and the desired consistency is reached. 
If the frosting is too thick, add in additional cream (1 Tbsp at a time). If the frosting is too thin, add in more powdered sugar (quarter of a cup at a time).
Add in a generous squirt of gel or about a 1/2 tsp of powdered food coloring once the frosting is fully made, and beat on low until it reach the desired colored.
To allow the shade to deepen, place in sealed piping bags or an airtight container. Leave out overnight at room temperature, or place in the fridge for several days.
Notes
If you are making frosting for a cake, it is important to mix the buttercream on the lowest speed at the end of the process for a couple minutes, to get out any extra air that might have be incorporated during the mixing process.
You can also stir the frosting in a bowl with a rubber spatula, pushing it from side to side, to get rid of any air bubbles.This will make it easier to get super smooth sides on your cake!
If you have any questions about making buttercream in advance, please read this post on how long buttercream lasts and how to store it.
Nutrition Information
Yield
6 cups
Serving Size
1
Amount Per Serving
Calories

1154
Total Fat

63g
Saturated Fat

39g
Trans Fat

0g
Unsaturated Fat

21g
Cholesterol

168mg
Sodium

207mg
Carbohydrates

151g
Net Carbohydrates

0g
Fiber

0g
Sugar

148g
Sugar Alcohols

0g
Protein

1g
If you enjoyed this post, you might also like:
How To Make Super Black Buttercream Frosting