Whether you plan to celebrate Valentine's day with your significant other, friends, or galentines, this cake is the perfect way to show them you care. This cake is made with pink velvet cake layers, which is really just my white velvet cake recipe colored pink!
It's frosted with my very favorite frosting recipe, which is super easy to make. If that combination doesn't say "Happy Valentine's Day," I don't know what does!
Pink Velvet Cake Layers
Dividing one batch of my pink velvet cake batter equally between two bowls, I colored one half light pink, and the other hot pink! I wanted each slice of this cake to be just as beautiful as the outside. These colorful cake layers did it justice!
You can use the same gel food coloring to create both shades. Just add a few drops to create the light pink, and double the amount to create the bright pink layers.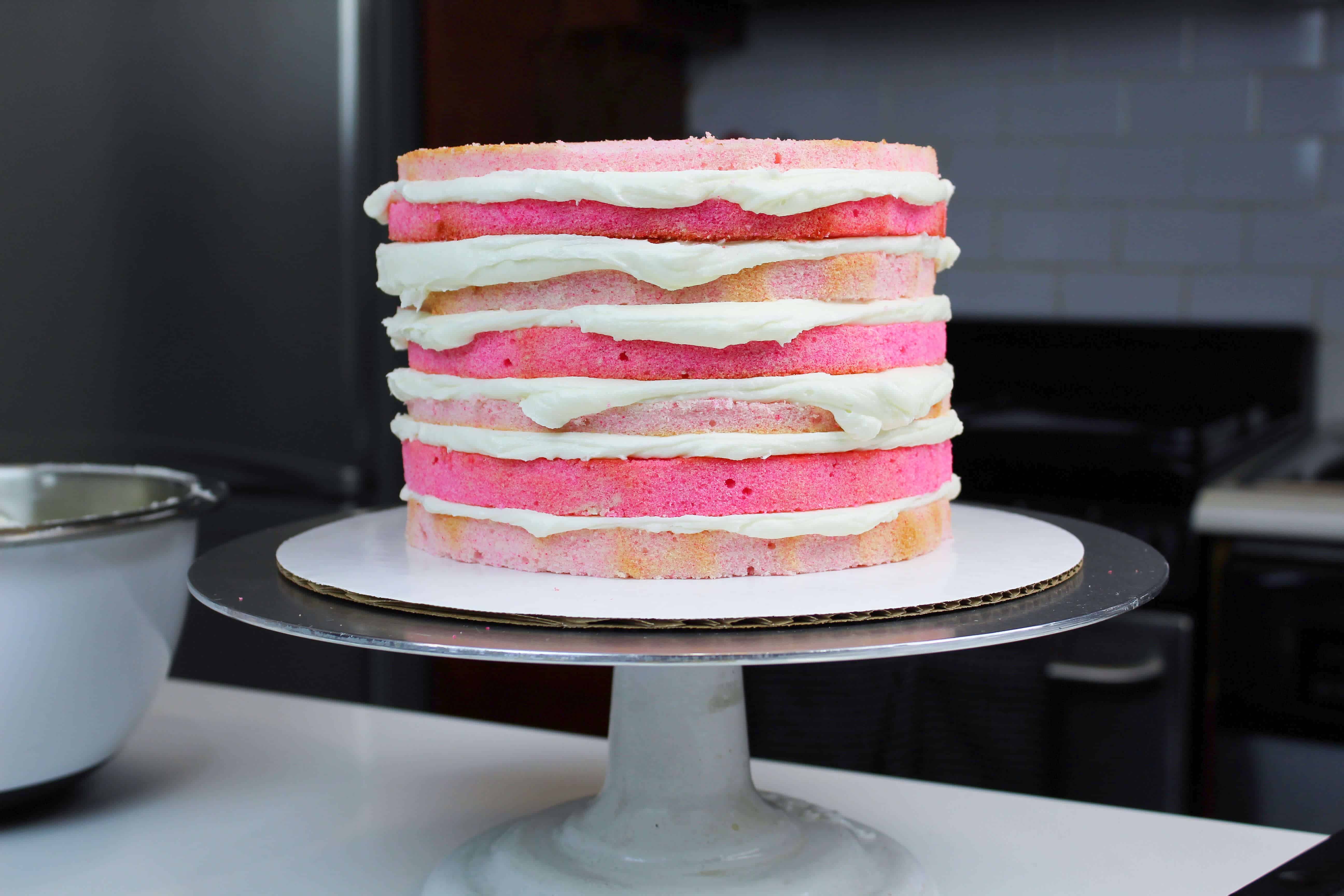 Doubling Your Cake Layers – Torting
Since love was being baked into each layer of this cake, I decided to torte (horizontally cut) each cake layer, making a seven layer cake. I usually use a serrated knife to trim the caramelization from the sides of my layers, and level the top of each cake layer. This helps those vibrant colors shine through when you cut into it.
I know what you're thinking, if she cut four layers in half, wouldn't that make 8 cake layers? Yes, it would have…if I hadn't accidentally torn one of the layers while cutting it. In an ideal world this recipe will make 8 cake layers.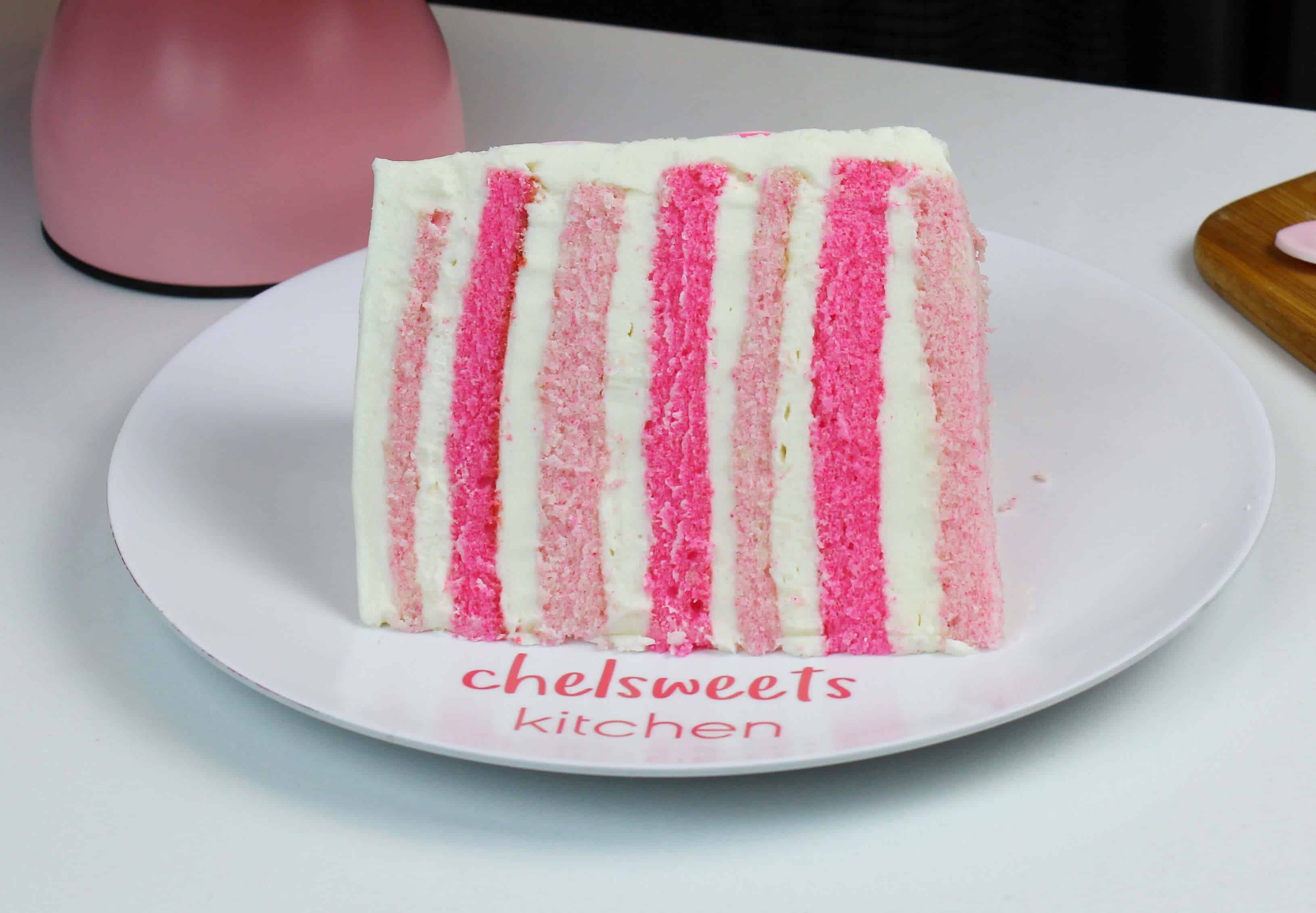 Marbled Fondant Hearts
In addition to the love in each layer, I also added some hearts to the side of the cake to really get the point across. Since I don't work with fondant very often, I usually order it online!
For this cake, I used about 1/2 cup of white fondant, and 1 cup of light pink fondant. Using the same food coloring from above, I colored 1/2 a cup of the light pink fondant to make the hot pink fondant.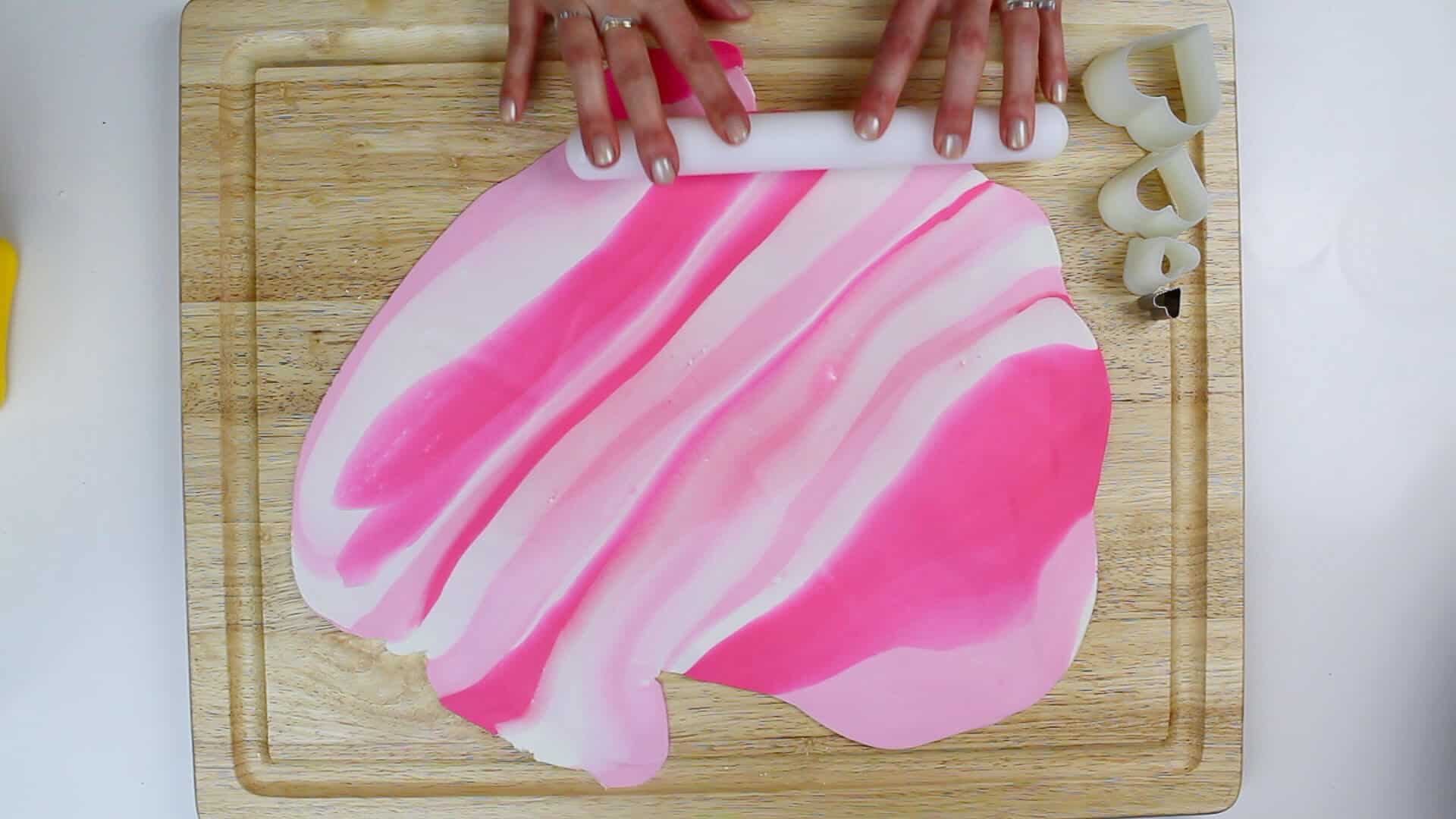 This step is always messy! I highly recommend either wearing rubber gloves, or working the coloring into the fondant inside of a plastic bag. If you do this with bare hands, your fingers will be dyed pink for days. And don't even get me started on getting food coloring out from under your finger nails!!
I twisted together equal amounts of white, light pink, and hot pink fondant to create a beautiful marbled pattern in my fondant, and used heart shaped cutters to create the different sized hearts.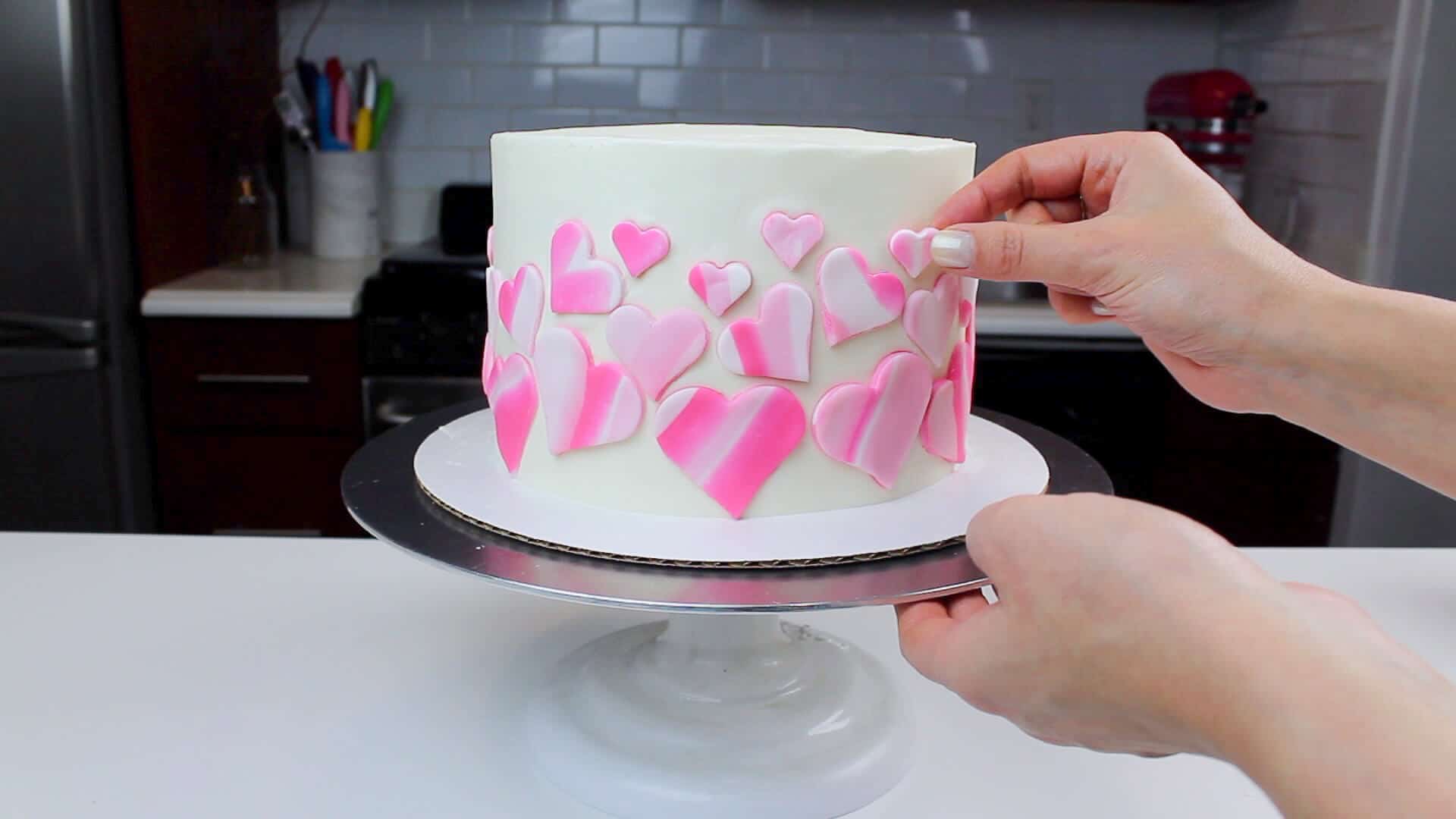 Cake Decoration
Once I stacked and frosted my cake, I added these fondant hearts all around the cake. Starting with the largest hearts on bottom, I worked my up with cake with the smaller fondant hearts. I completely covered the sides of the cake, and fitting as many hearts onto it as I could.
As beautiful as this cake was, I couldn't wait to cut into it! With all the effort I put into trimming and torting the cake layers, I was so ready to see the inside of the cake. I'm happy to say, this slice didn't disappoint!
To help get super clean slices of cake, I run my knife under hot water before cut it! I also cut the cake when it's still slightly chilled, so that each slice keeps it's shape.
Let Me Know What You Think!
If you try out this recipe or cake, be sure to tag me @chelsweets, and use the #chelsweets! I love seeing all of your creations <3
Yield: 24
Pink Velvet Layer Cake Recipe
This pink velvet cake recipe is incredibly moist, with the most delicious tang! It's just as delicious as it is beautiful.
Ingredients
Pink Velvet Cake Layers
3 cups all-purpose flour (390 grams)
3 cups granulated sugar (600 grams)
2 tsp baking powder (13 grams)
1 tsp baking soda (6 grams)
1 tsp salt (5 grams)
1 cup unsalted butter, room temperature (226 grams) – 2 sticks
5 large eggs, room temp
1 1/2 cups buttermilk, room temperature (360 grams)
1/8 cup vegetable oil (28 grams)
2 tsp. vanilla extract (9 grams)
2 tsp vinegar (9 grams)
Pink gel food coloring
Vanilla Buttercream Frosting
2 cups unsalted butter, room temperature (434 grams)
7 cups powdered sugar (907 grams; or a 2 lb bag)
1/2 tsp salt (3 grams)
2 Tbsp heavy cream (or whipping cream) (30 grams)
1 Tbsp vanilla extract (12 grams)
Instructions
Pink Velvet Cake Layers
Preheat oven to 350°F. Line four seven-inch pans or three eight-inch round pans with parchment rounds, and lightly spray with non-stick cooking spray.
Mix together all dry ingredients (flour, baking powder, sugar, and salt) in a stand mixer with a paddle attachment until fully combined.
Mix chunks of room-temperature butter slowly into the dry mix, on a low speed. Continue to mix until no large chunks of butter remain, and the mixture looks crumbly.
On a low speed, mix in eggs one at a time. Beat on low until just incorporated. Mix in the buttermilk in two installments, on a low speed. Add in vinegar, vanilla and oil, and mix at a low speed until fully incorporated. Scrape down the sides of the bowl with a spatula, then beat on medium speed for about 30 seconds.
Divide the batter in half, and use pink gel food coloring to color one half a light shade of pink, and the other half bright pink.
Evenly divide the batter between the prepared cake pans. Bake for 35-37 minutes (or until a skewer comes out clean).
Allow to cool for 10 minutes, then run an offset spatula around the pan to separate the cake from the pan. Place cake layers into the freezer for 45 minutes, to accelerate the cooling process.
Once the layers have fully cooled, I like to trim the caramelized bits from the sides of the layers using a serrated knife. While these layers bake pretty flat, sometimes I'll also trim the top of the layers too, to get my layers perfectly level.
Vanilla Frosting
Beat the butter on a medium speed for 30 seconds with a paddle attachment, until smooth. Slowly add in the powdered sugar, 1 cup at a time. Alternate with small splashes of cream.
Once fully mixed, add in the vanilla and salt, and beat on low until the ingredients are fully incorporated, and the desired consistency is reached.
If the frosting is too thick, add in additional cream (1 teaspoon at a time). If the frosting is too thin, add in more powdered sugar (quarter of a cup at a time).
Did you try this recipe?
Tag @chelsweets on Instagram and use the hashtag #chelsweets
Notes
If you want to learn how to make your cake layers in advance, I share all my tips and tricks for freezing cake layers here.
I also like to use a digital kitchen scale to weigh my pans, and ensure they all have the same amount of batter. This guarantees your layers will bake to be the same height.
Nutrition Information
Yield
24
Serving Size
1
Amount Per Serving
Calories

520
Total Fat

26g
Saturated Fat

15g
Trans Fat

0g
Unsaturated Fat

9g
Cholesterol

102mg
Sodium

287mg
Carbohydrates

70g
Fiber

0g
Sugar

57g
Protein

4g