Pull-apart cupcake designs are such a fun spin on things. I love them because they allow you to have the decorative freedom of a cake, without all the extra work. This wreath cupcakes design is pretty much a wreath cupcake cake!
You also don't have to worry about spreading and smoothing frosting. This design comes together super quickly, and is a lot easier to decorate than you might think 🙂
The Cupcake Base
The number of cupcakes you end up using for your wreath will vary based on the size of board, cake stand, or plate you decide to use. I used a 12 inch cake board, which let me make a ring of 10 cupcakes.
If you have any cupcakes left over (this red velvet cupcake recipe makes a dozen), you can either do a little taste test, or crumble them up to help decorate the wreath once it's frosted.
To make sure the cupcakes stay in place, I suggest piping a little dollop of frosting on the bottom of each cupcake before pressing it into place. This will prevent any sliding or shifting!
Tips for Piping Frosting on these Wreath Cupcakes
Now let's talk about the frosting tips I used to create this cupcake wreath. For starters, this cupcake wreath is decorated with cream cheese buttercream.
It always feels wrong to frost red velvet desserts in anything other than my cream cheese buttercream frosting.
But don't worry, it pipes like a dream! It has a great consistency, so it works wonderfully for baking projects like this.
The dark green buttercream that covers most of the cupcakes is piped with a Wilton 1M frosting tip. I recommend using a larger frosting bag (18-inches) for this, since it will hold most of the frosting you make.
Any open star frosting tip will work, so if you have a similar frosting tip made by a different company, it will work just fine.
For the lighter shades of frosting, I used two small french star tips. I like using a smaller tip for these, because they're really just meant to be accents on top of the other frosting.
They add an extra pop of color and dimension, but you don't need a lot of frosting to achieve that effect.
Decorating These Wreath Cupcakes
Once you get this far, it's time for the best part. Adding on the finishing touches! I used some fun sprinkle blends from sweetapolita and some sugar bows made by Wilton.
When I took a step back, I felt like it needed a big bow on top! I used a bit of red and white fondant to roll out and shape a bow, which I placed on top of my cupcake wreath.
While I chose to decorate my wreath this way, don't be afraid to get creative! Feel free to decorate with your favorite candies or cookies, or anything else you already have on hand!
Tips for Making the Best Wreath Cupcakes
Be sure to add a dab of buttercream underneath each cupcake to keep it in place, and prevent them from sliding once they're decorated.
Leave the liners on the cupcakes, to help keep them moist and prevent them from drying out as they sit.
Use gel food coloring to color both your cupcakes and frosting! It creates super vibrant shades without throwing off the consistency of your batter or buttercream.
Be careful not to overmix your cupcake batter! Mix until your dry ingredients are just incorporated.
Get creative with the decorations, use whatever sprinkles or candies you have on hand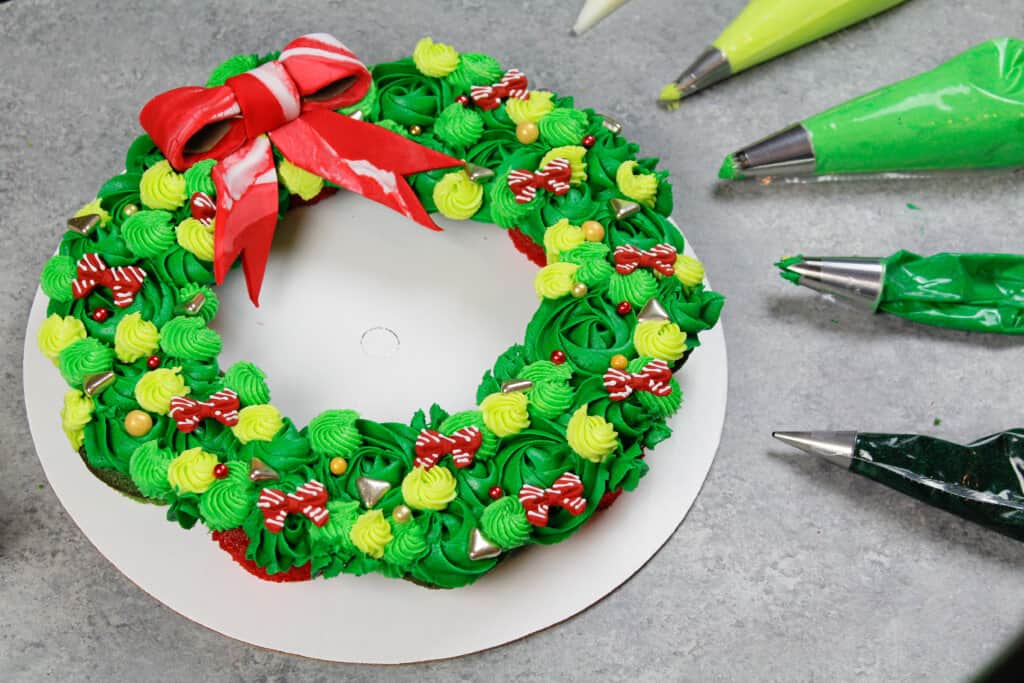 Let Me Know What You Think!
If you try this wreath cupcakes recipe / pull-apart technique, I'd love to hear what think of it! Please leave a rating, and let me know your thoughts in the comments section.
Also if you feel like you need more Christmas dessert inspiration, I've got you covered!!
Yield: 12
Pull-Apart Wreath Cupcakes
Learn how to make this festive and easy pull-apart wreath cupcakes! It's made with red velvet cupcakes, and decorated with green cream cheese buttercream!!
Additional Time
30 minutes
Ingredients
Red Velvet Cupcakes
1/4 cup vegetable oil (56 grams)
1/4 cup melted butter (57 grams)
1 egg (56 grams)
1/2 cup buttermilk, room temperature (114 grams)
1 1/2 tsp white vinegar (5 grams)
1 tsp vanilla extract (3 grams)
1 cup granulated sugar (200 grams)
1 tsp. unsweetened cocoa powder (4 grams)
1/2 tsp salt (3 grams)
1/2 tsp baking soda (3 grams)
1 1/4 cups all-purpose flour (163 grams)
1 squirt of red gel food coloring (or 1 1/2 tsp liquid food coloring)
Green Cream Cheese Buttercream Frosting
3/4 cup unsalted butter, room temperature (169 grams) - 1 1/2 sticks
1/4 cup full-fat cream cheese, room temperature (56 grams or 2 oz.)
3 cups powdered sugar (375 grams)
1/2 tsp salt (3 grams)
1 Tbsp heavy cream (or whipping cream) (15 grams)
1 tsp vanilla extract (4 grams)
green gel food coloring
Additional Tools
piping bag
wilton 1M frosting tip
french piping tip
fun sprinkles / candy
red fondant (to make the bow on top)
Instructions
Red Velvet Cake
Preheat oven to 350 degrees F (175 degree C).
Line a standard sized muffin tin with 12 cupcake liners.
In a large bowl, whisk together the butter and vegetable oil.
Mix in the egg, buttermilk, white vinegar and vanilla extract.
Add granulated sugar, and whisk for 30 seconds to help the dissolve the sugar.
Mix in the cocoa powder, salt and baking soda, and whisk until no clumps remain.
Mix the flour into the batter in two installments.
Add red gel food coloring, and mix until the batter is evenly colored a deep shade of red. If desired, divide the batter between two bowls, and color one half red, the other half green.
Divide the batter evenly between the cupcake tins, and bake for about 18-20 minutes (or until a toothpick comes out with moist crumbs).
Remove the cupcake pan from the oven, and allow them to cool in the pan for 10 minutes.
Carefully remove the cupcakes from the pan, and place on a wire rack to finish cooling.
Cream Cheese Buttercream Frosting:
Beat the butter and cream cheese on a medium speed for 30 seconds with a paddle attachment, until smooth.
Add in the vanilla extract and salt, and beat on low until the ingredients are fully incorporated.
Slowly mix in the powdered sugar on a very low speed, 1 cup at a time. Alternate with small splashes of cream.
If the frosting is too thick, add in additional cream (1 tablespoon at a time).
If the frosting is too thin, add in more powdered sugar (1/4 cup at a time).
Use green gel food coloring to color a half cup of frosting a light green shade, 1/2 cup a medium green shade, and color the remaining frosting a deep shade of green.
Place the dark green frosting in a large piping bag fitted with a wilton 1M (or open star) frosting tip. Place the other colors of frosting into a piping bag fitted with smaller french star frosting tips.
Red Velvet Cupcake Decoration:
Once the cupcakes are fully cooled, line them up in a ring around a large cake board, cake stand, or platter.
Use the dark green frosting to pipe swirls on top of the cupcake ring.
Add additional small swirls on top of this with the lighter shades of green frosting.
Decorate with colorful sprinkles and your favorite candies.
If desired, add a fondant bow to the top of the wreath.
Notes
Be sure to add a dab of buttercream underneath each cupcake to keep it in place, and prevent them from sliding once they're decorated.
Leave the liners on the cupcakes, to help keep them moist and prevent them from drying out as they sit.
These cupcake can be made in advance! If stored unfrosted in an airtight container, they can last for:
2 days at room temp
Up to a week in the fridge
Up to 3 months in the freezer
If you have extra buttercream you don't use, it can be stored in the fridge for up to 2 weeks.
Nutrition Information
Yield
12
Serving Size
1
Amount Per Serving
Calories

466
Total Fat

23g
Saturated Fat

12g
Trans Fat

0g
Unsaturated Fat

10g
Cholesterol

63mg
Sodium

331mg
Carbohydrates

63g
Fiber

0g
Sugar

52g
Protein

3g