Stripes have been all the rage this year! The striped buttercream cake is definitely a new cake trend, and it's a lot easier than you might think.
While you might be able to freehand thicker buttercream stripes (like I attempted on my s'mores cake), it's a bit more challenging to make these thin, delicate lines.
With a few tips, you'll learn that you can create your own striped buttercream cake in a jiff!
Using The Right Tools
To create these beautiful buttercream stripes, you need to have the right tool. People call them a lot of different things, but I usually refer to this tool as a cake decorating comb or a cake icing comb.
There are a ton of different types out there, made with different materials and different patterns.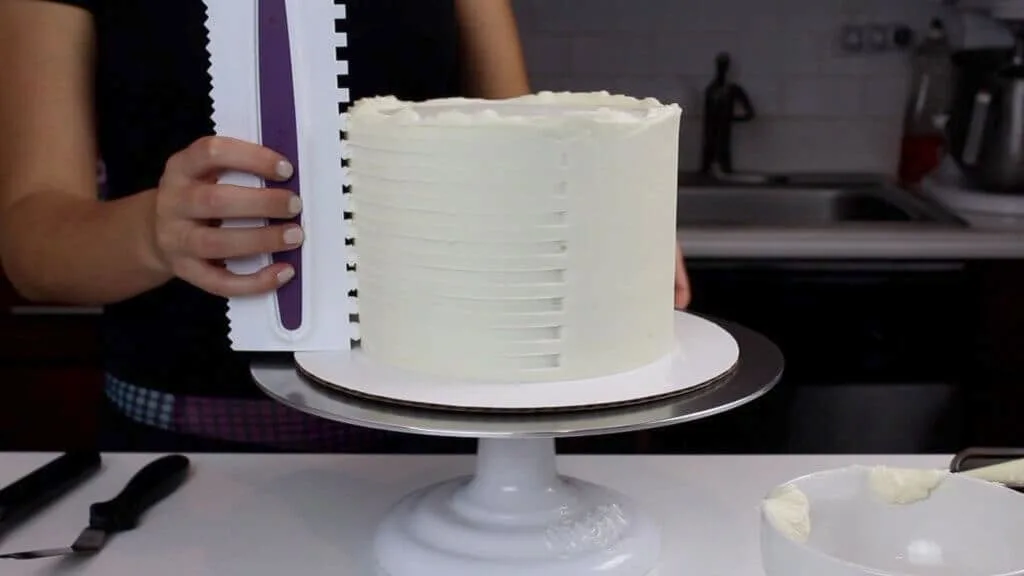 You'll see in my video that I'm using a wilton cake decorating comb that I ordered years ago!
I actually ordered them for the other patterns included in the cake comb kit, but one side had that little square pattern I needed to make stripes.
However, if you plan to order a set, I recommend trying out this set of cake icing combs. It comes with a pattern for both thick and thin stripes, which gives you more variety in the designs and patterns you make.
To make these thin stripes, you can use any brand of icing comb, as long is it has a small square pattern similar in size to the cake decorating comb shown above.
Getting Groovy
Now that you have the right tool, it's time to talk about technique. For this design to work, you need to follow a few steps. The first is crumb coating and chilling your cake.
This helps lock in any potential crumbs, to ensure your striped layer of frosting turns out perfectly.
The second step is to add and smooth a generous second layer of frosting. I find that my American buttercream works great for this technique!
As soon as the frosting is smoothed, you should use your icing comb to start making some grooves!
I've found that holding the cake icing comb at a ninety degree angle against the cake works best. This helps you get the thickest grooves possible, which will make the smoothing process easier down the road.
Now that the icing comb is in the right position, it's time to move it around the cake. You want to keep this angle with the icing comb, and gently move the icing comb around the cake.
It's also important to keep the base of the icing comb remains flat against the cake board. This will ensure you're consistently creating the same groves with each pass around the cake.
Your touch needs to be firm enough to remove frosting and create uniform grooves, but gentle enough not to scrape through the crumb coat.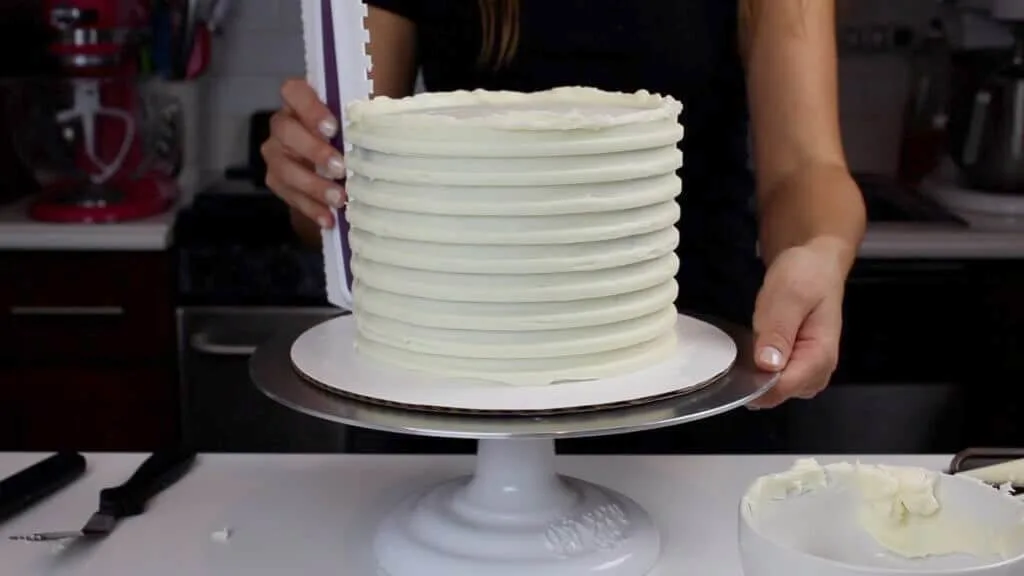 It can be difficult to get a feel for this, so I recommend starting with a light amount of pressure. You can always add more pressure if needed!
Chilling the Cake Thoroughly
Once your frosting grooves are in place, you need to chill the cake again. This is SUPER important. It's imperative (I mean it!!) that the frosting grooves are completely firm to the touch before you move onto the next step.
This will help the grooves keep their shape as you fill them with colorful frosting, and smooth the cake a final time.
To properly chill the cake, I recommend placing it in the freezer for 10 minutes. If you don't have room in your freezer, you can place the cake in the fridge for 40 minutes.
Adding a Pop of Color
Now it's time for the fun stuff. Using whatever color(s) of frosting you want, fill in each little groove with a piping bag.
I didn't use a frosting tip to do this. I kept things simple by just cutting a small hole at the bottom of each of my piping bags.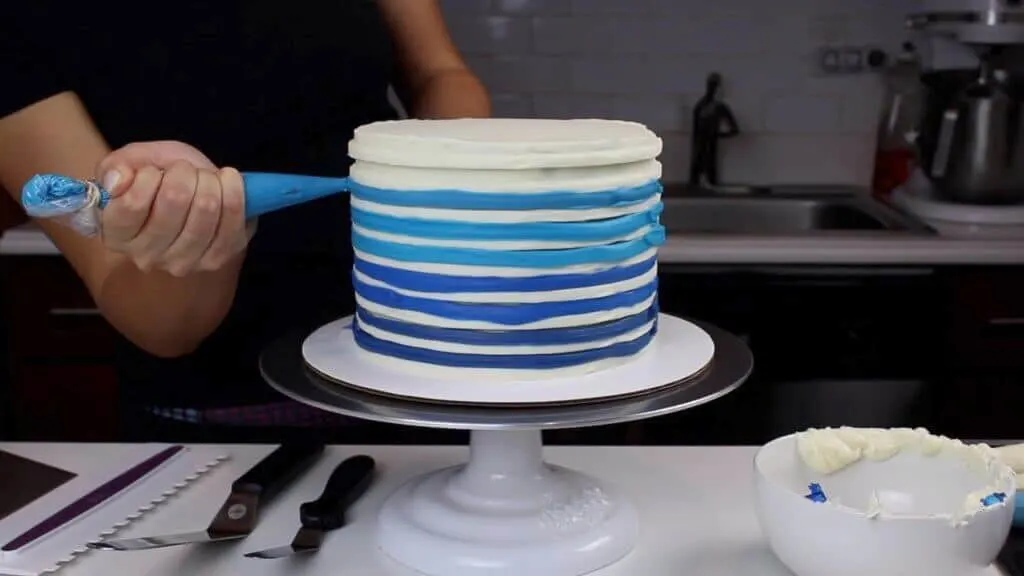 For this cake, I used various shades of blue to create some ombre blue stripes. Just remember, more colors you chose, the more work and dishes you have to do!
Once the grooves are filled, use a bench scraper to smooth the frosting. You will need to make several passes around the cake to get clean stripes.
Don't worry if your first couple passes look a little wonky. I promise with a few more those perfect stripes will come to life.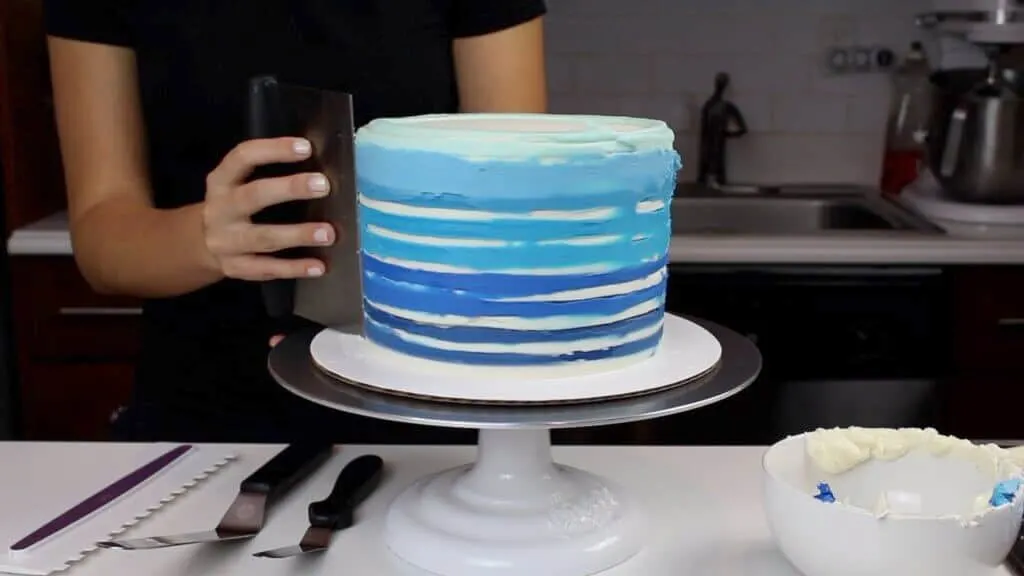 A Finishing Touch of Heat
For the last few passes around the cake, I like to heat up my bench scraper. I do this by running my bench scraper under some hot water and drying it with a paper towel.
This heats up the blade, which allows you to get a super smooth finish at the end of the process.
My stripes didn't end up PERFECT, but you have to know when to stop. I knew I was planning to add snowflakes on top of this, so I stopped here.
This is a challenging technique, so don't be too much of a perfectionist! If one area isn't as perfect as you'd like, simply make that the back of the cake.
Don't keep scraping off frosting, trying to get it just right. You can scrape off too much frosting, and you will kick yourself if you do!!
Let Me Know What You Think!
If you try making your own striped buttercream cake, I'd love to hear how it goes! Please leave a rating, and let me know your thoughts in the comments section
Yield: 24
Striped Buttercream Cake
Learn how to make a striped buttercream cake! It's a lot easier than you'd think. Here's everything you need to know to tackle this cake trend like a pro!
Additional Time
20 minutes
Total Time
1 hour
10 minutes
Ingredients
Vanilla Cake
3 cups all-purpose flour (390 grams)
3 cups granulated sugar (600 grams)
2 1/2 tsp baking powder (10 grams)
1 tsp salt (6 grams)
1 cup unsalted butter, room temperature (226 grams) - 2 sticks
2 tsp. vanilla extract (8 grams)
1 cup pasteurized egg whites from a carton (or about 7 egg whites) (235 grams)
1 1/2 cups buttermilk, room temperature (345 grams)
1/8 cup vegetable oil (28 grams)
gel food coloring (if desired)
Vanilla Buttercream Frosting
3 cups unsalted butter, room temperature (678 grams)
11 cups powdered sugar (1375 grams) - or about 1.5 lbs
1 tsp salt (6 grams)
1/3 cup heavy cream (or whipping cream) (75 grams)
1 1/2 Tbsp vanilla extract (18 grams)
Additional Tools
Cake icing comb
piping bags
bench scraper
Instructions
Vanilla Cake Layers:
Preheat oven to 350°F. Line four 7 inch pans or three 8 inch round pans with parchment rounds, and grease with non-stick cooking spray.
Mix together all dry ingredients (flour, baking powder, sugar, and salt) in a stand mixer with a paddle attachment until fully combined.
Mix chunks of room-temperature butter slowly into the dry mix, on a low speed. Continue to mix until no large chunks of butter remain, and the mixture becomes crumbly.
Pour in egg whites, and mix on low until just incorporated. Mix in the buttermilk in two installments, on a low speed.
Add in vanilla and oil, and mix at a low speed until fully incorporated. Scrape down the sides of the bowl with a spatula, then beat on low speed for about 15 seconds (the key is to mix until the ingredients are JUST incorporated, so that the batter isn't over mixed).
Divide batter evenly between the prepared cake pans.
Bake for 34-35 minutes, or until a toothpick comes out clean. Allow the pans to cool for 10 minutes, then run an offset spatula around perimeter of the pan to separate the cake from the pan.
Place cake layers into the freezer for 45 minutes, to accelerate the cooling process. Once the layers are fully cooled, carefully flip the pans and remove the layers from the pans.
Use a serrated knife to level the tops of the layers.
Vanilla Buttercream Frosting:
While the cake layers bake and cool, make the vanilla buttercream frosting.
Beat the butter on a medium speed for 30 seconds with a paddle attachment, until smooth. Slowly add in the powdered sugar, 1 cup at a time. Alternate with small splashes of cream.
Once fully mixed, add in the vanilla and salt, and beat on low until the ingredients are fully incorporated, and the desired consistency is reached.
If the frosting is too thick, add in additional cream (1 TBSP at a time). If the frosting is too thin, add in more powdered sugar (quarter of a cup at a time).
Wait to color the buttercream until you've added the second layer of frosting to the cake.
Color the remaining frosting using gel food coloring.
To Assemble This Striped Cake:
Stack and frost cake layers on a greaseproof cake board, using a dab of frosting to help stick the first cake layer to the board.
Add an even layer of buttercream between each cake layer.
Apply a thin coat of frosting around the cake, to fully cover the cake layers. Smooth using a bench scraper, then chill the cake in the fridge (20 minutes) or freezer (5 minutes) until the frosting is firm to the touch.
Add a second, thicker layer of frosting to the cake, and smooth using a bench scraper.
Use a cake icing comb to create grooves in the cake, and chill in the freezer for 10 minutes.
Add coloring frosting between the grooves, then smooth again.
Decorate the top of the cake as desired.
Notes
These cake layers can be made in advance!! Learn more about how far in advance they can be made, and how to properly wrap them in my post on how to make cake layers ahead of time.
Since this frosting will be used to decorate a cake, it is important to mix the buttercream on the lowest speed at the end of the process for a couple minutes, to get out any extra air that might have be incorporated during the mixing process.
You can also stir the frosting in a bowl with a rubber spatula, pushing it from side to side, to get rid of any air bubbles. This will make it easier to get super smooth sides on your cake!
Recommended Products
As an Amazon Associate and member of other affiliate programs, I earn from qualifying purchases.
Nutrition Information
Yield
24
Serving Size
1
Amount Per Serving
Calories

578
Total Fat

34g
Saturated Fat

20g
Trans Fat

0g
Unsaturated Fat

12g
Cholesterol

86mg
Sodium

300mg
Carbohydrates

67g
Fiber

0g
Sugar

55g
Protein

4g