While I may have created a cake in time for National S'mores Day, I sadly didn't share it in time! I am a firm believer of the saying "better late than never," so I'm sharing it anyways.
I originally made this s'mores drip cake back in 2016, but remade it this summer to create video footage of this cake for the Food Network.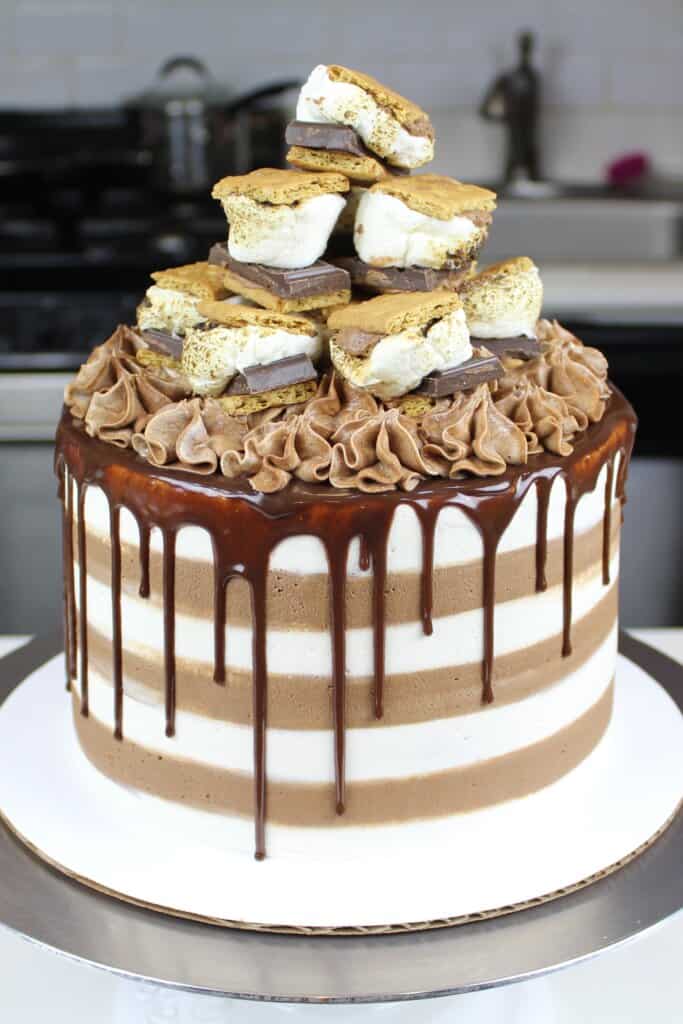 It's funny how differently a cake can turn out the second time you make it. I see quite a few differences!
Above is my first, and below is my second version. I decided not to make a s'mores tower this time, to make it easier to cut into.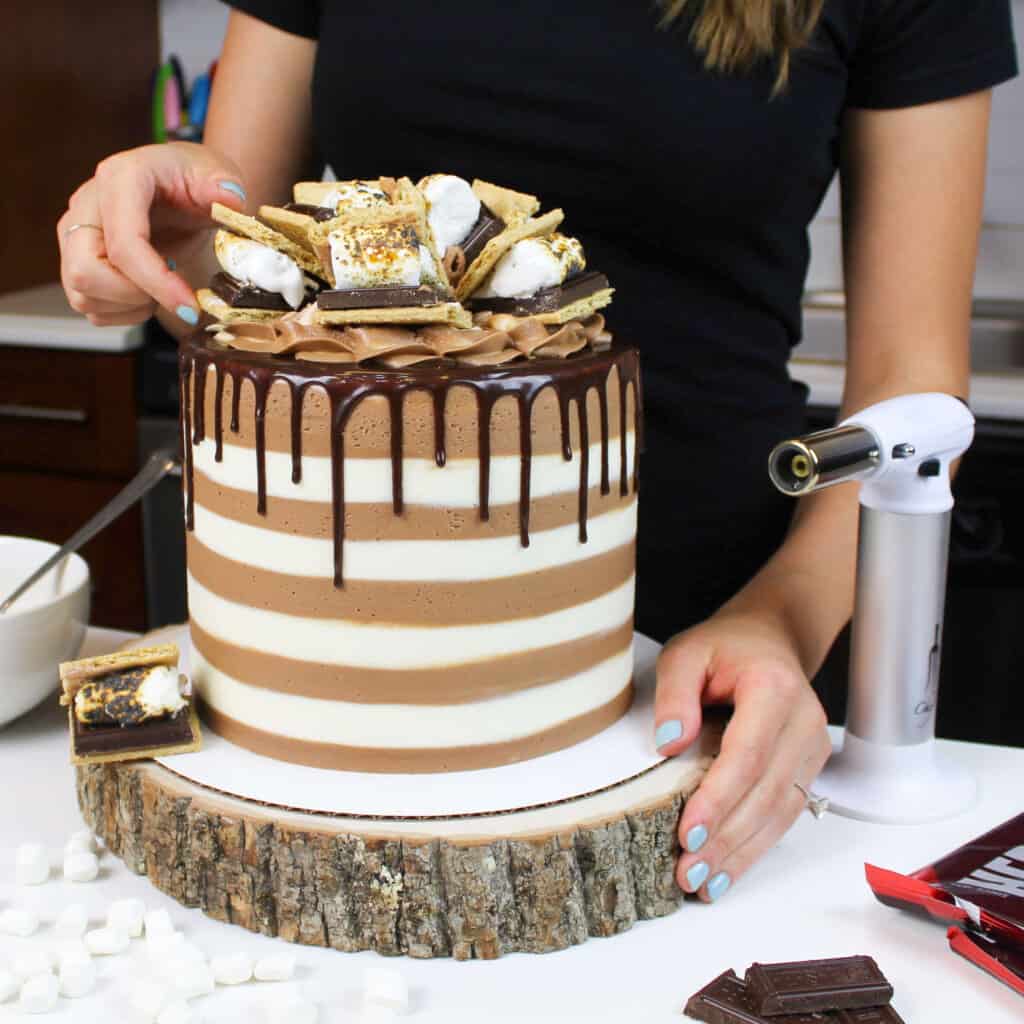 That's one of the things I love about cakes, each one is unique and beautiful in it's own way. No two are ever truly identical (or at least none of mine :P).
This cake is made with my go-to chocolate layer cake recipe. It is frosted with marshmallow and chocolate buttercream, and filled with toasted mini marshmallows, crushed graham crackers, and chocolate ganache.
Did I mention it's topped with baby S'MORES?? That's prob my favorite part of this cake. While it did feel a bit strange to make s'mores alone in my kitchen, it sure was fun to stack them on top of this cake.
For this cake, I chose to use 4, 8-inch chocolate cake layers.
Since there are lots of add in's between the layers, AND we're piling s'mores on top, this cake ends up being pretty tall.
With that in mind, 7 inch layers would've made it even taller!! So 8 inch cake layers really are ideal for this design.
Once all the cake components are prepared, frost each layer of cake with an even layer of marshmallow buttercream, using a large offset spatula.
Next, sprinkle a generous layer of crushed graham crackers on top of the frosting. Carefully add the mini toasted marshmallows.
Add a generous drizzle of warm chocolate ganache. Repeat with two more chocolate cake layers.
Flip the fourth cake layer upside down, and gently press on top of the stacked layers.
Applying a bit of pressure with your hands pushes out any air that might be stuck between your layers, and will help them settle before you being to frost the cake.
This will prevent the frosting from bulging between the layers, or cracking later in the process.
Once the layers are filled and stacked, crumb-coat the cake by cover the cake in a thin layer of frosting.
This makes the overall frosting process so much easier, and ensures that no crumbs get into your final layer of frosting.
Place the cake in the freezer for 5-10 minutes, until the crumb coat is firm to the touch.
To add the second, thicker layer of frosting to the cake, use piping bags to pipe horizontal lines of chocolate and marshmallow frosting.
Alternate lines of chocolate and marshmallow frosting. Smooth using a bench scraper. Make long, slow strokes around the cake, removing excess frosting and scraping it into a separate bowl.
If you want to see a full tutorial showing how to get smooth sides on a cake, click here.
Place the cake in the freezer, to allow the second layer of frosting to firm up. While the cake chills, make the s'mores. Toast marshmallows using either a kitchen torch or a broiler.
Create a sandwich using graham crackers, a chocolate bar, and a toasted marshmallow. Use a bit of chocolate frosting to help keep the s'more together.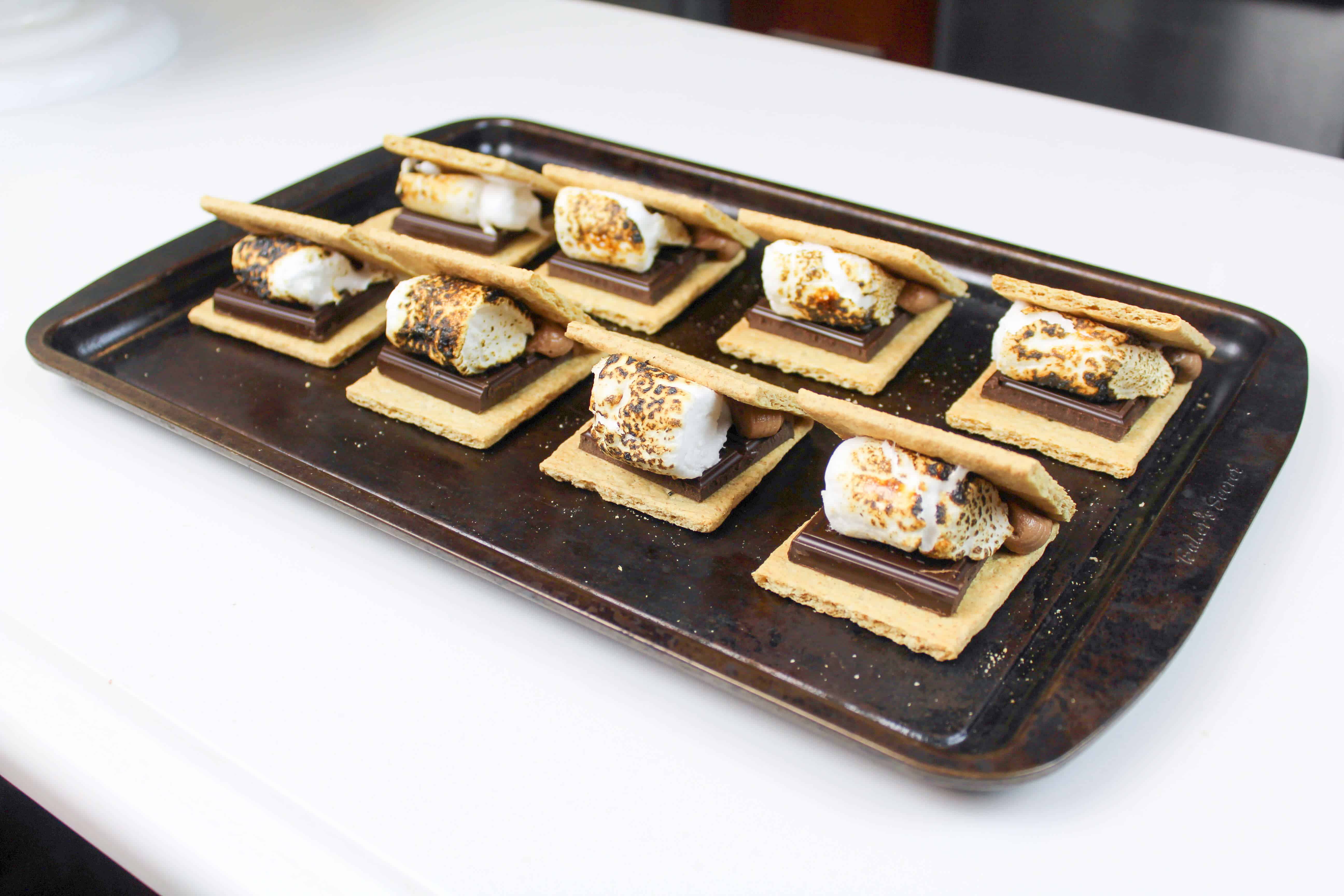 Once the cake is chilled, add the chocolate ganache drips.
I prefer to use a bottle, since it makes the process so much easier, but I also like the way drips look when they're added to a cake using the spoon method.
Two factors are critical to getting a perfect drizzle! The first is that your cake is properly chilled. Once frosted, you should allow it sit it your fridge for at least 20 minutes, or in your freezer for 10 minutes, so that the frosting is cold and firm to the touch.
The second important aspect of a drip cake is the temperature of the ganache!! It should be slightly warmer than room temperature, but not so hot that it melts your buttercream as you drizzle it!
The best way to ensure your ganache is the right temperature is do a test drip. You can't tell, but the first drip on my cake above was a test drip. Once I knew i had my ganache at the right temperature, I continued adding my drips.
MAKING A TEST DRIP IS SUCH A CRUCIAL STEP!!! Make one drip on the side of your cake, and let it flow. Allow it to sit for a couple minutes.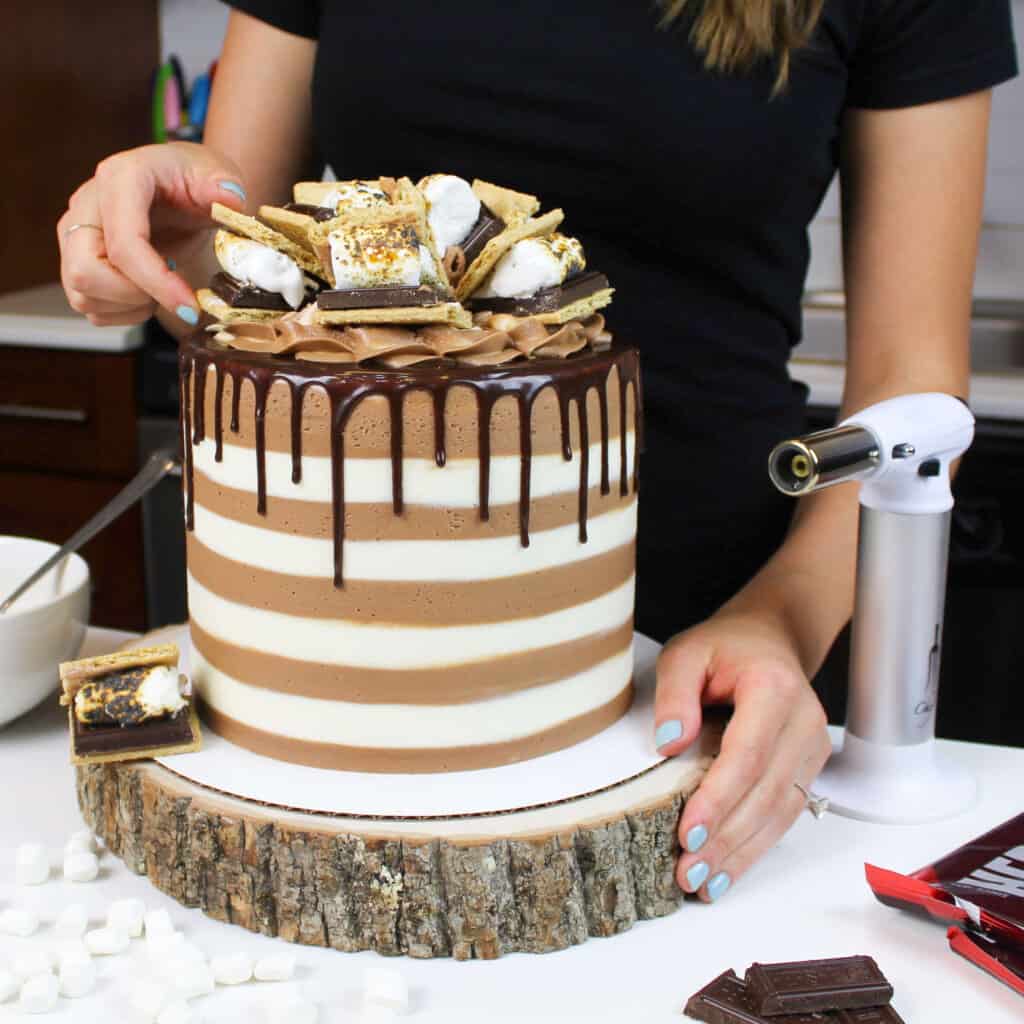 See what it looks like, if it's the length and look you're after. If not, adjust as needed. Either pop the ganache into the fridge for a couple minutes to allow it to cool off a bit more, or pop the bottle (or bowl) in the microwave and heat for 5-10 seconds.
Next, pipe some buttercream on top of the cake using your favorite piping tip, to help the s'mores stay in place (I used a Wilton 1M). The last step is to cover the top of the cake with the s'mores!!
The s'mores do make it a bit interesting to cut, but I just cut sliced around each s'more. When I cut slices for a crowd, I usually cut a generous slice, then cut it in half! This give each person two layers of cake and filling.
In addition to the below components, you will also need graham crackers, marshmallows, and some chocolate bars for both the filling of the cake and to create the s'mores!
Chocolate Layer Cake Recipe
This recipe makes soft, tender, chocolaty cake layers that can handle a splash of simple syrup, yet still hold up while being frosted. I'm obsessed with this recipe, and hope you all will be too!
Servings
1
seven or eight inch cake
Ingredients
Chocolate Cake Ingredients
3

cups

all-purpose flour

2.5

cups

granulated sugar

1

tsp

salt

1.5

tsp

baking powder

1

tsp

baking soda

4

eggs, room temp

1

cup

unsalted butter, room temp

(2 sticks)

1

cup

hot water

1

cup

buttermilk, room temp

1

cup

black cocoa
Instructions
Instructions
Begin by preheating the oven to 350 degrees Fahrenheit. Line four 7 inch or 8 inch pans with parchment rounds, and spray with non-stick spray.

Add the sugar and butter into the bowl of a stand mixer, and whisk on high for 1 minute. The mixture should become light in color.

Add in the eggs, one at a time. Then add baking soda, baking powder, and salt. Mix on high for another minute.

In a separate bowl, combine the cup of hot water, and cup of buttermilk. Pour in the cup of black cocoa, and whisk until no clumps remain.

Next, add 1 cup of flour into the butter /egg mixture. Scrape the sides of the bowl with a spatula, to ensure the flour is fully incorporated.

Pour in half of the buttermilk / cocoa mixture, and gently pulse the mixture to incorporate the liquid (if you don't, you'll end up splattering the cocoa mixture all over you kitchen!

Please learn from my mistakes :P). Mix in the 2nd cup of flour, at a medium speed. Pour in the remaining buttermilk / cocoa mixture, and again gently pulse, then mix on low until fully combined.

Add in the last cup of flour, and mix on low until the flour is incorporated. Mix on high for 30 additional seconds, to incorporate a bit more air into the batter.

Evenly divide between the four prepared pans . I like to use a kitchen scale to ensure each pan has exactly the same amount of batter.

Bake according to the size of pan. For 7 inch layers, bake for 35-37 minutes. For 8 inch layers, bake for 32-33 minutes, or until a skewer comes out clean.

Allow layers to cool in the pans for about 10 minutes, then run an offset spatula around the edge of the pans to help separate the layers from the pans.

Place the pans in the freezer for about 45 minutes, to accelerate the cooling process. Once the layers are fully cooled, carefully flip the pans and remove the layers.

Use a serrate knife to level the tops of the layers, and then frost as desired.
Recipe Notes
I chose to use black cocoa (I love the taste and color it creates), but if you don't have any on hand, you can use regular baking cocoa.
Marshmallow Buttercream Frosting Recipe
Ingredients
2

cups

unsalted butter, room temperature

(4 sticks)

8

cups

powdered sugar

1

cup

marshmallow fluff

1/4

cup

heavy cream

1/2

tsp

salt

1

Tbsp

vanilla extract
Instructions
Instructions
Beat the butter and marshmallow fluff on a medium speed for 30 seconds with a paddle attachment, until smooth. Slowly add in the powdered sugar, 1 cup at a time. Alternate with small splashes of cream.

Once fully mixed, add in the vanilla and salt, and beat on low until the ingredients are fully incorporated, and the desired consistency is reached.

If the frosting is too thick, add in additional cream (1 teaspoon at a time). If the frosting is too thin, add in more powdered sugar (quarter of a cup at a time).
Recipe Notes
If you are making frosting for a cake, it is important to mix the buttercream on low at the end of the process for a couple minutes, to get out any extra air that might have be incorporated during the mixing process. This will make it easier to get super smooth sides on your cake!
Chocolate Ganache Drip Recipe
The beauty of this recipe is its simplicity. You only need two ingredients, it's so easy!!! You also can use your favorite chocolate, whether it's dark, semi-sweet, or milk chocolate. It takes less than 5 minutes to make.
Ingredients
1/3

cup

heavy cream

77 grams.

1/2

cup

chocolate chips

88 grams
Instructions
Heat heavy cream in a heat-proof bowl in the microwave for 45 seconds to 1 minute, until gently bubbling.

If you don't have a microwave or prefer to use the stove top, you can heat the cream over a medium heat in a pan until it begins to simmer. Remove from heat and pour into a heat-proof bowl.

Gently pour chocolate chips into the heavy cream, making sure they are covered with cream. Allow mixture to sit for 2 minutes.

Stir slowly until the cream and chocolate are fully combined, and ganache is silky smooth. Pour into a plastic squirt bottles for easy application. If you don't have any plastic bottles on hand, you can also use a spoon to drizzle it over cakes.

Set aside to cool for about 20 minutes (or place in fridge for about 10 minutes). You can also make this in advance, and store it in the fridge until you're ready to use it. Heat the ganache in 3 15 second increments, or until it reaches the right viscosity. It should be slightly warmer than room temp, but to hot enough to melt your the buttercream on your chilled cake.

If it seems to thin or thick, you can add a touch more chocolate or heavy cream! The type of cream and chocolate that you use can affect the consistency, so feel free to adjust as needed.
Recipe Notes
Note: if you can't find heavy cream at your grocery store, heavy whipping cream will work too!