Just going to throw out that this is the first bundt cake recipe I've ever shared!! As much as I love making layer cakes, sometimes it's nice to make other types of desserts. That is where this orange cranberry bundt cake comes in.
While pulling together my baking holiday gift guide, I stumbled across the most stunning bundt pan. And while I don't REALLY have any room in my kitchen for it, I bought it anyways! What can I say, my impulse control is a work in progress.
I treated myself to this fancy new bundt pan in hopes it would inspire me to make something new. Clearly my plan worked, and the extra bag of cranberries in my fridge guided me toward this unique holiday flavor combo.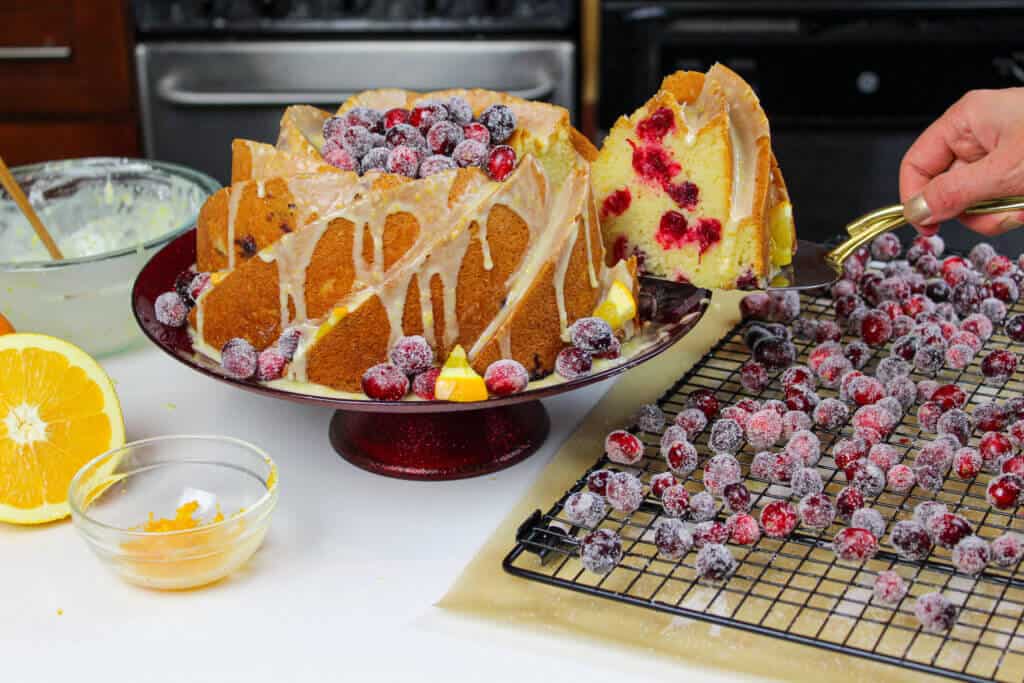 Less Common Holiday Flavors
When I think of Christmas, my first though isn't orange and cranberry. I usually think of chocolate and peppermint, or even eggnog!
That's why my past holiday cakes (like my almond christmas lights cake, or my hot cocoa cake) haven't really played around with these flavors.
But in the midst of heavy holiday dinners, it's nice to have a refreshing, tart dessert.
I'm not really giving cranberries enough credit. They are an important part of most holiday dinners, and they are seasonally relevant. I think most people would be sad if they were missing from Thanksgiving or Christmas dinner.
I'm not the biggest fan of cranberry sauce, but I do love baking with cranberries. They also make the most beautiful garnish when they're sugared!
I love decorating cakes in a way that lets you know what flavor is hiding inside. That's why I topped this orange cranberry bundt cake with loads of sugared cranberries and orange slices 🙂
The Bundt Pan
The final component of this bundt cake recipe is the pan you use. That's the fun of making a bundt cake, it's shape is solely reliant on the pan it bakes in.
I think most people have their tried and true bundt pans, and I totally respect that. They're those iconic curved pans we grew up with, with short grooves and fluted edges.
This recipe will work great in just about any bundt pan, as long as it has a capacity of at least 10 cups. Most 10-inch bundt pans can hold this much batter.
To make this bundt cake, I used my Nordic Wear heritage bundt pan, which has deep, beautiful grooves. One word of advice, if you use a bundt pan with a fun design or deep grooves, be sure you butter and flour them SUPER WELL before adding your batter.
Make sure you get a thin layer of butter into every nook and cranny. It sounds dramatic, but you'll thank yourself later when your gorgeous bundt cake pops right out of the pan.
Tips to Make The Best Orange Cranberry Bundt Cake
Mix your cake batter just until the ingredients are incorporated. This will ensure your cake turns out tender and fluffy.
Bake time can vary a lot based on your bundt pan, so keep an eye on your cake and check in every 5 minutes once it's been in the oven for 55 minutes.
To prevent the cranberries from floating to the top of the bundt cake, give them a rough chop and toss them in flour before adding them into the batter.
To ensure the cranberries are evenly distributed throughout the cake once it's baked pour 1/3 of the batter into the pan and add half the cranberries. Repeat this, then top with the rest of your batter.
Butter and flour or grease your bundt pan really well to help your bundt cake pop out easily once it's baked.
Use a serrated knife to level the bottom of your bundt cake once it's fully cooled to help it sit flat on your cake stand or plate.
Let Me Know What You Think!
If you try this orange cranberry bundt cake recipe, I'd love to hear what think of it! Please leave a rating, and let me know your thoughts by sharing a comment.
Yield: 20
Orange Cranberry Bundt Cake
This orange cranberry bundt cake is the perfect balance of tart and sweet! It's packed with fresh cranberries and orange juice, and is perfect for the holidays!
Cook Time
1 hour
10 minutes
55 seconds
Total Time
3 hours
25 minutes
55 seconds
Ingredients
Orange Cranberry Bundt Cake
3 cups all-purpose flour (390 grams)
2 cups granulated sugar (400 grams)
1 Tbsp baking powder (10 grams)
1 tsp salt (6 grams)
5 large eggs, room temp (280 grams)
1/2 cups buttermilk, room temperature (115 grams)
1 cup sour cream, room temp (255 grams)
1 cup vegetable oil, (224 grams)
1/2 cup freshly squeezed orange juice (115 grams)
2 tsp. vanilla extract (8 grams)
2 Tbsp orange zest (12 grams)
2 cups fresh cranberries - one 8 oz bag (213 grams) - roughly chopped and lightly tossed in flour
Orange Glaze
1/4 cup fresh orange juice (58 grams)
2 cups powdered sugar (250 grams)
2 Tbsp orange zest (12 grams)
Decorations
sugared cranberries
small orange slices
Instructions
Orange Cranberry Bundt Cake:
Preheat oven to 350°F. Butter and flour a 10 inch bundt pan (with 10 cup capacity), being sure to get into all the nooks and crannies of your bundt pan to ensure an easy release.
Whisk together the dry ingredients (all-purpose flour, granulated sugar, baking powder, and salt) in a large bowl, and set aside.
In another large bowl, add the eggs, buttermilk, and sour cream, and whisk until combined. Don't worry if it looks a bit separated, it'll come together as we add the dry ingredient.
Next, add in the oil, orange juice, orange zest, and vanilla. Whisk until combined.
Mix in half of the the dry ingredients, until only a few streaks of flour are visible. Stir in the remaining dry ingredients, being careful not to overmix the batter.
Pour 1/3 of the batter into the pan, and add half the cranberries. Top with another 1/3 of the batter, then the remaining cranberries, and top with the rest of your batter. This ensures that the cranberries will be evenly distributed once the cake is baked.
Bake for 55-65 minutes, or until a toothpick comes out clean. My bundt pan took about 63 minutes.
Allow the pans to cool for a couple hours, until the cake reached room temperature.
Carefully invert the pan, and flip the cake onto the plate or cake stand you plan to serve the cake on.
Fresh Orange Glaze:
While the bundt cake bakes and cools, make the fresh orange glaze.
Add powdered sugar and orange zest into a medium-sized bowl, the pour in the fresh orange juice.
Mix with a spoon until the glaze is smooth.
To Decorate The Cake:
Drizzle the orange glaze over the ridges of the bundt cake, covering as much of the cake as possible.
Garnish with sugared cranberries and small orange slices in the center and around the base.
Notes
I used this Bundt Pan Mold to make this cake, which is 10 inches across, and has a capacity of 10 cups.
Bake time can vary a lot based on your bundt pan, so keep an eye on your cake and check in every 5 minutes once it's been in the oven for 55 minutes.
Sometimes cranberries float to the top of a cake because they're are so buoyant! A great work around for this is giving the cranberries a rough chop before adding them to the batter.
Be sure you don't skimp on the orange zest or fresh orange juice! It really elevates the flavor of the cake, and is worth a bit of extra work 🙂
Nutrition Information
Yield
20
Serving Size
1
Amount Per Serving
Calories

386
Total Fat

15g
Saturated Fat

2g
Trans Fat

0g
Unsaturated Fat

11g
Cholesterol

54mg
Sodium

224mg
Carbohydrates

59g
Fiber

2g
Sugar

33g
Protein

5g