I've been working on this strawberry buttercream recipe for years.
I've made strawberry buttercream in the past, but I wasn't in love with it. It never had enough flavor.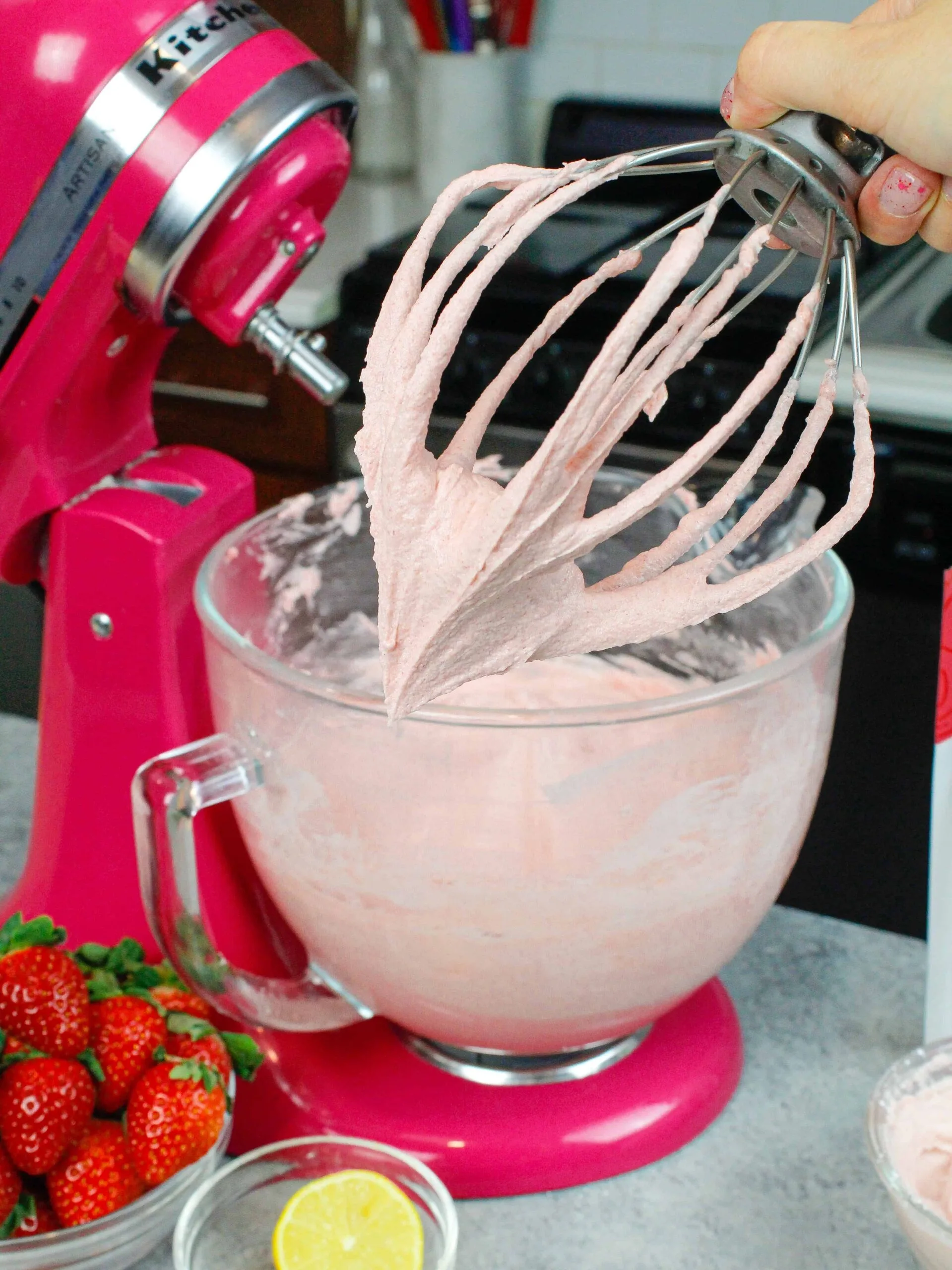 I wanted real strawberry flavor, not that artificial strawberry candy flavor. It was so hard to get that without having my buttercream break.
Thanks to a new ingredient, I've finally found a way to make perfect strawberry American buttercream that's packed with real strawberry flavor.
*Note: if you want to make a less sweet strawberry buttercream, try my strawberry Swiss meringue buttercream!*
My Failed Attempts
My favorite type of frosting to decorate with (and eat) is American buttercream.
It's delicious and super easy to make, but it can be difficult to incorporate certain flavors, particularly fruit flavors.
American buttercream is pretty much butter and powdered sugar. Liquids don't always play well with all that butter.
If you add an ingredient with too much moisture, it can cause the frosting to separate or break. It ruins the texture and makes it incredibly difficult to decorate with.
This is exactly what happened when I've added different forms of fresh strawberries to buttercream in the past.
Fail #1 Adding Strawberry Preserves
In my first attempt, I tried adding strawberry preserves. Sadly my buttercream broke before I added enough to be happy with the flavor.
That real strawberry flavor was there, but it needed to be stronger.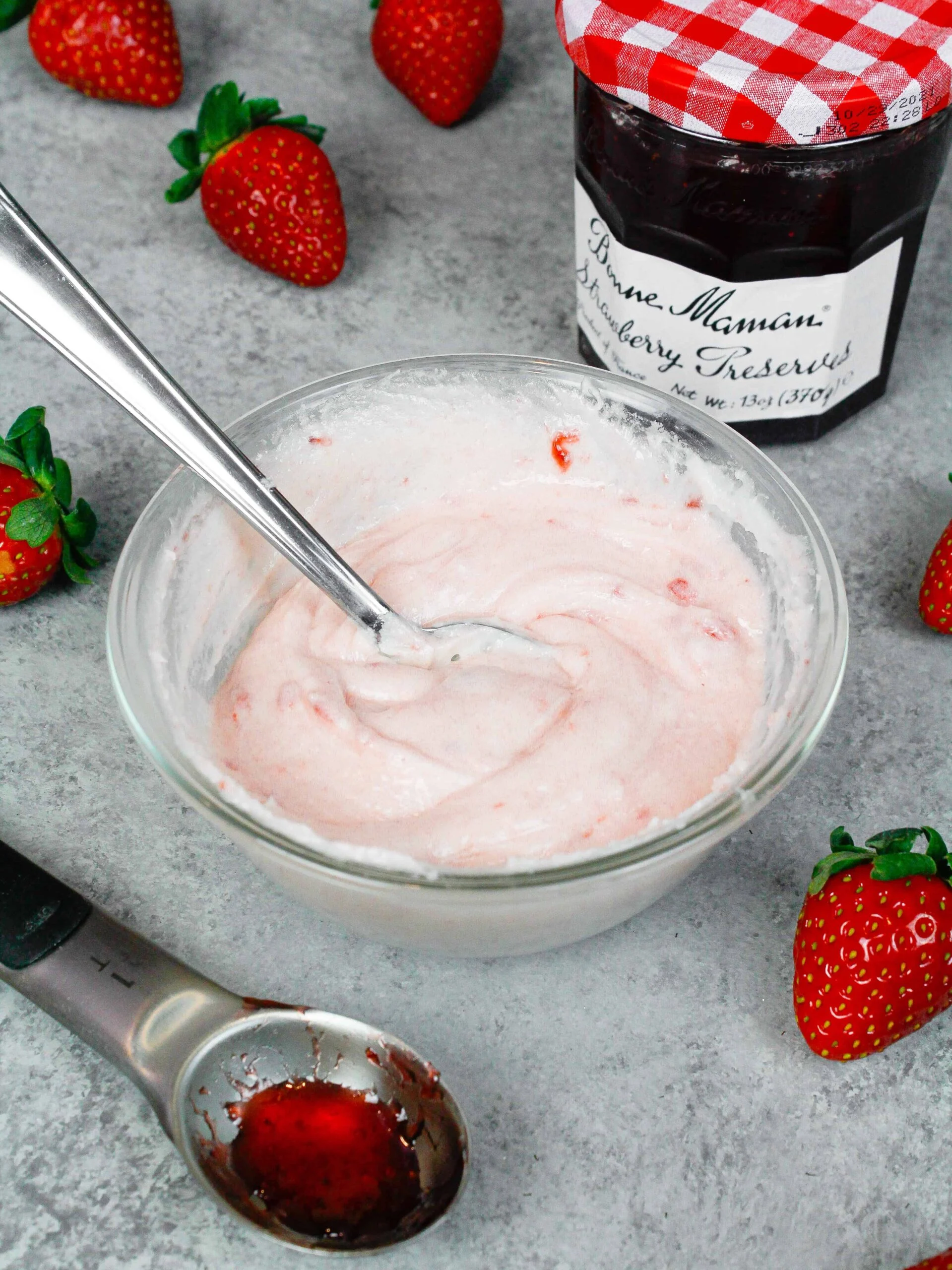 It also didn't add much color to the frosting.
The bigger problem was the chunks of strawberries in the frosting (not really visible in the picture but they were big!).
They made it difficult to smooth the frosting on a cake or to pipe on cupcakes.
Fail #2 Adding Strawberry Emulsion
I also tried adding a strawberry emulsion. An emulsion is like an extract, but it has a water base rather than an alcohol base.
I find they usually have a stronger flavor than extracts, but they're usually used in the same quantities (1:1 ratio with extracts).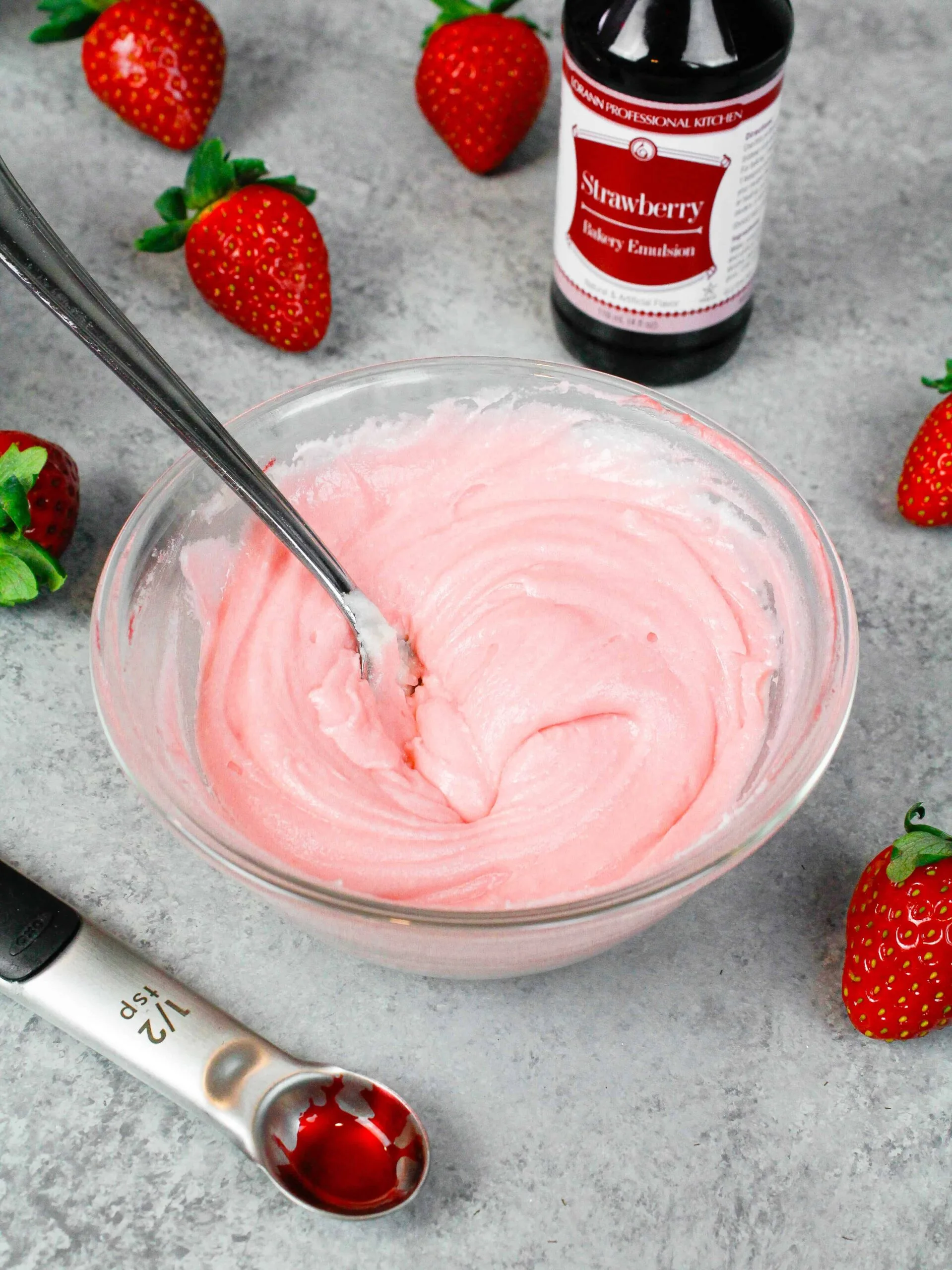 This version of strawberry buttercream had a pretty pink color, from beet juice and artificial coloring included in the emulsion.
Sadly the emulsion gave the frosting a strong artificial strawberry flavor.
I may have been too heavy handed with the emulsion, but the frosting tasted like a strawberry jolly rancher to me.
It definitely wasn't the flavor I was after.
Fail #3: Adding in a Strawberry Puree Reduction
My third attempt to flavor my strawberry buttercream was with a reduced strawberry puree.
To make a strawberry puree reduction, you blend up some strawberries, and cook them on a low heat to help some of the moisture evaporate.
This method made the frosting taste great, and it added a pretty, natural color.
My main problem was that whenever I added enough puree to get the flavor right, the buttercream became too thin and wouldn't keep its shape.
As you can see above, this batch of strawberry frosting didn't quite keep its shape, and was starting to separate.
The Secret Ingredient: Strawberry Powder
This year I finally discovered strawberry powder. It's made from real, freeze-dried strawberries.
It adds tons of real fruit flavor into the frosting, without throwing off the consistency! Strawberry powder also gives the buttercream a beautiful pink color naturally.
It creates a stable, pipe-able frosting that can be used on cakes (like my dark chocolate strawberry cake) and cupcakes alike.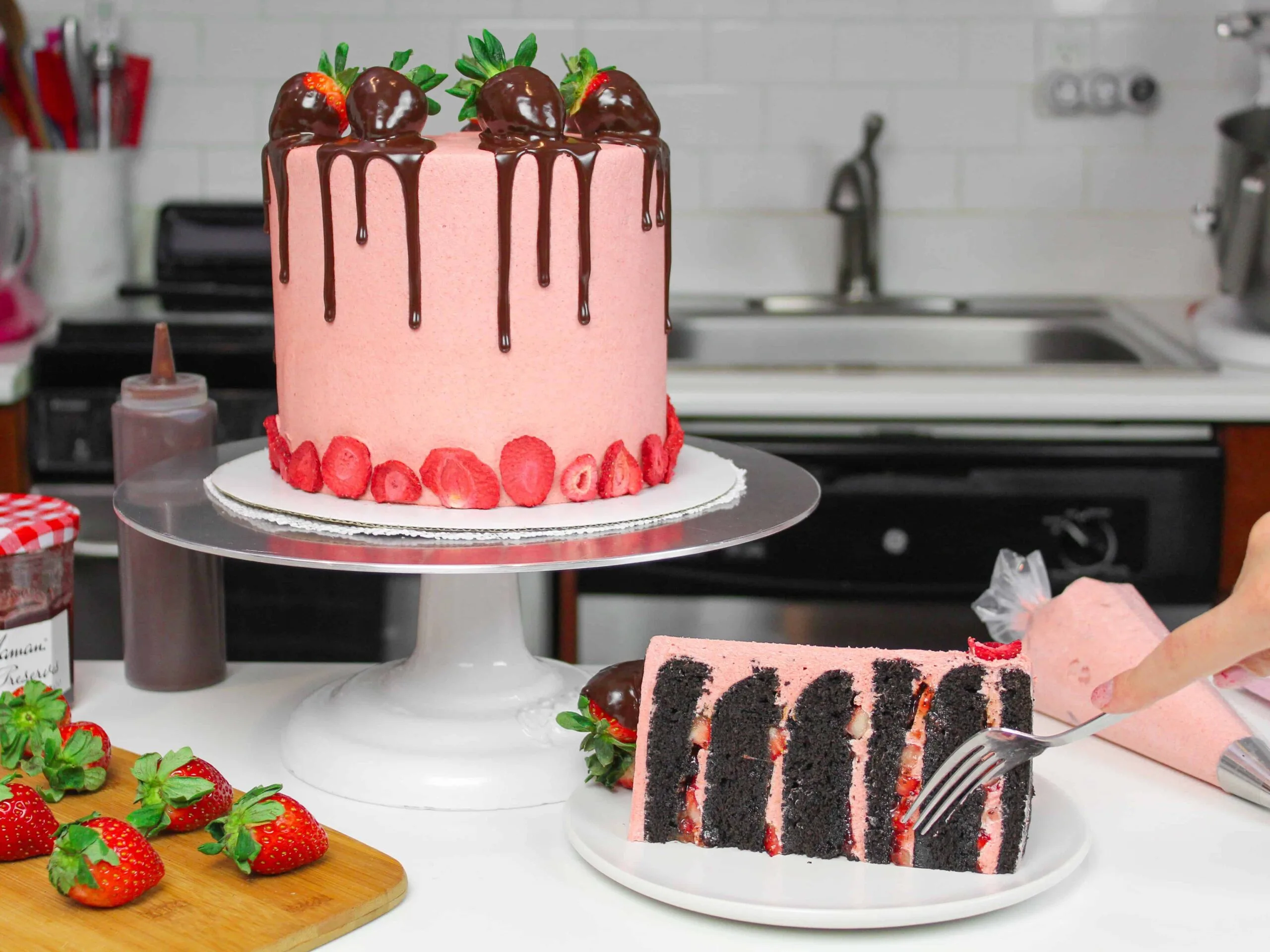 In my opinion, it's by far and away the best way to make strawberry frosting.
I order my strawberry powder on Amazon, and some health food stores carry it.
You can also find freeze dried strawberries at most grocery stores, and pulverize them into a powder in a food processor.
The Finishing Touch: Lemon Juice
The last ingredient in this frosting might surprise you. It's a tablespoon of fresh lemon juice.
When my Mom makes her famous homemade strawberry jam, she always adds lemon juice.
This is usually done to help the jam set, or for safe canning.
But I swear, the lemon juice adds to the flavor of the jam too!! I decided to try this out in my strawberry buttercream.
The lemon juice really brings this frosting to life. It's the pop of flavor that makes the frosting taste like it's packed with sun-ripened strawberries!!
Making This Frosting in Advance
One last thing to note about this recipe!!
While your frosting might be silky smooth right after you make it (especially if you use a paddle attachment), the frosting will develop air bubbles as it sits over time.
It's like the strawberry powder acts as a sponge, and it soaks up all the moisture in the frosting!!
I let mine sit out for several hours, and found the consistency had completely changed.
I was able to revive it by stirring it with a rubber spatula for several minutes, and by adding in a couple more Tbsp of heavy cream.
If you choose to make this frosting ahead of time, be sure to give it a good stir, and potentially add in a touch more heavy cream to get it back to that silky smooth consistency.
Tips for Making the Best Strawberry Buttercream
Use a paddle attachment if you plan to add this frosting to a cake! It makes super smooth frosting that's way easier to smooth onto a cake.
Use the whisk attachment if you're making this frosting for cupcakes. It gives it a fluffy, light texture that's perfect for piping on top of cupcakes.
Make sure the butter is at room temperature to give your frosting the right consistency.
Use strawberry powder to really pack your strawberry buttercream with flavor!
If the frosting seems too thick, add in additional cream (1 Tbsp at a time).
If the frosting seems too thin, add in more powdered sugar (quarter of a cup at a time).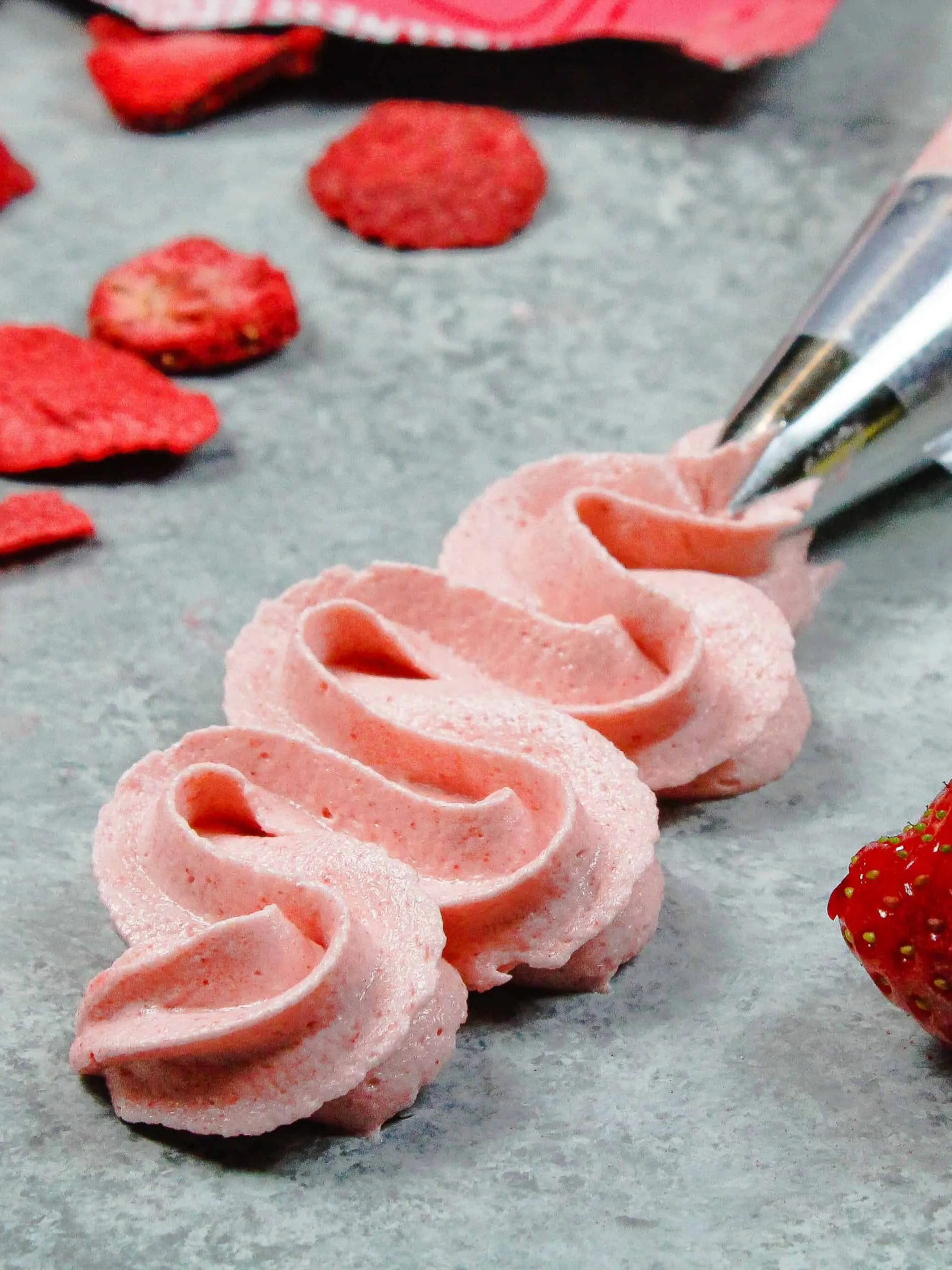 Let Me Know What You Think!
If you try this strawberry buttercream recipe, please tag me @chelsweets and use the #chelsweets so that I can see your baking!
And don't forget to also leave a rating and comment below.
Other Posts You Might Like:
Yield: 6 cups
Strawberry Buttercream
This strawberry buttercream is packed with real strawberry flavor! It's perfect for piping on cupcakes, smoothing on cakes, or with cookies!
Ingredients
2 cups unsalted butter, room temperature (452 grams; 1 lb. box)
1 tsp vanilla extract (4 grams)
1/2 tsp salt (3 grams)
7 cups powdered sugar (907 grams; 2 lb. bag)
2/3 cup heavy cream or heavy whipping cream (150g)
1 Tbsp freshly squeezed lemon juice; about 1/2 small lemon (12g)
Instructions
Beat the butter on a medium speed for 30 seconds with a paddle attachment until smooth. Mix in the freeze dried strawberry powder, vanilla extract, and salt on a low speed
Slowly mix in the powdered sugar on the lowest speed. Halfway through, mix in the heavy cream and lemon juice to make the frosting easier to mix.
Beat on low until the ingredients are fully incorporated and the desired consistency is reached.
If the frosting is too thick, add in additional cream (1 Tbsp at a time). If the frosting is too thin, add in more powdered sugar (quarter of a cup at a time).
Notes
One batch of frosting makes about 6 cups, which is enough to frost 3 dozen cupcakes or an 8-inch layer cake.
If you are making frosting for a cake, it is important to mix the buttercream on the lowest speed at the end of the process for a couple minutes. This gets out any extra air that might have been incorporated during the mixing process.
I also recommend stirring the frosting in a bowl with a rubber spatula (pushing it from side to side) to get rid of any air bubbles. This will make it easier to get super smooth sides on your cake.
If you have extra buttercream you don't use, it can be stored in the fridge for up to 2 weeks, or kept in the freezer for up to a month in an airtight container.
Nutrition Information
Yield
6
Serving Size
1
Amount Per Serving
Calories

1172
Total Fat

73g
Saturated Fat

45g
Trans Fat

0g
Unsaturated Fat

23g
Cholesterol

198mg
Sodium

215mg
Carbohydrates

134g
Fiber

1g
Sugar

130g
Protein

2g