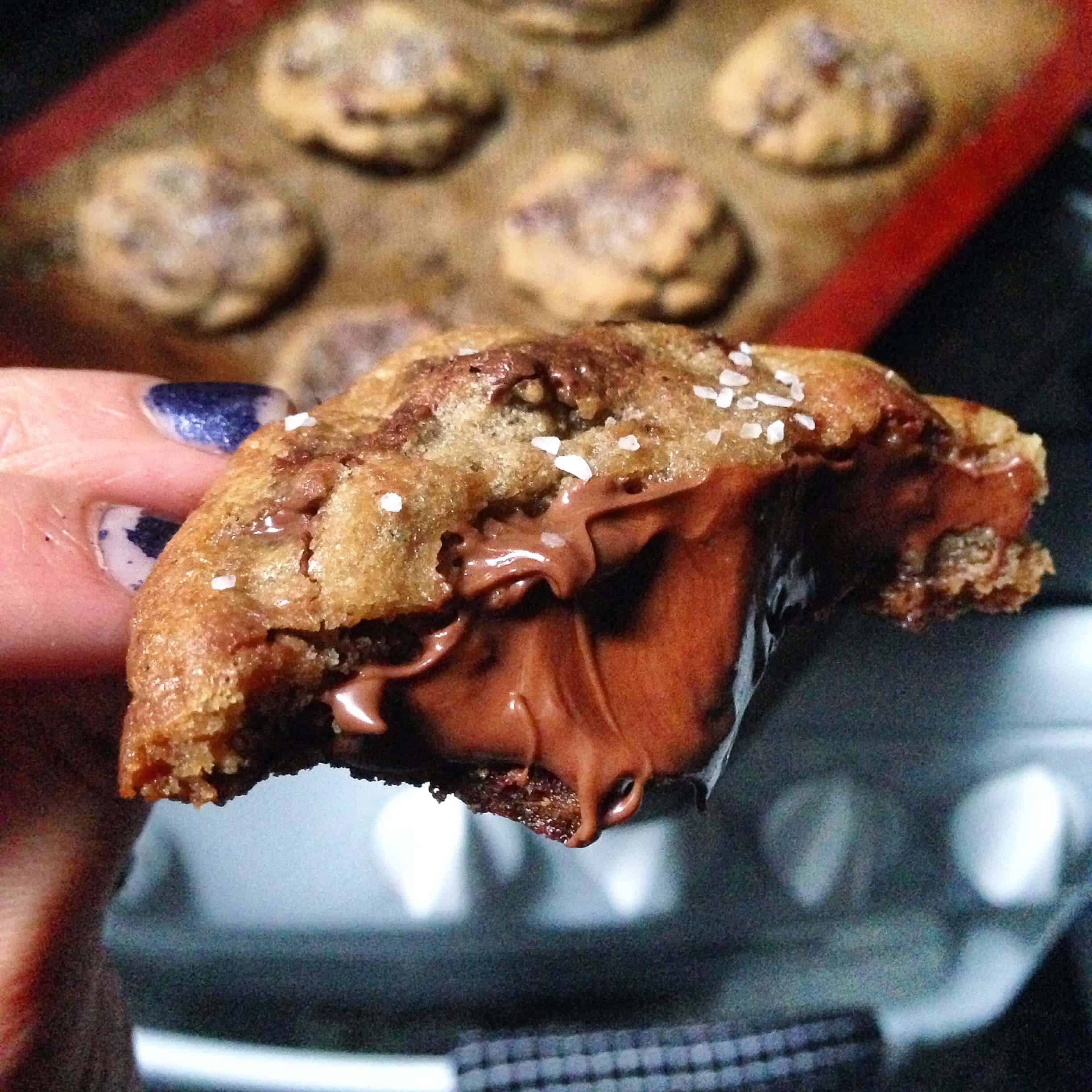 Happy Thursday! What better way to celebrate a long week, than with nutella-stuffed, brown butter, chocolate chip cookies! I know, the name is a mouthful…but there are so many wonderful aspects of this cookie, and each one deserves a spot in the name. The nutty flavor of the brown butter compliments the nutella perfectly, and a finishing sprinkle of sea salt makes this a well-balance, salty/sweet treat.
Cookie Dough Ingredients (Adapted from Ambitious Kitchen)
2 sticks (1 cup) unsalted butter
2 1/4 cup all-purpose flour
1 1/4 teaspoons baking soda
1 1/4 cup packed dark brown sugar
1/4 cup granulated sugar
1 large egg plus 1 egg yolk
1 1/2 teaspoons vanilla extract
2 tablespoon plain greek yogurt
1 cup milk chocolate chips
1/2 cup dark chocolate chips
1 jar of Nutella, chilled in refrigerator
Coarse sea salt for sprinkling
Servings: 20 Cookies
Prep Time: 15 minutes
Chill Time: At least 2 hours
Bake time: 9-10 minutes
Begin by browning the butter. Melt butter in a saucepan over medium heat, until it begins to foam. Make sure you whisk consistently during this process. After a couple of minutes, the butter will begin to brown on the bottom of the saucepan; continue to whisk and remove from heat as soon as the butter begins to brown and give off a nutty aroma. Immediately transfer the butter to a bowl to prevent burning, and let it cool.
With an electric mixer, mix the butter and sugars. Beat in the egg, yolk, vanilla, and yogurt until combined. Add the flour, baking soda, and salt,  and beat on low-speed just until combined. Gently fold in all of the chocolate chips.
Chill your dough overnight, or AT LEAST 2 hours. This allows the dough to absorb the flavor of the brown butter, and results in a chewier, thicker cookie. Trust me, don't skip this step!!!
The following morning, preheat the oven to 350 degrees. Form cookie dough balls with about 1 1/2 tablespoons of cookie dough, and flatten the dough in the palm of your hand. Place 1 Tablespoon of chilled Nutella in the middle, and fold the dough back around it, gently into a ball.
Place the cookie dough balls onto a greased cookie sheet about 2 inches apart, and gently flatten the dough with your hand. Bake the cookies for 9-10 minutes, until the edges just begin to brown. Let the cookies cool on a wire wrack, and sprinkle with a flourish of sea salt after a couple minutes. And BAM! NUTELLA COOKIES FOR ALL 😀