Rose water is one of those flavors that always catches my eye. Whether I see a rose water cocktail on a menu, or a rose water tart at a patisserie, I always order it.
I've grown quite fond of rose water the past couple years. Slowly yet surely, I have started incorporating it into my own baking.
I've made a delicious rose water layer cake in the past, but I hadn't played around with rose water and cupcakes yet. That's where these rose water cupcakes come into play.
What is Rose Water?
Before we get any further, some of you may be wondering what exactly rose water is.
If you read the label of any rose water bottle, you'll quickly learn it's exactly what it sounds like – water soaked with rose petals!!
Rose water has been around forever, and has been traced back to the 7th century. It has a long history of being used for medical and cosmetic purposes, but it's also a popular flavor.
Tons of middle eastern desserts use rose water, and rose hip tea is also quite popular.
I buy my rose water at Whole Foods, but you can also buy it at most large grocery stores (in the international aisle) or online.
Can You Make Your Own Rose Water?
If you are struggling to get your hands on rose water, or if you enjoy DIY projects, you can always make your own rose water.
My main advice if you make your own rose water is to use organic rose petals, and to consistently use the same ratio of petals to water.
Otherwise, you may end up with rose water that varies in strength from batch to batch. This could throw off the flavor of your desserts.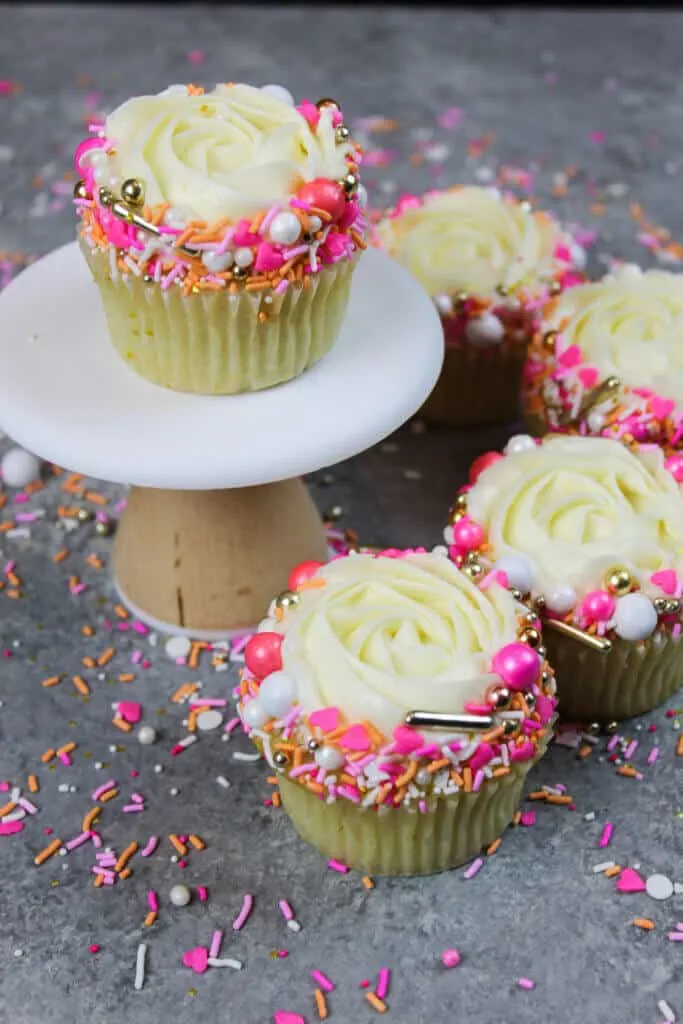 Adding the Right Amount of Rose Water
Rose water is added to baking recipes just like an extract. The amounts I share in this recipe give these cupcakes the perfect floral taste, without being overpowering.
However, rose water can be quite a finicky flavor.
Add too little, and you'll be disappointed when you bite into the cupcake and don't detect delicate floral notes.
Too much? You'll feel like you're whiffing perfume as soon as you go to take a bite.
As someone who has been too heavy handed with rose water in the past, I believe it's better to err on the side of adding too little.
Adjusting as Needed
I highly recommend testing out what amount tastes right to you.
Some people prefer just a hint of rose water, other enjoy a more prominent flavor.
It's ok to adjust the amount of rose water you add to suit your taste.
This is easier to do with buttercream than cupcakes. You can add a teaspoon at a time to your frosting, taste it, and add more if you think it needs it.
You can always add a bit more rose water to the buttercream if you want a stronger flavor. However, it's harder to fix cupcakes that are as fragrant as your grandmother's signature scent.
Just remember, while you can always add more, you can't take it back.
The other factor besides the amount of rose water you add is the strength of the rose water.
Different brands have a stronger taste than others, so it's good to find a brand you know and are comfortable using.
Like I mentioned above, this is my go to rose water brand. Most big grocery stores have rose water in the international aisle.
I know how strong of a flavor this brand has. This helps me know what amount tastes right in my recipes.
Decorating These Rose Water Cupcakes
Once I was happy with the flavor of these cupcakes, it was time to think about how I wanted to decorate them.
I wanted to decorate them in a way that matched the flavor of the cupcakes.
I decided to frost the cupcakes with a simple buttercream rosette using my rose water buttercream and a Wilton 1M frosting tip.
Next, I carefully pressing a pretty sprinkle blend around the edges. The end result was beautiful!!
If you need to refresh your sprinkle collection, or want to try out a fancy sprinkle blend, I highly recommend trying these!
You can also use the code 'CHELSWEETS15' to get 15% off your entire order from Sweetapolita.
Share Your Creations with Me!
If you try this rose water cupcake recipe, please let me know what you think! You can tag me @chelsweets or use the #chelsweets so that I can see your amazing creations.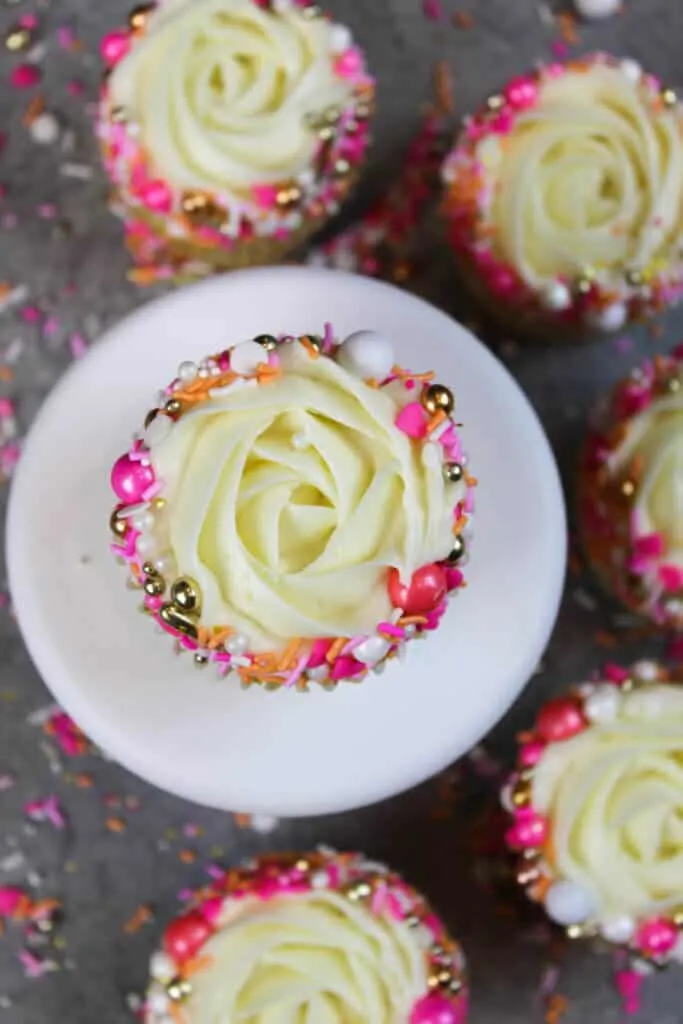 Other Recipes You Might Like:
Yield: 12
Rose Water Cupcakes
These rose water cupcakes are incredibly moist, and use the perfect amount of rose water! There are delicate floral notes in both the cupcake and frosting!
Additional Time
5 minutes
Ingredients
Rose Water Cupcakes
1 1/4 cup all-purpose flour (162 grams)
1 cup sugar (200 grams)
1 1/2 tsp baking powder (6 grams)
3/4 tsp salt (4 grams)
1/2 cup sour cream (127 grams)
1/4 cup vegetable oil (56 grams)
1 tsp vanilla extract (4 grams)
1 1/2 tsp rose water (10 grams)
1 large egg, room temp (57 grams)
1/2 cup water (118 grams)
Rose Water Buttercream Frosting
1/2 cup unsalted butter, room temperature (113 grams)
1 3/4 cups powdered sugar (220 grams)
1/4 tsp salt (1 grams)
1 Tbsp heavy cream (or whipping cream) (15 grams)
1/2 tsp vanilla extract (2 grams)
1 tsp rose water (4 grams)
Instructions
Rose Water Cupcakes
Begin by preheating oven to 350°F (175°C), and place cupcake liners in baking pans.
Add the flour, sugar, baking powder and salt to a large bowl, and gently combine with a large spoon.
Add in the sour cream, and gently stir until just combined. The batter will be very thick, but that's how it should be!
Next, add in the water, vanilla extract, rose water, egg and vegetable oil, and mix until the batter comes together.
Fill the cupcake liners about 2/3 way full. Bake for 17 minutes, or until a toothpick comes out clean.
Allow the cupcakes to cool for 5 minutes before moving them to a cooling rack to finish cooling. If you want to accelerate the cooling process, pop the pans into your freezer for about 30 minutes.
Rose Water Buttercream
Beat the butter on a medium speed for 30 seconds with a paddle attachment, until smooth. Slowly add in the powdered sugar in two installments. Alternate with the heavy cream.
Once fully mixed, add in the vanilla extract, rose water, and salt, and beat on low until the ingredients are fully incorporated, and the desired consistency is reached.
If the frosting is too thick, add in additional cream (1 Tablespoon at a time). If the frosting is too thin, add in more powdered sugar (quarter of a cup at a time).
Place the buttercream in a piping bag fit with your favorite frosting tip, and pipe large swirls onto the fully cooled cupcakes.
Garnish as desired, then enjoy!
Notes
This recipe makes one dozen cupcakes.
This recipe can also be used to make mini cupcakes! This recipe makes about 40 mini cupcakes, which only need to bake for 9-10 minutes.
Nutrition Information
Yield
12
Serving Size
1
Amount Per Serving
Calories

314
Total Fat

15g
Saturated Fat

7g
Trans Fat

0g
Unsaturated Fat

7g
Cholesterol

43mg
Sodium

268mg
Carbohydrates

43g
Fiber

0g
Sugar

33g
Protein

2g