I may have gone a little overboard, but I couldn't resist when I was asked to make an over-the-top rainbow drip cake!!
This cake is made with my favorite vanilla cake recipe, and is colored with Americolor gel food coloring.
I swear by Americolor, it's the only gel food coloring I use.
How To Make Super Colorful Cake Layers And Drips
If you want your cake layers and colorful drip to be a super vibrant color, I highly recommend using gel food coloring.
Liquid food coloring won't give you as bright of a color. It can also throw off the consistency of the cake batter or rainbow drips if you add too much.
Gel food coloring is much more concentrated, so it allows you to use less. A couple drops will create beautiful, bright colors.
Gel coloring is also thicker, and won't change the consistency of whatever you add it to.
The Proper Color Order
The cake layers in this rainbow drip cake are arranged following the color order of the visible spectrum.
As a kid I had the hardest time remember the order of the colors in the rainbow. Then, my world was rocked when my art class teacher taught us ROYGBV.
In my head, I read ROYGBV as Roy-GiB-Vee. I've had no trouble remember it since that day!!
Which is a good thing, because nothing makes trolls on the internet more angry than messing up the color order.
Heaven forbid you place the orange cake layer next to purple (violet) layer!!!!
All jokes aside, my neurotic side really does enjoy having the colors in the proper order.
It feels like everything is right where it's supposed to be. And then adding the color coordinated lollipops and candy?! I could've stared at this cake all day.
Rainbow Candy
While on the topic of candy, I know that it can be hard to find monochromatic candy like this.
I live a few blocks from Dylan's candy bar, and got most of this candy from their color sorted candy buckets.
However, Amazon has tons of monochromatic candy, and party city also has a great selection.
If you don't mind doing some sorting, you can also using rainbow colored candies like skittles, gummy bears, or Mike and Ikes!
Getting The Perfect Slice
This cake is six layers tall, which can make it a bit of a challenge to cut into.
If you've gotten this far, you've put hours into baking and decorating this cake. The last thing you want to do is mangle the first slice!
To cut and serve this rainbow drip cake, I recommend starting with a very sharp knife.
It is easiest to cut a tall cake like this when it's still slightly chilled. If made in advance, remove from the fridge about 45 minutes before you plan to cut into the cake.
This way, the frosting will still be a bit cold and will help the cake keep its structure once it's sliced.
My next tip is to cut the cake with a warm knife. Fill a tall glass with very hot water, and let your knife sit in the cup for a minute.
This will heat up the blade, and make cutting into your cake…a piece of cake! Forgive me for that one, I couldn't resist!! 😛
Dry off the blade, then slowly cut a decent sized slice. A large first slice will make it easier to remove it, and cut additional slices.
Cut each cake slice in half horizontally, to create more reasonably-sized slices.
Share Your Creations With Me!
If you try this rainbow drip cake recipe, please tag me @chelsweets. Also use the #chelsweets so that I can see your amazing creations!
Nothing makes me happier than when I get emails or DMs with photos of your amazing cakes. Please don't hesitate to reach out to me with your triumphs, or questions <3
Yield: 24
Rainbow Drip Cake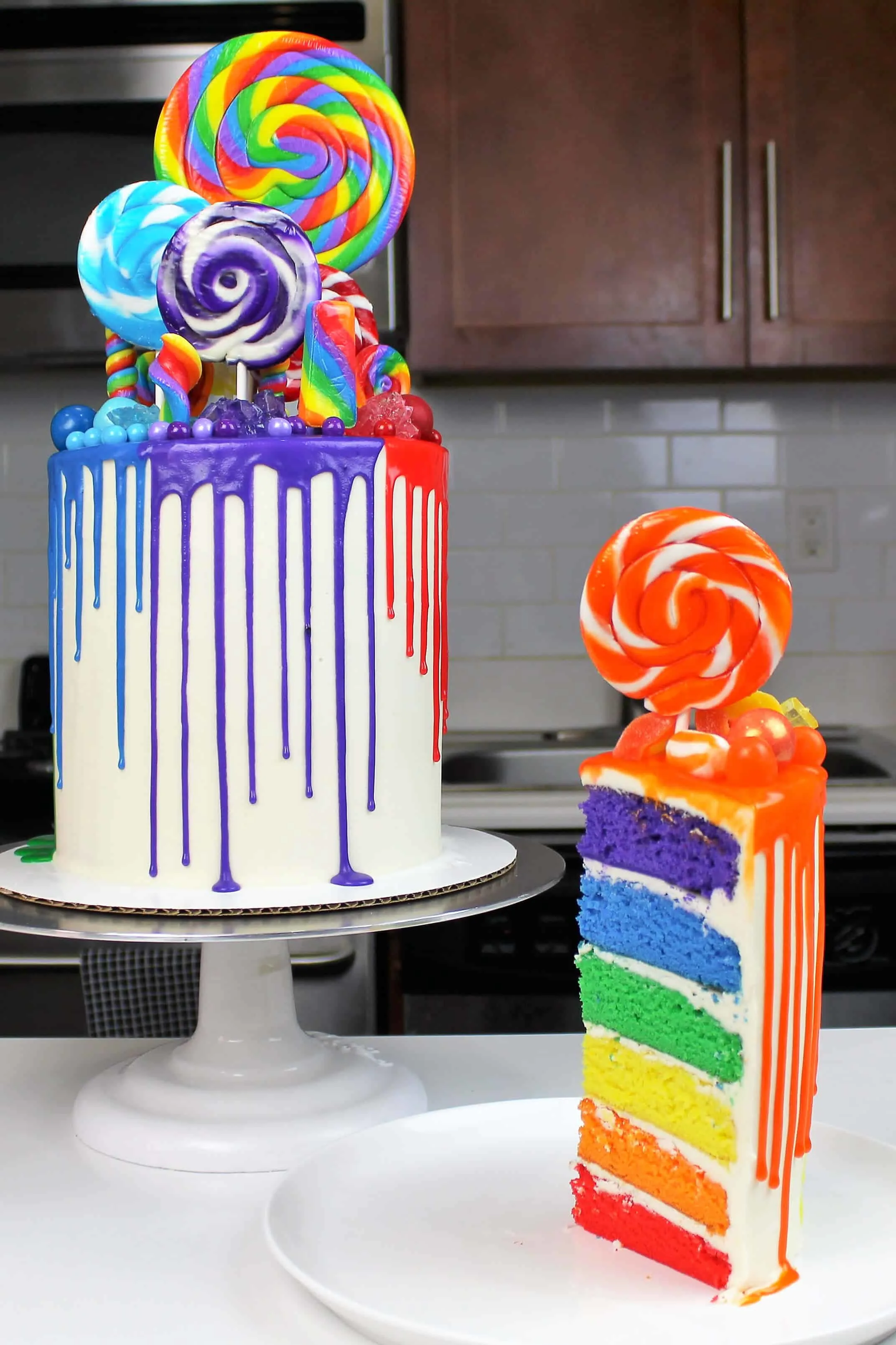 This colorful rainbow drip cake is the ultimate rainbow cake! It's made with rainbow cake layers, a colorful rainbow drip, and tons of rainbow candy!!
Total Time
1 hour
50 minutes
Ingredients
Rainbow Cake Layers
3 cups all-purpose flour (390 grams)
3 cups granulated sugar (600 grams)
2 1/2 tsp baking powder (10 grams)
1 tsp salt (6 grams)
1 cup unsalted butter, room temperature (226 grams) - 2 sticks
2 tsp. vanilla extract (8 grams)
1 cup pasteurized egg whites from a carton (or about 7 egg whites) (235 grams)
1 1/2 cups buttermilk, room temperature (345 grams)
1/8 cup vegetable oil (28 grams)
Red, orange, yellow, green, blue, and purple gel food coloring
Vanilla Buttercream Frosting
2 cups unsalted butter, room temperature (434 grams)
7 cups powdered sugar (907 grams) - or a 2lb bag
1/2 tsp salt (3 grams)
2 Tbsp heavy cream (or whipping cream) (30 grams)
1 Tbsp vanilla extract (12 grams)
Colorful Drip Recipe
2/3 cup heavy cream (154 grams)
2 cup white chocolate chips (350 grams)
Red, orange, yellow, green, blue, and purple gel food coloring
Additional Decorations
rainbow lollipops
rainbow candies
Instructions
Rainbow Cake Layers:
Preheat oven to 350°F. Line six, 6-inch pans with parchment rounds, and grease with a light spray of non-stick cooking spray.
Mix together all dry ingredients (flour, baking powder, sugar, and salt) in a stand mixer with a paddle with a few gentle pulses.
Mix chunks of room-temperature butter slowly into the dry mix, on a low speed. Continue to mix until no large chunks of butter remain, and the mixture becomes crumbly.
Pour in egg whites, and mix on low until just incorporated. Mix in the buttermilk in two installments, on a low speed.
Add in vanilla and oil, and mix at a low speed until fully incorporated. Scrape down the sides of the bowl with a spatula, then beat on low speed for about 15 seconds.
Divide the batter evenly between six bowls (about 300 grams of batter per bowl). Create red, orange, yellow, green, blue, and purple batter using a couple drops of gel food coloring. Mix by hand with a spatula until the batter is evenly colored.
Pour each color into one of the prepared cake pans.
Bake for 30-32 minutes, or until a toothpick comes out clean. Allow the pans to cool for 10 minutes, then run an offset spatula around perimeter of the pan to separate the cake from the pan.
Place cake layers into the freezer for 45 minutes, to accelerate the cooling process. Once the layers are fully cooled, carefully flip the pans and remove the layers from the pans.
Use a serrated knife to level the top of each layer.
White Chocolate Ganache Rainbow Drips:
Heat heavy cream in a heat-proof bowl in the microwave for 45 seconds, until it's just beginning to bubble. Gently pour white chocolate chips into the heavy cream, making sure they are fully covered with cream. Allow mixture to sit for 1 minute.
Stir slowly until the cream and white chocolate are combined. Some bits of chocolate may not be fully melted yet. Heat the mixture again for 20 seconds, and stir. Repeat as necessary until all the chocolate bits are fully melted and incorporated.
Divide the ganache evenly between six small bowls. Use gel food coloring to make red, orange, yellow, green, blue, and purple white chocolate ganache. Allow to cool until desired viscosity is reached (barely warm to the touch).
Either pour into plastic squirt bottles (if you have some on hand), or place plastic wrap over the bowls to prevent the ganache from forming a skin.
Vanilla Buttercream Frosting:
While the cake layers bake and cool, make the vanilla buttercream frosting.
Beat the butter on a medium speed for 30 seconds with a paddle attachment, until smooth. Slowly add in the powdered sugar, 1 cup at a time. Alternate with small splashes of cream.
Once fully mixed, add in the vanilla and salt, and beat on low until the ingredients are fully incorporated, and the desired consistency is reached.
If the frosting is too thick, add in additional cream (1 teaspoon at a time). If the frosting is too thin, add in more powdered sugar (quarter of a cup at a time).
Cover with plastic wrap to prevent crusting, and set aside.
To Assemble This Rainbow Drip Cake:
Stack and frost the rainbow cake layers on a greaseproof cake board, using a dab of frosting to help stick the first cake layer to the board. Start with the red layer on the bottom of the cake, then follow the color spectrum (ROYGBV) to arrange the remaining cake layers.
Add an even layer of buttercream between each cake layer.
Apply a thin coat of frosting around the the cake, to fully cover the cake layers. Smooth using a bench scraper, then chill the cake in the fridge (10 minutes) or freezer (5 minutes) until the frosting is firm to the touch.
Add a second, thicker layer of frosting to the cake, and smooth using a bench scraper. Place the cake in the freezer to chill for 10-15 minutes, or in the fridge for 30 minutes.
Carefully divide the top of the cake into six equal sections (almost like slices of cake).
Add one color of white chocolate ganache drips to each section. Use either a plastic squirt bottle and a spoon to add the drips to the cake.
Top each section with matching lollipops and candy.
Notes
One batch of cake batter makes about 1800 grams, so when I'm making a cake with six layers, I add 300 grams of batter into each pan.
Once the layers have fully cooled, I sometimes like to trim the caramelized bits from the sides of the layers using a serrated knife.
These cake layers can be made in advance!! Learn more about how far in advance they can be made, and how to properly wrap them in my post on how to make cake layers ahead of time.
Since this frosting will be used to decorated a cake, it is important to mix the buttercream on the lowest speed at the end of the process for a couple minutes, to get out any extra air that might have be incorporated during the mixing process.
You can also stir the frosting in a bowl with a rubber spatula, pushing it from side to side, to get rid of any air bubbles. This will make it easier to get super smooth sides on your cake!
Nutrition Information
Yield
24
Serving Size
1
Amount Per Serving
Calories

638
Total Fat

32g
Saturated Fat

19g
Trans Fat

0g
Unsaturated Fat

11g
Cholesterol

73mg
Sodium

262mg
Carbohydrates

86g
Fiber

1g
Sugar

73g
Protein

5g