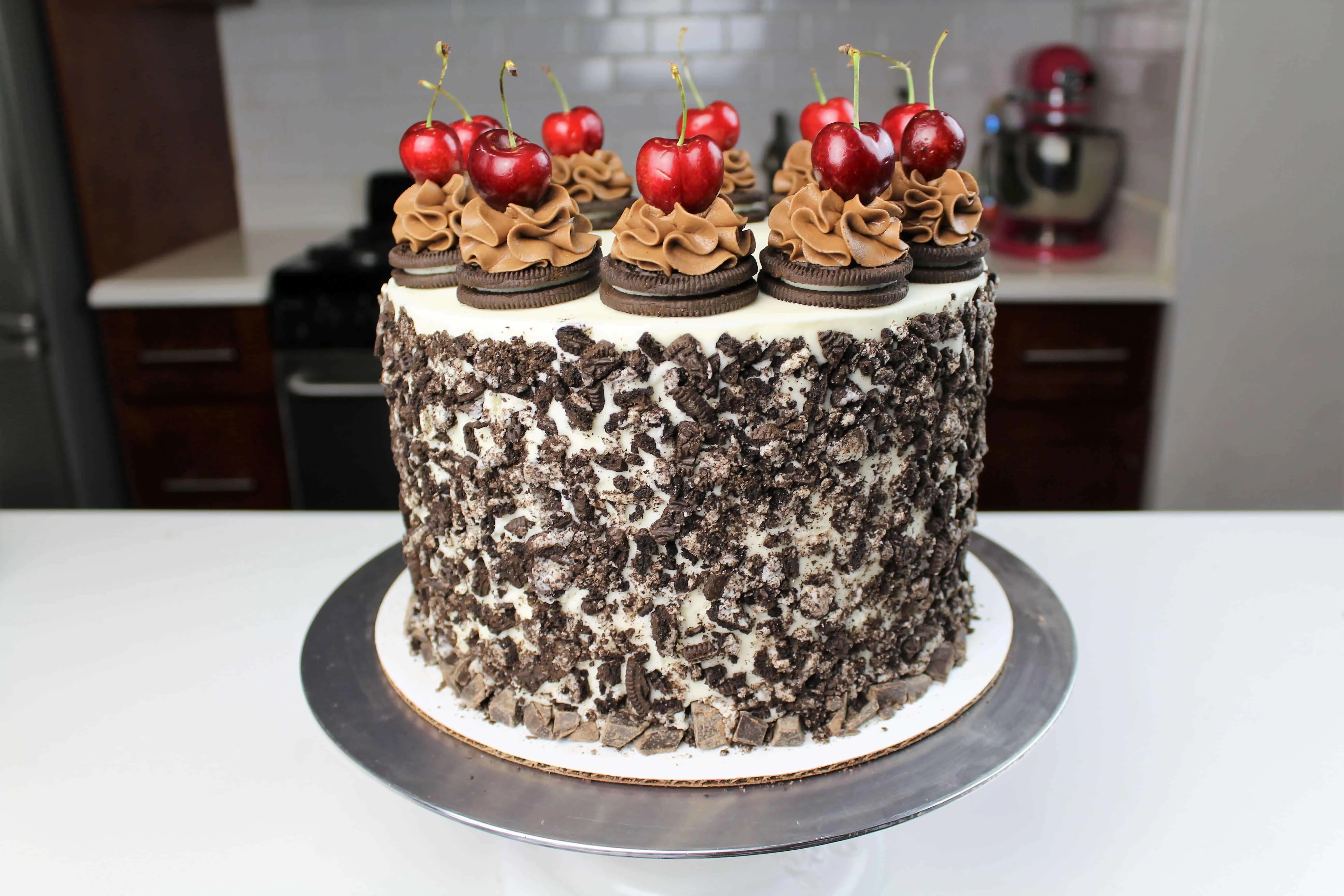 I partnered with Oreo to create this Oreo Black Forest Cake! It's my flavor creation idea for their latest flavor contest.
I made it with my favorite chocolate layer cake recipe, my classic vanilla american buttercream, sweet dark cherries, and crushed Oreos.
The traditional Kirsch is replaced with simple syrup, to keep this an alcohol-free recipe. The full recipes can be found below:
Chocolate Cake Ingredients:
2 1/2 cups flour
3/4 cup unsweetened cocoa powder
3 cups granulated sugar
2 1/2 tsp baking powder
1 tsp salt
1 cup unsalted butter (2 sticks), room temperature
3 tsp. vanilla extract
1 cup egg whites (about 7 large egg whites)
1 tsp instant espresso, dissolved in 1 Tbsp hot water
1 1/2 cups buttermilk, room temperature
1/8 cup vegetable oil
American Buttercream Ingredients:
4 sticks (2 cups) unsalted butter, room temperature
8 cups powdered sugar
1/2 tsp salt
2 Tbsp. heavy cream
3 tsp vanilla
American Buttercream Ingredients:
20 oz. frozen dark cherries
1/2 cup simple syrup
1 bag fresh cherries
2 cups of crushed Oreos
Chocolate Cake Layers:
Preheat oven to 350°F. Grease and line four 8" round pans.
Mix together all dry ingredients (flour, cocoa, baking powder, sugar, and salt) in a stand mixer on low (with a paddle), until fully combined.
Mix chunks of room-temperature butter slowly into the dry mix, on a low speed. Continue to mix until no large chunks of butter remain, and the mixture becomes crumbly.
Pour in egg whites, and mix on low until just incorporated. Mix in the buttermilk in two installments, on a low speed.
Add in vanilla, espresso, and oil, and mix at a low speed until fully incorporated. Scrape down the sides of the bowl with a spatula, then beat on medium high for about 30 seconds.
Divide evenly between the prepared cake pans. Bake for 35-40 minutes, or until a skewer comes out clean.
Allow to cool for 10 minutes, then run an offset spatula around perimeter of the pan to separate the cake from the pan. Place cake layers on a rack to finish cooling.
To accelerate the cooling process, I like to pop my cake layers in the freezer once I've removed them from the cake pans.
Buttercream Frosting
While the cake layers bake and cool, prepare the frosting. Beat the butter on high for 30 seconds with a paddle attachment, until smooth.
Slowly add in the powdered sugar, 1 cup at a time. Alternate with small splashes of cream. Once fully mixed, add in the vanilla and salt, and beat on medium low until the ingredients are fully incorporated, and the desired consistency is reached.
If the frosting is too thick, add in cream (1 teaspoon at a time). If the frosting is too thin, add in more powdered sugar (quarter of a cup at a time).
NOTE: When making frosting for a cake, it is important to mix the buttercream on low at the end of the process for a couple minutes.
This gets out any extra air that might have be incorporated during the mixing process. This will make it easier to get super smooth sides on your cake!
Assembling and Filling This Oreo Black Forest Cake
Soak 20 oz. of dark cherries in 1/2 cup of simple syrup for about 30 minutes. I used frozen cherries from Whole Foods for the filling, and fresh cherries for the garnish!
Once the cake layers are fully cooled, assemble the cake. Stack and frost layers with buttercream, adding 1/3 of the cherry mixture on top of each layer of frosting.
Sprinkle with 1/3 cup of crushed Oreos, and repeat with remaining cake layers.
Apply a thin crumb coat, being sure to trap in all cherry juice and Oreo bits. Chill cake in freezer for 5 minutes.
Once the crumb coat is firm to the touch, apply, a second, thicker coat of frosting. Smooth with a bench scraper.
If you want to see a full tutorial for how I get smooth sides on my cakes, you can click here. Gently press crushed Oreos onto the sides of the cake.
Line top of cake with Oreos, and pipe a large swirl of buttercream on top of each Oreo. Top each swirl with a fresh cherry.