This week I'm making a polar bear cake to continue my animal cake series!
I got a lot of requests for this cake, and with the frigid temperatures we've had lately it felt appropriate.
This polar bear cake is made with tender vanilla cake layers, and loads of piped vanilla buttercream fur!
Making the Face for this Little Polar Bear
While I'm always team buttercream, there are some situations where using a bit of fondant just makes sense.
We've already put so much energy into making the cake layers and buttercream from scratch, a tiny but of fondant never hurt anyone.
I used a little bit of black, pink and white fondant to make the little face and ears for this polar bear.
Small circle cutters help you to get the shape of the eyes and ears just right, and I love the adorable expression they give this cake.
Making this Polar Bear Cake with Rice Krispie Treats
A batch of cake decorating-friendly rice krispies makes this challenging cake shape so much more manageable.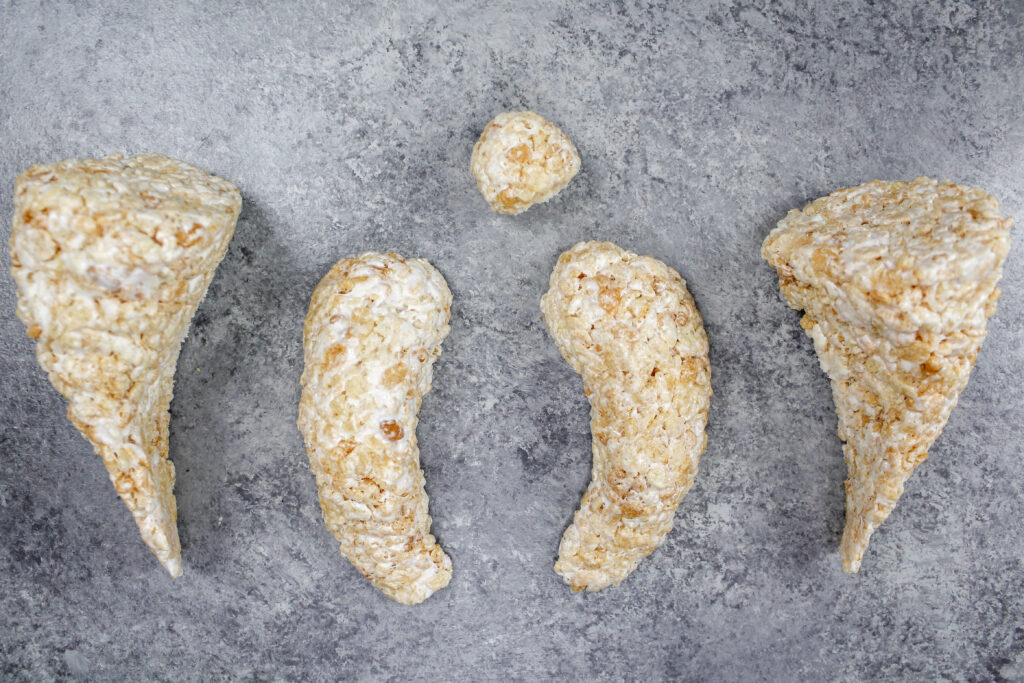 By omitting the butter that is in most rice krispie treats, these rice krispies set quite firmly once they've cooled.
This allows you to easily shape your cake. I used the same technique to make my Patrick Star cake, and I highly recommend if for larger shaped cake like this.
I also suggest greasing your hands with cooking spray before handling and shaping the wram rice krispie mixture. It makes them so much easier to handle!
As you shape your legs and arms, hold them up next to your cake to make sure they are proportionate and shaped properly.
Substitutions and Swaps – Vanilla Cake Layers
This polar bear birthday cake uses quite a few ingredients and I know you might not have all of them on hand. Or if you have food allergies or restrictions, I've got you covered.
Below are some swaps and substitutions that can be made in this polar bear cake recipe.
Substitutions and Swaps – Vanilla Buttercream Frosting
Tips for Making the Best Polar Bear Cake:
Making this Polar Bear Cake in Advance & Storage Tips: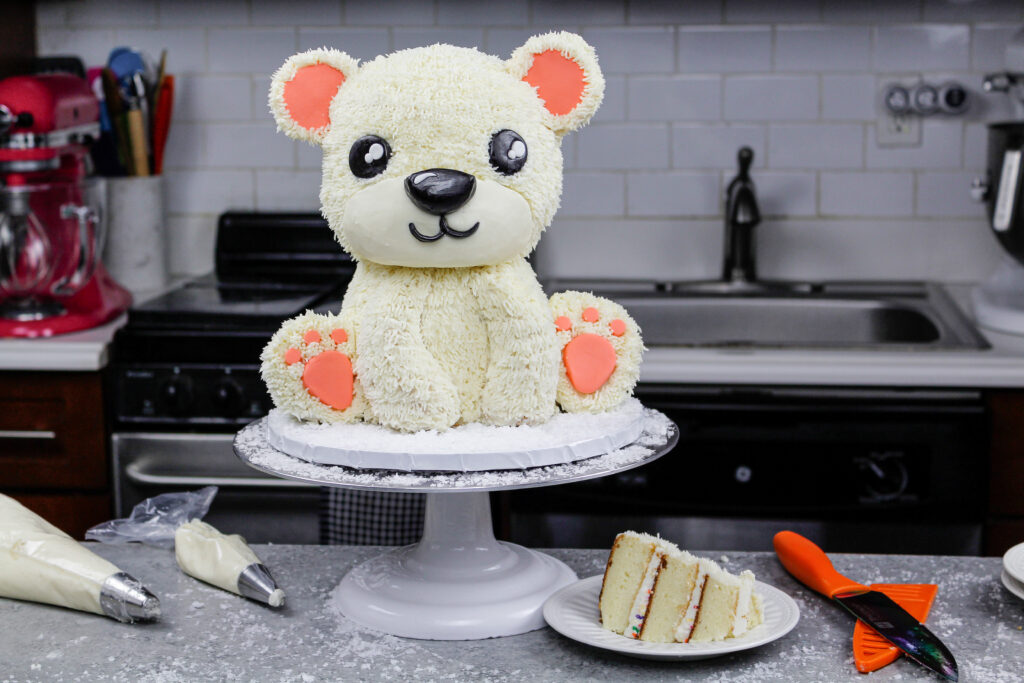 Let Me Know What You Think!
If you try making this polar bear cake, I'd love to hear what think of it! Let me know by leaving a rating below.
If you plan to share on social media, you can tag me @chelsweets! Also use the #chelsweets so that I can see your amazing creations.
Other Recipes You Might Like:
Yield: 24
Polar Bear Cake
This polar bear cake is just as adorable as it is delicious! It's made with tender vanilla cake layers and frosted with buttercream frosting.
Total Time
2 hours
48 minutes
Ingredients
Vanilla Cake Layers
1 cup unsalted butter, room temperature (226 grams) - 2 sticks
3 cups granulated sugar (600 grams)
1 cup pasteurized egg whites from a carton (or about 7 egg whites) (235 grams)
3 cups self-rising cake flour (360 grams)
1 1/2 cups full-fat sour cream, room temperature (382 grams)
1 tsp vanilla extract (4 grams)
1/4 cup vegetable oil (56 grams)
White Buttercream Frosting
3 cups unsalted butter, room temperature (678 grams)
1 Tbsp vanilla extract (12 grams)
1 tsp salt (6 grams)
11 cups powdered sugar (1375 grams)
1/3 cup heavy cream (or whipping cream) (75 grams)
Rice Krispie Treats - Polar Bear Arms and Legs
3 cups mini marshmallows (150 grams)
4 1/2 cups puffed rice cereal (70 grams)
Polar Bear Cake Decoration
Instructions
Step 1: Make the Vanilla Cake Layers
Preheat oven to 350°F. Grease and line six 6-inch cake pans and one 4-inch cake pan and set aside.
Add 1 cup of unsalted butter and 3 cups of granulated sugar into the bowl of a stand mixer. Beat on a medium-high speed with a whisk attachment for a couple minutes, scraping down the sides of the bowl as needed with a rubber spatula. The mixture will become lighter in color as air is whipped into it.
Add 1 cup egg whites and mix at a medium-high speed until the mixture looks fluffy and increases in volume.
Slowly mix in 1 1/2 cups of self-rising cake flour on a low speed until just incorporated.
Add 1 1/2 cups of sour cream, 1 tsp vanilla extract and 1/4 cup vegetable oil. Mix at a medium speed until combined, scraping the sides and bottom of the bowl as needed.
Mix in the remaining 1 1/2 cups of self-rising cake flour on a low speed.
Divide batter evenly between the prepared cake pans. I like to use a digital kitchen scale to weigh my pans, to make sure my layers will be the same height.
Bake for 30-33 minutes or until a toothpick comes out with a few moist crumbs. Rotate pans halfway through to help them bake evenly.
Allow the layers to cool in the pan for about 15 minutes, then flip them onto a wire rack to finish cooling.
Once the cake layers have finished cooling use a serrated knife to level the tops and trim the layers to make them easier to shape into the polar bears body and head (see photos above). Set the cake layers aside.
If making your cake layers in advance, wrap and freeze them like this. When you're ready to assemble the cake, unwrap the the frozen layers and allow them to thaw for about 20 minutes before you plan to frost the cake.
Step 2: Make the Vanilla Buttercream Frosting
While the cake layers bake and cool, make the vanilla buttercream frosting.
Beat 3 cups of butter on a medium speed for 30 seconds with a paddle attachment or hand mixer until smooth.
Add in 1 Tbsp of vanilla extract and 1 tsp of salt and mix on a low speed.
Slowly mix in 11 cups of powdered sugar on a low speed. Add 1/3 cup of heavy cream half way through to make it easier to mix.
Once fully mixed and has reached the desired consistency, beat on low until for a couple extra minutes to make the frosting super smooth and to push any extra air out of the frosting.
If the frosting is too thick, add in additional cream (1 Tablespoon at a time). If the frosting is too thin, add in more powdered sugar (1/4 cup at a time).
Cover the buttercream with plastic wrap to prevent crusting, then set aside.
Step 3: Assemble the Polar Bear Cake
Before you start to make the cake, use the black, white and pink fondant to create the polar bears eyes, nose, ears and foot pads. Make the pink fondant ears about 1/2 inch thick to allow you to press 2 toothpicks into each ear to make them easier to add to the cake.
Place the fondant pieces on a wire rack to allow them to dry and firm up while you assemble the cake.
Stack and frost cake layers on a 10-inch greaseproof cake board or cake drum using a dab of frosting to help stick the first cake layer to the board.
Add an even layer of buttercream between each cake layer with a large offset spatula and stack them in the following order: 6-inch, 6-inch, 6-inch, 4-inch, 6- inch, 6-inch, 6-inch. If desired you can add rainbow sprinkles on top of the frosting like I did in my video!
Insert either a thick plastic straw (like a bubble tea straw) or a wooden dowel through the center of the cake layers to help stabilize them.
Spread a thin coat of frosting around the the cake to fully cover the cake layers. Smooth using an acetate sheet then chill the cake in the fridge (30 minutes) or freezer (10 minutes) until the frosting is firm to the touch.
Step 4: Make the Arms & Legs with Rice Krispie Treats
Place 3 cups of mini marshmallows in a heatproof bowl and heat in the microwave for 45-60 seconds at full power. They should be melted at this point and easy to stir. If not, heat in additional 15 second intervals until melted.
Pour in 4 1/2 cups of rice krispies or puffed rice cereal and stir until the cereal is fully coated in melted marshmallows.
Grease your hands with cooking spray then shape two thin front legs and two thick hind legs with the rice krispie mixture. Shape a small round ball for the polar bear's tail. Place the arms, legs and tail next to your cake as you make them to ensure they are proportionate and shaped properly.
Step 5: Decorate the Polar Bear Cake
Press the rice krispie treat arms, legs and tail into place on the chilled cake. Next place the ears, eyes, nose and foot pads into place on the cake with small dabs of buttercream to help them stick.
Spread an even layer of white buttercream over the rice krispies, then use a small grass piping tip to pipe buttercream fur all over the cake. Be sure to carefully pipe around the fondant features.
Chill the cake again in the fridge (20 minutes) or freezer (10 minutes) until the second coat of frosting firms up.
Let the cake sit at room temperature for 1-2 hours before serving to make it easier to cut.
Notes
Tips for Making The Best Polar Bear Cake:
Be sure to properly measure your flour (spoon into the cup measure then level) or use a kitchen scale to measure your dry ingredients.
Ingredients at room temp mix together better, so be sure you set out any cold ingredients ahead of time.
Mix your cake batter just until the ingredients are incorporated. This will ensure your cake layers are tender and fluffy.
Chill your cake layers in the freezer for about 20 minutes before assembling the cake. This makes it easier to stack and frost.
Make this polar bear cake vegan or dairy free if needed! Use your favorite type of dairy free milk to replace the buttermilk and heavy cream, and use vegan butter sticks in place of the butter. For the eggs I recommend using an egg replacer like this.
Insert a thick bubble tea straw or wooden dowel through the layers once they're stacked to help keep the cake stable as you decorate it.
Shape the fondant ears before you start assembling the cake. This will give them a chance to firm up before you have to add them to your cake.
If your hands run hot, wrap a paper towel or thin kitchen towel around your piping bag to prevent the transfer of heat from your hands into the frosting.
Take breaks as you pipe on the buttercream fur to prevent hand cramps and keep your sanity!
Making this Cake in Advance
Make your cake layers in advance and freeze them. It breaks the process up and make it more approachable.
Make your frosting ahead of time too or save any leftover frosting! It can be stored in an airtight container in the fridge for up to a month or in the freezer for up to 3 months. Be sure to give it a good stir once it thaws to get the consistency nice and smooth again.
A frosted cake can last in the fridge for up to a week, or in the freezer for up to a month. The buttercream locks in all the moisture, keeping the cake fresh and delicious!
If you cut into the cake and have leftovers, use any remaining frosting to cover the cut section to keep it moist and store in the fridge for up to a week.
Nutrition Information
Yield
24
Serving Size
1
Amount Per Serving
Calories

687
Total Fat

35g
Saturated Fat

20g
Trans Fat

0g
Unsaturated Fat

13g
Cholesterol

86mg
Sodium

297mg
Carbohydrates

92g
Fiber

0g
Sugar

78g
Protein

4g