I had my first taste of fireball when I was 19, and it had a lasting impression.
It's a flavored whiskey liquor that tastes just like a liquid red hot.
For some reason I've always associated fireball with the Fall, so it seemed like the right time to whip up some fireball-inspired cinnamon cupcakes! I'm a big fan of boozy baking, and this idea was right up my alley.
If you're more of a wino, I highly recommend trying my Red Wine Drip Cake! It's packed with red wine and chocolate.
I usually am a beer girl, but slowly whiskey has been growing on me. Not that fireball is REALLY whiskey…but it's close enough!
Decorating These Fireball Cupcakes
Somehow topping them with a candy corn-inspired frosting seemed appropriate in the moment.
In retrospect, I'm not 100% sure the two go together, but that's ok!! You could skip the gel food coloring, and just pipe a massive swirl of cinnamon buttercream on top.
There's fireball in both the cupcake batter, the buttercream frosting, and the cupcakes are topped with a fireball pipette.
The recipe for these boozy cupcakes can be found below:
Fireball Cinnamon Cupcake Batter:
1 1/4 cup all purpose flour (150 grams)
1 cup sugar (200 grams)
1 1/2 tsp baking powder (6 grams)
1/2 tsp salt (3 grams)
1/2 cup buttermilk (114 grams)
1/4 cup vegetable oil (56 grams)
2 tsp vanilla extract (12 grams)
1 large egg (56 grams)
1 1/2 tsp. cinnamon (6 grams)
1/2 cup fireball (115 grams)
Fireball Buttercream Frosting:
2 sticks (1 cup) unsalted butter, room temperature (226 grams)
4 cups powdered sugar (500 grams)
1/4 tsp salt (2 grams)
1 Tbsp. fireball (15 grams)
1 tsp vanilla (6 grams)
1 tsp cinnamon (4 grams)
optional: yellow and orange gel food coloring
Yield: 12-14 regular cupcakes, about 40 mini cupcakes
Prep time: 10 minutes
Bake time: 17 minutes for regular cupcakes, 9-10 minutes for mini cupcakes
Fireball Cupcake Batter
Preheat oven to 350°F (175°C) and place cupcake liners in baking pans.
Add the flour, sugar, cinnamon, baking powder and salt to a large mixer bowl and gently mix.
Add the buttermilk, and gently stir until just combined.
Next, add in the fireball, egg, vanilla, and vegetable oil, and mix until the batter comes together and is smooth.
Fill the cupcake liners about 3/4 way full.
Bake for 19 minutes, or until a toothpick comes out clean.
Allow the cupcakes to cool for 5 minutes before moving them to a cooling rack to finish cooling.
Once cooled, poke holes into each cupcake using a fork, and drizzle fireball (1/2 – 1 tsp per cupcake) over each cupcake.
Fireball Buttercream Frosting
While the cupcakes bake and cool, prepare the cinnamon fireball frosting.
Beat the butter on medium speed for 30 seconds with a paddle attachment, until smooth.
Slowly add in the powdered sugar, 1 cup at a time.
Add the fireball half way through.
Once fully mixed, add in the vanilla and salt, and beat on medium low until the ingredients are fully incorporated, and the desired consistency is reached.
If the frosting is too thick, add in some additional fireball (1 Tbsp at a time).
Or if the frosting is too thin, add in more powdered sugar (quarter of a cup at a time).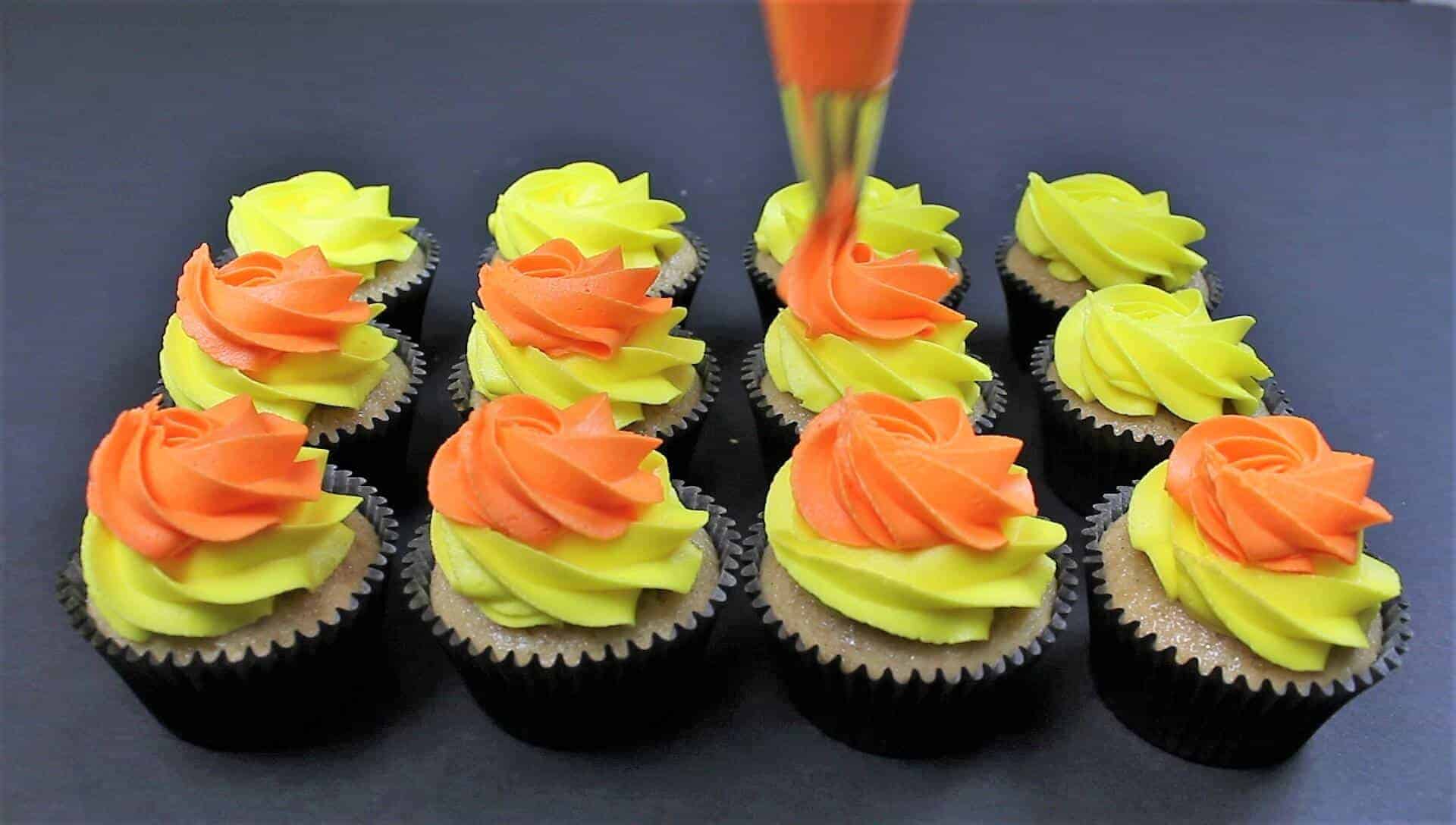 If desired, color 1/2 of the frosting yellow with gel food coloring, 1/4 orange, and leave 1/4 of the frosting uncolored.
Place into piping bags fitted with a Wilton 1M tip (open star), and pipe swirls of each color onto the cupcakes.
I matched the color pattern of candy corn, but you can pipe them however you want!!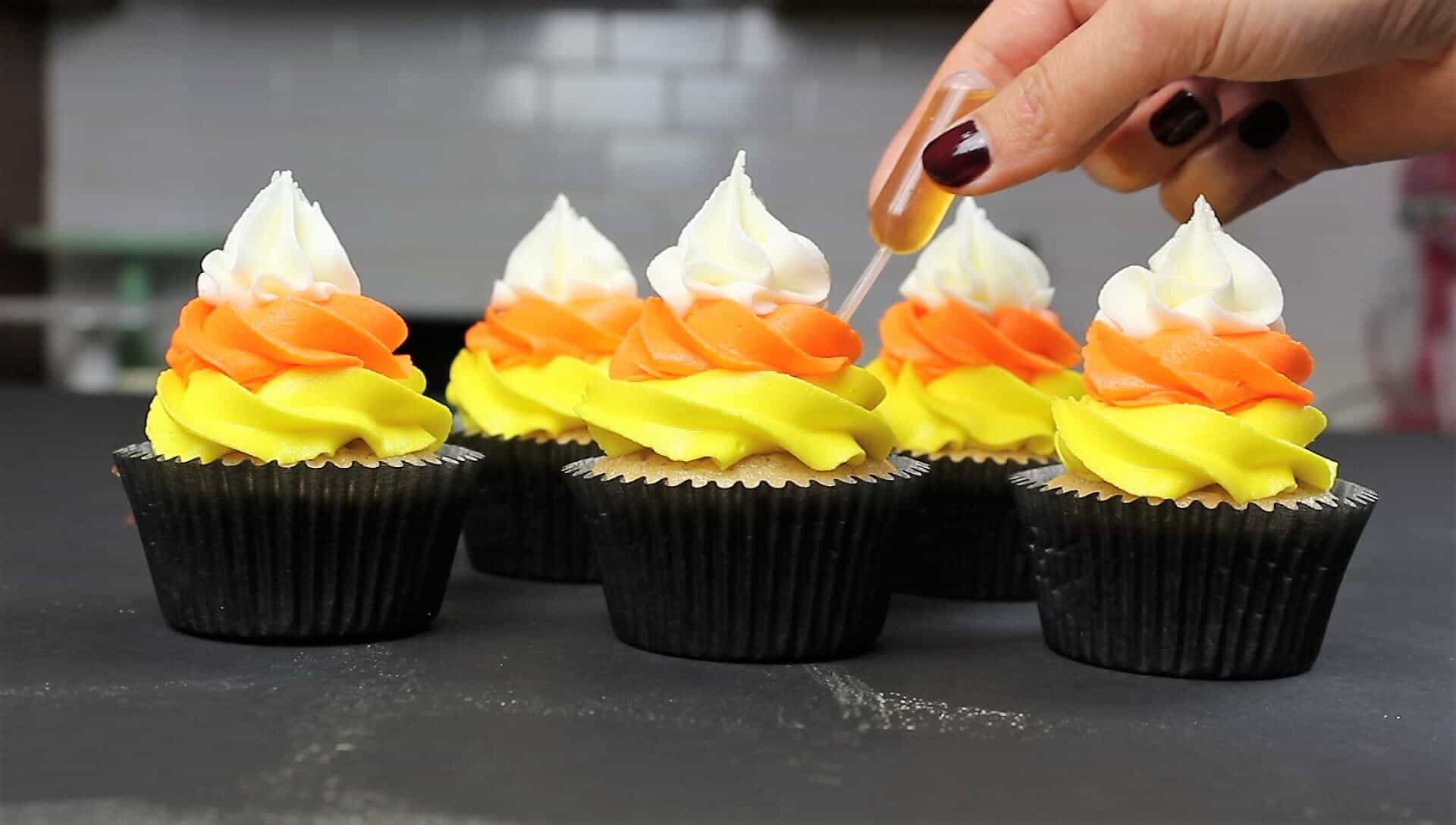 The last step is to add a pipette of fireball into the side of each cupcake.
Then it's time to enjoy (responsibly!) 😛