Christmas is a time for snow, reindeer, and PB&J cupcakes?! Yes, that's right. When I was trying to think of the right flavor for these reindeer cupcakes, peanut butter was the front runner…and whenever I use peanut butter, jam usually follows suit. These cupcakes taste just as delicious as they look, and are sure to be a big hit at whatever holiday party you're baking them for!! The recipe and tutorial can be found below:
Peanut Butter Cupcake Batter (adapted from Sally's Baking Addiction):
1 and 1/4 cups all-purpose flour
1 teaspoon baking powder
1/4 teaspoon salt
2/3 cup your favorite peanut butter (chunk or smooth)
1/2 cup (1 stick) unsalted butter, softened to room temperature
3/4 cup packed light brown sugar
2 large eggs, room temp
1 teaspoon vanilla extract
1/4 cup buttermilk
Filling: A jar of your favorite jam
Peanut Butter Buttercream:
1 stick of unsalted butter, room temperature
1/2 cup smooth peanut butter
4 cups powdered sugar
1/4 tsp salt
2 Tbsp. heavy cream
1 tsp vanilla
Additional Decorations:
12 tootsie rolls (antlers)
12 pairs of eyes (can be eye sprinkles or homemade from fondant!)
brown and red M&Ms
brown sprinkles (mouth)
leave frosting tip
piping bags
brown gel food coloring
Yield: 12 cupcakes
Bake Time: 25 minutes
Decorations: 30 minutes
Preheat oven to 350 degrees Fahrenheit. Line muffin tin with 12 cupcake holders.
Begin by making the peanut butter cupcake batter. Cream together the peanut butter, butter, and brown sugar at a medium speed until fluffy. Beat in the eggs, one at a time, then add in vanilla. Mix together the flour, baking powder, and salt in a separate bowl. Mix in half the flour mixture, then add in the buttermilk. Mix in the remaining dry ingredients, until just combined. Be careful not to overmix!! The batter should be pretty thick.
Use a cookie scoop to divide batter evenly between 12 cupcake tins. Bake for 25 minutes, or until toothpick inserted in the center of a cupcake comes out clean. Place the muffin tins into the freezer for 20 minutes, to accelerate the cooling process, and lock in the moisture of the cupcakes.
While the cupcakes cool, make the peanut butter buttercream! Beat the butter and peanut butter on a medium speed for 30 seconds with a paddle attachment, until combined. Slowly add in the powdered sugar, 1 cup at a time. Alternate with small splashes of cream. Once fully mixed, add in the vanilla and salt, and beat on low until the ingredients are fully incorporated, and the desired consistency is reached. If the frosting is too thick, add in cream (1 teaspoon at a time). If the frosting is too thin, add in more powdered sugar (quarter of a cup at a time). Place 1/3 of the frosting into a piping bag, and cut a 1.5 cm opening. Add a few drops of brown gel food coloring to the remaining frosting, and place into a piping bag, cutting a 1 inch opening.
Next, prepare the antlers! To make each pair of antlers, heat 2 unwrapped tootsie tolls in the microwave for 10-15 seconds, until they just being to melt. They should be warm to the touch and easy to mold. If they are to hot to handle. Let them cool for 30 seconds – 1 minutes, then try to handle them again. Shape the tootsie rolls into two logs, about 1.5 inches long. use a small knife to cut into the logs, to shape the spikes of the antlers. Set aside on parchment paper to cool. Be sure the antlers are fully hardened before inserting into the cupcakes.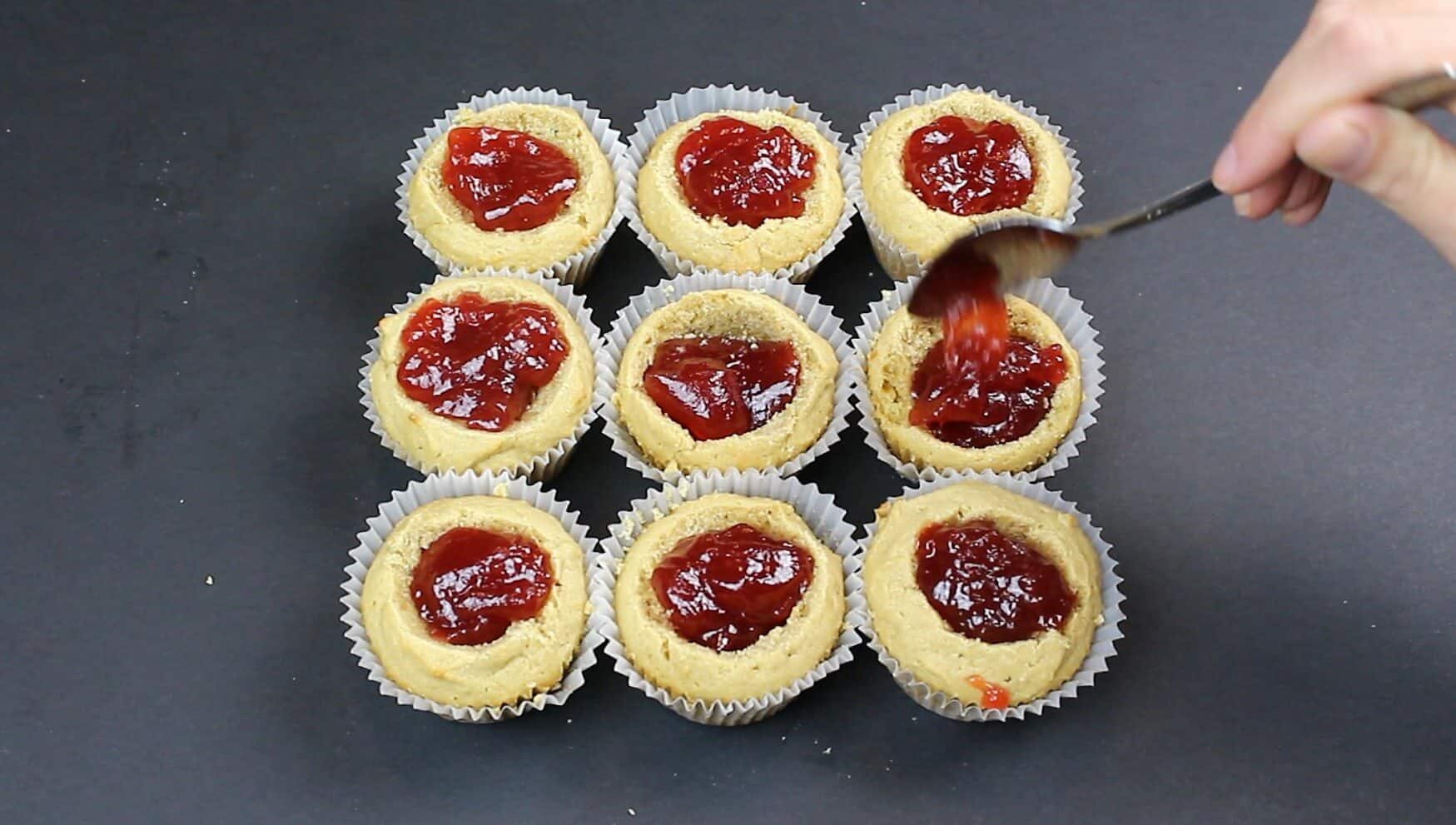 Once the cupcakes are full cooled, remove the centers with a knife and fill with your favorite jam. Place the top of each cutout on top of the jam, then pipe a swirl of brown peanut butter frosting onto each cupcake.
Using the lighter peanut butter frosting, pipe a small circle on one side of the cupcakes to be the reindeer's snout. Use an offset spatula to smooth the buttercream.
Place a red or brown M&M on top of the snout, and a brown sprinkle to be the mouth. Add on the eyes just above the snout, and then insert the antlers into the top of the cupcakes.
Use some of the remaining brown frosting and a leaf tip to pipe small ears. Freeze the ears, then quickly place them on the sides of the antlers. Then the cupcakes are ready to enjoy! While these cupcakes may be cute, they're even more fun to eat 🙂