For this week's live stream, I made my take on a Yule Log cake! It really is more a festive tree stump than a classic Buche de Noel, but I think it gets the holiday spirit across. It uses the techniques of a Swiss roll cake, but then kicks things up a notch by frosting the roll cake vertically!!
This cake is made with chocolate sponge cake layers, filled with a peanut butter buttercream, and covered in chocolate ganache. The recipe and instructions can be found below:
Chocolate Cake Batter: (recipe adapted from Love and Olive Oil)
1 1/2 cups all-purpose flour
1/2 cup black cocoa powder
1 teaspoon baking powder
1 teaspoon baking soda
1 teaspoon kosher salt
8 large eggs, room temperature
1 1/2 cups granulated sugar
1 teaspoon vanilla extract
1 teaspoon instant espresso powder
1/2 cup unsalted butter
5 ounces milk chocolate chips
Peanut Butter Buttercream:
3 sticks or 1 1/2 cups unsalted butter, room temperature
1/2 cup creamy peanut butter
8 cups powdered sugar
1/2 tsp salt
1/4 cup heavy cream
1 tsp vanilla
Milk Chocolate Ganache:
1 bag mini chocolate chips
1 cup heavy cream
Additional Decorations:
1/2 cup chopped pistachios
Round, red sprinkles
marzipan
sliced almonds
Instructions:
Make the milk chocolate ganache first, as it needs at least a few hours to cool and set. To make, simply place both the chocolate and heavy cream in a heat proof bowl, and heat it for 30 second increments (stirring between).
Usually after about 2 minutes of heat, all the chocolate is melted. Once the mixture is fully incorporated, place plastic wrap over the top of the ganache, and let it sit at room temperature. Before adding the room temperature ganache to a cake, I give it a slow stir with a spatula.
Next, prepare the chocolate cake layers. Preheat oven to 350ºF. Lightly butter two half sheet pans; line bottom with parchment paper and spray with non-stick spray.
Sift together flour, cocoa powder, baking powder, baking soda, and salt and set aside. In a stand mixer fitted with the paddle attachment, beat eggs and sugar until combined. Mix in vanilla and espresso powder.
Heat the butter and chocolate chips in the microwave for 2, 30 second intervals, stirring between. Let the mixture sit for one minute, then stir until all chocolate pieces are melted. If any chocolate bits remain, heat for another 30 seconds.
Slowly pout into the egg mixture while mixer is at a low speed, and scrape down the sides as needed with a spatula.
Pour dry ingredients over top into the bowl in two installments, and fold together large rubber spatula. Spread evenly between the two prepared pans, offset spatula to ensure even distribution.
Bake for about 18 minutes, or until the a toothpick inserted into the center of the layer comes out clean.
Remove from oven, and allow the layers to cool for 1 minutes. turn out the cake upside down onto a piece of parchment paper sprinkled lightly with cocoa.
You can also use a clean dish towel, but I found that parchment paper works much better!!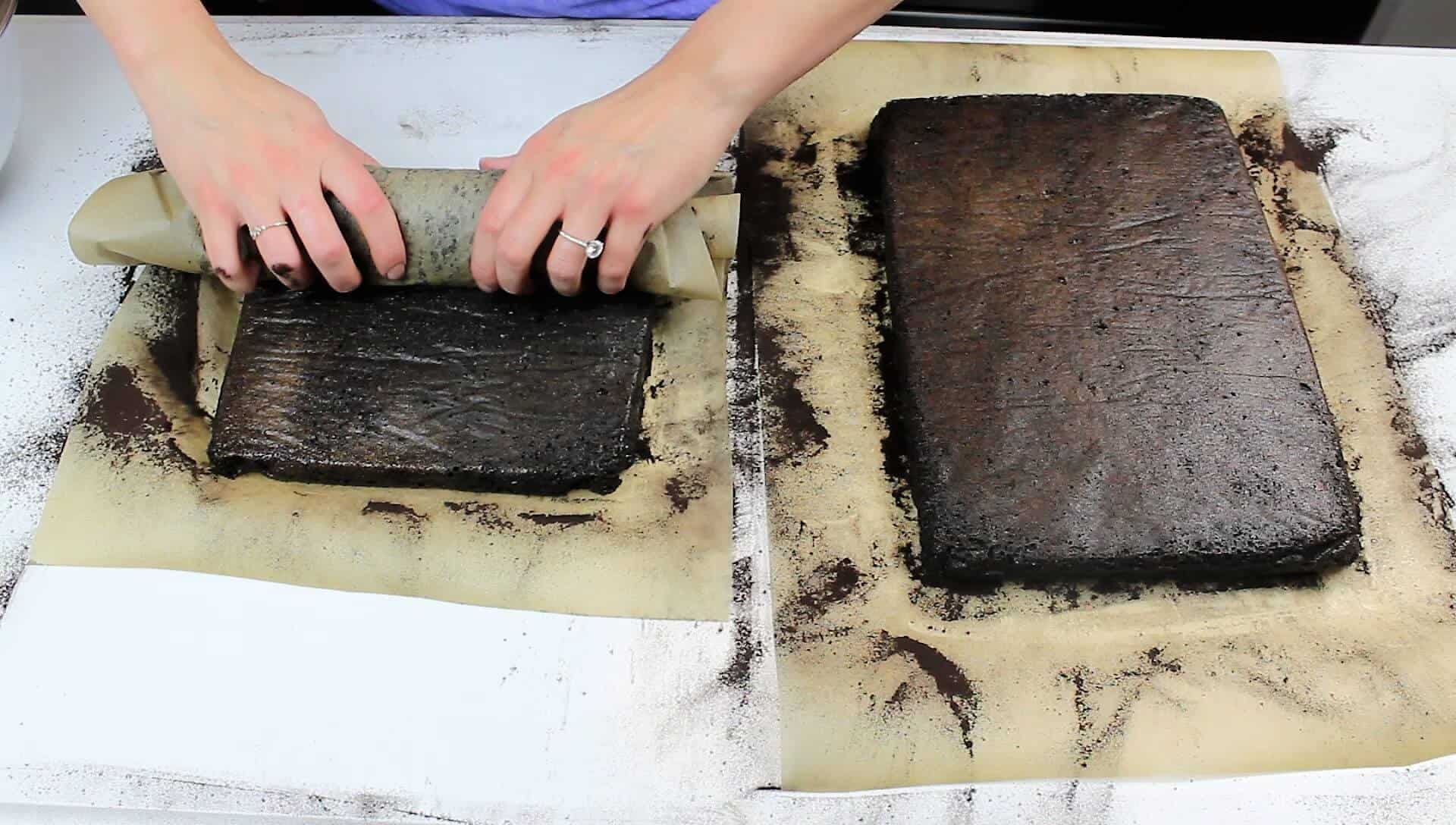 Peel away parchment paper from bottom of cake, then gently roll each cake layer and place on a cooling rack. Set the rolled-up cake seam-side down, and let cool until just slightly warm to the touch, about 25 minutes.
While the layers cool prepare the peanut butter buttercream. Beat the butter and peanut butter on a medium speed for 30 seconds with a paddle attachment, until smooth. Slowly add in the powdered sugar, 1 cup at a time. Alternate with small splashes of cream.
Once fully mixed, add in the vanilla and salt, and beat on low until the ingredients are fully incorporated, and the desired consistency is reached.
When the layers have cooled for about 25 minutes, carefully unroll them. Don't worry if there are a few cracks in your layers, the buttercream will fill them and once you rolls the layer back up, they won't be visible!
Gently spread a thick layer of frosting over layer. Line them up so the the short sides are touching, and begin to re-roll the layers.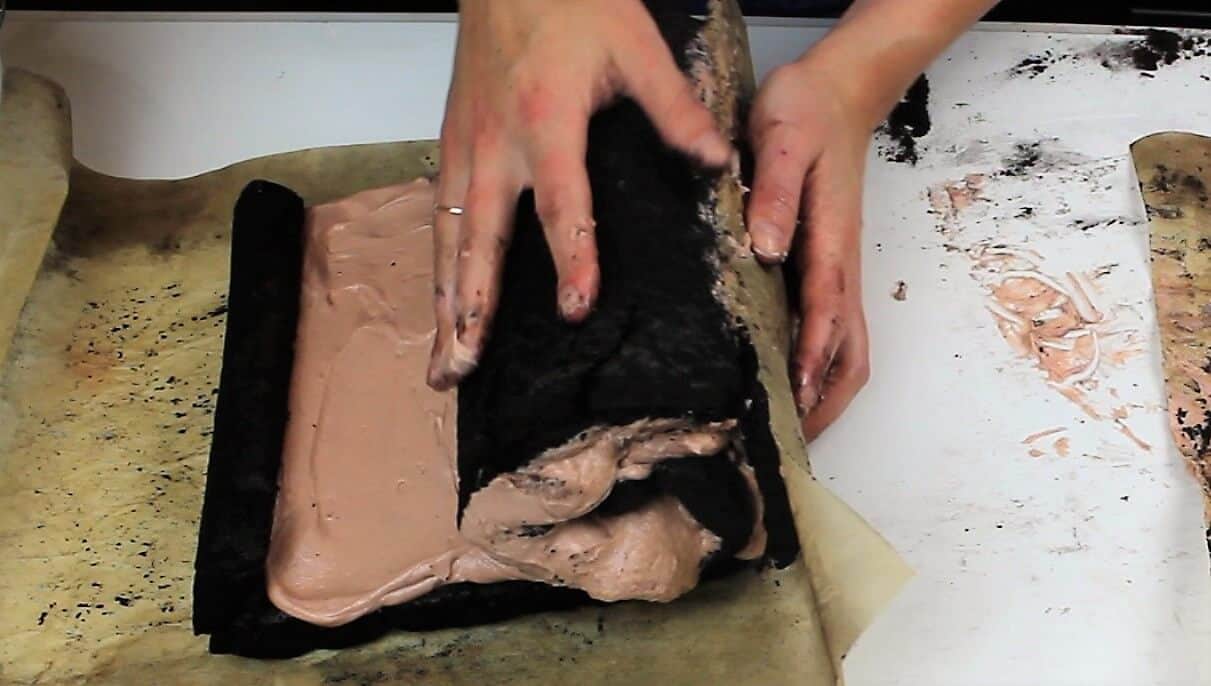 Continue until you get to the end of the first roll, and then carefully align the second layer, and continue rolling until both layers have been combined into one large log.
This part will be messy!! Place seam side down on a cooling rack, and place in the freezer to help the cake cool into its rolled shape.
Let the cake chill for about 1 hour, then remove from the freezer. Use a sharp knife to trim about 1 inch away from both sides of the cake roll, to make them flat.
Spread a large dab of buttercream into the center of the cake round, and carefully place the log vertically, securing it in the buttercream.
Frost the top of the cake with leftover peanut butter buttercream, and use a fork to create lines in the frosting to resemble tree rings.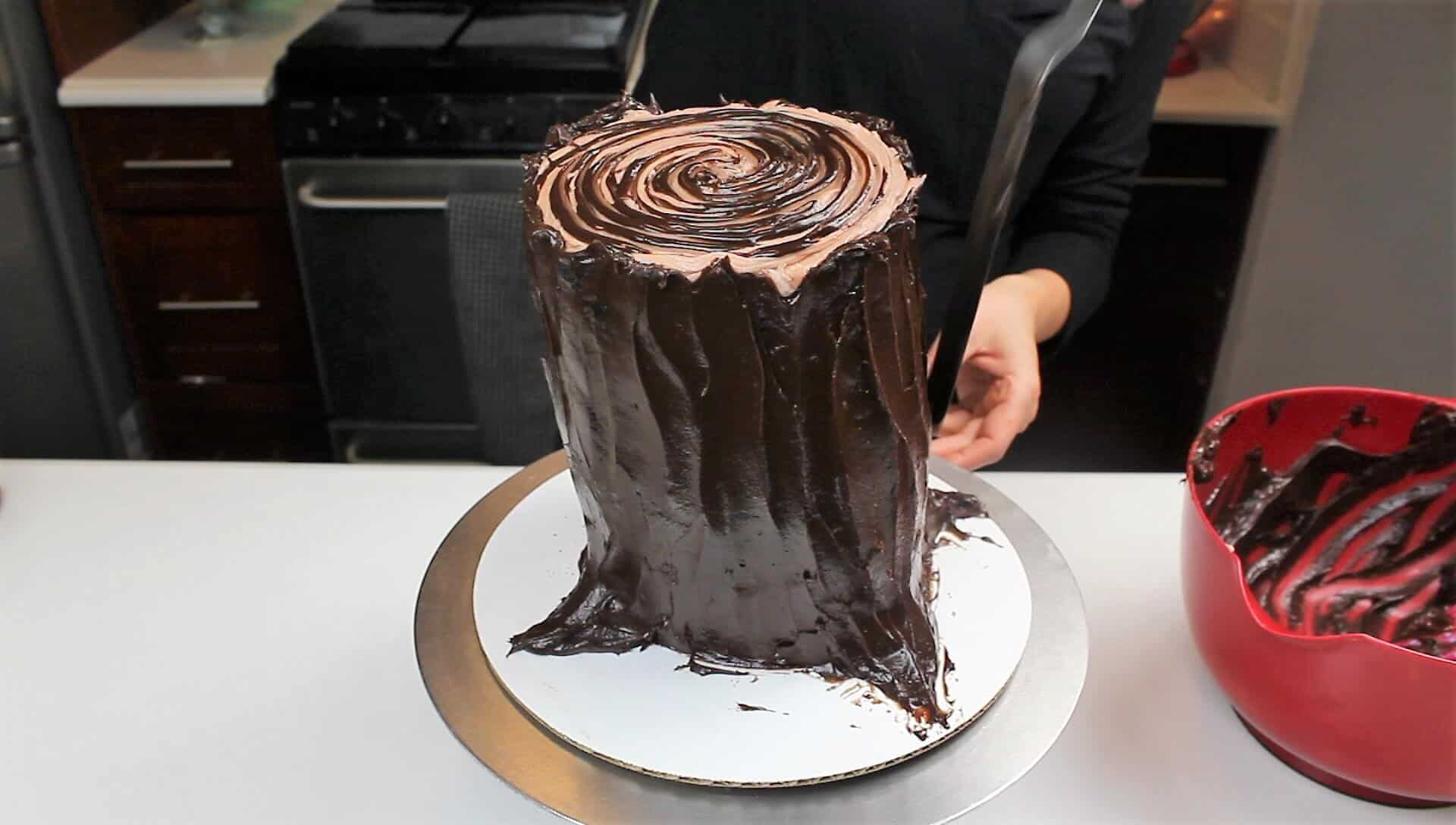 Cover the sides of the cake in chocolate ganache, adding a bit more around the base in certain areas to resemble the roots of a tree stump.
Use an offset spatula to drag ganache up the cake, to give the bark some texture.
Use marzipan to make mushrooms, and add red round sprinkles to look like small berries.
Sprinkle chopped pistachios around the base, and a little bit onto the top of the stump to look like moss.
Then cut into this holiday yule log cake, and see the vertical layers created by rolling the cake layers!