I've made a pretty basic Easter bunny cake in the past, but this year I wanted to amp things up a bit.
This cake is almost like a sculpted cake. ALMOST! It definitely requires more effort than my past Easter cakes. I won't like, smoothing the little bunny's head took some time.
But if you have the right sized tools, it's not as challenging as you might think.
Easter Cake Flavors
I made this cake with my vanilla layer cake recipe, because I wanted to use colorfully marbled green cake layers.
However, I think it would be adorable to use carrot cake to make this cake, especially since it's a bunny rabbit cake. A coconut flavored cake would also be very fitting for Easter!
If you chose to use a different cake recipe or add in a different extract, be sure that the cake recipe is sturdy enough to be stacked and shaped.
This is crucial to be able to create the little bunny's head. I'd also recommend omitting any nuts from the recipe to make the layers more sturdy.
Adding A Floral Touch
I got a a bit carried away decorating this cake. Once I added the grass to the sides, I felt like it needed something else. The cake needed a pop of color.
One of the benefits of baking all the time is that I always have leftover buttercream in my fridge. I used some colorful frosting to pipe some flowers, using a small french tip, and a small petal tip (wilton 103)
Creating The Bunny For This Easter Bunny Cake
Amazingly enough, I ended up making this Easter bunny using three, four-inch cake layers. The first time I tried to make this cake, I tried to carve the layers once they were stacked, and it was a nightmare. They're just too small to trim!
But then I realized that I didn't need trim the cake layers. I could simply use two domed cake layers to make a perfect little bunny head.
It's funny how sometimes I try to make things so much complicated than they need to be!!
Long story short, I recommend using a thick wooden dowel or a bubble tea straw. Simply stacking three untrimmed, 4-inch cake layers on top of the cake base to shape your rabbit.
My other tip for this cake?? Make the bunny rabbit ears in advance!! They are made with fondant, and will need to dry at least overnight.
If they aren't fully dried before you add them to the cake, they cake crack or break as you try to add them to the cake. I made mine a day and half in advance, and didn't have any problems.
It takes a bit of planning ahead, but is totally worth it to avoid the stress of a broken ear!!
Making This Easter Bunny Cake in Advance and Storage Tips
Make your cake layers in advance and freeze them. It breaks the process up and makes it more approachable.
Make your frosting ahead of time too or save any leftover frosting! It can be stored in an airtight container in the fridge for up to 2 weeks, or in the freezer for up to a month. Be sure to give it a good stir once it thaws to get the consistency nice and smooth again.
A frosted cake can last in the fridge for up to a week or in the freezer for up to a month. The frosting locks in all the moisture, keeping the cake fresh and delicious!
If you cut into the cake and have leftovers, use any remaining frosting to cover the cut section to keep it moist and store in the fridge for up to a week.
Let Me Know What You Think!
If you try this Easter bunny cake recipe, please tag me @chelsweets and use the #chelsweets so that I can see your beautiful creations!!
And don't forget to leave a comment below and/or a rating to let me know your thoughts.
Other Recipes You Might Like:
Yield: 30
Easter Bunny Cake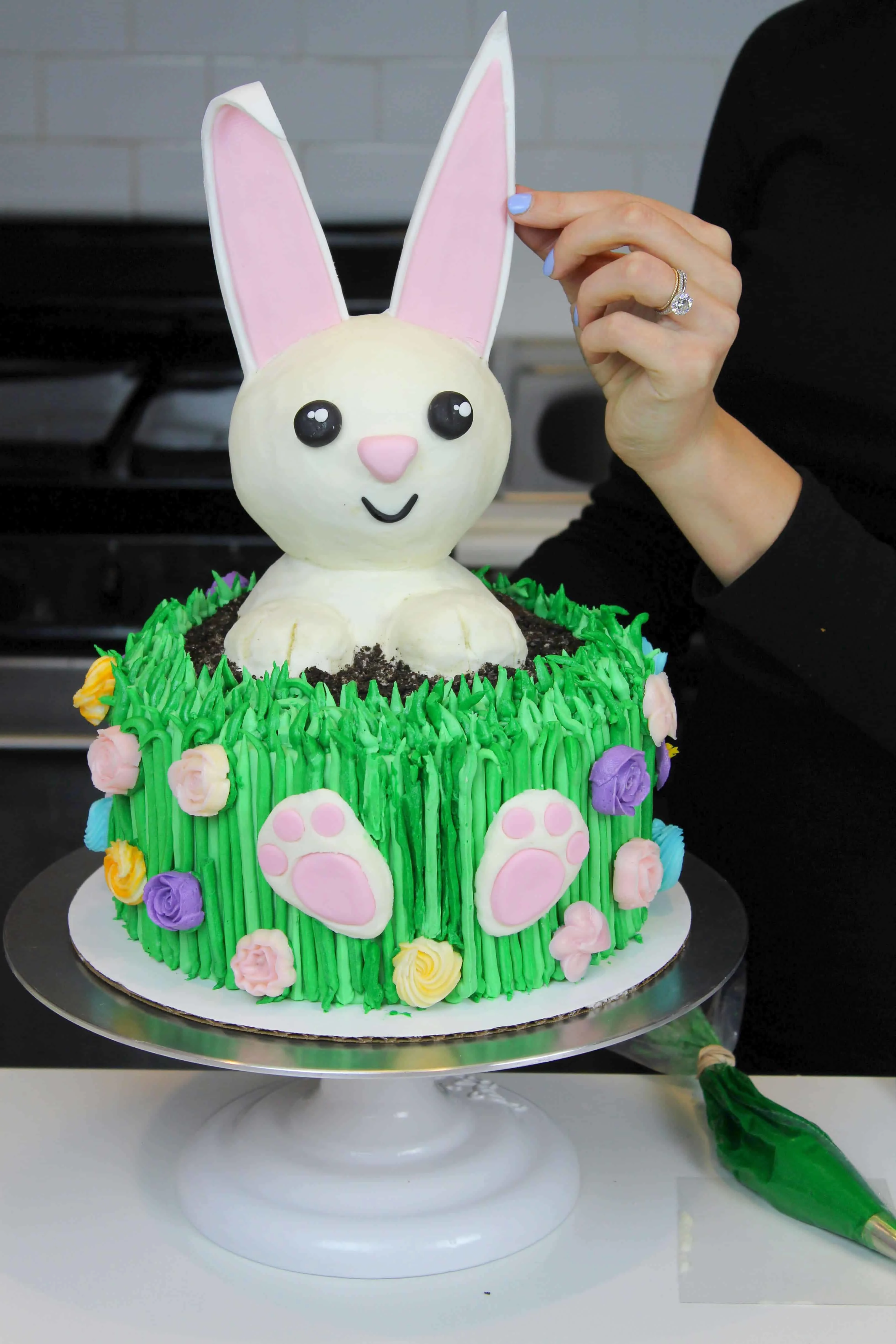 This Easter bunny cake is just as delicious as it is cute! It's made with moist vanilla cake layers, and decorated with a simple buttercream. It's made using three, 8-inch cake layers, and a few 4-inch cake layers to make the adorable bunny rabbit!
Total Time
2 hours
5 minutes
Ingredients
Vanilla Cake
3 cups all-purpose flour (390 grams)
3 cups granulated sugar (600 grams)
2 1/2 tsp baking powder (10 grams)
1 tsp salt (6 grams)
1 cup unsalted butter, room temperature (226 grams) - 2 sticks
2 tsp. vanilla extract (8 grams)
1 cup egg whites (or about 7 egg whites) (280 grams)
1 1/2 cups buttermilk, room temperature (360 grams)
1/8 cup vegetable oil (28 grams)
green gel food coloring
Vanilla Buttercream Frosting
3 cups unsalted butter, room temperature (678 grams)
11 cups powdered sugar (1375 grams)
1 tsp salt (6 grams)
1/3 cup heavy cream (or whipping cream) (75 grams)
1 1/2 Tbsp vanilla extract (18 grams)
green gel food coloring
purple, blue, pink, yellow, and orange gel food coloring (optional)
Additional Decorations
Instructions
To Be Made In Advance:
It's crucial that the bunny's ears are firm when you add them to the cake. To ensure they are, you can either make them the day before, or use gumpaste (or add tylose powder to your fondant) to help them dry more quickly. This will ensure they are firm and don't crack when added to the cake.
Roll out white fondant or gumpaste to be roughly 1/4 of an inch, and cut out two white ears that are roughly 7 inches long.
Press two wooden skewers on top of the white fondant ears, so that about 1 1/2 inches of the skewer extend from the bottom of the ears.
Roll out the pink fondant and cut out two slightly smaller pink ears.
Brush the center of the white ears with a tiny bit of vodka or lemon extract, and lay the pink fondant on of them. Curl the top of one of the ears with a round object (I used a small rolling pin), and set aside to dry.
While your fondant is out, shape the bunny's eyes, nose, mouth, and food pads with pink and black fondant. Set aside to dry.
Vanilla Cake Layers:
Preheat oven to 350°F. Line three 8 inch round pans with parchment rounds, and three, four-inch cake pans. Grease with non-stick cooking spray.
Mix together all dry ingredients (flour, baking powder, sugar, and salt) in a stand mixer with a paddle until fully combined.
Mix chunks of room-temperature butter slowly into the dry mix, on a low speed. Continue to mix until no large chunks of butter remain, and the mixture becomes crumbly.
Pour in egg whites, and mix on low until just incorporated. Mix in the buttermilk in two installments, on a low speed.
Add in vanilla and oil, and mix at a low speed until fully incorporated. Scrape down the sides of the bowl with a spatula, then beat on medium speed for about 30 seconds.
Fill the four inch cake pans roughly 1 inch high with batter. Set aside.
Divide the remaining batter equally between three bowls.
Color each bowl a different shade of green using an increasing amount of green gel food coloring. Mix until the batter is evenly colored.
Alternate spoonfuls of the different colored green cake batter into the prepared eight-inch cake pans. Once all the batter is in the pans, drag a small offset spatula or butter knife through the batter in horizontal and vertical lines to create a marbled pattern.
Place the four-inch and eight-inch cake layers in the preheated oven.
Remove the four inch cake layers from the oven after 27-30 minutes, or until a toothpick comes out clean.
Bake the 8-inch cake layers for 34-37 minutes, or until a toothpick comes out clean. Allow the pans to cool for 10 minutes, then run an offset spatula around perimeter of the pan to separate the cake from the pan.
Place cake layers into the freezer for 45 minutes, to accelerate the cooling process. Once the layers are fully cooled, carefully flip and remove the layers from the pans.
Use a serrated knife to level the tops of the eight-inch cake layers. Leave the four-inch cake layers domed.
Vanilla Buttercream Frosting:
While the cake layers bake and cool, make the vanilla buttercream frosting.
Beat the butter on a medium speed for 30 seconds with a paddle attachment, until smooth. Slowly add in the powdered sugar, 1 cup at a time. Alternate with small splashes of cream.
Once fully mixed, add in the vanilla and salt, and beat on low until the ingredients are fully incorporated, and the desired consistency is reached.
If the frosting is too thick, add in additional cream (1 teaspoon at a time). If the frosting is too thin, add in more powdered sugar (quarter of a cup at a time).
Color 1 cup of frosting a deep shade of green, and color another cup of frosting a lighter shade of green with gel food coloring. place in piping bags, and snip an opening about 1/2 inch wide. Set aside.
Leave the remaining buttercream white.
To Assemble The Cake:
Stack and frost cake layers on a greaseproof cake board, using a dab of frosting to help stick the first cake layer to the board.
Place one of the eight inch cake layers onto the cake board. Spread an even layer of buttercream on top of each cake layer. Repeat until the three 8-inch cake layers are stacked.
Apply a thin coat of frosting around the the cake, to fully cover the cake layers. Smooth using a bench scraper, then chill the cake in the fridge (20 minutes) or freezer (5 minutes) until the frosting is firm to the touch.
Insert a bubble tea straw (or wooden dowel) into the cake, and stack the four inch cake layers through the straw or wooden dowel. Start with one cake layer right side up (dome facing up). Cover with frosting, then add an inverted cake layer (dome down). Add another layer of frosting, then top with the last 4 inch cake layer facing up (dome up).
Cover the 4-inch cake layers with a thick layer of buttercream, and smooth using an acetate sheet.
Spread oreos around the base of the bunny, to look like dirt. Pipe rounds of buttercream in front of the bunny rabbit's body, to look like paws. Chill the cake in the freezer for about 20 minutes, to keep the bunny stable.
Pipe lines up the sides of the cake using the green buttercream, to look like grass. Fill in any open space on top of the cake between the oreo dirt and the edge of the cake with piped green buttercream.
If desired, add chilled buttercream flowers around the cake.
Carefully press the ears into the top of the bunny's head, and add the facial features to the cake with tiny dabs of buttercream.
To make the bunny's feet, pipe two ovals with white buttercream on the front of the cake, and smooth with a small offset spatula. Press the foot pads into the buttercream.
Notes
These cake layers can be made in advance!! Learn more about how far in advance they can be made, and how to properly wrap them in my post on how to make cake layers ahead of time.
If you make this cake in advance, wait to add the fondant details until the day you plan to eat the cake! Sometimes they can get soft and lose their shape if chilled and then brought to room temperature.
Nutrition Information
Yield
30
Serving Size
1
Amount Per Serving
Calories

541
Total Fat

27g
Saturated Fat

16g
Trans Fat

0g
Unsaturated Fat

10g
Cholesterol

69mg
Sodium

249mg
Carbohydrates

73g
Fiber

1g
Sugar

62g
Protein

3g