Before Fall turns into winter, I wanted to share these chocolate chip pumpkin cupcakes! I used to be a bit weirded out by the thought of pumpkin and chocolate together, but slowly the combination has grown on me.
Especially when it's a dark chocolate. The warmth from the spices in this cupcake, paired with the earthly taste from the pumpkin seem to pair perfectly with the chocolate in the both the cupcake and the frosting.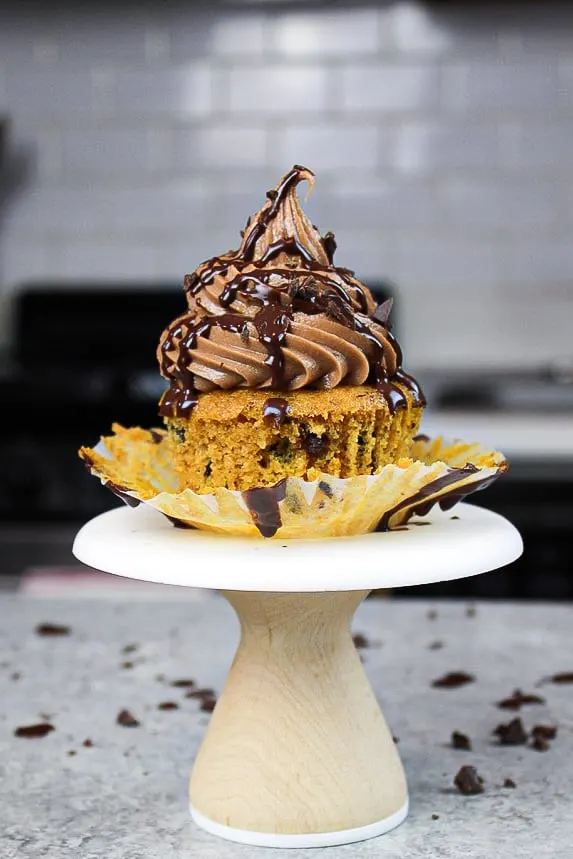 Why I Love Baking with Pumpkin
Pumpkin is an incredible ingredient to bake with. Not only does it add great flavor, it also makes baked goods super moist!
It can be used as a replacement in recipes for either the fat (like oil or butter), or for eggs. It's so versatile, and when you think about the amazing things that both fat and eggs do in a recipe, you start to realize the impact pumpkin has.
In this recipe, we use an entire cup of pumpkin puree!! And the recipe already has a pretty standard amount of eggs and fat (2 eggs and 1/2 cup of oil).
With that in mind, the additional of the pumpkin puree takes this recipe to the next level. It creates a super moist, tender cupcake!
Using Cake Flour in This Recipe
Another ingredient that makes these cupcakes so irresistibly tender and fluffy is the cake flour!
A majority of my recipes use all-purpose flour (like my go-to vanilla layer cake recipe), because I think most people already have it on hand. It seems more straight forward, and less finicky. And in a lot of recipes, all-purpose flour works great!
I really wanted this cupcake recipe to be soft and fluffy, so I broke out of my usual routine and used some cake flour. Cake flour has a lower protein % (7-8%), which helps give the cake a more delicate texture.
I also chose to use self-rising cake flour for this recipe. The real reason behind this is that is my grocery store only carries self-rising cake flour. Oh, the joys of living in Manhattan!
If you can't find that type, or you already have regular cake flour on hand, fear not! Each cup of self-rising cake flour usually has about 1 tsp of baking powder.
So you can simply add 1 1/2 cups of normal cake flour, and 1 1/2 tsp of baking powder.
Or if you only have all-purpose flour on hand, I also have you covered! You can make your own makeshift cake flour with this simple formula.
Add 2 Tbsp of cornstarch into a 1 cup measuring cup, and fill it to the top with all-purpose flour. Tah-Dah!! You now have 1 cup of homemade cake flour.
How to Prevent the Chocolate Chips from Sinking
Have you ever added sprinkles or chocolate chips to batter, only to have them sink to the bottom of your pan?! It's the worst.
There are two things I do in this recipe to help prevent that from happening. The first is to chop your chocolate chips into smaller pieces. This makes them smaller, so that they can have an easier time staying suspended in the batter.
If you can find them, you can also just use mini chocolate chips! I prefer the way the chopped up bits of chocolate look in the cupcakes though 🙂
The second thing you can do is dust the chocolate bits with flour. You only need a tiny bit of flour! I put my chocolate in a medium sized bowl, add a teaspoon or two of flour, and toss them around until they're evenly coated.
This helps give the chocolate a bit of traction once it's in the batter, so that they can stay suspended!
Decorating These Chocolate Chip Pumpkin Cupcakes
For as much thought as I put into the formulation of the cupcake batter, the frosting for these cupcakes was an easy decision.
Cream cheese frosting and pumpkin cupcakes are a classic combination that I love. But this time around, we're incorporating chocolate into the mix! So a chocolate cream cheese frosting was clearly the move to make.
I basically made a small batch version of my favorite dark chocolate buttercream, and incorporated some cream cheese into the recipe. It ties the whole cupcake together, by combining old classics with new flavors.
I'm usually a big fan of using a Wilton 1M frosting tip (an open star tip) to decorate cupcakes, like I did on these funfetti cupcakes. But these cupcakes felt like they needed something a little different.
I used an Ateco 869 frosting tip (a large french tip), and loved the way it looked! I almost just left them like this, because I was so enamored with those beautifully delicate grooves in the frosting.
But of course, I ended up added a chocolate ganache drizzle, and you guessed it, some more chocolate bits!!
It looked pretty before, but I felt like these chocolate chip pumpkin cupcakes looked irresistible after these finished touches.
Tips for Making The Best Chocolate Chip Pumpkin Cupcakes
Don't overmix your batter. Stir until the flour is just combined into the batter.
Be sure to properly measure your flour (spoon into the cup measure, then level), or even better, use a kitchen scale when making your cupcake batter.
Make sure your ingredients are at room temp to help them mix together more easily.
Use a cookie scoop to add you cupcake batter into your liners. It makes sure each cupcake tin has the same amount of batter.
Don't over bake your cupcakes. Keep an eye on them and be sure to set a timer.
Let Me Know What You Think!
If you try these chocolate chip pumpkin cupcakes, I'd love to hear what think of it! Please leave a rating, and let me know your thoughts in the comments section.
Yield: 18
Chocolate Chip Pumpkin Cupcakes
These fluffy chocolate chip pumpkin cupcakes are the ultimate fall cupcake!! They're frosted with swirls of decadent chocolate cream cheese frosting, and drizzled with chocolate ganache!
Additional Time
30 minutes
Total Time
1 hour
2 minutes
Ingredients
Chocolate Chip Pumpkin Cupcakes
1 1/2 cups self-rising cake flour (180 grams)
1 1/2 tsp ground cinnamon (9 grams)
1/4 tsp ground cloves (1 gram)
1/4 tsp pinch nutmeg (1 gram)
1/2 tsp salt (3 grams)
1/2 cup vegetable oil (112 grams)
2/3 cup light brown sugar, packed (132 grams)
2/3 cup granulated sugar (132 grams)
2 large eggs, room temperature (112 grams)
1 1/2 tsp vanilla extract (5 grams)
1 cup pumpkin puree (not pumpkin pie filling!!) (225 grams)
1/3 cup buttermilk, room temperature (75 grams)
3/4 cup chopped dark chocolate chips, tossed with 2 tsp of flour (132 grams)
Chocolate Cream Cheese Frosting
1 cup (2 sticks) unsalted butter, room temperature (226 grams)
1/2 cup (4 oz.) full-fat cream cheese, room temperature (112 grams)
5 cups powdered sugar (625 grams)
1 cup of melted dark chocolate, cooled (175 grams)
1/2 cup unsweetened baking cocoa, sifted (50 grams)
1/2 tsp salt (3 grams)
1/4 cup heavy cream (60 grams)
Decorations
Chocolate Ganache
Additional 1/2 cup chopped chocolate chips
Instructions
Chocolate Chip Pumpkin Cupcakes
Preheat the oven to 350 degrees, and line two muffin tins with 18 cupcake liners. Set aside.
In a medium bowl, add the cake flour, cinnamon, nutmeg, cloves, and salt (all the dry ingredients EXCEPT for the granulated and brown sugar). Whisk together and set aside.
In a separate large bowl, whisk together the brown and granulated sugar.
Pour in the oil, and whisk until combined.
Mix in the eggs and vanilla extract with a rubber spatula or wooden spoon, then stir in the pumpkin puree.
Add in half the flour mixture, and stir until just combined.
Mix in the buttermilk, then stir in the rest of the flour mixture.
Gently fold in the chopped chocolate chips
Use a cookie scoop to evenly divide the batter into the prepared cupcake pans, filling them about 2/3 full.
Bake for 17-18 minutes, or until a toothpick comes out with a few moist crumbs.
Let the cupcakes cool in the pan for 5 minutes, then remove them from the pan and place them on a wire rack to finish cooling.

Chocolate Cream Cheese Frosting
Beat the butter and cream cheese on a medium speed for 30 seconds with a paddle attachment, until smooth.
Add in the sifted cocoa, and mix on low until the cocoa is fully incorporated, and no clumps remain.
Slowly add in the powdered sugar, 1 cup at a time. Alternate with small splashes of cream.
Mix in the cooled, melted chocolate.
Once fully mixed, add in the salt.
Beat on low until the ingredients are fully incorporated, and the desired consistency is reached.
If the frosting is too thick, add an extra Tbsp of heavy cream. If it's too thin, add in another 1/2 cup of powdered sugar.
Stir by hand with a rubber spatula to get the frosting SUPER smooth.
Decorations
Use a Ateco 869 or large french frosting tip to pipe large swirls of chocolate cream cheese frosting on top of each cupcake.
If desired, top with a chocolate ganache drizzle and some chopped bits of chocolate.



Notes
To make these cupcakes in advance, I recommend freezing fully baked and unfrosted cupcakes in an airtight container. They will stay good for months!
Place the container in the fridge the day before you need them to minimize the temperature shock and condensation, then place them on the counter a few hours before you plan to eat them. Once they're at room temperature, frost and enjoy!
Nutrition Information
Yield
18
Serving Size
1
Amount Per Serving
Calories

447
Total Fat

17g
Saturated Fat

7g
Trans Fat

0g
Unsaturated Fat

9g
Cholesterol

29mg
Sodium

163mg
Carbohydrates

72g
Fiber

3g
Sugar

57g
Protein

4g