This black drip cake recipe uses my favorite moist chocolate cake recipe and is frosted with decadent black cocoa buttercream.
I swear the buttercream is pretty much half frosting, half chocolate! This recipe is delicious, decadent, and perfect for celebrating everything from Halloween to New Year's!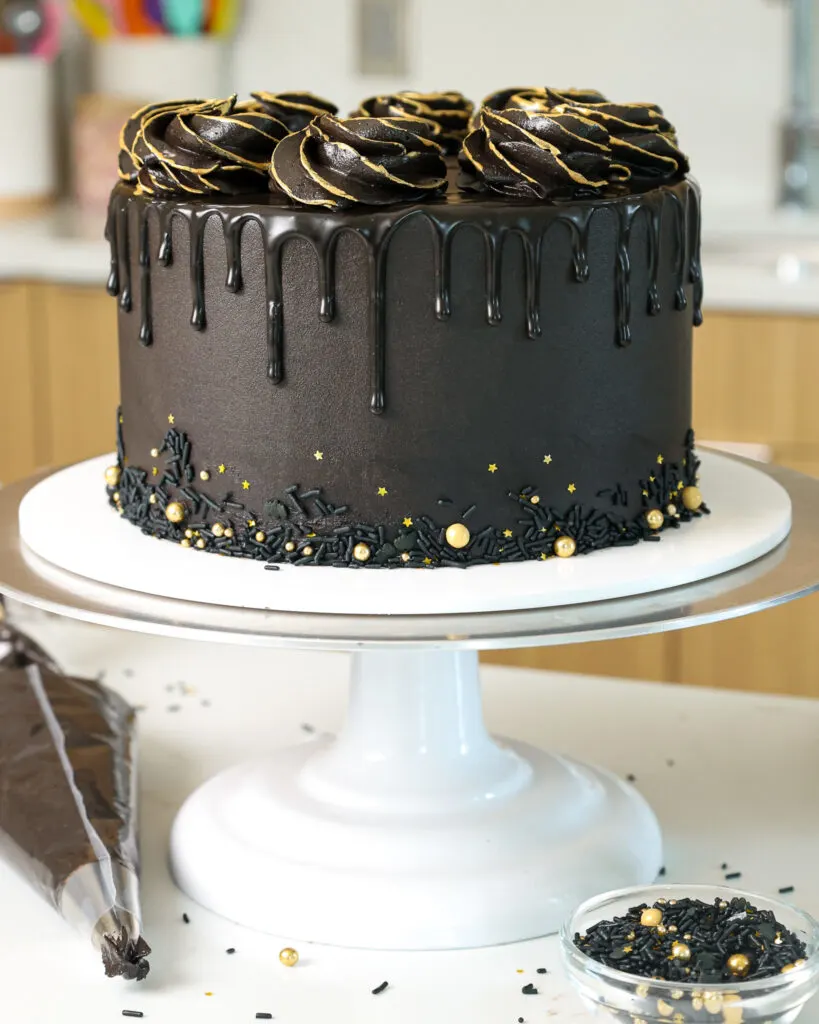 How Do I Make Black Drips for a Cake?
Just because drip cakes are beautiful, doesn't mean they have to be complicated. Let's start with the basics and discuss the ingredients!
Believe it or not, a black chocolate ganache drip is made with only three ingredients. All you need is a half-cup of semi-sweet chocolate chips, some heavy cream, and black gel food coloring.
I do NOT recommend using liquid food coloring to make the ganache! You need to use more of it to create a black color, and it can throw off the consistency of the ganache.
If you can't find heavy cream in your grocery store, you can also use heavy whipping cream.
Sadly, you can't use regular milk in place of the heavy cream in this chocolate drip recipe. Heavy cream has 36-38% milk fat.
You need a high fat percentage to create that wonderful consistency that chocolate ganache is known for. If you use regular milk, your mixture will be too thin.
To make this recipe, you simply heat up the cream until it's steaming then pour it over the chocolate chips.
After letting them sit for a minute to melt, add in the gel food coloring and give it a quick stir. And just like that, you have silky smooth chocolate ganache.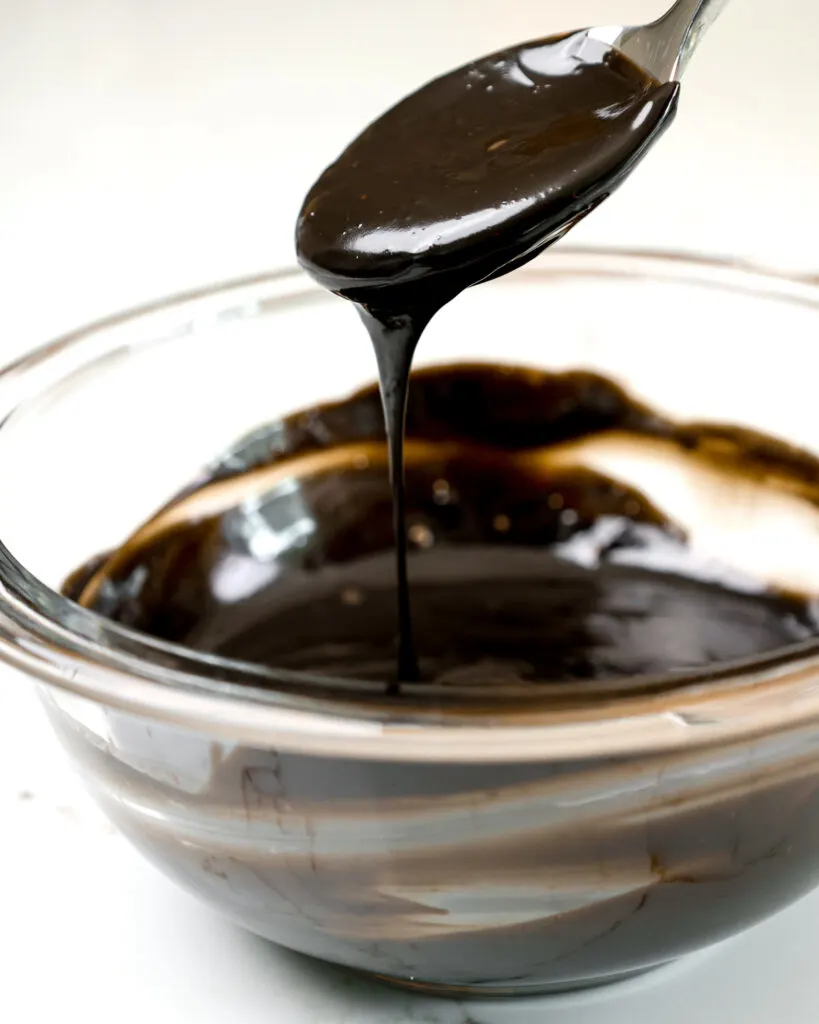 It comes together pretty quickly. The challenging part of a drip cake is actually adding the drips to the cake. But don't worry, we'll walk through that together!
How Do I Add Black Drips to a Cake?
There are two common ways to add drips to a cake. Most people use either a spoon or a plastic squirt bottle.
Some people prefer one method over the other. I recommend using whatever method you feel most comfortable with!
Adding Black Chocolate Drips Using a Spoon
One way you can add chocolate drips to cake is with a spoon. The best thing about this method is that you don't need any special tools. I think everyone has a spoon in their kitchen!!
You simply take 1-2 teaspoons of chocolate ganache in a spoon and carefully pour it over the edge of a chilled buttercream cake.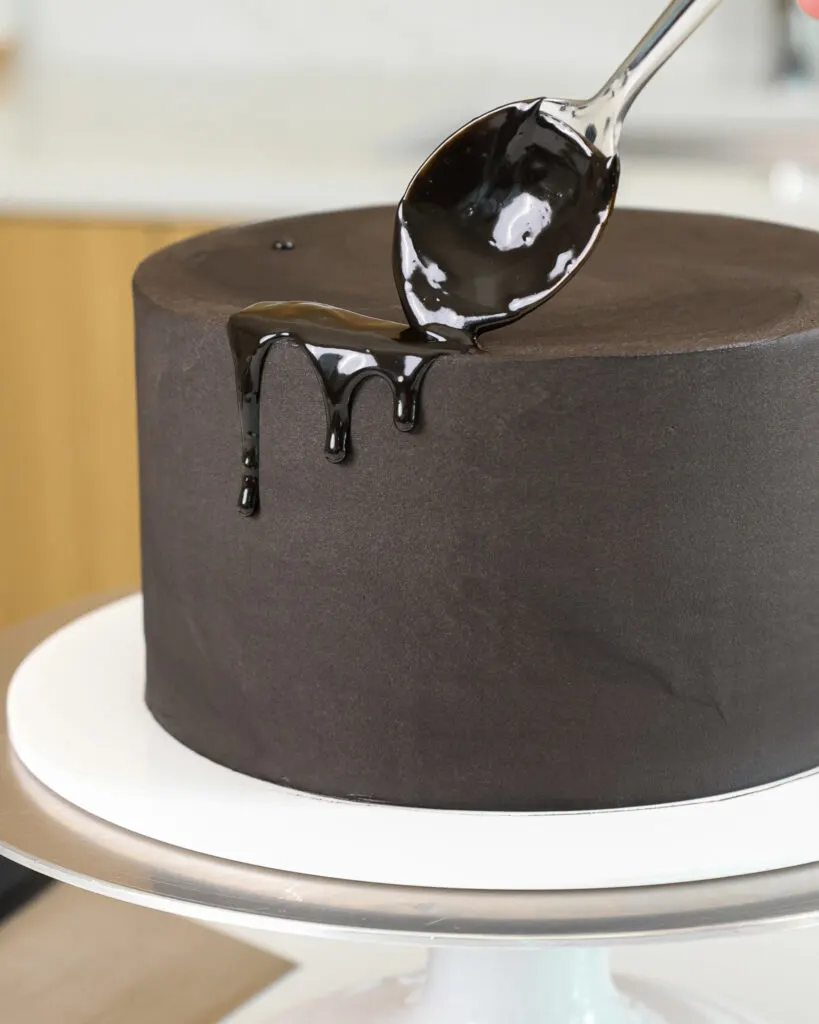 I recommend scraping the bottom of your spoon against the bowl each time you scoop up a bit ganache.
This will prevent rouge bits of ganache from dripping off the bottom of your spoon all over your counter and your cake.
Adding Drips Using a Squirt Bottle
The second way you can add drips to a cake is with a plastic bottle. Once the black chocolate ganache is made, carefully pour it into a plastic squirt bottle.
Not everyone has these on hand, but they're pretty cheap to buy! You can find them at Target, Walmart, or on Amazon (that's where I get mine).
You can also place your ganache in small piping bag if you don't have a bottle.
I like using a squirt bottle because it is a lot faster than a using spoon. In my opinion, it also is easier!
If you have leftover ganache, you can simply pop the cap on your bottle and throw it in the fridge.
Leftover chocolate ganache can last in the fridge for up to a month. I have a little shelf in my fridge door dedicated to bottles of leftover ganache!
To reuse leftover ganache, pop the bottle into the microwave and reheat in 10 second intervals until it's fluid again and looks like it's the right consistency.
Tips For Adding Black Drips to a Cake
There are two very important steps I recommend following to make sure your black drip cake turns out as amazing as possible.
Tip #1: Chill Your Cake
My first tip is to only add drips to a chilled cake! I mean THOROUGHLY chilled. Crumb coat your cake, then smooth on a second coat of buttercream and chill the cake until the frosting is firm to the touch.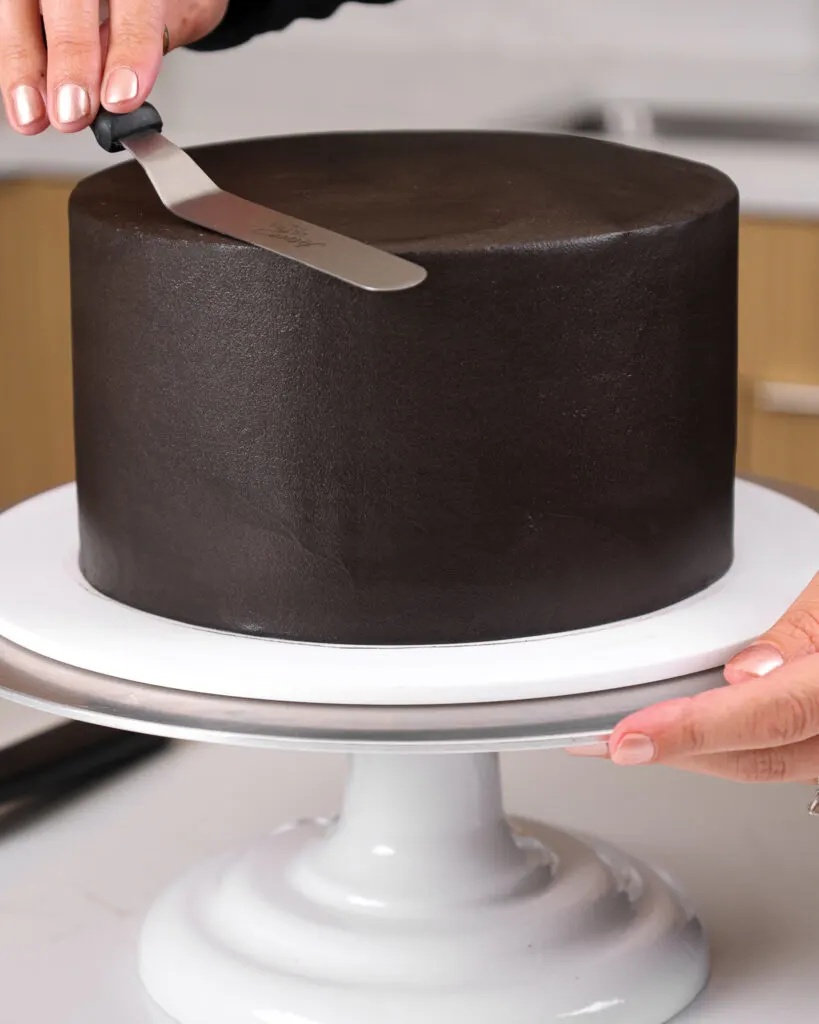 This can take up to 30 minutes in the fridge, or about 10 minutes in the freezer.
Chilling your cake will help your drips stay in place once they're added and help prevent them from running down too far.
Tip #2: Make a Test Drip
My second tip is to make a test drip. You can do this on the back of your chilled cake, or even the side of a tall cup if you want a little extra practice.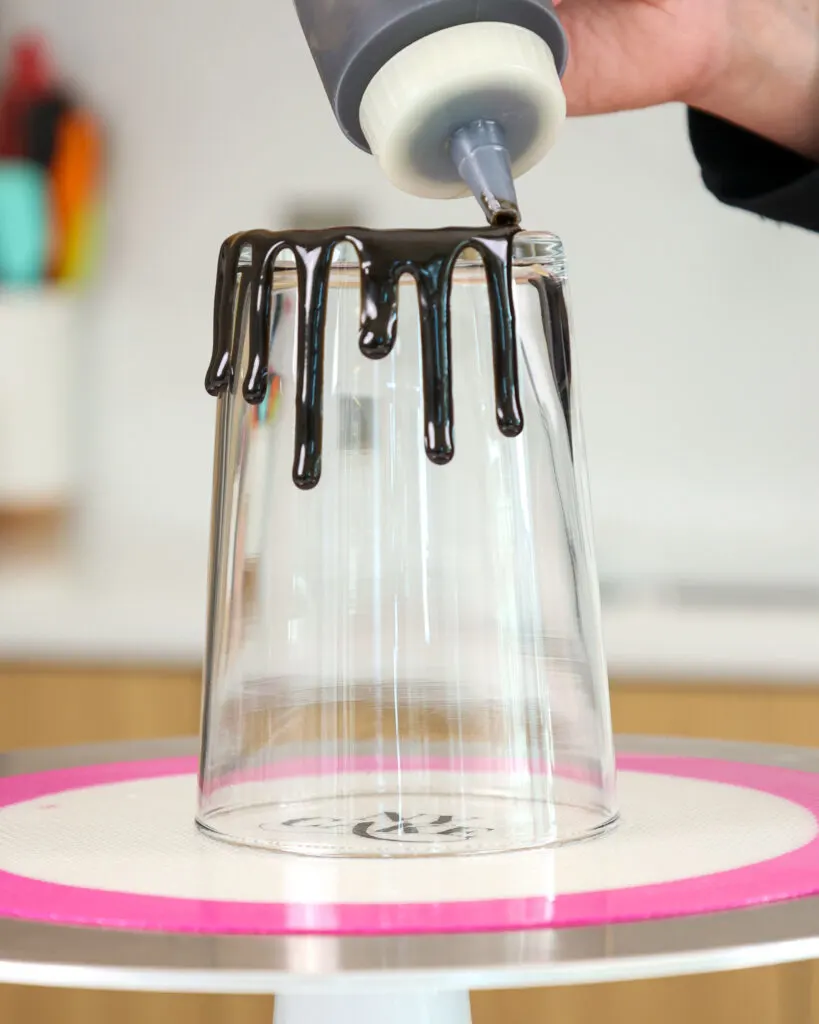 As you add on a few test drips, let them flow and sit for a couple minutes. See what they look like and how far they ran down the side of the cake.
Are you happy with how it looks? This is your time to make changes to get it just right. Is it too thin? Did the drip run too far down the cake? Maybe you need to let your ganache cool more or melt in a bit more chocolate.
Is your drip too thick or short? You might need to pop the ganache in the microwave for a couple seconds (seriously, don't heat it for more than 5 seconds). Or maybe you want to add in a tiny bit more heavy cream.
This is the point in the process where my eagerness can get the best of me. I think I've made the necessary adjustments and dive right into adding all my drips.
But for all you know, you may have overcorrected! You may have actually heated or cooled your ganache too much.
After each adjustment to your ganache, you need to do another test drip. It's worth taking the extra few minutes to make sure your ganache is the perfect temperature.
What Type of Chocolate Chips Should I Use?
I find this recipe turns out best with semi-sweet chocolate chips, but you can use milk or dark chocolate chips if that's what you have on hand.
Different types of chocolate have different amounts of cocoa butter in them, which impact their consistency once they're melted down.
You may have noticed that dark chocolate seems thinner than milk or white chocolate when melted.
If you want to use dark chocolate, I recommend adding in an extra tablespoon of chocolate chips to help thicken the mixture and prevent runaway drips.
If you use milk chocolate, I suggest adding an extra 2 teaspoons of heavy cream to make it fluid enough to easily add drips around your cake.
These are general guidelines that should work with most types of chocolate, but different brands do have different cocoa percentages! So, make additional adjustments as needed as you perform your test drip(s).
Tips for Making the Best Black Drip Cake
Use this drip recipe on any type of chilled buttercream cake.
Don't add this black drip to a cake covered in fondant. It can do weird things to the fondant and create a goopy mess.
I prefer using mini semi-sweet chocolate chips, but any type of chocolate chip (or finely chopped chocolate bar) will work. See my notes above about using different types of chocolate.
Be sure to use heavy cream or heavy whipping cream! You need the high fat content to create the right consistency in this recipe. Milk cannot be used in place of the cream.
To make a vegan version of this black ganache drip, use coconut cream and dark chocolate.
If you want to make a cake with colorful drips, try my colorful drip cake recipe.
If you're more of a visual learner, check out my detailed video tutorial.
Making This Black Drip Cake in Advance & Storage Tips
Make the black chocolate ganache ahead of time or save leftovers! Once it's made, wrap the bowl with plastic wrap or cover the top of the plastic bottle and store in the fridge for up to 3 weeks.
To use chilled ganache, heat the bottle or bowl in the microwave for 10 second intervals until it reaches the right consistency.
Use leftover ganache to top cupcakes, cookies, or even ice cream!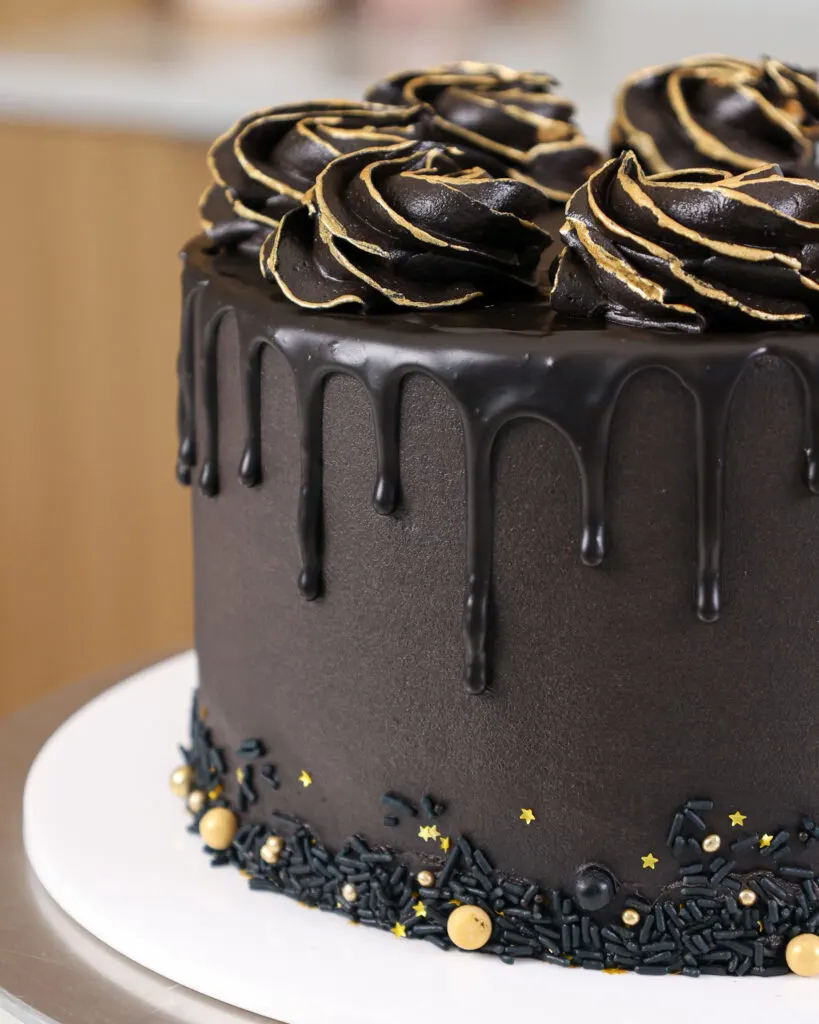 Share Your Creations with Me!
If you try this black drip cake recipe, please tag me @chelsweets and use #chelsweets so that I can see your amazing creations!
And don't forget to leave a rating and comment below.
Other Recipes You Might Like:
Yield: 20
Black Drip Cake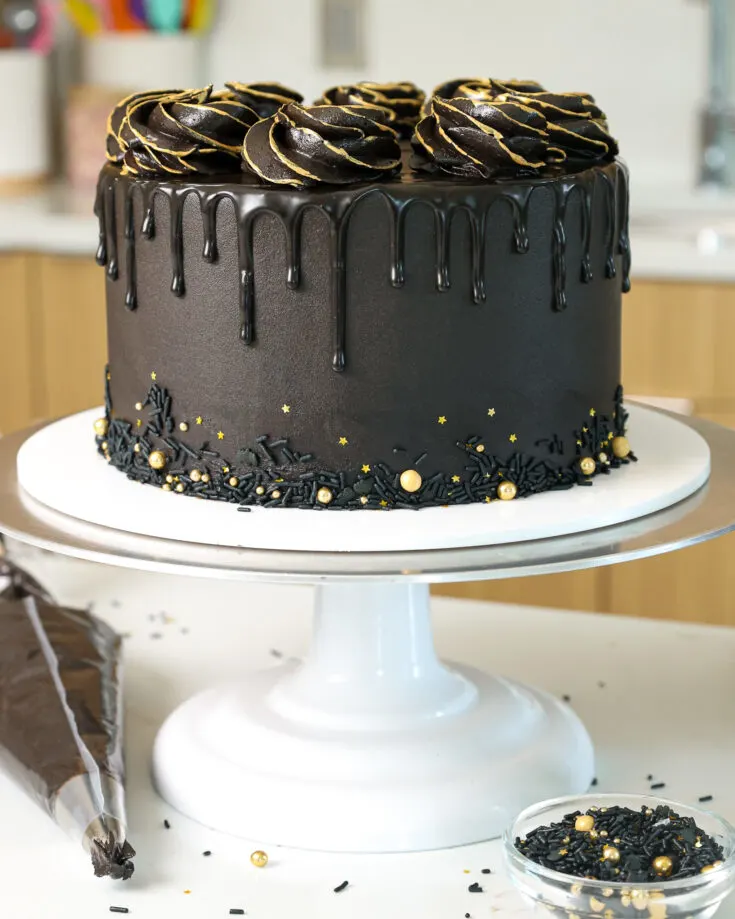 This black drip cake recipe is a total show stopper! It's moist, packed with chocolate flavor, and naturally colored with dark cocoa powder!!
Additional Time
30 minutes
Total Time
1 hour
6 minutes
Ingredients
Black Cocoa Cake Recipe
Black Dark Chocolate Buttercream Frosting
Black Chocolate Drip
Recommended Tools
Instructions
Black Cocoa Cake Layers
Preheat the oven to 350 F/ 175 C. Line and grease three, eight-inch cake pans, or four, seven-inch pans.
Combine 2 cups all-purpose flour, 2 cups sugar, 3/4 cup black cocoa powder, 2 tsp baking powder, 1 1/2 tsp baking soda, and 1 tsp of salt in a large bowl. Whisk together until combined.
In a separate, large bowl, add 1 cup of warm water, 1 cup buttermilk, 1/2 cup oil, 2 eggs, and 2 tsp vanilla extract. Give the mixture a quick stir to combine the ingredients.
Pour the dry ingredients into the wet ingredients. Mix by hand until fully incorporated. The batter will be on the thin side, but that's the consistency you're after!
Divide the batter evenly between the cake pans and bake for about 24-27 minutes. I like to use a kitchen scale to weigh the pans. It makes sure each pan has the same amount of batter and helps the cake layers bake up to be the same height.
Remove the cake layers from the oven and let them cool in the pans for about 10 minutes. Gently run an offset spatula around the rim of the cake pans to loosen them, then flip them onto wire racks to finish cooling.
Once cooled, use a serrated knife to level the top of each cake layer. If you make these in advance, wrap and freeze them at this point.
Black Dark Chocolate Buttercream Frosting
Beat 2 cups of butter on a medium speed for 30 seconds with a paddle attachment until smooth.
Add in 1 cup of sifted black cocoa, 1 tsp vanilla extract, and 1/2 tsp salt. Mix on low until the ingredients are fully incorporated.
Slowly mix in 4 cups of powdered sugar and 1/2 cup of heavy cream on a low speed until combined.
Next, mix in 1 cup of cooled, melted semi-sweet chocolate on a low speed until the ingredients are fully incorporated and the desired consistency is reached.
If you want the buttercream to be a deeper shade of black you can mix in a squirt of black gel food coloring. Then cover the frosting flush with plastic wrap to prevent crusting and set aside.
Black Chocolate Ganache Drip
Place 1/2 cup of semi-sweet chocolate chips in a heatproof bowl and set aside.
Heat 1/3 cup of heavy cream in a heatproof bowl in the microwave for 45 seconds to 1 minute, until it's steaming and just starting to bubble. If you don't have a microwave or prefer to use the stove top, you can heat the cream over a medium heat in a pan until it begins to simmer. Remove from heat.
Gently pour the heavy cream over the chocolate, making sure it's fully covered with cream. Allow the mixture to sit for 1-2 minutes.
Add in a squirt of black gel food coloring, then stir slowly until the cream and chocolate are fully combined and mixture is smooth.
Set aside and cool for about 10 minutes, until the mixture is just slightly warm to the touch.
Assembling This Black Drip Cake
Stack and frost the cake layers on a greaseproof cake board using a dab of frosting to help stick the first cake layer to the board.
Add an even layer of buttercream between each cake layer with a large offset spatula.
Spread a thin coat of frosting around the cake that fully covers the cake layers.
Smooth using a bench scraper, then chill the cake in the fridge (30 minutes) or freezer (10 minutes) until the frosting is firm to the touch.
Add a second, thicker layer of frosting to the cake and smooth using a bench scraper.
Chill the cake in the fridge (20 minutes) or freezer (10 minutes) one more time until the buttercream is firm to the touch.
Then make a test drip with the ganache to see if it's the right consistency (more detail on that in the post above). If the ganache has been sitting for a bit or if your kitchen is cold you may need to heat it in the microwave for a few seconds.
Once it's the right consistency, add the drips to the chilled cake using a plastic squirt bottle or spoon.
Then decorate as desired! I like to use the leftover buttercream to pipe swirls on top of the cake with an open star tip (like a Wilton 1M). I also added a gold and black sprinkle blend around the base of the cake and painted the edge of the swirls with edible gold paint. You could also use a mixture of gold luster dust and clear liquor or extract.
Notes
Tips for Making the Best Black Drip Cake
Ingredients at room temp mix together better! Set out any cold ingredients ahead of time.
Properly measure the flour (spoon into the cup measure, then level). Or better yet, use a kitchen scale to measure your dry ingredients.
Mix the cake batter just until the ingredients are incorporated. This will ensure your cake layers are tender and fluffy.
Use a scale to weigh your cake pans as you fill them. Make sure each pan has the same amount of batter so that cake layers bake to the same height and bake more evenly.
Bang the cake pans on the counter before putting them in the oven. This brings any air bubbles that are trapped in the batter to the surface.
Level the room temperature or thawed cake layers with a serrated knife to make them easier to stack.
Chill the cake layers in the freezer for about 20 minutes before assembling the cake. It makes it so much easier to stack and frost them!
Making this Black Drip Cake in Advance and Storage Tips
Make the cake layers in advance and freeze them. It breaks the process up and makes it more approachable.
Make the chocolate frosting ahead of time or save any leftover frosting! It can be stored in an airtight container in the fridge for up to a month.
This frosting can also be stored in the freezer for up to 3 months! Just be sure to give it a good stir once it thaws to make it nice and smooth again.
A frosted cake can last in the fridge for a week or in the freezer for a month. The buttercream locks in the moisture and keeps the cake fresh and delicious!
Nutrition Information
Yield
20
Serving Size
1
Amount Per Serving
Calories

507
Total Fat

19g
Saturated Fat

6g
Trans Fat

0g
Unsaturated Fat

10g
Cholesterol

41mg
Sodium

393mg
Carbohydrates

80g
Fiber

5g
Sugar

55g
Protein

7g