My royal icing skills could use some improvement (marbled sugar cookies are about all I can do!). But you know what I love working with? BUTTERCREAM! I decided to be a rebel with this batch of sugar cookies, and ditched the royal icing to make these buttercream cookies.
To be fair, these cookies for a Christmas party. My friend who was hosting the party is obsessed with frosting, and she specifically asked be to bring something with frosting on it.
While I considered it taking the easy way out, I was really just being a good friend, right??
Either way, these soft, chewy sugar cookies with buttercream frosting will knock your socks off. They're not too sweet on their own, which makes them the perfect base for my sweet buttercream frosting.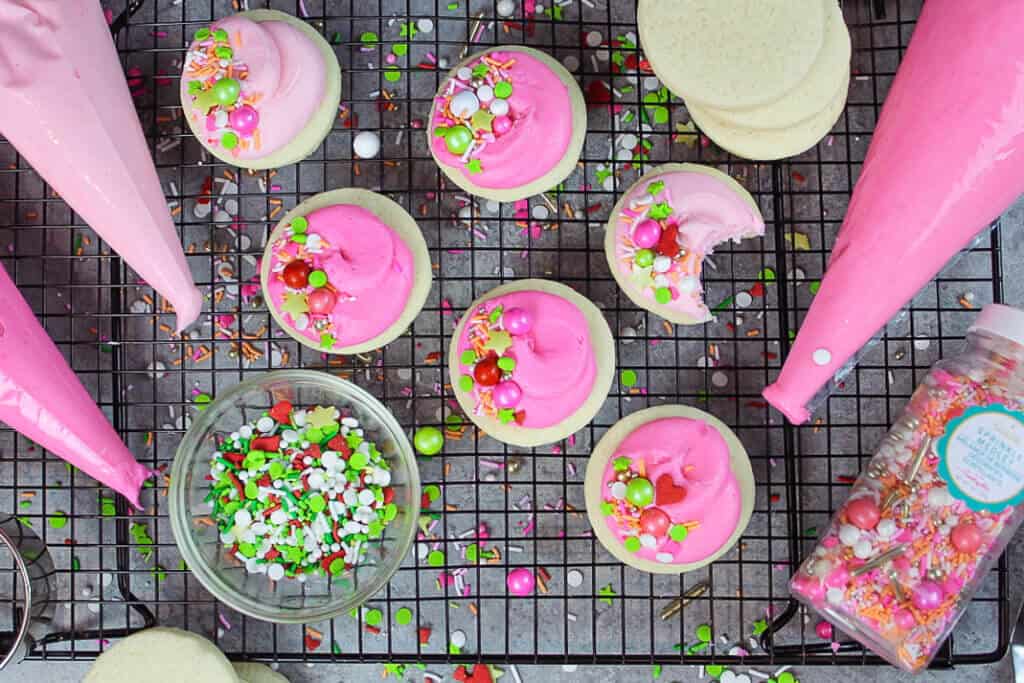 They're easy to make, and in my opinion are just as pretty as a fancy sugar cookie (or almost :P).
The Secret Ingredient(s)
These cookies are pretty unique. They're soft, chewy, and oh so tasty.
What gives these cookies that unique texture and taste? We can thank a bit of cream cheese and cornstarch for making these cookies so great.
Both help the cookies bake soft, so that they're still chewy once they cool.
In fact, I feel like these cookies should be named cream cheese cookies. Is that too weird??
Now I know that cream cheese is probably not an ingredient you'd expect to find in a cookie recipe. But trust me, it makes all the difference.
It also brightens your cookies, making them a lighter color. I love this, because it really helps the colorful frosting pop one you decorate the cookies.
And the cornstarch? It helps soften cookies by "softening" the proteins found in the all purpose flour. This creates a more tender cookie!
Making Sure Your Cookies Are Soft & Fluffy
While I love getting all caught up in the decoration of my desserts, it's super important that the recipes are delicious too.
When I eat a sugar cookie, I want it to be thick, soft, and buttery. I want it to almost melt in my mouth!
Now, this isn't the easiest thing to accomplish. Even if you have the best sugar cookie recipe, you still need to know a few more things to really make great sugar cookies.
The first thing is measuring the right amount of flour. Most home bakers tend to really pack flour into their cup measure, which can cause you to add a lot more flour to a recipe than it calls for.
I like to use a kitchen scale to be exact, but you can also fluff your flour up in your bag with a spoon, then add spoonfuls into a measuring cup and level it off with a knife.
It's also important that you chill your dough, and liberally flour your counter or surface before rolling out the the dough.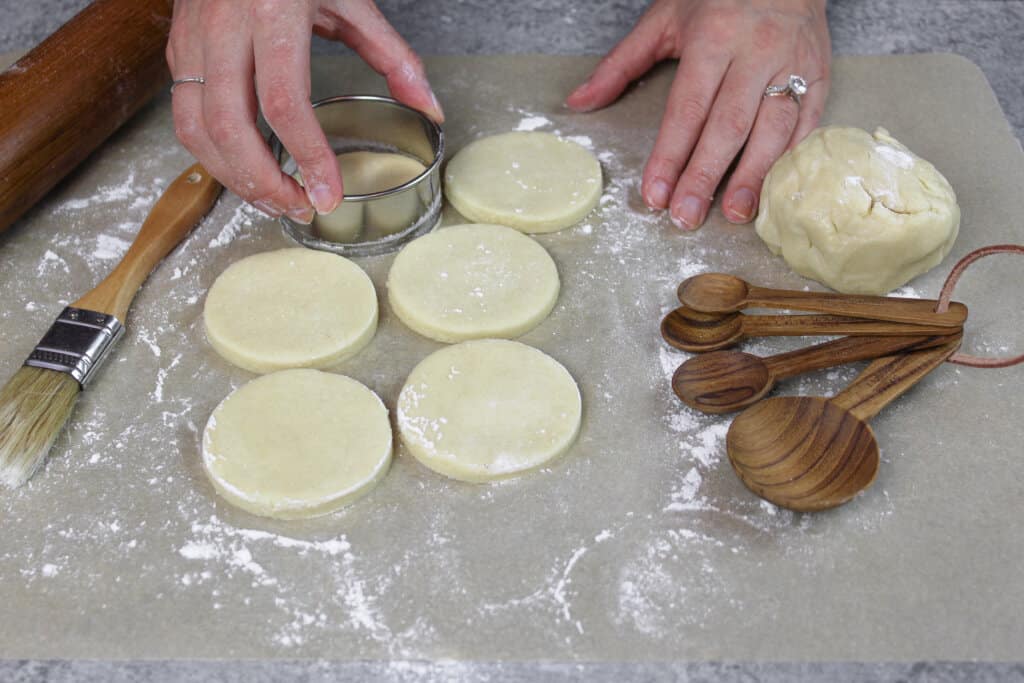 This makes the dough easier to roll out and cut, and prevents them from spreading. I know it can be hard to be patient, but it's worth taking the few extra minutes to chill the dough!!
I'm a fan of the double chill. I chill the dough before I roll it out, and one more time once they're cut out. I've found that a lot of the time once I'm not carefully cutting out my cookies, the dough has returned to room temperature!
I pop the cut cookies into the freezer for about 10 minutes before baking them. The second chill ensures the cookies are still cold when they go into the oven. This really helps them keep their shape!
The Buttercream Frosting
Now onto my favorite part, the buttercream frosting. These buttercream cookies are decorated with my American buttercream.
While this frosting is amazing for making cakes, it also is fantastic for cookies! I add a tiny bit more heavy cream, to make it easy to pipe with.
Making frosting from scratch can be intimidating the first time, but I promise once you try it you'll never go back to canned frosting. My buttercream frosting for cookies only uses 5 ingredients, and comes together in about 5 minutes. It doesn't get easier than that!!
I really love this recipe because it crusts. Now, that may sound creepy, but I promise it's totally normal. Buttercream crusts due to its high sugar content. This is actually great for cookies though, because it helps the frosting keep its shape!
Another great thing about my buttercream recipe? It can be made in advance, and keeps in the fridge for months!
I love prepping things in advance, so that I don't have to make everything in one day. It makes the decoration process so much easier, and more enjoyable.
Decorating These Buttercream Cookies
Now that we've got our soft, chewy cookies and our deliciously sweet buttercream on lock, it's time to discuss decorations.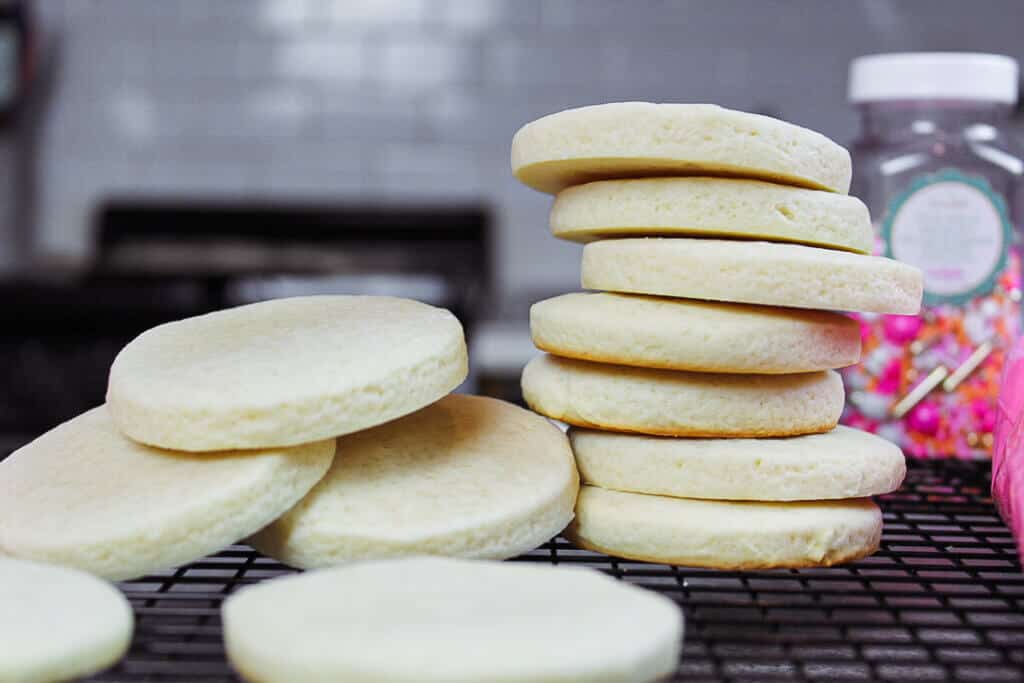 If we're going to spend all this time baking these buttercream cookies from scratch, we should take a little extra time to make them beautiful too.
All you need are some piping bags, and maybe a frosting tip or two. The beauty of this recipe is that you can cut out any shape you want, and decorate it accordingly!
I made half of this batch into festive sugar cookies (as seen below), and decorated the other half in a less seasonal way 🙂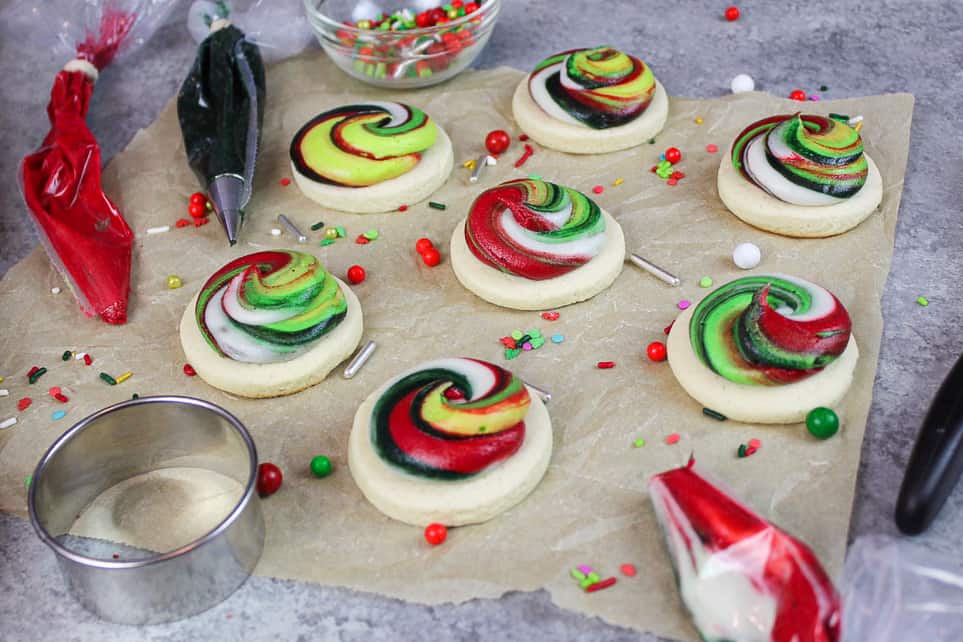 Don't be afraid to get creative! Whip out all the fun colors of gel food coloring you have, invite your friends or your kids into the kitchen with you, and have some fun.
And if all else fails, throw some fancy sprinkles on top and call it a day 😛
Tips for Making the Best Buttercream Cookies:
Liberally flour your counter / board before you roll out your cookie dough, and move it around while you roll and cut your cookies.
Also flour your cookie cutters before each cut, to help the dough easily pop out
Be sure your really cream together the butter and sugar in the first step of this recipe. It helps incorporate air into the dough, which makes better cookies
Don't overwork your cookie dough! It can develop the gluten in it, making tougher cookies
Chill your cookie dough! It helps prevent your cookies from spreading while they bake
Don't over bake your cookies! Err of the side of underbaking your cookies, and remember that the cookies continue to bake for a few minutes once they're out of the oven.
Roll your cookie dough out to a consistent thickness of 1/3 inch. If some are thicker or thinner than others, they may over or under bake in the oven.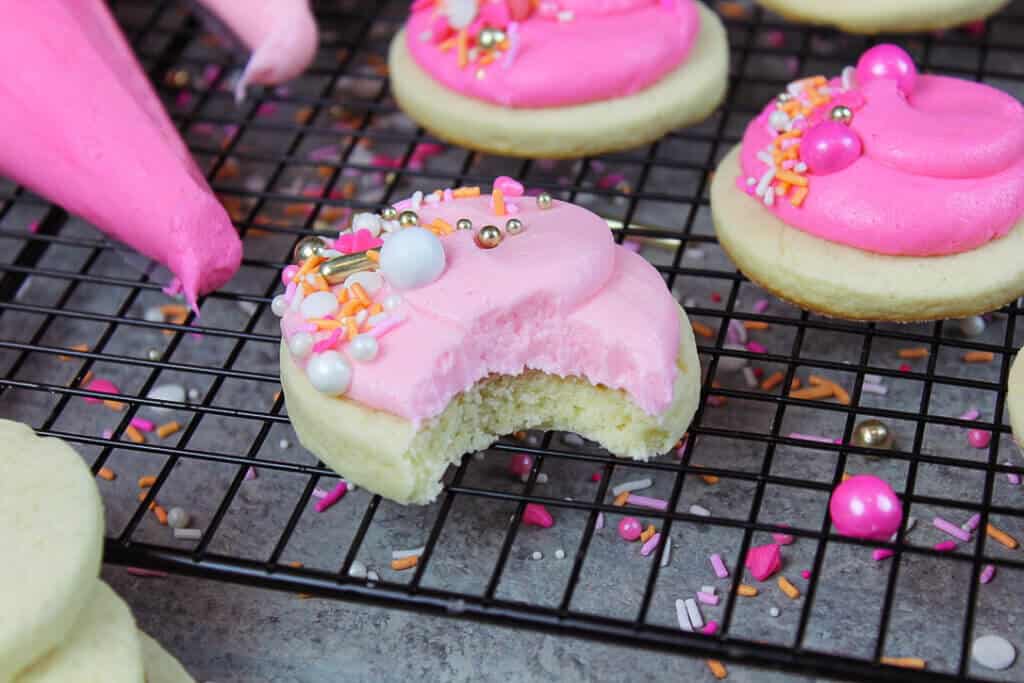 Let Me Know What You Think!
If you try my buttercream cookies recipe, I'd love to hear what think of it! Please leave a rating, and let me know your thoughts by sharing a comment.
Yield: 30
Buttercream Cookies
These buttercream cookies are made with soft, chewy sugar cookies, and are decorated with the most delicious homemade buttercream frosting.
Additional Time
1 hour
30 minutes
Total Time
2 hours
1 minute
Ingredients
Soft Sugar Cookies
3/4 cup unsalted butter, room temperature (170 grams)
4 oz cream cheese, room temperature (113 grams)
1 1/2 cups granulated sugar (300 grams)
1 large egg, room temp (56 grams)
2 tsp vanilla bean paste or vanilla extract (6 grams)
1 tsp almond extract (3 grams)
1 tsp salt (6 grams)
1/2 tsp baking powder (2 grams)
1 Tbsp cornstarch (8 grams)
3 cups all-purpose flour (390 grams)
Buttercream Frosting for Cookies
1 cup unsalted butter, room temp (226 grams)
3 1/2 cups powdered sugar (454 grams)
1 Tbsp vanilla bean paste or vanilla extract (9 grams)
2 Tbsp heavy cream (30 grams)
1/2 tsp salt (3 grams)
Additional Supplies
parchment paper or silicone baking mat
baking sheet
piping bags
gel food coloring
frosting tips of your choice (optional)
sprinkles
Instructions
Sugar Cookies
Mix together the butter and cream cheese at a medium speed with a whisk attachment or hand mixer until smooth.
Next, mix in the granulated sugar at a medium-high speed for a couple minutes, until the mixture becomes lighter in color.
Add in the egg, vanilla bean paste or vanilla extract, and almond extract. Mix on a low speed until incorporated.
In a separate bowl, sift together the salt, baking powder, cornstarch and all-purpose flour.
Gradually mix the flour mixture into the butter mixture on a low speed, until it is JUST incorporated. I like to do this in a couple installments, and scrape the sides of the bowl between additions.
At this point the dough will still be pretty sticky. Divide the dough in half, and wrap each ball of dough in a piece of plastic wrap.
Chill in the fridge for about 2 hours, or the freezer for 45 minutes (I usually do the freezer because I'm impatient!). This step makes the dough a lot easier to work with.
Preheat your oven to 350 degrees F at this point in the process.
Generously dust the surface you plan to roll the cookies out on with additional flour.
Take one ball of dough out of the fridge or freezer, leaving the other to continue to chill.
Sprinkle some more flour on top of your dough ball, and on your rolling pin.
Roll the chilled dough out to be about 1/3 inch thick (making sure they're pretty thick helps make them chewier), and cut out your shapes with a flour dusted cookie cutter.
Use a kitchen brush to gently brush off any excess flour, and place onto a parchment lined baking sheet or silicone mat.
Chill the cut out cookies one more time in the fridge for 15 minutes or the freezer for 10 minutes. I find that by the time the cookies are all cut out and ready to go, the dough has usually completely warmed bake up to room temp! Chilling them one more time helps them keep their shape.
Bake for 9-11 minutes on the top wrack of your oven (time varies based on the size of the cookies). Keep a close eye on these, and be sure to pull them out before the edges start to brown. The cookies will continue to bake while they cool on the pan.
Let the baked cookies cool on the pan for about 10 minutes, then transfer to a wire rack to finish cooling.
While the first batch bakes and cools, knead together the cookie dough scraps, and rewrap them in plastic wrap. Pop them back in the fridge to chill.
Pull out your 2nd chilled ball of dough, and repeat steps 9-15. Then repeat with the chilled dough scraps.
Buttercream Frosting For Sugar Cookies
Beat the butter on a medium speed for 30 seconds with a paddle attachment, until smooth. Mix in the vanilla paste or vanilla extract and salt on a low speed
Slowly add in the powdered sugar, 1 cup at a time. Alternate with small splashes of cream.
Beat on low until the ingredients are fully incorporated, and the desired consistency is reached.
If the frosting seems too thick, add in additional cream (1 Tbsp at a time). If the frosting is too thin, add in more powdered sugar (quarter of a cup at a time).
If you plan to color the buttercream, add in the gel food coloring once the frosting is fully made, and beat on low until it reach the desired colored.
Place frosting into a piping bag, and decorate as desired! I didn't use a piping tip, and just cut about a 1 inch opening at the end of my bag to pipe some simple swirls on top of my cookies.

Notes
I recommend only baking one pan of cookies at a time, and baking them on the top rack of your oven. I have an older oven, and they turn out perfectly if I bake them on the upper rack.
These cookies keep at room temperature unfrosted for up to 7 days, if stored in an airtight container or ziploc bag.
They also can be frozen if unfrosted, for up to 3 months if stored in an airtight container or ziploc bag.
Nutrition Information
Yield
30
Serving Size
1
Amount Per Serving
Calories

258
Total Fat

13g
Saturated Fat

8g
Trans Fat

0g
Unsaturated Fat

4g
Cholesterol

40mg
Sodium

144mg
Carbohydrates

34g
Fiber

0g
Sugar

24g
Protein

2g