The holidays are over, and I feel like January is when winter really begins to set in. It makes it the perfect time for of year for this hot chocolate cake.
I'm a sucker for a big mug of hot cocoa, especially this time of year. I want it made with real milk, loaded up with chocolate, and topped with ooey-gooey marshmallows.
I wanted to incorporate all of those flavors into this cake, and have each bite warm your taste buds up just as much as a sip of hot chocolate. It's made with my go-to chocolate layer cake recipe, frosted with both marshmallow buttercream and milk chocolate ganache, and filled with mini marshmallows.
I chose to also soak the cake layers with hot cocoa simple syrup (I normally don't add it to this chocolate cake recipe), because I wanted it to be SUPER moist. After all, it is trying to emulate a beverage. It also helps pack a bit more of that wonderful hot cocoa flavor into this cake, which I'm all for!!
Begin by making the milk chocolate ganache filling. It needs a few hours to set, so I highly recommend making it first, or even the day before! If you prefer dark chocolate, the recipe for my dark chocolate ganache filling can be found here.
To make it, place both the milk chocolate (750 grams – about 2 bags of chocolate chips) and heavy cream (250 grams) in a heat proof bowl, and heat for 30 second increments (stirring between).
Usually after about 2 minutes of heat, all the chocolate is melted. Once the mixture is fully incorporated, place plastic wrap over the top of the ganache, and let it sit overnight (or at least a few hours). Before adding the room temperature ganache to a cake, give it a slow stir with a spatula to ensure it's nice and smooth, and the right consistency.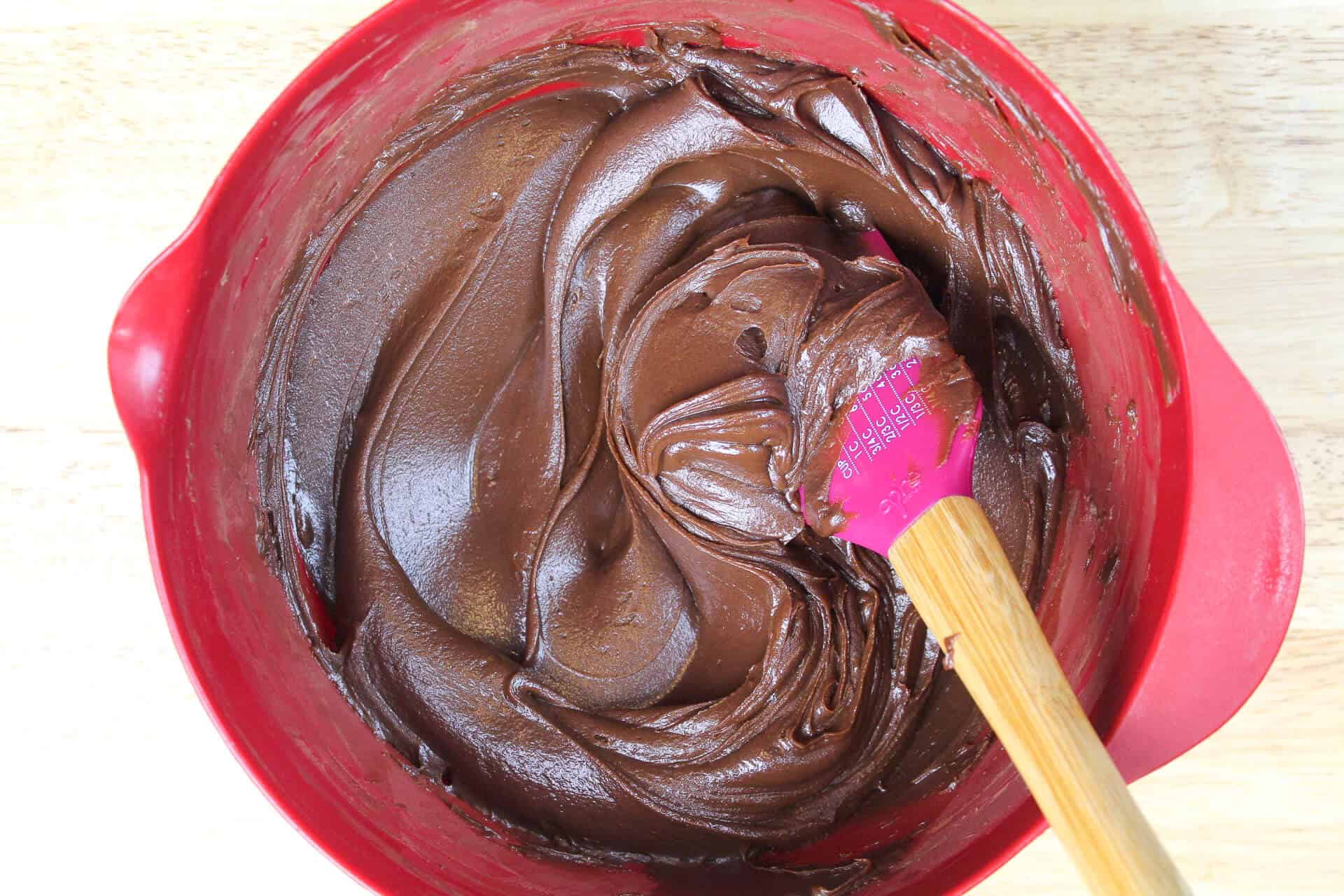 Next, make the chocolate cake layers. These can also be made in advance if desired! Preheat the oven to 350 degrees Fahrenheit. Line four 7 inch or 8 inch pans with parchment rounds, and spray with non-stick spray.
Add the sugar and butter into the bowl of a stand mixer, and whisk on high for 1 minute. The mixture should become light in color.
Add in the eggs, one at a time. Then add baking soda, baking powder, and salt. Mix on high for another minute.
In a separate bowl, combine the cup of hot water, and cup of buttermilk. Pour in the cup of baking cocoa, and whisk until no clumps remain.
Next, add 1 cup of flour into the butter /egg mixture. Scrape the sides of the bowl with a spatula, to ensure the flour is fully incorporated.
Pour in half of the buttermilk / cocoa mixture, and gently pulse the mixture to incorporate the liquid (if you don't, you'll end up splattering the cocoa mixture all over you kitchen! Please learn from my mistakes :P).
Mix in the 2nd cup of flour, at a medium speed. Pour in the remaining buttermilk / cocoa mixture, and again gently pulse, then mix on low until fully combined.
Add in the last cup of flour, and mix on low until the flour is incorporated. Mix on high for 30 additional seconds, to incorporate a bit more air into the batter.
Evenly divide between the four prepared pans. I like to use a kitchen scale to ensure each pan has exactly the same amount of batter.
Bake according to the size of pan. For 7 inch layers, bake for 35-37 minutes. For 8 inch layers, bake for 32-33 minutes, or until a skewer comes out clean.
Allow layers to cool in the pans for about 10 minutes, then run an offset spatula around the edge of the pans to help separate the layers from the pans.
Place the pans in the freezer for about 45 minutes, to accelerate the cooling process. Once the layers are fully cooled, carefully flip the pans and remove the layers. If desired, level the cakes with a serrated knife once fully cooled.
It's important to make the hot cocoa simple syrup ahead of time as well, to allow it to cool before adding it to the leveled cake layers. Mix together the water and granulated sugar into a pot, and heat on high until the mixture just begins to bubble. At this point the sugar should be fully dissolved. Turn off heat and remove pan from stove. Mix in the hot cocoa, and set aside to cool.
While the cake layers bake and cool, make the marshmallow buttercream frosting. Beat the butter on a medium speed for 30 seconds with a paddle attachment, until smooth. Slowly add in the powdered sugar, 1 cup at a time. Alternate with small splashes of cream.
Once fully mixed, add in the vanilla, marshmallow fluff and salt, and beat on low until the ingredients are fully incorporated, and the desired consistency is reached.
If the frosting is too thick, add in additional cream (1 teaspoon at a time). If the frosting is too thin, add in more powdered sugar (quarter of a cup at a time).
Once each component of the cake is ready, it's time to assemble the cake!! Begin by using a large sterile paint brush to lightly soak each cake layer with the hot cocoa simple syrup.
Then add a dab of frosting onto your cake board or cake plate. This will help keep your cake layers in place as you frost and stack the layers.
Use a large offset spatula to spread an even layer of marshmallow frosting and milk chocolate ganache onto each cake layer. If you have trouble with the two blending together, you can always chill the cake in the freezer for a couple minutes after adding the marshmallow buttercream, to keep the two fillings cleanly layered.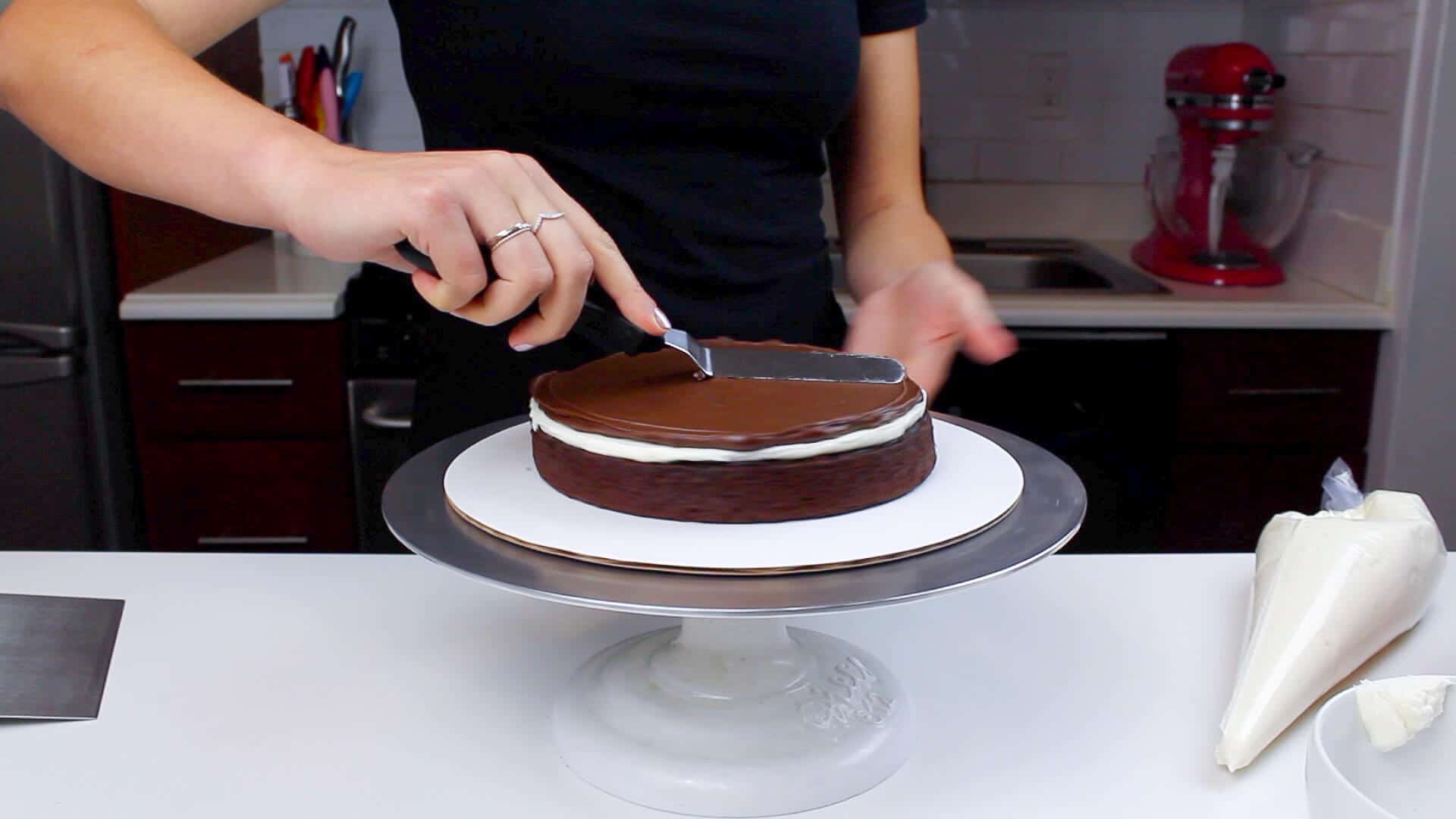 Sprinkle mini marshmallows on top of the ganache, and gently press into place using you fingers. This will help keep them in place as you assemble cake, and help reduce air from being trapped between the layers.
Repeat until all four cake layers are stacked. Next, cover the cake in a thin layer of frosting and chocolate ganache! Place dabs of both the ganache and buttercream around the cake, then gently spread them around the cake to cover the layers.
Use a bench scraper to get the frosting really nice and smooth. Normally I add a second, thicker layer of frosting, but I decided to give this cake a semi-naked look. I just loved the way the ganache and frosting swirled together. It reminded me of whipped cream melting into a warm mug of hot cocoa!
Place the cake into the freezer for about 5 minutes, to chill it before adding on the warm ganache drips.
Place about 1 cup of remaining ganache into a piping bag fitted with a french tip, and set aside.
Add an extra splash of heavy cream to the remaining ganache, and heat in the microwave for about 10 seconds. Stir, and repeat until the ganache has a thinner consistency that will allow you to add drips to the cake.
MAKING A TEST DRIP IS SUCH A CRUCIAL STEP!!! Make one drip on the side of your cake, and let it flow. Allow it to sit for a couple minutes.
See what it looks like, if it's the length and look you're after. If not, adjust as needed. Either pop the ganache into the fridge for a couple minutes to allow it to cool off a bit more if the drips are too long or thin, or pop the bottle (or bowl) in the microwave and heat for 5-10 seconds to get less thick and longer drips.
Once you've covered the cake in ganache drips, pipe some ganache dollops around the top of the cake. Place mini marshmallows on top of each frosting dollop. If desired, dust the top of the cake with hot cocoa powder.
I swear this cake really will warm you up on a cold winter day! The filling is rich and decadent, and the mini marshmallows add such a fun texture to each bite. This cake feeds 20-25 people, so make a big batch of hot cocoa and invite your friends over!!
Chocolate Cake Layers:
Hot Cocoa Simple Syrup
3/4 cup water
3/4 cup granulated sugar
2 Tbsp hot cocoa mix
Milk Chocolate Ganache:
750 grams milk chocolate chips (about 2 bags)
250 grams heavy cream
Easy Marshmallow Buttercream Frosting:
3/4 cup marshmallow fluff