In the spirit of Fall, I wanted to make some pies! That was, until I remembered that I'm terrified of pie crust, and thought better of it! Instead, I wound up making this Apple Pie Layer Cake. It's made with a cinnamon spice layer cake, cinnamon buttercream, and an apple pie filling. It's basically a pie and cake all wrapped up in four layers of deliciousness, without the fuss of ice cold butter and a pastry cutter.
For the decoration of this cake, I was inspired by Milk and Water Baking Co! Their beautiful and vibrant frosting techniques have taken over Instagram by storm, and I couldn't resist trying it out on this cake! The full recipe and tutorial can be found below:
Cinnamon Spice Cake Batter:
3 1/4 cup (416 grams) all purpose flour
3 cups (600 grams) granulated sugar
2 1/2 tsp (13 grams) baking powder
1 tsp (5 grams) salt
1 1/2 tsp cinnamon
1/2 tsp ginger
1/2 tsp nutmeg
1 cup unsalted butter or 2 sticks (226 grams), room temperature
2 tsp. (9 grams) vanilla extract
1 cup egg whites (244 grams) – about 7 large egg whites; I use egg whites from the carton to avoid wasting egg yolks
1 1/2 cups (360 grams) buttermilk, room temperature
1/8 cup (28 grams) vegetable oil
Apple Pie Filling: 
1/2 cup of water (120ml)
1/4 cup granulated sugar (50g)
2 tsp. cinnamon
2 Tbsp granulated sugar (25g)
3 Tbsp cornstarch (30g)
2 Tbsp water (30ml)
1 1/2 cups of diced apples, peeled and cored (about 1 1/2 large apples – I used granny smith) (200g)
Cinnamon Buttercream:
6 sticks or 3 cups (about 650 grams) unsalted butter, room temperature
12 cups (1,360 grams) powdered sugar
1 tsp (6 grams) salt
1/2 tsp cinnamon
4 Tbsp. (60 grams) heavy cream
3 tsp (12 grams) vanilla
optional: fall colored gel food coloring (I used yellow, orange, red, and brown)
Instructions:
Preheat oven to 350°F. Grease and line four 8? round pans with parchment rounds.
Being by making the cinnamon spice cake batter. Mix together all dry ingredients (flour, baking powder, sugar, cinnamon, nutmeg, ginger, and salt) in a stand mixer with a paddle until fully combined.
Mix chunks of room-temperature butter slowly into the dry mix, on a low speed. Continue to mix until no large chunks of butter remain, and the mixture becomes crumbly.
Pour in egg whites, and mix on low until just incorporated.  Mix in the buttermilk in two installments, on a low speed. Add in vanilla and oil, and mix at a low speed until fully incorporated. Scrape down the sides of the bowl with a spatula, then beat on medium speed for about 30 seconds.
Divide evenly between the prepared cake pans. Bake for 35-37 minutes (or until a skewer comes out clean). Allow to cool for 15 minutes, then run an offset spatula around perimeter of the pan to separate the cake from the pan. Remove the layers from the pans, wrap in saran wrap, and place in the freezer. It's ok if they're still warm, this will help lock in the moisture, making delicious, moist layers!
While the layers bake and cool, prepare the apple pie filling. Add 1/2 cup water, 1/4 cup sugar, and 1 tsp of cinnamon into a large sauce pan, and bring to a boil at a medium high heat. Mix together the remaining 2 tbsp of sugar, 2 Tbsp of water, and 3 Tbsp of cornstarch to create a slurry (to thicken the filling). Add this slurry to the sauce pan, and whisk continuously until the mixture thickens (should happen pretty quickly). Add the diced apples, and reduce the heat to medium low. Cook for 5 minutes, until the apples are partially tender (you don't want them to get too soft, and turn to mush!!) remove from heat and set aside to cool fully.
Next, prepare the cinnamon buttercream. Beat the butter on a medium speed for 30 seconds with a paddle attachment, until smooth. Slowly add in the powdered sugar, 1 cup at a time. Alternate with small splashes of cream. Once fully mixed, add in the vanilla, cinnamon, and salt, and beat on medium low until the ingredients are fully incorporated, and the desired consistency is reached. If the frosting is too thick, add in cream (1 teaspoon at a time). If the frosting is too thin, add in more powdered sugar (quarter of a cup at a time).
Once all the components are prepared, it's time to assemble the cake! Secure the first cake layer to the cake board with a small dab of buttercream. Pipe a thick ring of buttercream around the perimeter of the layer. Fill the center with about 1/2 cup of the apple pie filling. repeat with remaining layers. Apply a thin layer of frosting around the outside of the cake (crumb coat), and smooth with a bench scraper. chill for about 10 minutes in the fridge (or 5 in the freezer), until the crumb coat is firm to the touch.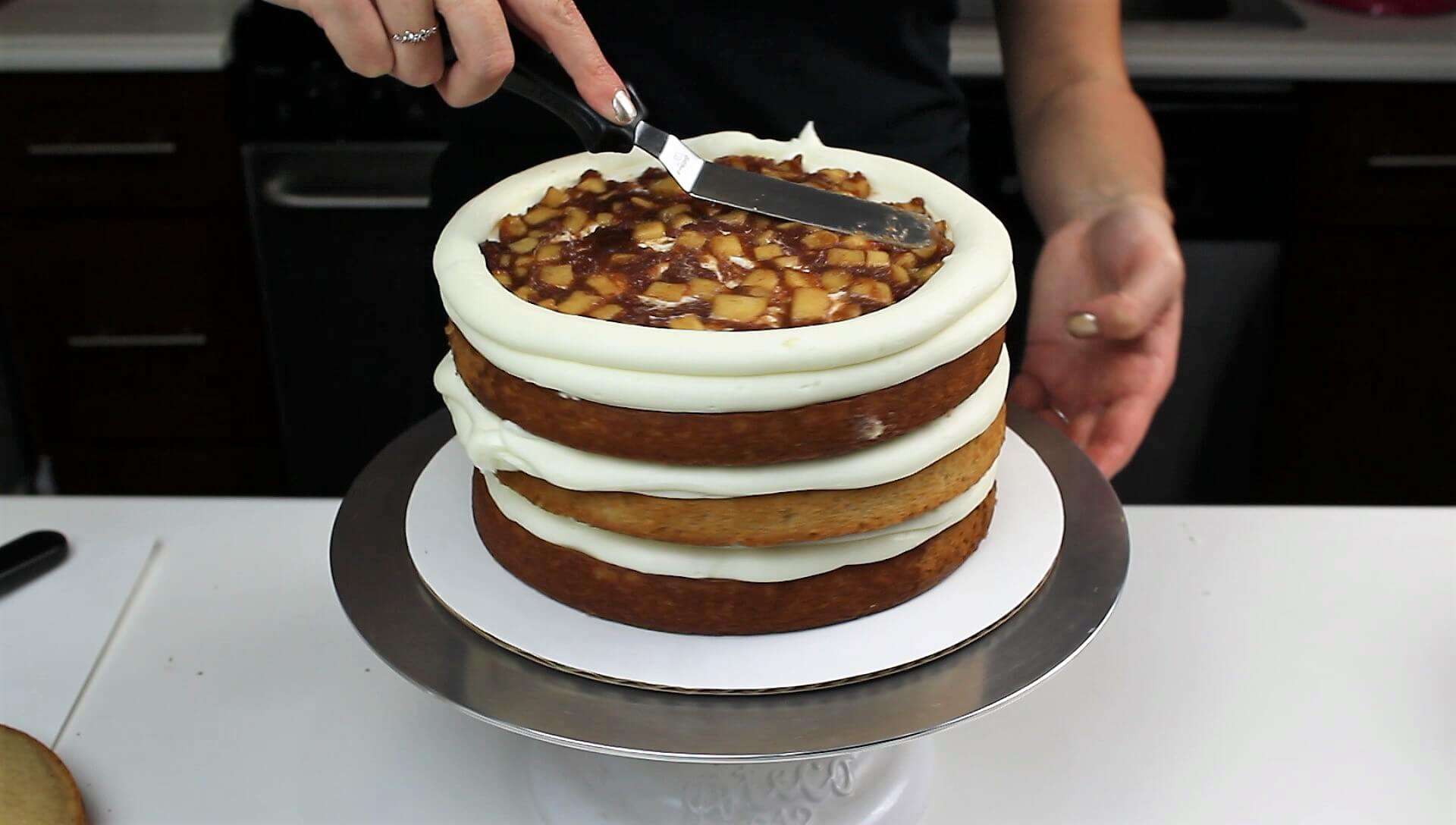 To create the Milk and Water Baking Co look, color the remaining frosting fall colors (orange, yellow, red, brown), and blend together in piping bags with various piping tips.
Pipe colorful bursts of frosting around the cake, until the entire cake is covered. I combined some of the colors into piping bags, and tried to spread out the colors to give it a somewhat uniform look.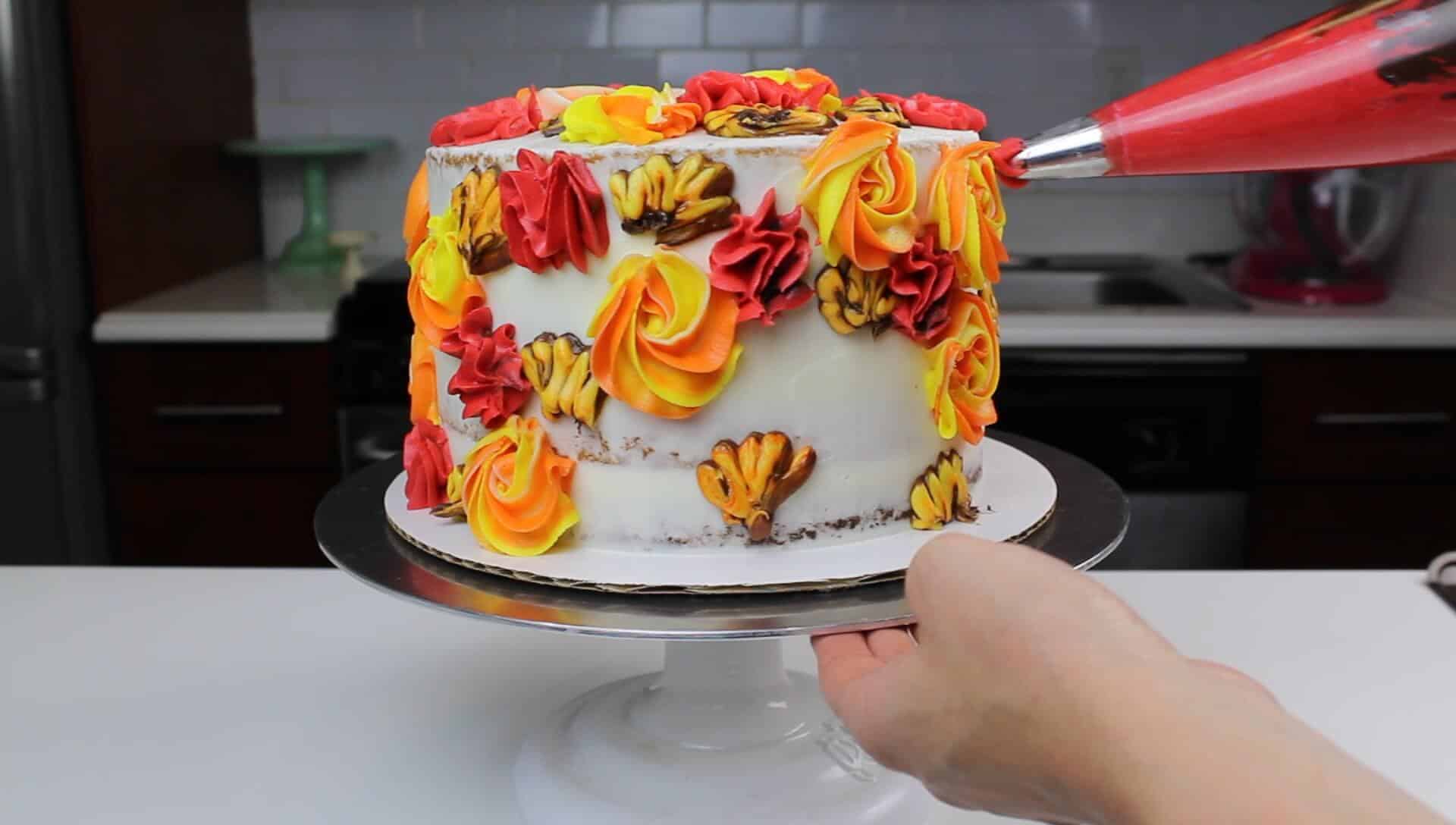 I added some rosettes and squiggles using a wilton 1M, and some ruffles and cherry blossom flowers using a petal tip.
Once the cake is fully covered, it's time to enjoy!! This cake not only looks like Fall, it tastes like it too 🙂