Want to know something crazy?? The first time I had a cannoli was only a few years ago!! I think cannoli are definitely an East Coast treat, but man am I happy I finally tried them!
My favorite type is the chocolate covered kind, so I incorporated quite a bit of chocolate into this cake. The recipe and tutorial can be found below:
Chocolate Chip Layer Cake Batter:
3 1/4 cup (416 grams) all purpose flour
3 cups (600 grams) granulated sugar
2 1/2 tsp (13 grams) baking powder
1 tsp (5 grams) salt
1 cup unsalted butter or 2 sticks (226 grams), room temperature
1 cup mini chocolate chips, tossed with 1 tbsp of flour (helps them from sinking to the bottom of the pan)
2 tsp. (9 grams) vanilla extract
1 cup egg whites (244 grams) – about 7 large egg whites; I use egg whites from the carton to avoid wasting egg yolks
1 1/2 cups (360 grams) buttermilk, room temperature
1/8 cup (28 grams) vegetable oil
Cannoli Filling:
1 1/4 cups (12 oz) ricotta cheese, room temperature
1 cup (8 oz) mascarpone cheese, room temperature
1 1/4 cup powdered sugar
2 tsp vanilla extract
1/4 tsp cinnamon
American Buttercream (to make both the vanilla and chocolate frosting):
4 sticks or 2 cups (434 grams) unsalted butter, room temperature
8 cups (907 grams) powdered sugar
1/2 tsp (3 grams) salt
2 Tbsp. (30 grams) heavy cream
3 tsp (12 grams) vanilla
6 oz (about 1 cup) melted dark chocolate chips
Additional Decorations:
Instructions:
Preheat oven to 350°F. Line three 8-inch round pans with parchment rounds, and grease with non-stick cooking spray.
Mix together all dry ingredients (flour, baking powder, sugar, and salt) in a stand mixer with a paddle until fully combined.
Mix chunks of room-temperature butter slowly into the dry mix, on a low speed. Continue to mix until no large chunks of butter remain, and the mixture becomes crumbly.
Pour in egg whites, and mix on low until just incorporated. Mix in the buttermilk in two installments, at a low speed.
Add in vanilla and oil, and mix at a low speed until fully incorporated.
Scrape down the sides of the bowl with a spatula, then beat on medium speed for about 30 seconds. Gently fold the chocolate chips into the batter.
Divide evenly between the prepared cake pans. Bake for 35 minutes (or until a skewer comes out clean).
Allow to cool for 10 minutes, then run an offset spatula around the perimeter of the pan to separate the cake from the pan.
Place cake layers into the freezer for 45 minutes, to accelerate the cooling process.
Once the layers have fully cooled, I like to trim the caramelized bits from the sides of the layers using a serrated knife.
Be sure the layers are completely cooled or chilled before trimming. If you try to trim the layers while they're still warm, they will crumble apart.
While the cake layers bake and cool, make the chocolate and vanilla buttercream.
Beat the butter on a medium speed for 30 seconds with a paddle attachment, until smooth. Slowly add in the powdered sugar, 1 cup at a time.
Alternate with small splashes of cream. Once fully mixed, add in the vanilla and salt.
Place about 1/3 of the frosting into a separate bowl. Melt the chocolate in 30 second intervals at a low power, until fully melted (mine took about a minute).
Pour into frosting slowly, and stir until fully incorporated. Place into a piping bag, and cut the end to have an opening that is about 3/4 of an inch.
Next, prepare the cannoli filling! Be sure to drain the ricotta before making the filling. If you notice that the brand of ricotta cheese you're using has a lot of liquid, you may want to drain it overnight.
Add the drained ricotta cheese, mascarpone cheese, and vanilla extract in a mixer bowl, and beat on a low speed until smooth.
Add powdered sugar and cinnamon, until all ingredients are fully incorporated. Cover with plastic wrap, and chill in the fridge.
Stack and frost layers on a 10-inch, grease-proof, cardboard cake round.
Frost a ring of chocolate buttercream around the perimeter of the layer, and add a generous scoop of the cannoli filling onto the center of the layer.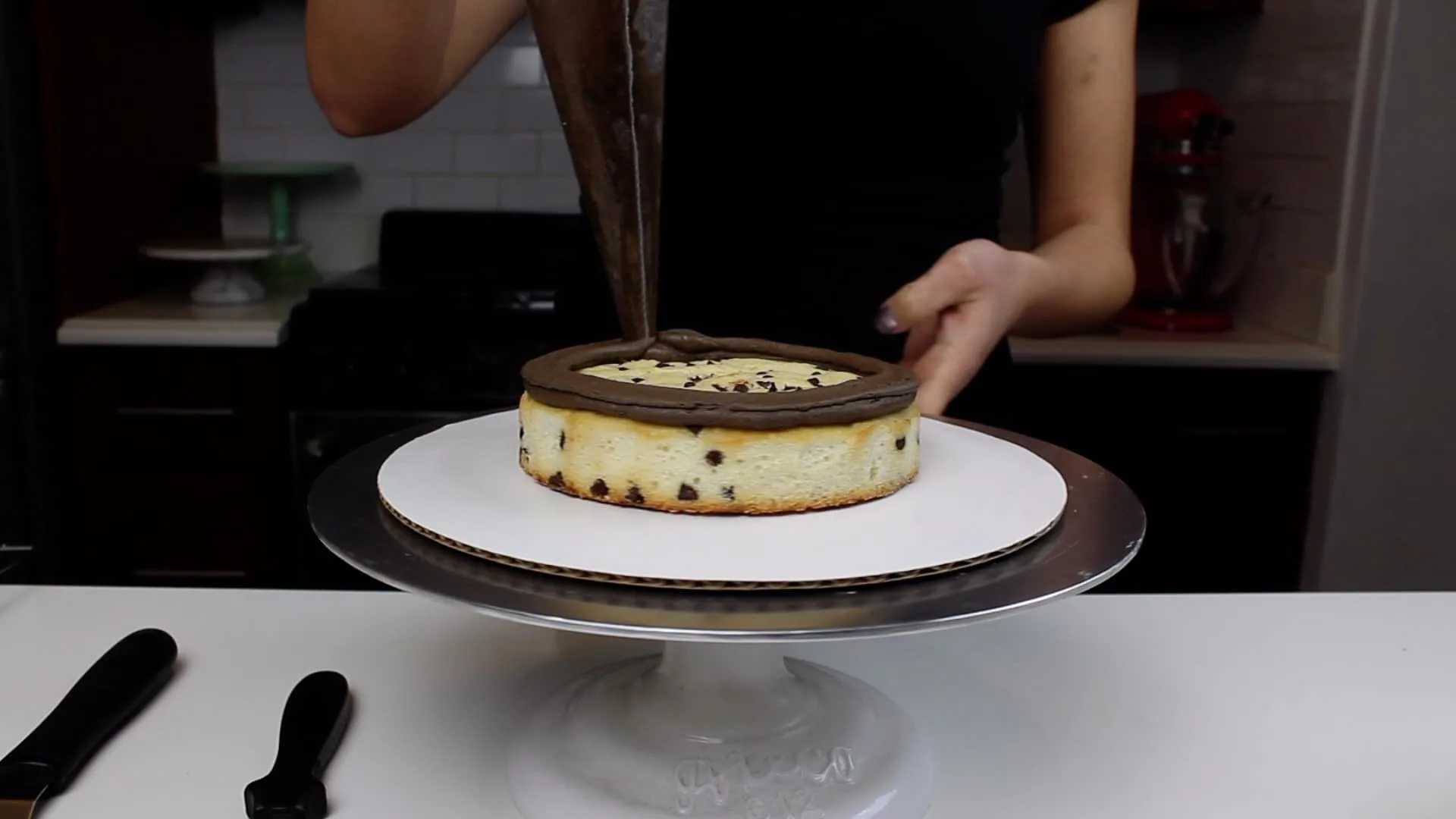 Spread the cannoli filling around the cake layer until it's even, being sure it stays within the frosting boarder.
Add a generous drizzle of ganache and a handful of mini chocolate chips. Repeat with the remaining cake layers.
Cover the cake in a thin crumb coat with any remaining chocolate frosting, and chill in the freezer or fridge for about 5 minutes.
Once the crumb coat is firm to the touch, add a second layer of vanilla frosting. Smooth using a bench scraper.
You can see a full tutorial on how to frost a cake with smooth sides here.
Gently press mini chocolate chips around the base of the cake, then chill it for another 5 minutes.
Once the frosting is chilled, add the chocolate ganache drips. Always be sure to do a test drip, to ensure that your ganache is at the right temperature.
Place remaining vanilla and chocolate frosting into a piping bag fitted with a Wilton 1M tip, and pipe large swirls on top of the cake.
Cut the mini cannoli in half, and carefully place on top of each swirl.
I alternated chocolate and classic cannoli and also added some more chocolate chips on top of the cake. And that's it! Then it's time to cut and enjoy!!