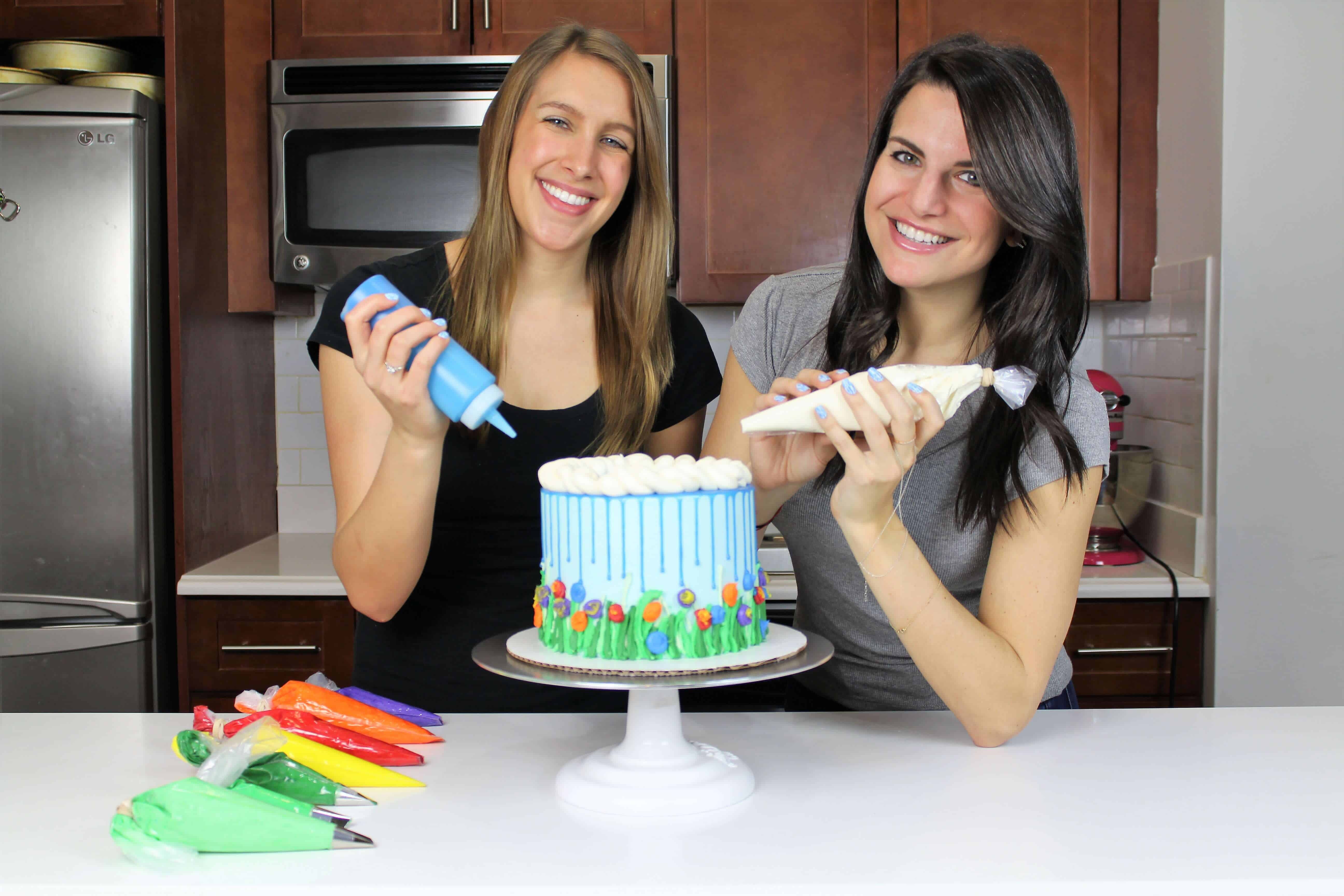 My friend Taryn (also know as @missladyfinger) and I joined forces again to create an April showers cake and nail art look. We were inspired by all the rain we've been getting in New York lately, and wanted that to be the inspiration of this collab! Taryn painted an amazing rainy design on our nails, and I made a cake with blue swirled layers, blue ganache rain drops, and buttercream flowers. The full recipe can be found below, and the full tutorial can be seen here.
Vanilla Cake Ingredients:
3 1/4 cup flour
3 cups granulated sugar
2 1/2 tsp baking powder
1 tsp salt
1 cup unsalted butter (2 sticks), room temperature
2 tsp. vanilla extract
1 cup egg whites (about 7 large egg whites)
1 1/2 cups buttermilk, room temperature
1/8 cup vegetable oil
blue gel food coloring
Blue Buttercream Ingredients:
6 sticks (3 cups) unsalted butter, room temperature
12 cups powdered sugar
1/2 tsp salt
3 Tbsp. heavy cream
3 tsp vanilla
blue, green, yellow, orange, red, and purple gel food coloring
Instructions:
Preheat oven to 350°F. Grease and line four 8" round pans.
Mix together all dry ingredients (flour, baking powder, sugar, and salt) in a stand mixer with a paddle until fully combined.
Mix chunks of room-temperature butter slowly into the dry mix, on a low speed. Continue to mix until no large chunks of butter remain, and the mixture becomes crumbly.
Pour in egg whites, and mix on low until just incorporated.  Mix in the buttermilk in two installments, on a low speed. Add in vanilla and oil, and mix at a low speed until fully incorporated. Scrape down the sides of the bowl with a spatula, then beat on medium high for about 30 seconds.
Divide evenly between three bowls. Leave one white, and color one light blue (2 drops blue gel food coloring), and one a royal blue (6-8 drops blue gel food coloring). Add batter to pans 1/2 a cup at a time, alternating colors. Once all batter has been used, draga  knife through the batter to create a swirled batter. Bake for 35 minutes, or until a skewer comes out clean. Allow to cool for 10 minutes, then run an offset spatula around perimeter of the pan to separate the cake from the pan. Place cake layers on a rack to finish cooling.
As the cake layers bake, prepare the white chocolate ganache and frosting! The full recipe and instructions can be found here. Be sure to color it with a couple drops of blue gel food coloring.
To make the frosting, beat the butter on high for 30 seconds, until smooth. Slowly add in the powdered sugar, 1 cup at a time. Alternate with small splashes of cream. Once fully mixed, add in the vanilla and salt, and beat on medium low until the ingredients are fully incorporated, and the desired consistency is reached. If the frosting is too thick, add in cream (1 teaspoon at a time). If the frosting is too thin, add in more powdered sugar (quarter of a cup at a time). Add 1/3 cup of frosting into eight different bowls. Color each bowl the following shades: blue, violet, yellow, orange, red, and three ombre shades of green. Place frosting into pipe bags, cut with a 1 cm opening. Set aside another cup of uncolored frosting, and add to a piping bag with a 1.5 cm opening. Color the remaining frosting light blue with gel food coloring.
NOTE: When making frosting for a cake, it is important to mix the buttercream on low at the end of the process for a couple minutes, to get out any extra air that might have be incorporated during the mixing process. This will make it easier to get super smooth sides on your cake!
To assemble the cake, stack cake layers and apply an even layer of light blue buttercream between each layer. Once stacked, apply a thin crumb coat to the cake, and chill the cake in the freezer for 5 minutes to allow the crumb coat to firm up. Then apply a thicker, second layer of buttercream, and smooth with a cake bench. Using the shades of green frosting, make vertical lines between 1-3 inches all around the cake, angling some slightly to both sides. This will be the grass, so you want it to look as random and organic as possible. Next, using the remaining colored buttercream, pipe small circles along the top of the grass line to create the flowers. Add some yellow into the center of some of the flowers to give them more depth.
Place in the freezer again for 15 minutes. This step is CRUCIAL, as the cake must be chilled before adding the blue ganache drips.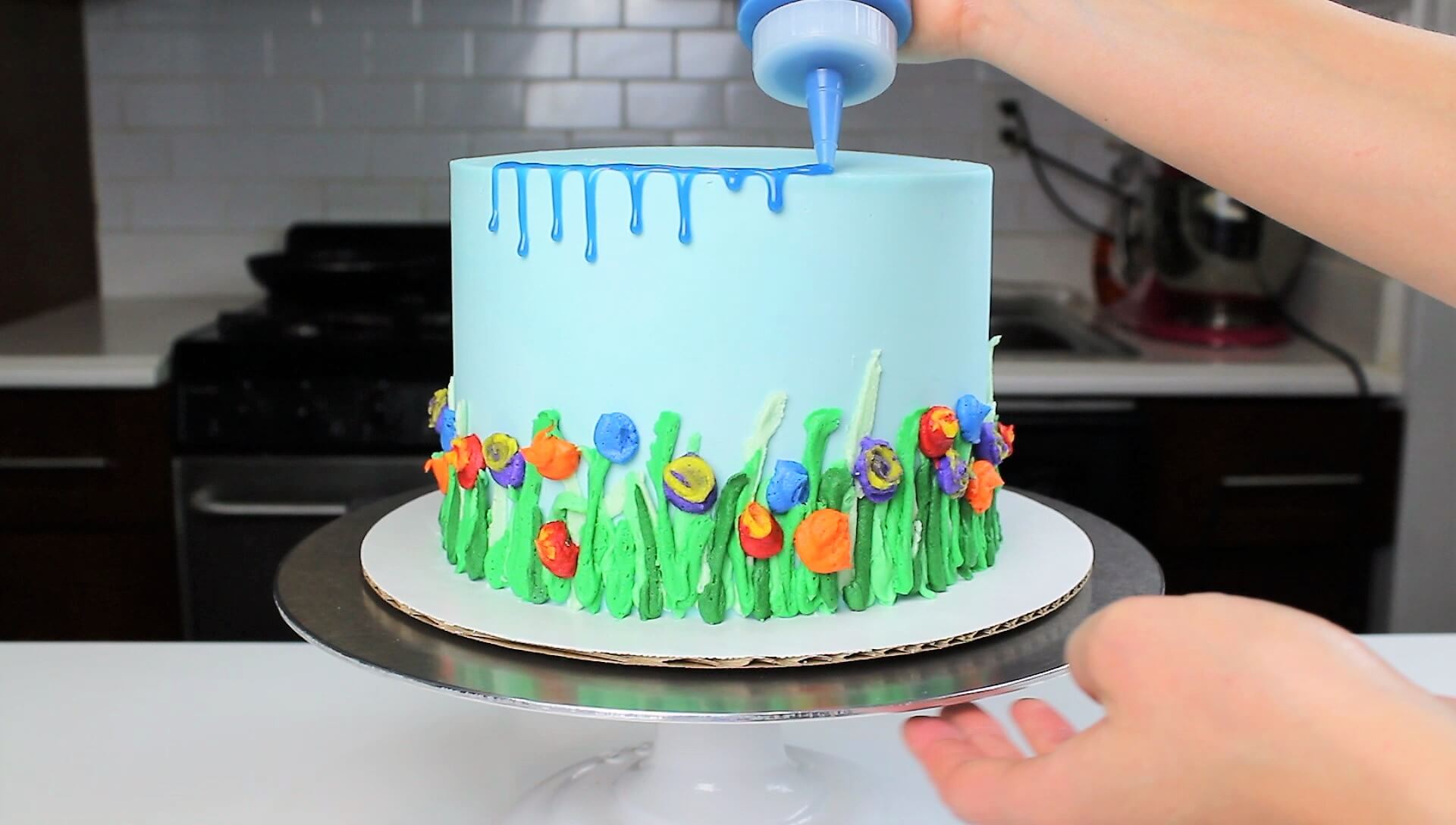 Once thoroughly chilled, slowly add the blue ganache drips onto the cake. You can see a full tutorial on how to add drips to a cake here. Place in the freezer for another 10 minutes to help the drips set.
The last step is to pipe on a cloud boarder using the remaining white frosting bag, using a swirling motion. Then it's time to slice the cake and reveal those beautifully swirled layers 🙂