National grilled cheese day is April 12th, and it only seemed fitting that I make a grilled cheese sandwich CAKE! I had to test out a few different techniques in the process, but believe I've found the easiest way to do it!
I made mine with two, 8 inch square cake layers, and filled them with a yellowish-orange buttercream! I added some triangles of modeling chocolate to look like melting cheese around the edge of the cake.
The finishing touch is to caramelize some sugar on the top of the cake to make it look toasted. The recipes I used can be found below: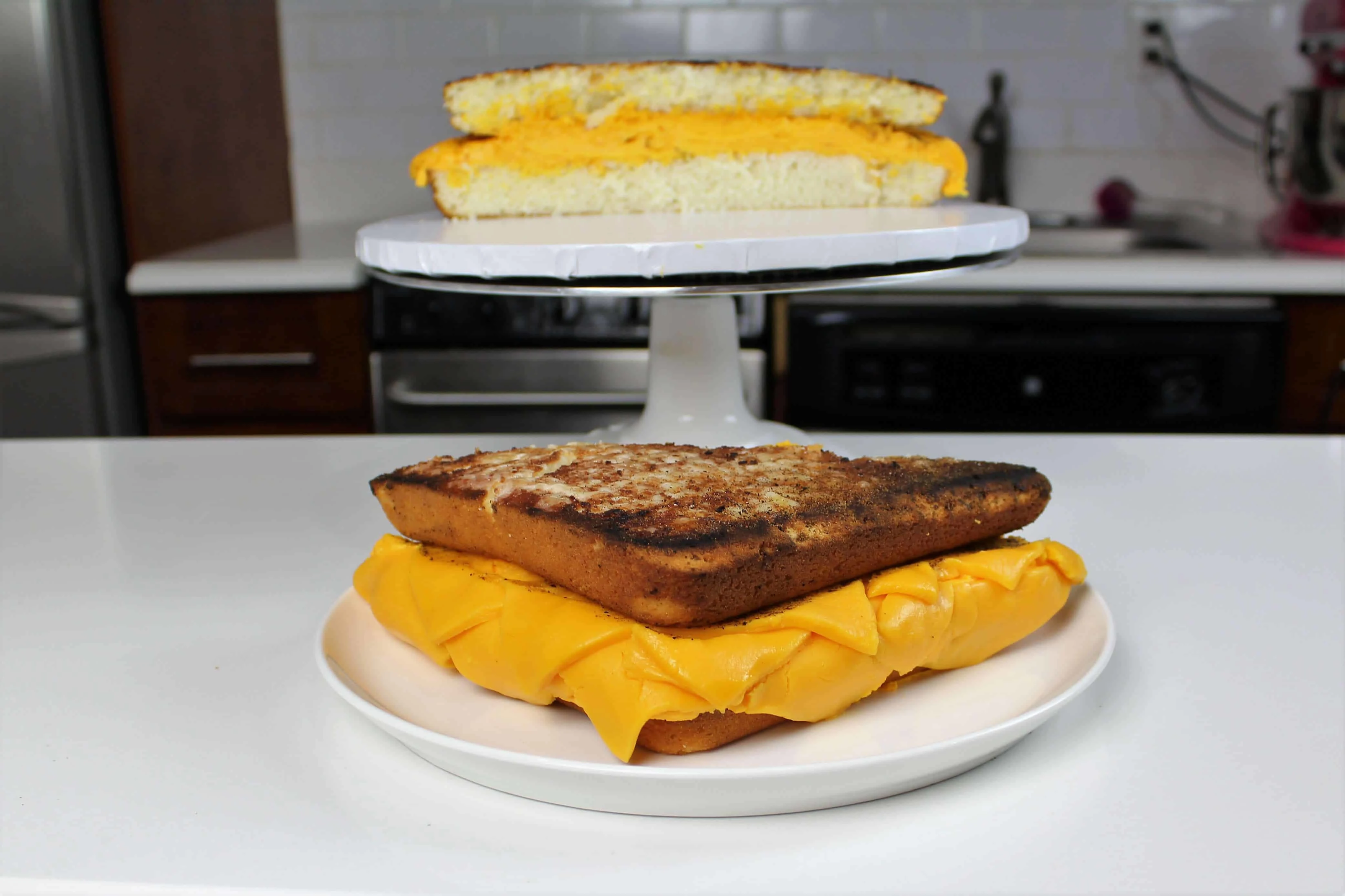 Vanilla Cake Batter:
1 1/2 cup flour
1 1/2 cups granulated sugar
1 3/4 tsp baking powder
1/2 tsp salt
1/2 cup unsalted butter (1 stick), room temperature
2 tsp. vanilla extract
1/2 cup egg whites (about 3 large egg whites)
3/4 cups buttermilk, room temperature
2 tsp. vegetable oil
Vanilla Buttercream:
2 sticks (1 cup) unsalted butter, room temperature
4 cups powdered sugar
1/4 tsp salt
1 Tbsp. heavy cream
1 tsp vanilla
yellow and orange gel food coloring
Modeling Chocolate:
16 oz. white chocolate
1/3 cup light corn syrup
yellow and orange gel food coloring
Preheat oven to 350°F. Grease and two 8? square pans.
Mix together all dry ingredients (flour, baking powder, sugar, and salt) in a stand mixer with a paddle until fully combined. Mix chunks of butter slowly into the dry mix on a low speed.
Continue to mix until no chunks of butter remain, and the mixture becomes crumbly. In a separate bowl, combine all wet ingredients (vanilla extract, egg whites, buttermilk, and vegetable oil), and whisk to combine. On low speed, add 1/3 of the liquid ingredients to the dry/butter mixture.
Mix until fully incorporated, scraping down the sides of the bowl as needed.Mix in the remaining wet ingredients in two installments, on a medium-high speed until fully incorporated.
Divide evenly between the prepared cake pans. Bake for 30-35 minutes, or until a skewer comes out clean. The edges need to be fairly brown, so that they look similar to the crust of bread!
Allow the layers to cool for 10 minutes, then run an offset spatula around perimeter of the pan to separate the cake from the pan. Place cake layers on a rack to finish cooling.
Cheese Buttercream
As the cake layers bake and cool, prepare the frosting. Beat the butter on high for 30 seconds, until smooth. Slowly add in the powdered sugar, 1 cup at a time.
Alternate with small splashes of cream. Once fully mixed, add in the vanilla and salt, and beat on medium low until the ingredients are fully incorporated, and the desired consistency is reached. If the frosting is too thick, add in cream (1 teaspoon at a time).
If the frosting is too thin, add in more powdered sugar (quarter of a cup at a time). Mix in a few drops of yellow gel food coloring, and one or two drops of orange gel food coloring.
I wanted my frosting to be the same color as slices of cheddar cheese, but if you want your frosting to be more yellow, you can omit the orange.
Cheese Slices – Modeling Chocolate
To make the modeling chocolate, place white chocolate in a heatproof bowl. Heat at 50% power for thirty second intervals, slowly stirring between each interval.
Repeat until fully melted. Let chocolate cool to about 90 degrees, or until it isn't warm to the touch when you test with your finger. Gently stir in the corn syrup with a spatula.
The mixture will seize up quickly. Once the mixture has firmed up, let it sit for about 10 minutes to allow it cool.
Then begin to knead the mixture with flexible bowl scraper, until smooth and glossy. Wrap the chocolate in plastic wrap, and place in a Ziploc bag.
Allow to rest overnight at room temperature. The following day, cut out triangles to be the overhanging cheese for the edges of the cake.
To assembly the cake, trim the tops of the cake layers, and place one layer on cake board. Add buttercream, and spread evenly.
Add modeling chocolate triangles around the perimeter of the cake. Spread a thin layer of sugar on top of the second cake layer, and broil until browned and caramelized.
Let layer cool for about 15 minutes in the fridge, then place on top of cake. Cut diagonally for the full, grilled cheese effect 🙂