It's the most wonderful time of the year. A time to come together, share new and old traditions, and of course eat some delicious desserts.
There's just something about the holidays and cookies that we can't seem to separate and frankly, why would we want to?
Over the past few years, I have perfected these 12 amazing cookie recipes and I hope that they bring joy and holiday cheer to all who get to eat some.
Of course, we are kicking off our 12 days of Christmas Cookie list with a classic! There's a reason we all crave chocolate chip cookies- because they hold all our warm Christmas memories is one perfect cookie.
These No Chill Chocolate Chip Cookie recipe comes together so fast and are absolutely delicious! They're the perfect way to quickly and easily satisfy your cookie craving.
My No Chill Chocolate Chip Cookie recipe bakes up a chewy cookie with a crisp golden-brown edge and a soft gooey centers. Santa would be lucky to get one of these cookies on his plate!
If you like a thicker chocolate chip cookie try my Cream Cheese Chocolate Chip Cookies and vegan bakers can indulge in my Vegan Pumpkin Chocolate Chip Cookie.
If you are looking to stir up some new traditions look no further than these Chocolate Cheesecake stuffed Cookies.
These decadent cookies bake up so soft and are stuffed with a sweet and creamy cheesecake filling.
With a dusting of sugar on the outside, they're completely irresistible!
I'm convinced Oatmeal Scotchies are the most underrated cookie, and I'm here to give them the love and attention they deserve!
They are soft, chewy, and loaded with butterscotch chips- so full of nutty carmely goodness.
Classic rolled oats create a unique and irresistible cookie, they're a total crowd pleaser.
Buttercream Cookies have always been my favorite cookies at any Christmas party.
These soft, chewy sugar cookies with buttercream frosting will truly knock your socks off. The secret to the melt in your mouth texture of these Buttercream Cookies is actually cream cheese!
They're not too sweet on their own, which makes them the perfect base for my sweet buttercream frosting.
While the base cookie is very classic looking it's so easy to jazz these up with some gel food coloring and some fancy sprinkles.
Forget red velvet cake, it's time for a red velvet cookie!
These soft, chewy Red Velvet Crinkle Cookies are a fun spin on the iconic cake flavor and are sure to bring all the Christmas cheer to your celebrations.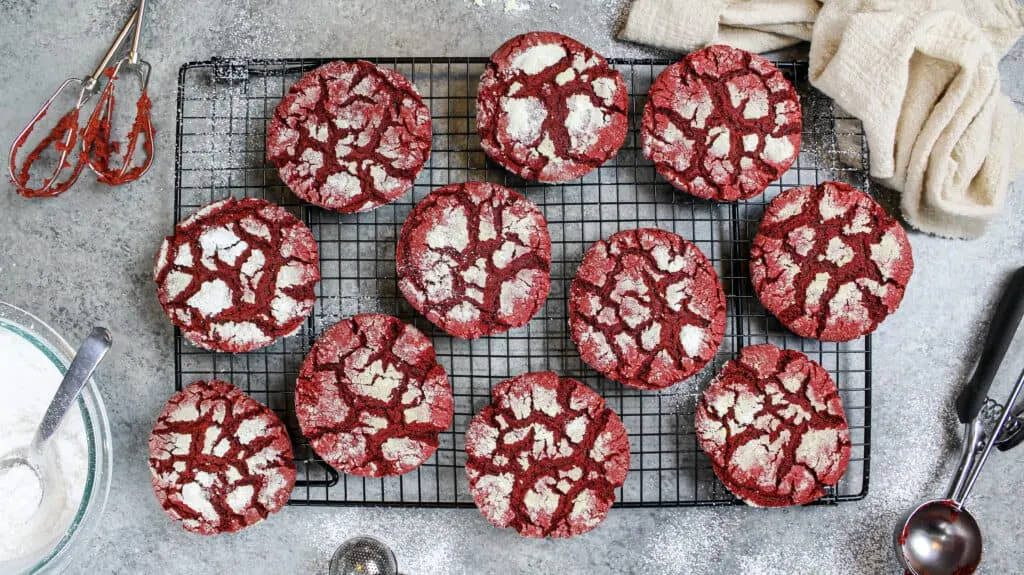 If you're dreaming of a white Christmas, these crinkle cookies with their dusting of powdered sugar will make all your Christmas wishes come true.
For all the chocolate lovers out there, these cookies were made just for you! They are truly incredible.
They really are JUST like brownies but in perfect cookie form. From their chewy, soft centers to their crispy edges, they're irresistible.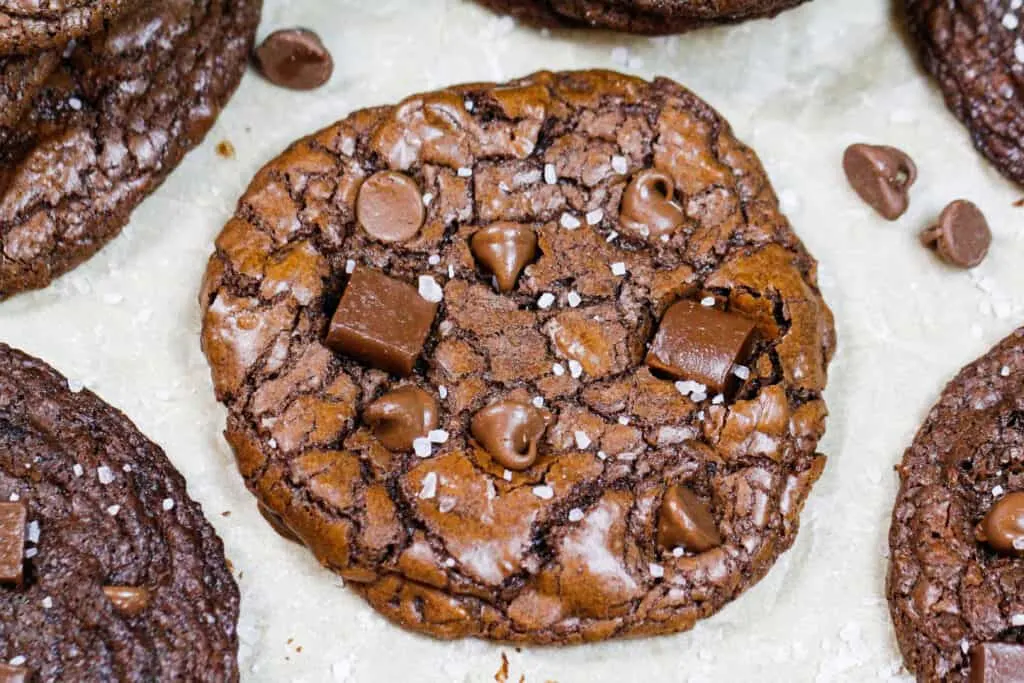 Dipped in milk, coffee, or eggnog there is no way you will be able to have just one of these dangerously delicious Brownie Cookies.
If you are looking for a cookie that is dressed to impress, then this is the cookie for you!
With beautifully marbled icing and a classic Christmas tree shape, these cookies really do taste as good as they look.
These soft, melt in your mouth cream cheese sugar cookies are topped with marbled royal icing and are worth every second you put into baking them.
These Gingerbread Macarons are adorable, delicious, and sure to brighten any Christmas party.
My French Macaron recipe will leave you with perfect crunchy and chewy shells (if you've never made them before, read my how-to blog). The Gingerbread Buttercream is spiced to perfection and will bring back all the memories of Christmas past.
Their little faces are drawn on with an edible marker and they really couldn't be cuter! If you are looking for a fun family activity this is a great one for you all to do together.
Bring a plate of these to the party and the room will be instantly filled with holiday magic.
These Chocolate Dipped Peanut Butter Cookies bring back a lot of memories for me. My grandma used to make us GIANT cookies and the nostalgia has only grown over time.
I wanted to attempt to recreate her recipe, so I developed this new slightly smaller and a little bit chewier version.
For those leaning more to the savory side, these Chocolate Dipped Peanut Butter Cookies are the perfect balance of salty and sweet.
They're soft, chewy, and oh so delicious!
These cookies really have it going on! Even with the Nutella centers and the sea salt sprinkle, the true star of this Brown Butter Nutella Chocolate Chip Cookies is in fact…the brown butter.
Browning butter only takes 5 minutes, and it will give the cookies so much depth of flavor that takes them to the next level.
With the thick and creamy Nutella filling these really are a leveled-up chocolate chip cookie.
Although they take a little extra care to make, that first bite will make it all worth it.
It seems like I can always find an excuse to whip up batches of Oatmeal Lace Cookies.
The brown sugar and butter base coat each grain of oat perfectly that bakes into a beautiful web of caramelized oat goodness.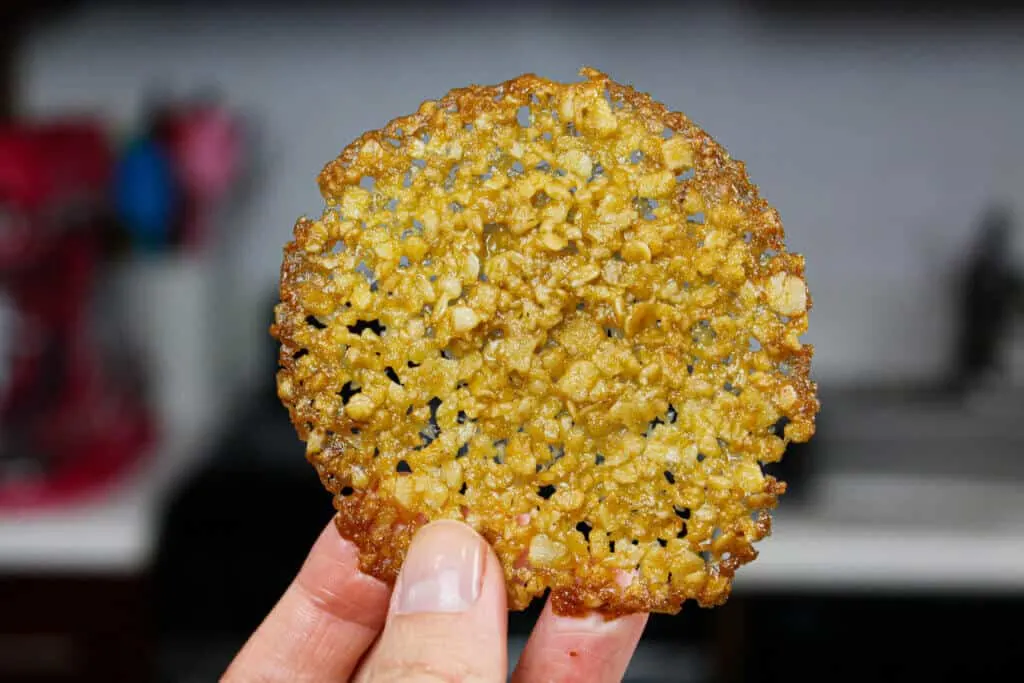 They're a super unique cookie and are truly in a league of their own. I've never had another cookie like this which is probably why I love them so much!
At the end of a long day of celebrating there is nothing like a cup of warm cocoa. I've captured all the flavors of that feeling in these Hot Cocoa Macarons.
The crisp and chewy chocolate shells filled with my Hot Cocoa Buttercream make the ultimate Christmas sweet.
I drizzled with these macarons with white and dark chocolate just to add some flair, but they really are perfect any way you serve them.
Let Me Know What You Think!
If you try any of my 12 Days of Christmas Cookies recipes from the classic Chocolate Chip Cookies to the adorable gingerbread macarons, I'd love to hear what think! Please leave a rating and let me know your thoughts by sharing a comment.
I'm so grateful for another year of sharing sweets with all of you and I hope you have a magical holiday!