I don't even need to say anything about this cake, it speaks for itself. It starts with a rich, chocolate fudge cake and is topped with a fluffy peanut butter buttercream frosting, smooth chocolate icing and of course Reese's peanut butter cups. To me, it sounds like a little slice of heaven! To make this Reese's Peanut Butter Cup Cake, you will need:
Sour Cream Fudge Cake: This is a perfect cake for stacking and sculpting because of its tight crumb and firm structure (makes two 9″ rounds)
1 1/2 cups unsweetened cocoa powder, plus more for dusting
3 cups all purpose flour
1 Tablespoon baking soda
1 teaspoons Kosher salt
1 1/2 teaspoons baking powder
3 cups granulated sugar
3/4 cups vegetable oil
1 cup regular sour cream
1/2 cup lowfat milk
1 1/2 teaspoons vanilla extract
3 large eggs
1 1/2 cups hot coffee
Chocolate Frosting
2 1/2 sticks unsalted butter, softened
1 cup confectioners' sugar
3/4 cup unsweetened cocoa powder
1/2 teaspoon kosher salt
3/4 cup light corn syrup
1 teaspoon vanilla extract
8 ounces semi-sweet chocolate, melted and cooled slightly
8 oz. cream cheese, softened
Fluffy Peanut Butter Frosting
2 sticks unsalted butter, softened
8 oz. cream cheese, softened
1 1/2 cups creamy peanut butter
1 teaspoon kosher salt
3 cups confectioners' sugar
2 12 oz. packages Reese's minis, unwrapped and chopped (for middle layer and garnish).
I know it seems like a lot of ingredients, but I bet you already have a majority of them in your pantry! I also want to say that this recipe is pure genius, and that I knew it would be a winner when I saw that it included coffee and sour cream in the batter.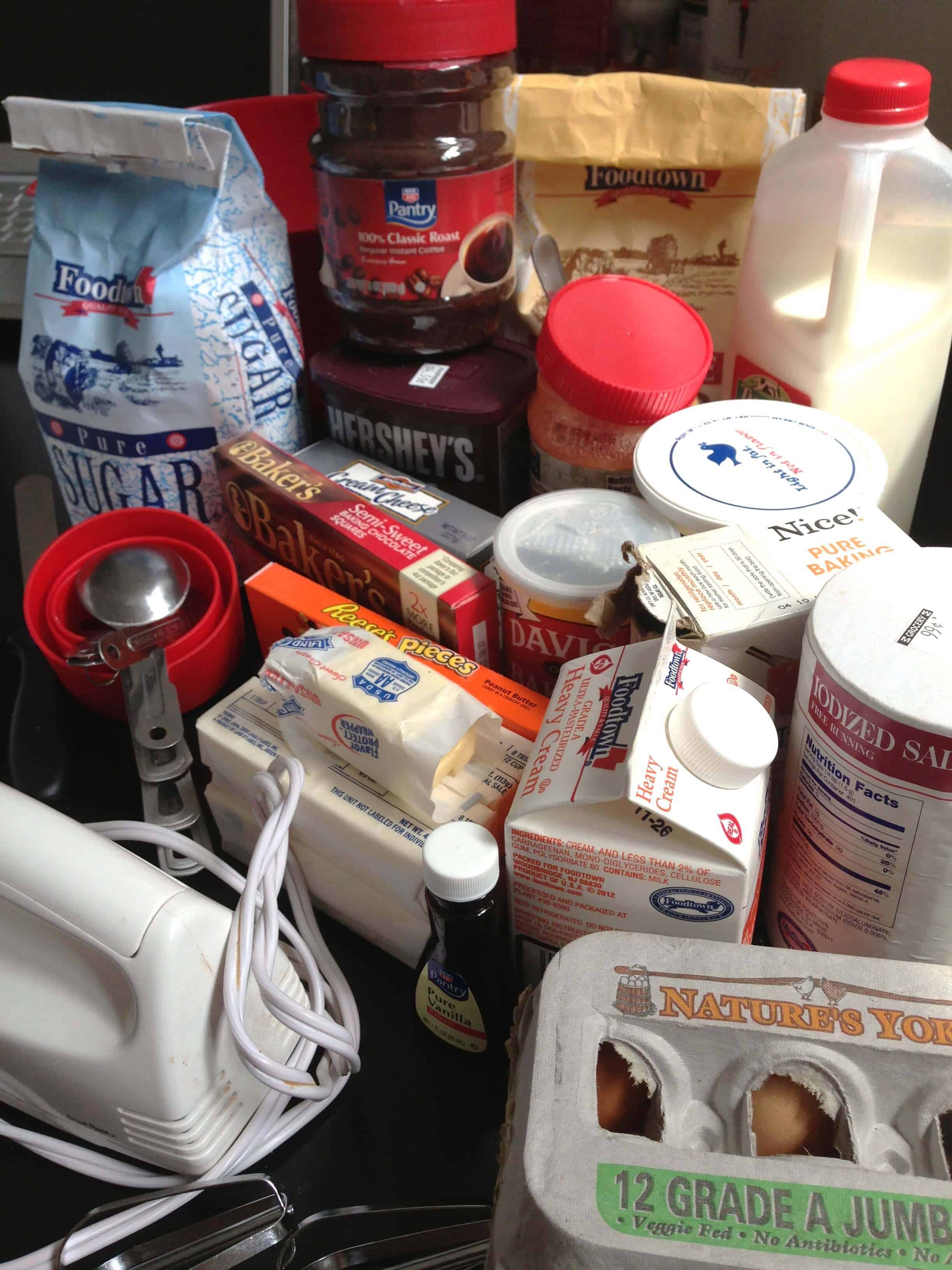 For the Sour Cream Fudge Cake, I started off preheating my oven to 350 degrees, buttering my 9 inch cake pans, lining them with parchment paper rounds, and buttering the paper. I then dusted the entire interior of each pan with cocoa powder. Then I got started on the actual cake batter, and sifted the flour, baking soda, salt, cocoa, and sugar into my mixing bowl. In a separate bowl I mixed my wet ingredients, which included the eggs, oil, milk, sour cream, cooled coffee, and vanilla. I then added my wets to my drys in three installments, and beat until everything was incorporated. I poured the batter into the two pans and let them bake for about 50-55 minutes, until a toothpick came a clean. I then let them cool in the pans for about 20 minutes, and removed them to let them finish cooling on a wire rack.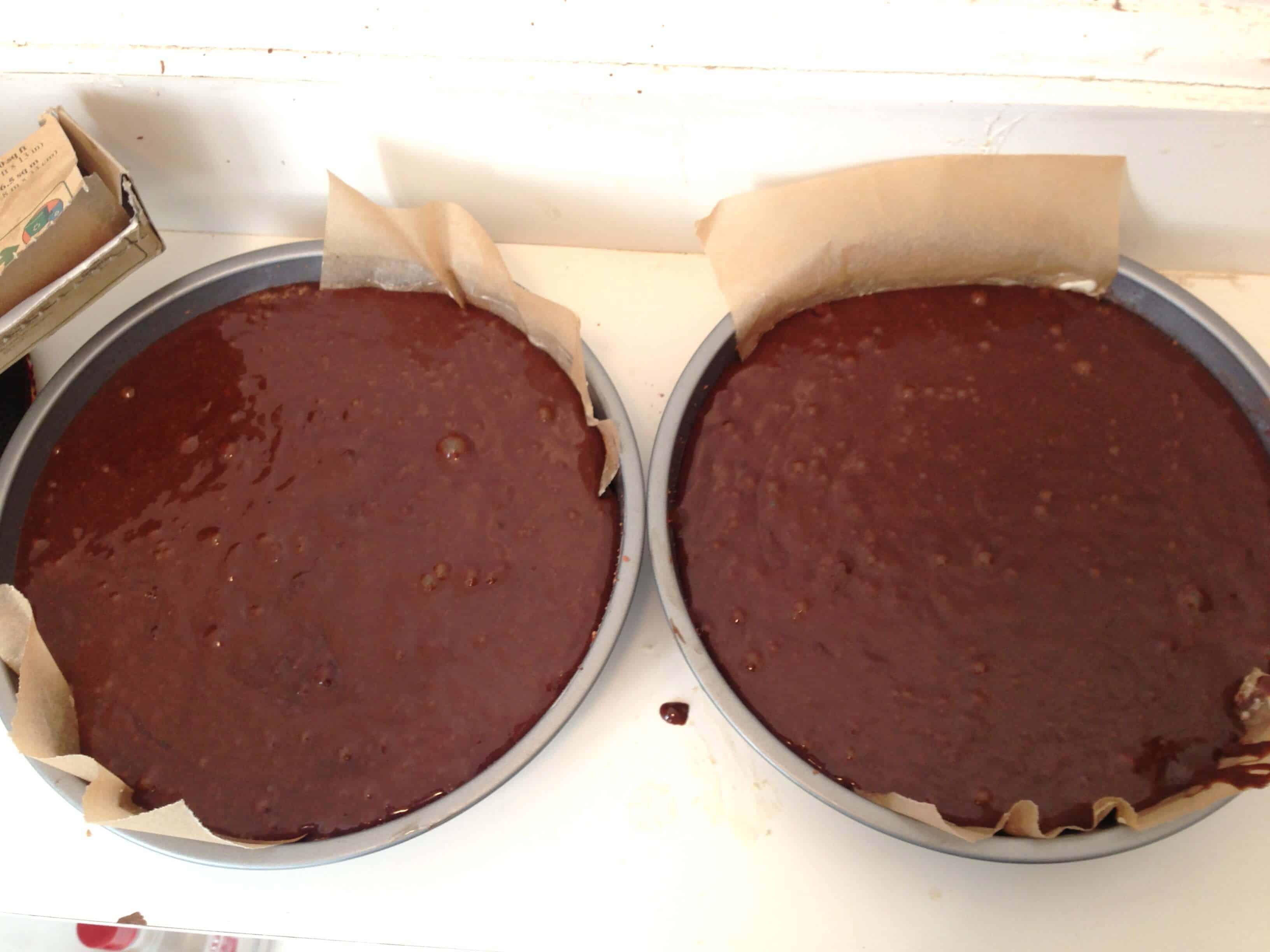 As the cakes were baking, I got started on the frosting. I made the chocolate frosting first, and mixed together the butter, cream cheese, sugar, cocoa, and salt until it was smooth.
I then added the corn syrup (this gives the frosting it's luscious gloss) and vanilla and process until just combined. The last step was to pour in the melted chocolate, and mix until smooth and creamy.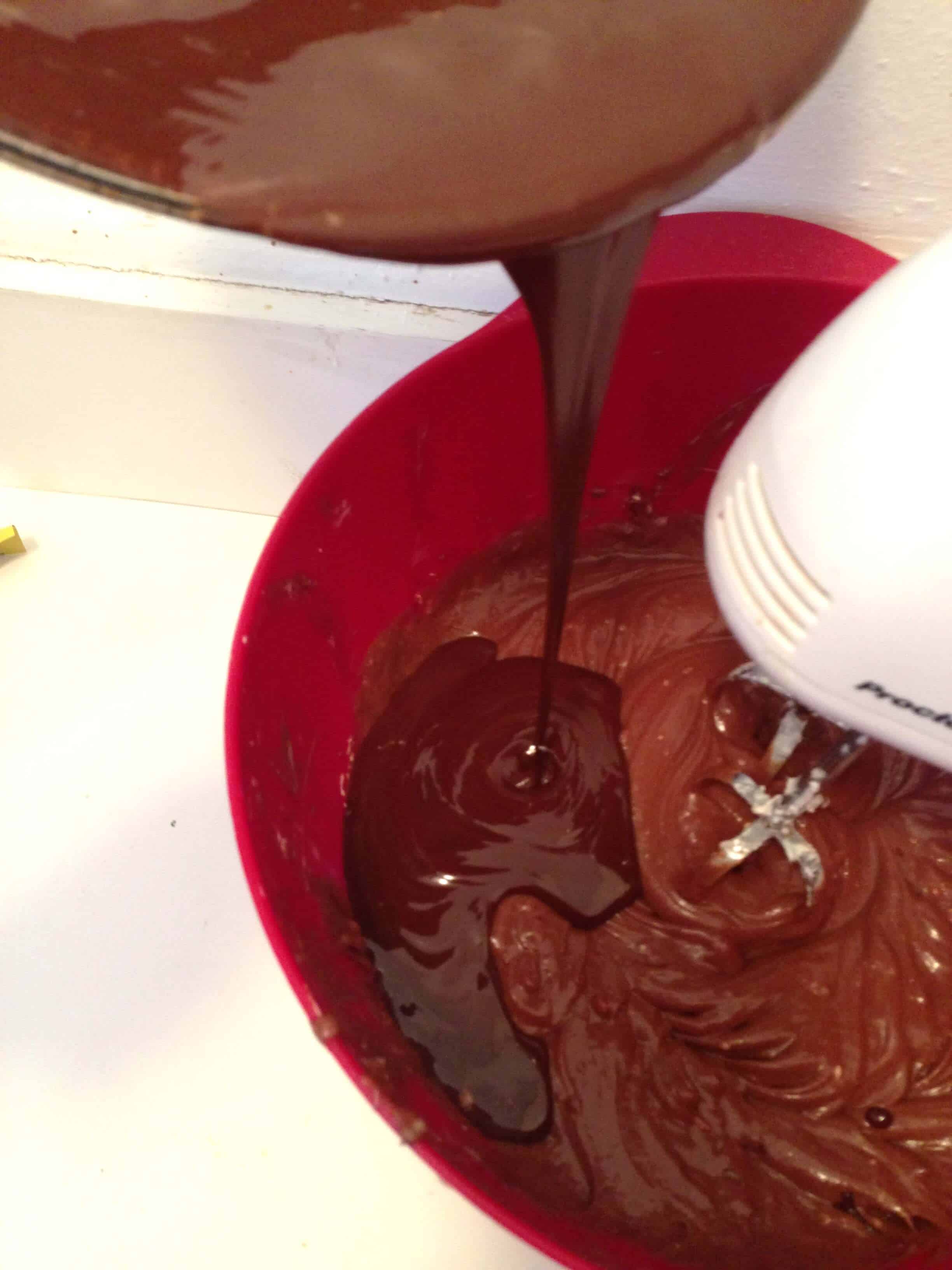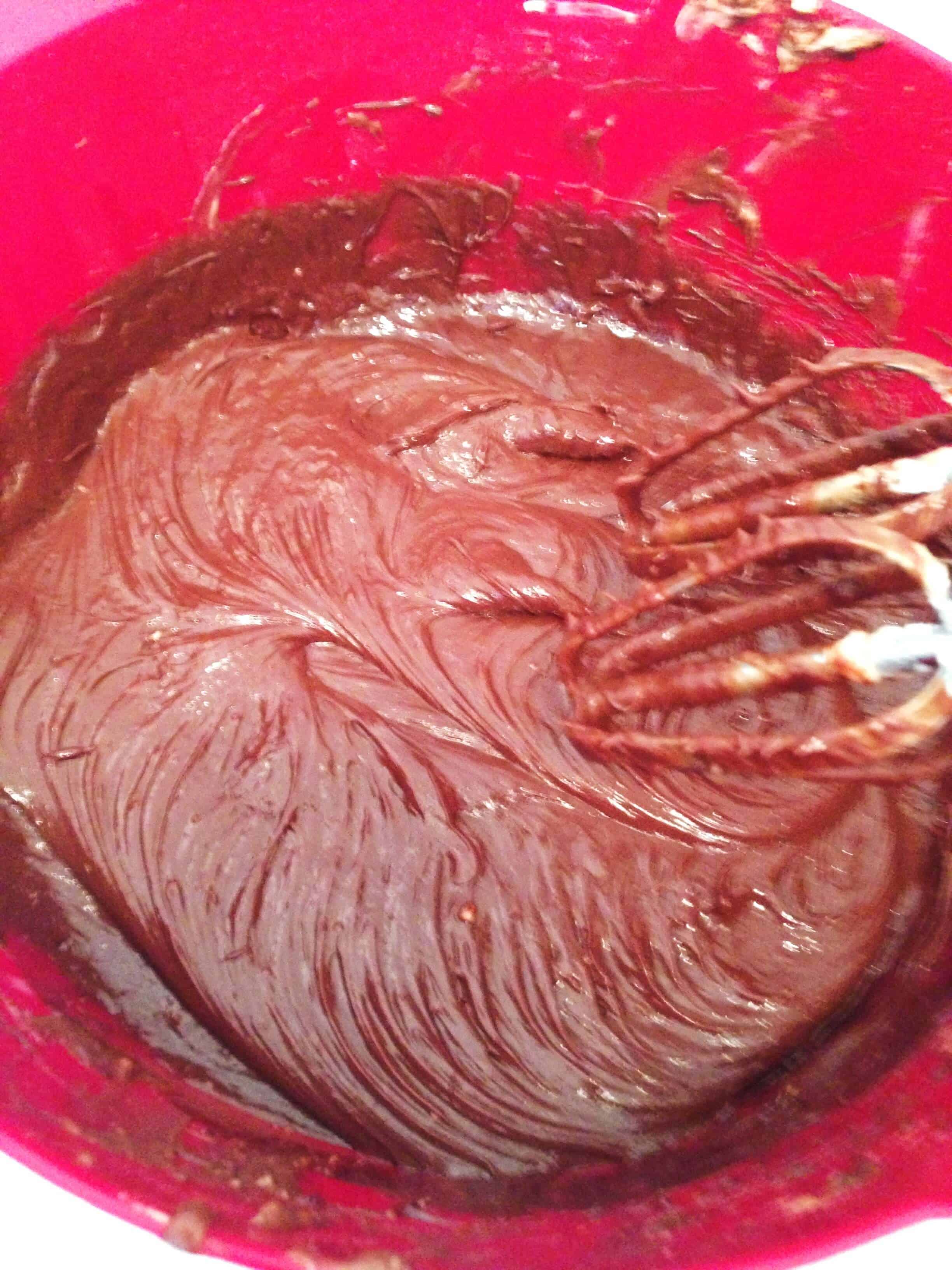 For the peanut butter frosting, I whipped the cream cheese, butter, peanut butter, and salt on a low speed until it was combined. I then added the confectioners' sugar, one cup at a time.
Once all the sugar had been incorporated, I bought the speed up to high and whipped until it was light and fluffy.
Note: The ingredients may appear to separate at first, but it's ok! Continue to whip air into the frosting to emulsify the fats and achieve a smooth, fluffy texture; it can take up to five minutes.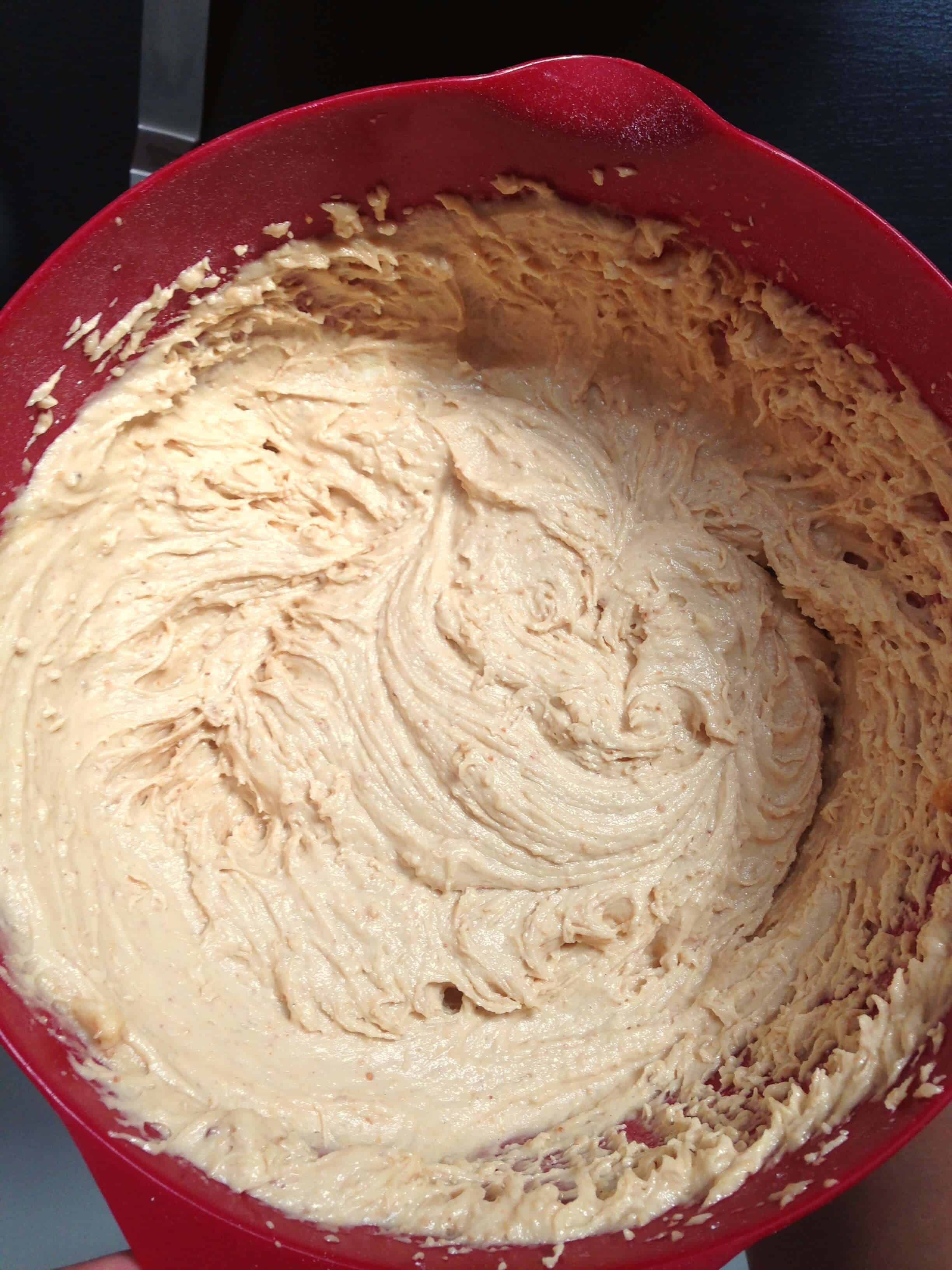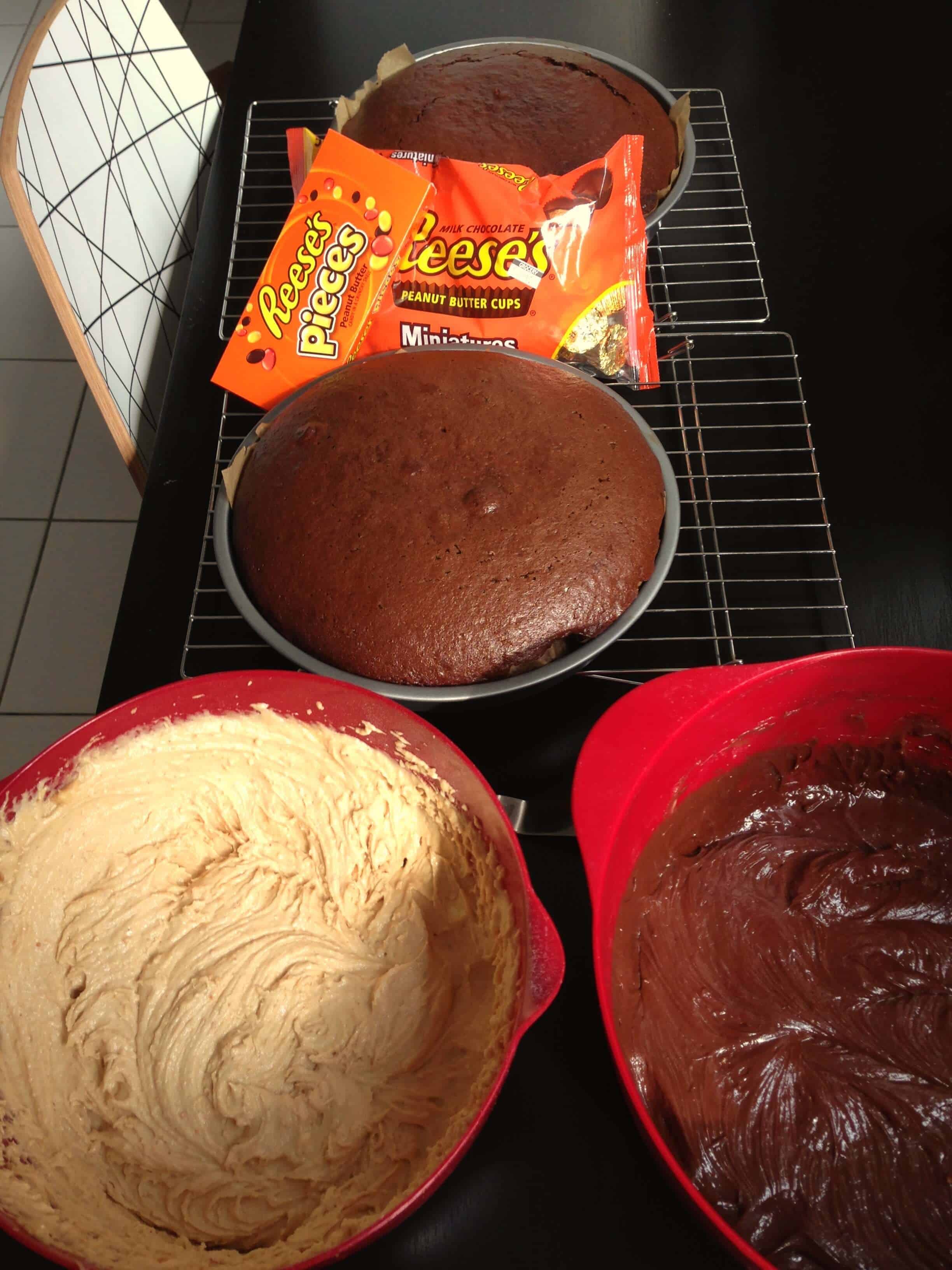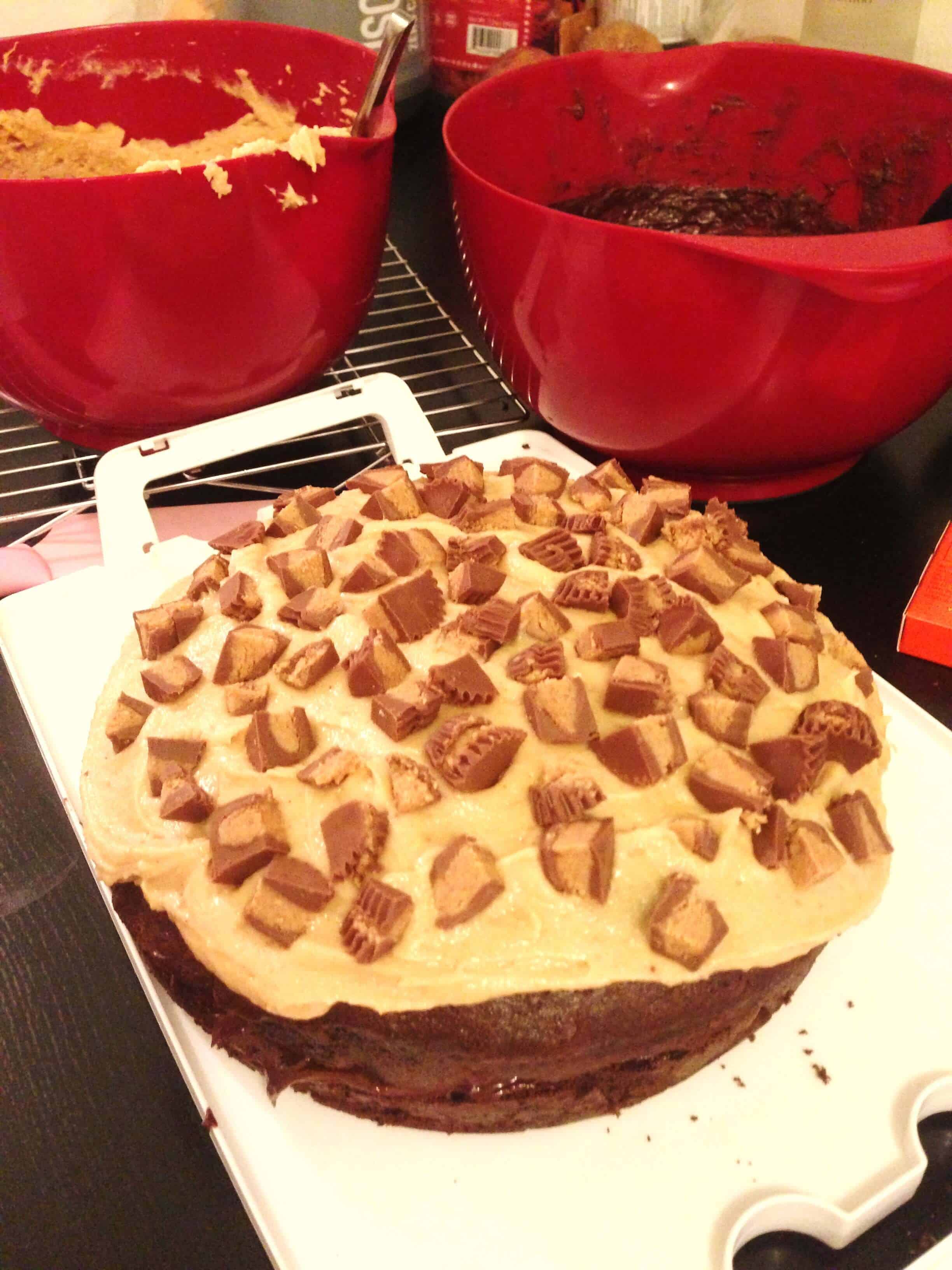 Then came the fun part, the assembly!! I cut each cake in half for four even layers. I placed one of the bottom layers on a tray I would be using to transport the cake to work.
I spread half of the chocolate frosting evenly on the first layer, then set the second layer on top. On second layer, I spread 1/2″ of peanut butter frosting. I then sprinkled the entire surface of frosting layer with chopped Reese's.
I lightly pressed the candy into the frosting. Next I placed the third layer on top, and evenly spread the remaining chocolate frosting onto it. I then placed the final layer of cake on top.
I recommend using one of the "bottom" pieces of cake and flipping it over so that the smooth bottom becomes the top of the cake.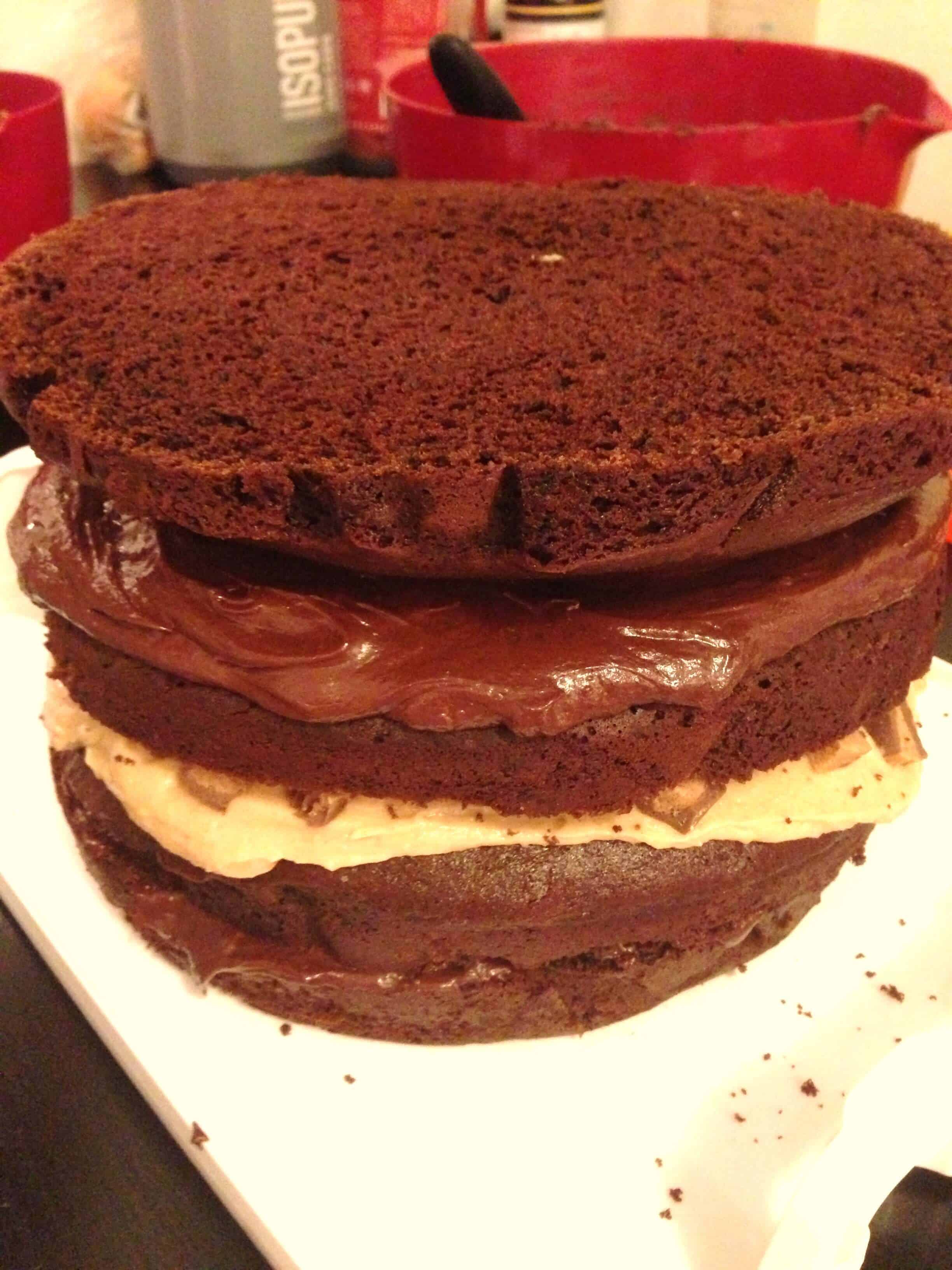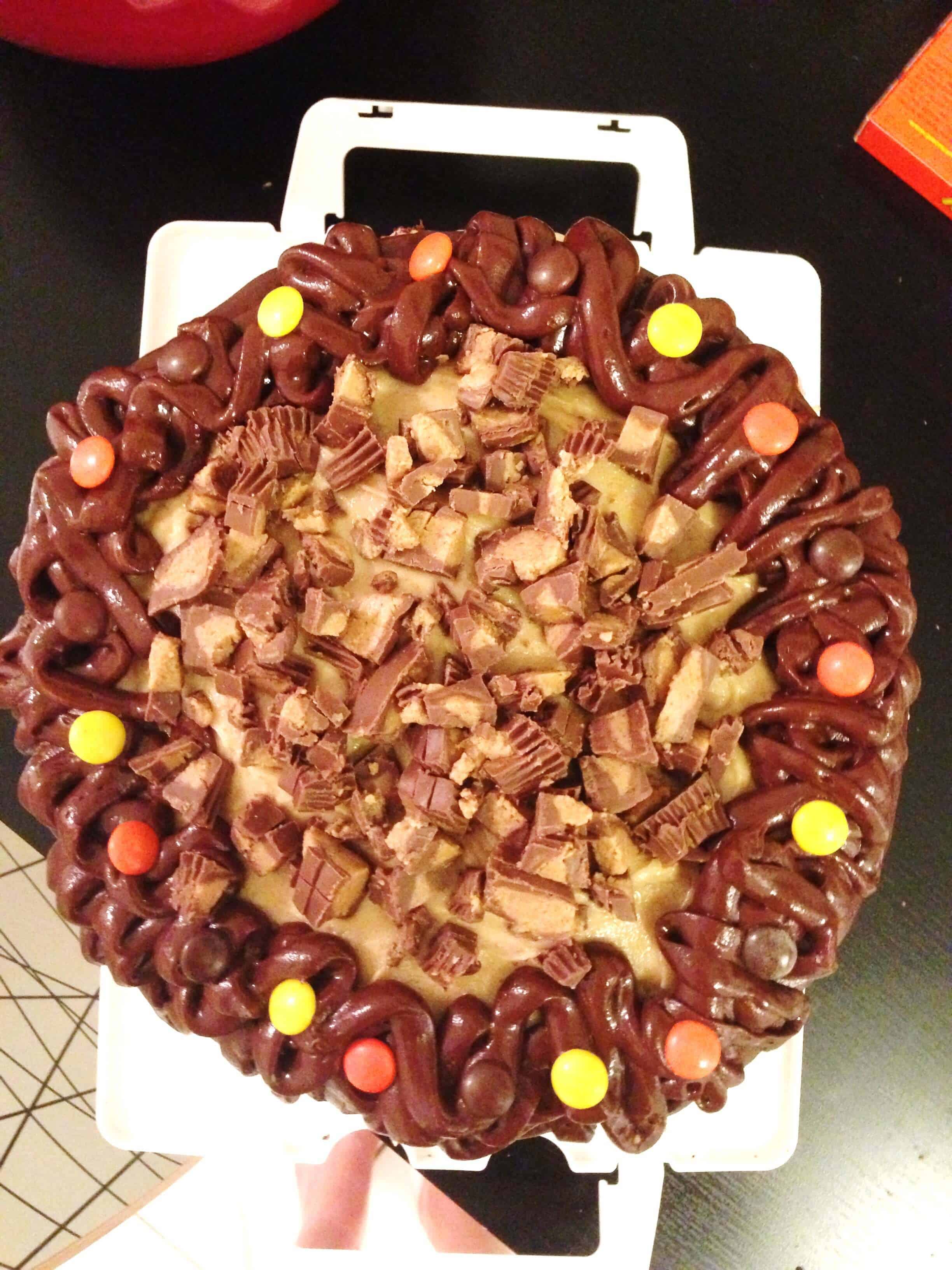 I then frosted the exterior of the cake with the peanut butter icing. I pressed slivers of chopped Reese's along the bottom rim of the cake, and then sprinkled the remaining Reese's peanut butter cups on the top of the cake.
Next I put the remaining chocolate frosting into a piping bag, and drizzled it in a ring around the top of the cake. I then placed some Reese's Pieces on top of the chocolate drizzle!
Then the REALLY hard part came. I had to let this Reese's peanut butter cup cake sit in my fridge overnight until work the next day. It was definitely a winner!!