For this week's live stream for the Food Network, I decided to make a chocolate overload cake. Why? Because (pretty much) everyone loves chocolate!! Including me. Since I was going to cover this cake with ganache, I wanted to use a great chocolate sponge cake recipe. My chocolate cake recipe is bit dense to be paired with ganache, so I tried out Yolanda Gampp's chocolate cake recipe, leveled my layers, and soaked them in simple syrup. It tasted AMAZING with the rich ganache. I then added a few chocolate ganache drips, and loaded up the top of the cake a semicircle of chocolate treats. The full tutorial can be seen here. The recipes used can be found below:
Chocolate Cake:
Chocolate Ganache Filling (3:1 ratio):
3/4 cup heavy cream (about 6 oz.)
3 cups milk chocolate chips (18 oz.)
Chocolate Ganache Drips (1:1 ratio):
1/2 cup heavy cream (about 4 oz.)
1/2 cup dark chocolate chips (4 oz.)
Instructions:
Preheat oven to 350°F. Grease and line four 7" round pans. Prepare chocolate cake batter.
Divide evenly between the prepared cake pans. Bake for 35 minutes, or until a skewer comes out clean. Allow to cool for 10 minutes, then run an offset spatula around perimeter of the pan to separate the cake from the pan. Place cake layers on a rack to finish cooling.
To accelerate the cooling process, I like to pop my cake layers in the freezer once I've removed them from the cake pans. Once the layers are fully chilled, remove from freezer and trim off the domes of the cake using a serrated knife. Add a generous amount of simple syrup (1 part sugar, 1 part water, boiled and cooled) evenly across the cakes. I used a sterile, 2.5 inch wide paint brush to ensure even distribution.
While the layers bake and cool, prepare the two different types of ganache. The process is the same for both. Heat the cream until it just begins to bubble over a medium heat, then pour into two heat proof bowls (3/4 cup into one, 1/2 cup into the other). Gently pour the proper amount of chocolate into each bowl (12 oz. into one, 4 oz. into the other). Let this sit for about 90 seconds, then gently stir until the chocolate is fully melted, and no chocolate bits remain.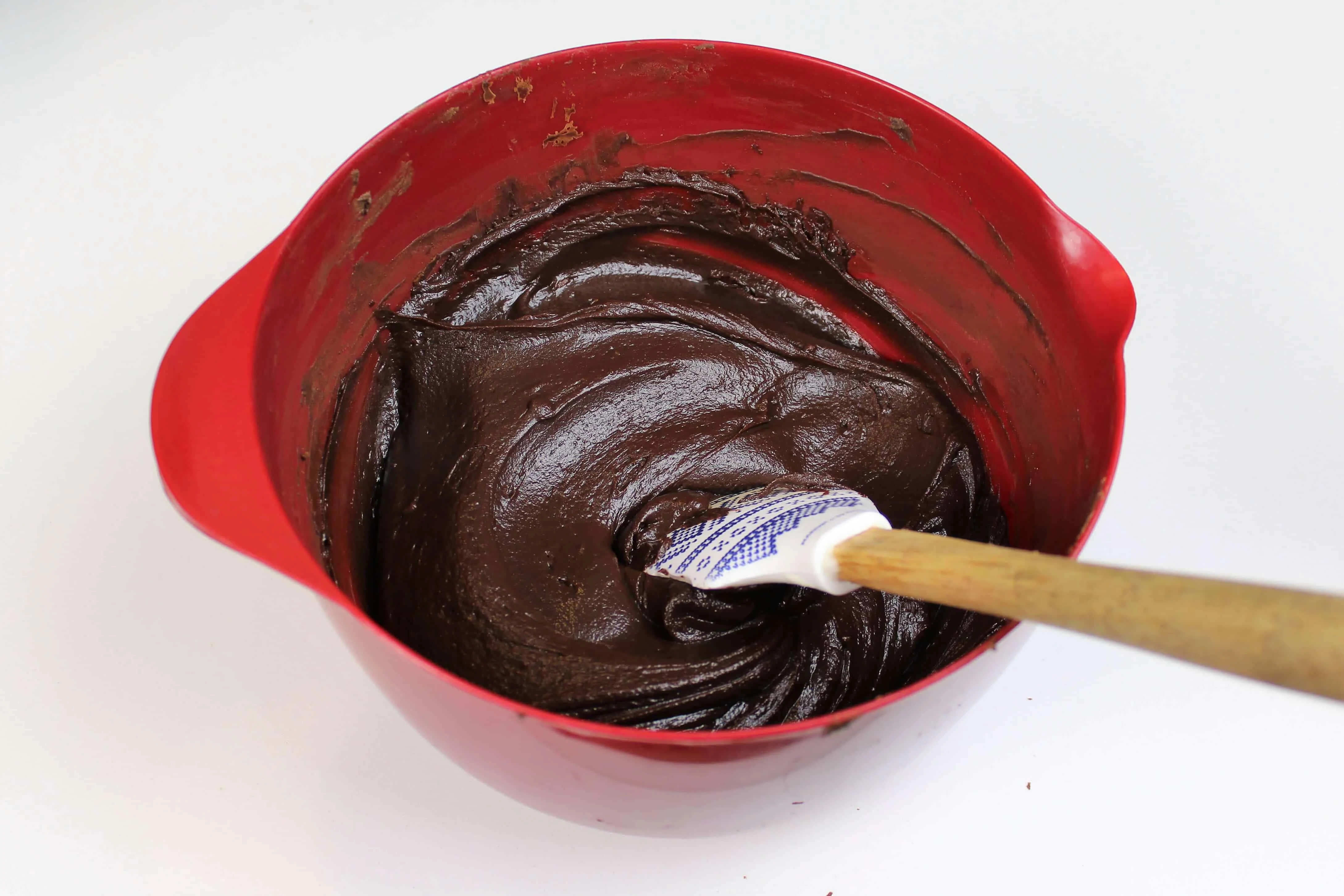 Allow the ganache filling to cool to room temperature, and pour the chocolate ganache drip recipe into a plastic squirt bottle.
Once the cake layers are fully cooled, assemble the cake. Stack and evenly cover the layers with chocolate ganache.
Press down firmly on the top layer with your hand, to make sure there's no air stuck between the layers. Cover cake with a thick layer of ganache, and smooth with a bench scraper. Place in freezer for 5 minutes to allow the frosting to chill. Add on some chocolate ganache drips, then decorate the top of the cake with anything and everything related to chocolate! I used a bit of frosting I had leftover from a different cake to help secure the toppings onto the cake.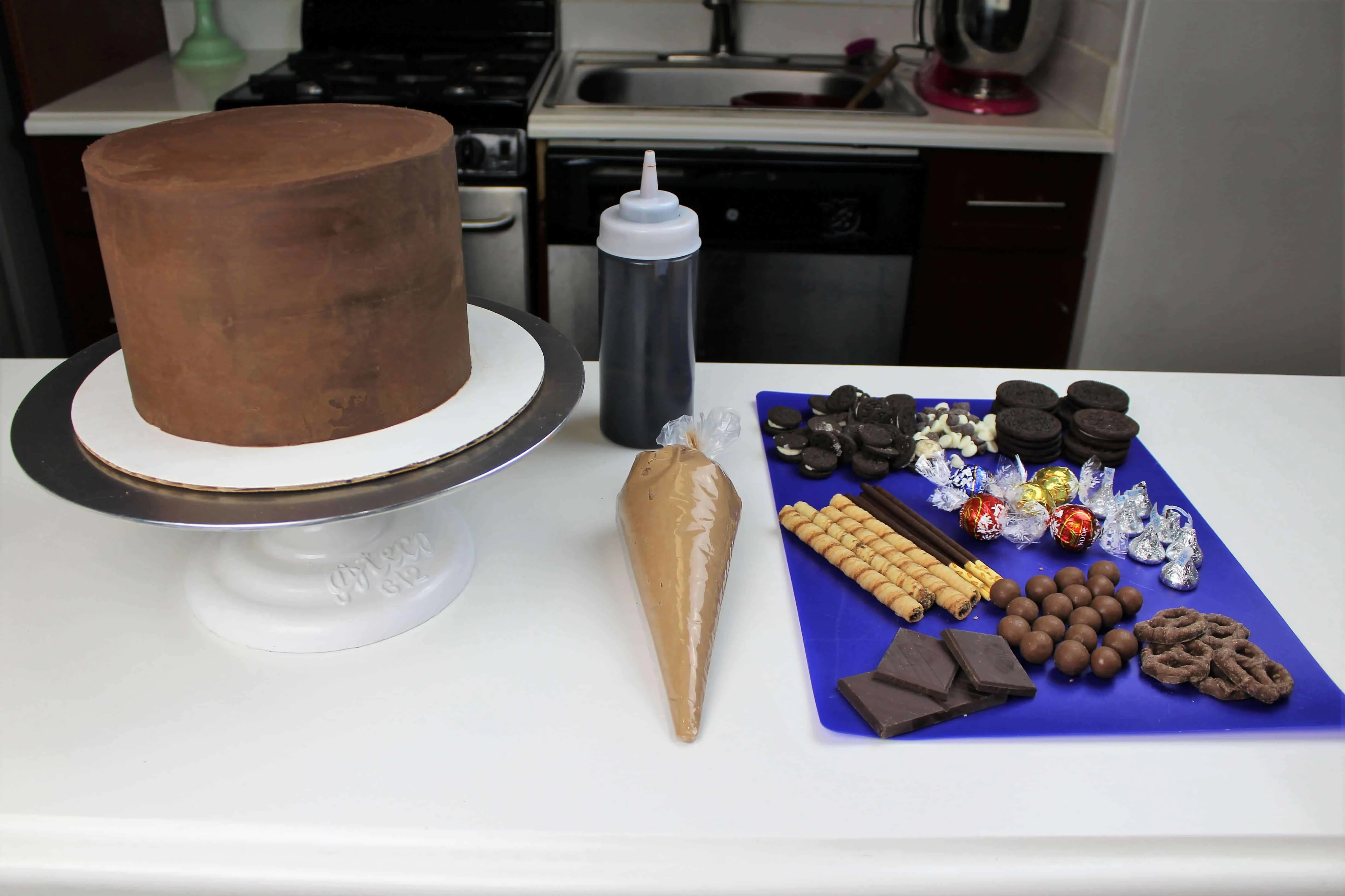 I used chocolate bars, oreos, malted milk balls, chocolate pocky, chocolate chips, kisses, truffles, and some chocolate covered pretzels!
You can get creative with this part, and top the cake with your favorite items, or whatever you have on hand. The last step is to cut in and enjoy 🙂