This week I made these adorable mushroom cupcakes to celebrate the third episode of my digital series with the Food Network!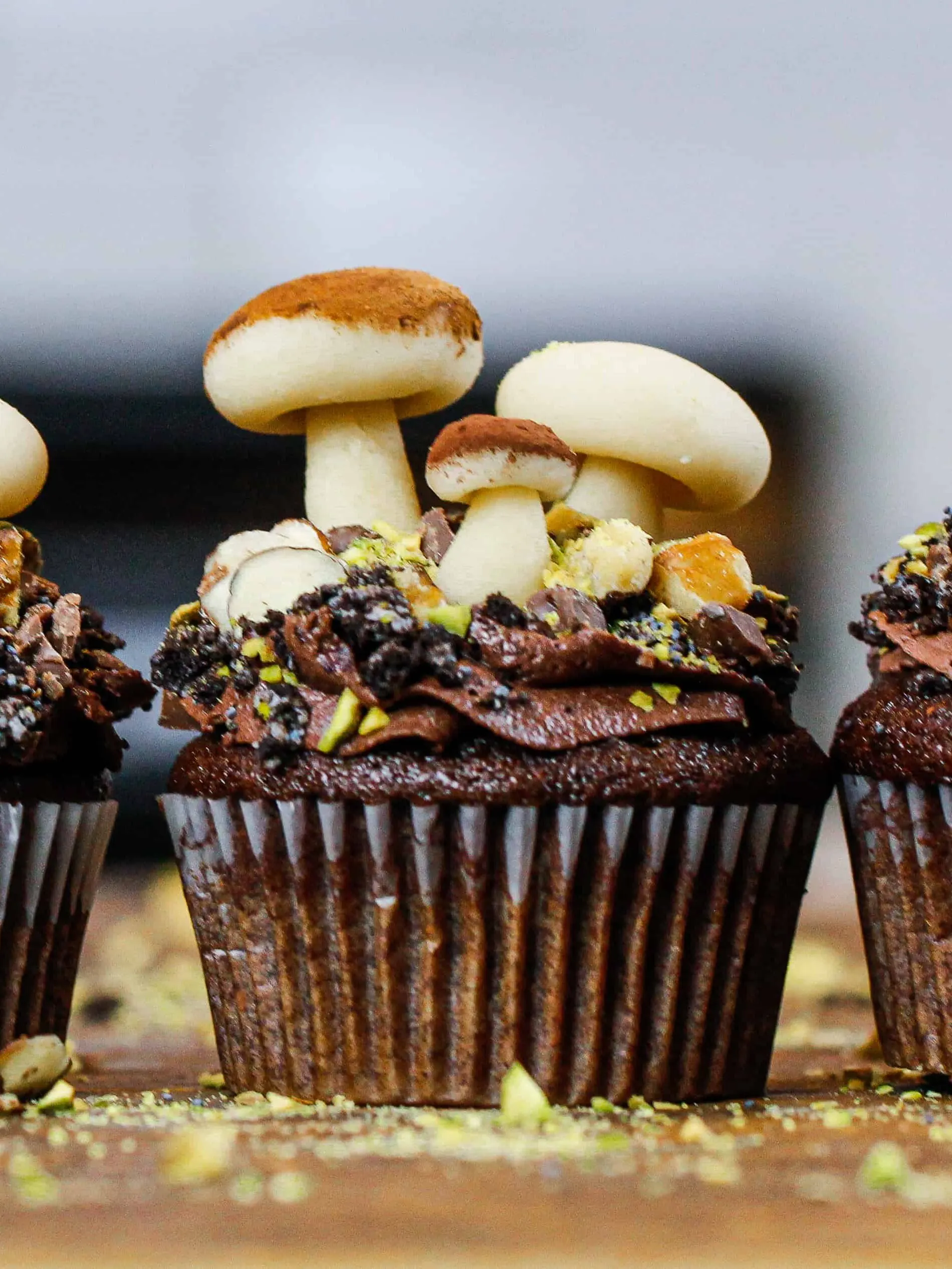 It's kind of like dirty jobs, but all the jobs are in the food industry. In this episode I got to work as a mushroom farmer at Phillips Mushroom Farms!
The Phillips farm has been family owned for over 90 years, and has turned Kennett Square Pennsylvania into the mushroom capital of the world.
The digital series is being shared on the Food Network Kitchen app, which is actually free for anyone who has amazon prime!
To get your free subscription, search the Food Network Kitchen app on your Fire TV or Fire tablet and install the app. Click Activate now, choose a renewal option and log in with your Amazon information.
They also offer a free 60-day trial, so you might as well download the app!!
Decorating These Mushroom Cupcakes
As I decorated these mushroom cupcakes, I wanted them to look just like a little piece of the forest!
This meant lots of moist, rich dirt, a bit of green moss, and of course some adorable mushrooms.
To bring this idea to life, I used a few different toppings. Crushed oreos, poppy seeds and some sliced almonds on top of the chocolate frosting make it look like moist, nutritious soil.
A sprinkle of chopped pistachios added a pop of color and reminded me of soft, fluffy moss that I grew up seeing in the PNW.
The final piece de resistance were the little mushrooms! To keep things simple, I shaped them using marzipan. It's the perfect color and is easy to work with.
I'm not the biggest fan of fondant, so I love using marzipan for small details like this when I can!
I made the mushrooms a variety of sizes and added 2-3 mushrooms to each cupcake.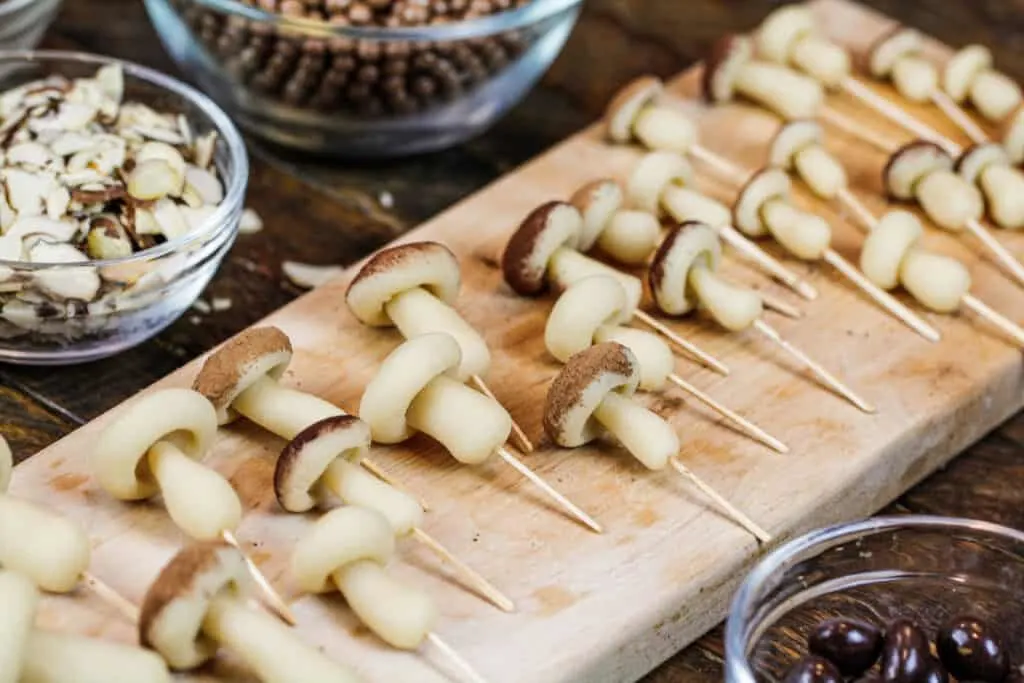 While I chose to decorate my cupcakes this way, feel free to get creative and use other toppings! You can make your forest floor look however you like 🙂
You can also use other ingredients like fondant or meringue to decorate them!
Substitutions and Swaps – Chocolate Cupcakes
These mushroom cupcakes use quite a few ingredients and I know you might not have all of them on hand. Or if you have food allergies or restrictions, I've got you covered.
Below are some swaps and substitutions that you can make:
Chocolate Chips – You can use milk, dark or semi-sweet chocolate to make these chocolate cupcakes! Just be sure it's a good quality chocolate, so it will melt down smoothly.
Buttermilk – You can also use full fat yogurt, sour cream, whole milk, or an alternative yogurt or milk (almond, soy, oat) if you're dairy free.
Instant Espresso or Coffee – This ingredient is optional, so if you hate coffee you can omit it. However, you can't really taste the coffee once the cupcakes are baked! I just like adding a bit of coffee because it enhances the chocolate flavor.
All Purpose Flour – This recipe turns out best with AP flour, but you can use a gluten free flour blend (be sure to also follow my tips below) or cake flour if that's all you have on hand. I don't recommend using straight almond flour though!
Granulated Sugar – I do not recommend reducing the amount of sugar or changing the type of sugar, as it will change the texture of these cupcakes.
Vegetable Oil – You can use any flavorless oil in this recipe. Canola or sunflower oil would work great!
Eggs – If you have an egg allergy you can use 2 flaxseed eggs or 1/2 cup of unsweetened applesauce.
Vinegar – This recipe needs a bit of vinegar because it uses baking soda as a leavening agent. The vinegar activates the baking soda and helps the cupcakes rise. You can use white or apple cider vinegar.
Substitutions and Swaps – Chocolate Buttercream Frosting
Unsalted Butter – If you only have salted butter on hand you can use it in place of the unsalted butter. Just be sure to omit the salt that this frosting recipe calls for. You can also use vegan butter in its place!
Heavy Cream – Whole milk or alternative milk (soy, almond, oat) will work fine in this frosting recipe if that's what you have on hand.
Vanilla Extract – Other extracts can also be used in place of the vanilla extract. Feel free to use coconut extract, hazelnut extract, or even pistachio extract.
Dark Chocolate – you can use milk, dark or semi-sweet chocolate to make this chocolate frosting! Just be sure it's a good quality chocolate, so it will melt down smoothly.
Nuts – I decorated the top of these cupcakes with a ton of different nuts, but if you have a nut allergy you can use alternative toppings! Try crushed graham crackers, chocolate rocks, or chunks of dark chocolate.
Tips for Making The Best Mushroom Cupcakes:
Make your own buttermilk if you don't any! Add 1 Tbsp of lemon juice or vinegar to 1 cup of whole milk.
Be sure to properly measure your flour (spoon into the cup measure then level) or use a kitchen scale to measure your dry ingredients.
Ingredients at room temp mix together better, so be sure you set out any cold ingredients ahead of time.
Mix your cupcake batter just until the ingredients are incorporated. This will ensure your cupcakes are tender and fluffy.
Insert a tooth into each mushroom stem to help them stay together and make them easier to stick onto each cupcake. When it comes time to eat the cupcakes, you can eat the mushrooms off the toothpick almost like a little dessert appetizer.
One batch of batter can be also be used to make one 9×13 inch forest themed mushroom sheet cake. Bake it at 325F for 33-38 minutes.
Make these mushroom cupcakes vegan or dairy free! Use your favorite type of dairy free milk to replace the buttermilk and heavy cream, and use vegan butter sticks in place of the butter.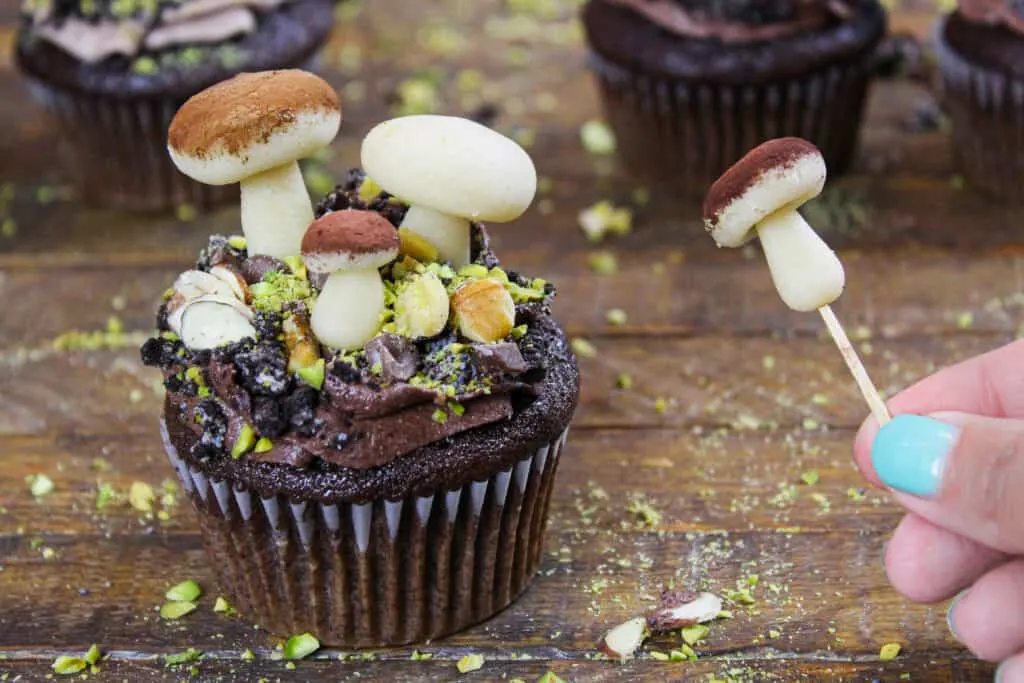 Let Me Know What You Think!
If you try making these mushroom cupcakes, I'd love to hear what think of them! Please leave a rating and let me know your thoughts by sharing a comment.
Also please tag me @chelsweets! Use the #chelsweets so that I can see your amazing creations on social media.
Other Recipes You Might Like:
Yield: 12
Mushroom Cupcakes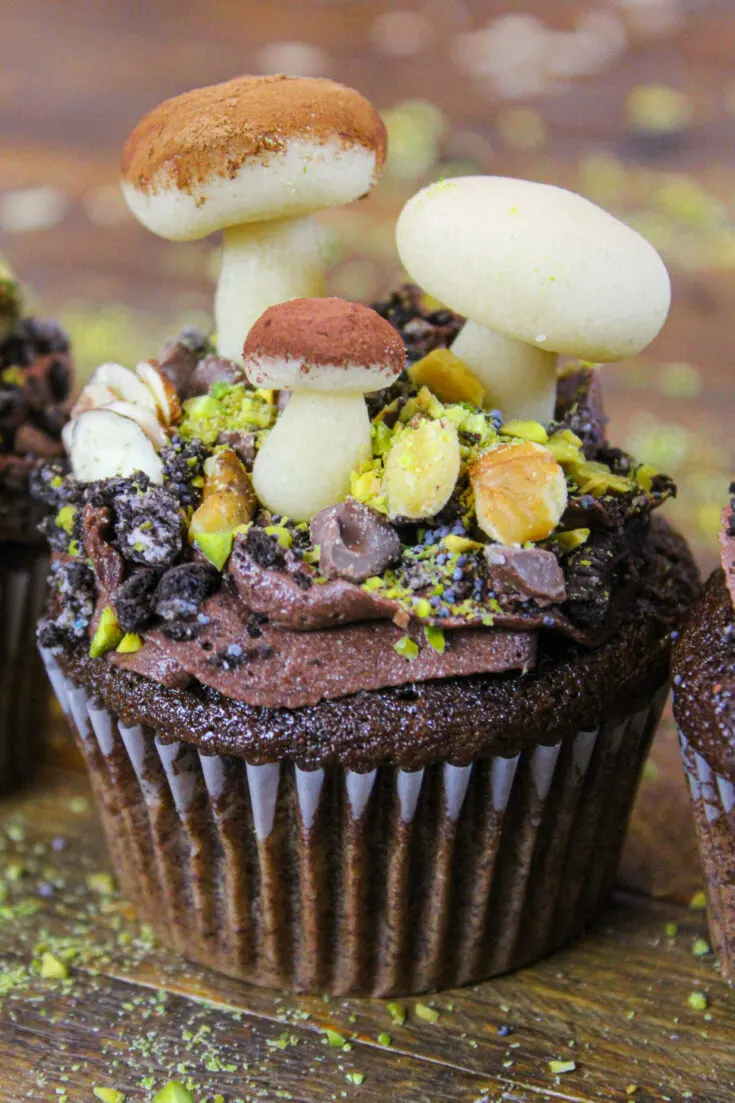 These mushroom cupcakes are made with moist chocolate cupcakes, and are decorated with marzipan mushrooms to just like an adorable forest terrarium!
Additional Time
45 minutes
Total Time
1 hour
13 minutes
Ingredients
Chocolate Cupcakes
3/4 cup buttermilk (170 grams)
1/3 cup milk or dark chocolate chips, melted (57 grams)
1 tsp instant espresso or coffee (2 grams)
3/4 cup all purpose flour (98 grams)
3/4 cup granulated sugar (150 grams)
1/3 cup baking cocoa powder (32 grams)
1/2 tsp salt (2 grams)
1/2 tsp baking soda (3 grams)
1/3 cup vegetable oil (73 grams)
2 large eggs, room temperature (114 grams)
1 tsp white vinegar (4 grams)
1 tsp vanilla extract (4 grams)
Chocolate Buttercream Frosting
1/2 cup (or 1 stick) unsalted butter, room temperature (113 grams)
1 tsp vanilla extract (4 grams)
1/2 tsp salt (2 grams)
1 1/2 cups powdered sugar (188 grams)
1/4 cup heavy cream (60 grams)
1/2 cup melted dark chocolate, cooled (90 grams, 4 oz.)
Additional Decorations
1/2 cup crushed oreos
1/4 cup of chopped pistachios
1 8 oz. package of marzipan
Instructions
Chocolate Cupcake Recipe:
Begin by preheating oven to 350°F (175°C), and place 12 cupcake liners in cupcake pan.
Add 3/4 cup of buttermilk, 1/3 cup melted chocolate chips, and 1 tsp instant espresso powder into a heat proof bowl. Heat in the microwave at power level 7 for 1 minute or over a double boiler until the chocolate has melted.
Whisk together until the ingredients have combined, making sure all the chocolate is melted. The mixture might look a little separated, but it will come together once you add in your dry ingredients.
Sift the dry ingredients into the wet ingredients (3/4 cup all purpose flour, 3/4 cup granulated sugar, 1/3 cup cocoa powder, 1/2 tsp salt and 1/2 tsp baking soda) into chocolate espresso mixture, and stir until combined.
Scrape the sides and bottom of the bowl as needed with a spatula.
Add 2 large eggs, 1/3 cup vegetable oil, 1 tsp vinegar, and 1 tsp vanilla, and mix just until the batter is smooth.
Fill cupcake liners 3/4 full and bake for about 18-19 minutes, or until a toothpick comes out with a few moist crumbs.
Allow the cupcakes to cool for 5 minutes in the pan before moving them to a cooling rack to finish cooling.
Chocolate Buttercream:
Beat 1/2 cup of unsalted butter on a medium speed for 30 seconds with a paddle attachment, until smooth.
Mix in 1 tsp vanilla extract and 1/2 tsp salt on a low speed.
Slowly add in 1 1/2 cups powdered sugar in two installments. Add 1/4 cup of heavy cream half through adding in the powdered sugar to make it easier to mix.
Mix in 1/2 cup of cooled, melted dark chocolate.
Beat on low until the ingredients are fully incorporated, and the desired consistency is reached.
If the frosting is too thick, add an extra Tbsp of heavy cream. If it's too thin, add in another 1/2 cup of powdered sugar.
Stir by hand with a rubber spatula to get the frosting SUPER smooth.
Decorating These Mushroom Cupcakes
To decorate these mushroom cupcakes, pipe a small swirl of chocolate frosting onto each cooled cupcake.
Sprinkle some chopped oreos, poppy seeds, nuts, and pistachios to look like a mossy forest floor.
Shape 18 small mushrooms using marzipan. Roll out the stems press a toothpick through the center. Shape the mushroom tops, then connect them to the stems using the top of the toothpick. If desired, brush the tops with a bit of cocoa powder using a small paint brush. Press them gently into the frosting.

Notes
This recipe can also be used to make mini cupcakes! This recipe makes about 40 mini cupcakes, which only need to bake for 9-10 minutes.
These cupcake can be made in advance! If stored unfrosted in an airtight container, they can last for:
2 days at room temperature
Up to a week in the fridge
Up to 3 months in the freezer
If you have extra buttercream you don't use, it can be stored in the fridge in an airtight container or piping bag for up to 2 weeks.
Nutrition Information
Yield
12
Serving Size
1
Amount Per Serving
Calories

301
Total Fat

14g
Saturated Fat

5g
Trans Fat

0g
Unsaturated Fat

8g
Cholesterol

39mg
Sodium

223mg
Carbohydrates

42g
Fiber

2g
Sugar

32g
Protein

3g