I love pancakes, and I love cupcakes. So why not make a pancake cupcakes for brunch?! I think everyone is happier with a little sugar in the morning.
I was originally inspired by this recipe, but made a few changes to the cupcake base by using buttermilk, and adding candied nuts to the cupcake batter.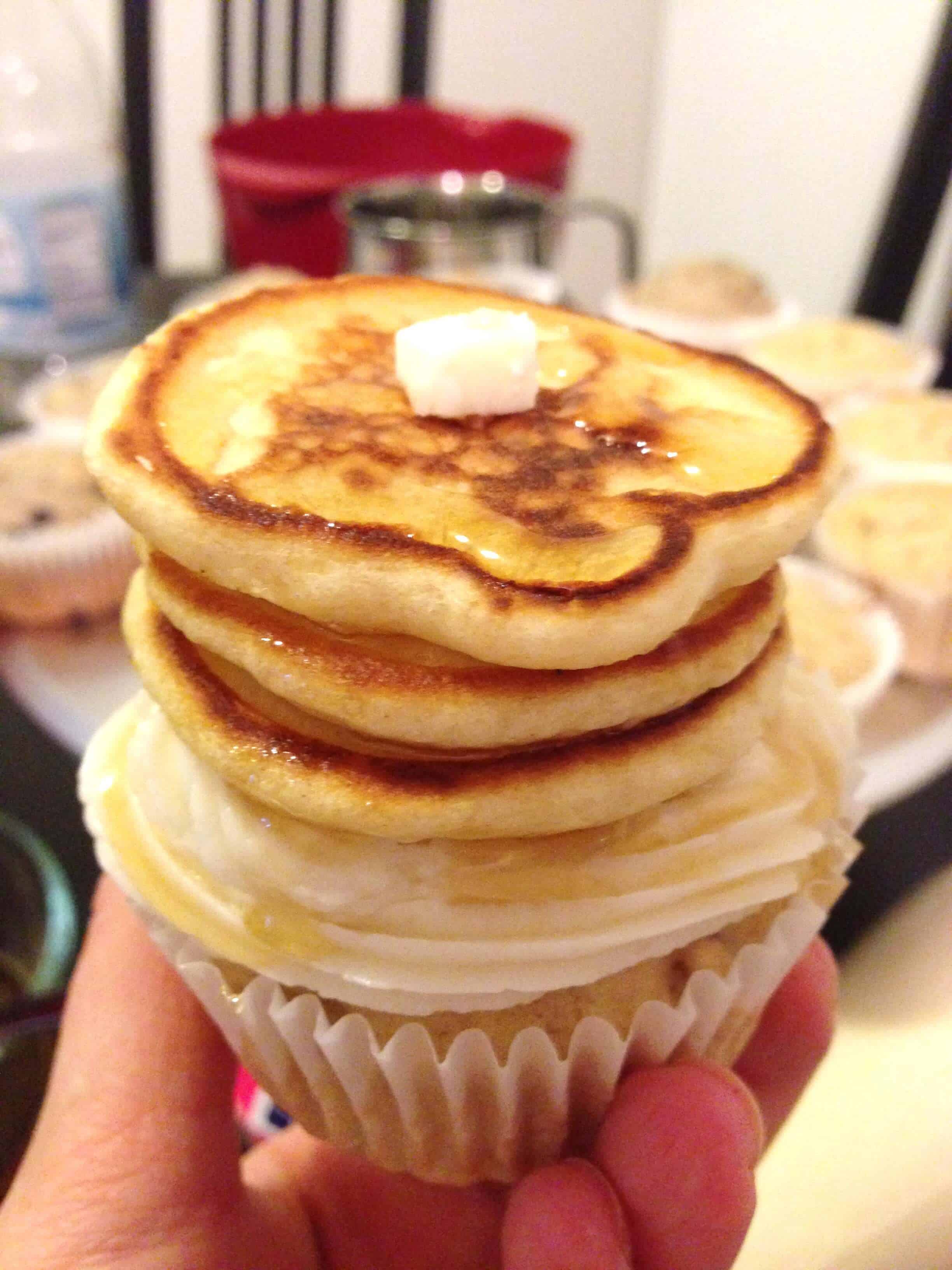 Maple Pecan Pancake Cupcake Batter:
1 1/2 cups all purpose flour
1 tsp baking powder
1/4 tsp salt
1/2 cup butter, room temperature
2/3 cup brown sugar
2 large eggs
1 tsp vanilla extract
1/3 cup buttermilk
1/2 cup toasted, candied pecans
1/3 cup maple syrup
Maple Frosting:
1/2 cup butter, room temperature
1/4 cup maple syrup, room temperature
2 Tbsp heavy cream or milk, room temperature
2 cups confectioners' sugar
Buttermilk Pancake Topper:
1 cup all-purpose flour
1 Tbsp white sugar
1/2 tsp baking soda
1 tsp baking powder
1/4 tsp salt
1 cup buttermilk
3 Tbsp milk
1 eggs
2 Tbsp butter, melted
Yield: 12 cupcakes
Step 1: Make the Pancake Cupcake Batter
Preheat oven to 350F. Line a 12-cup muffin tin with paper liners. In a medium mixing bowl, whisk together flour, baking powder and salt. In a large mixing bowl, cream together the butter and sugar, until light.
Beat in the eggs, one at a time, followed by vanilla extract. Stir in buttermilk, and maple syrup.
Gradually blend in the flour mixture, stirring until the batter is just combined and no streaks of dry ingredients remain.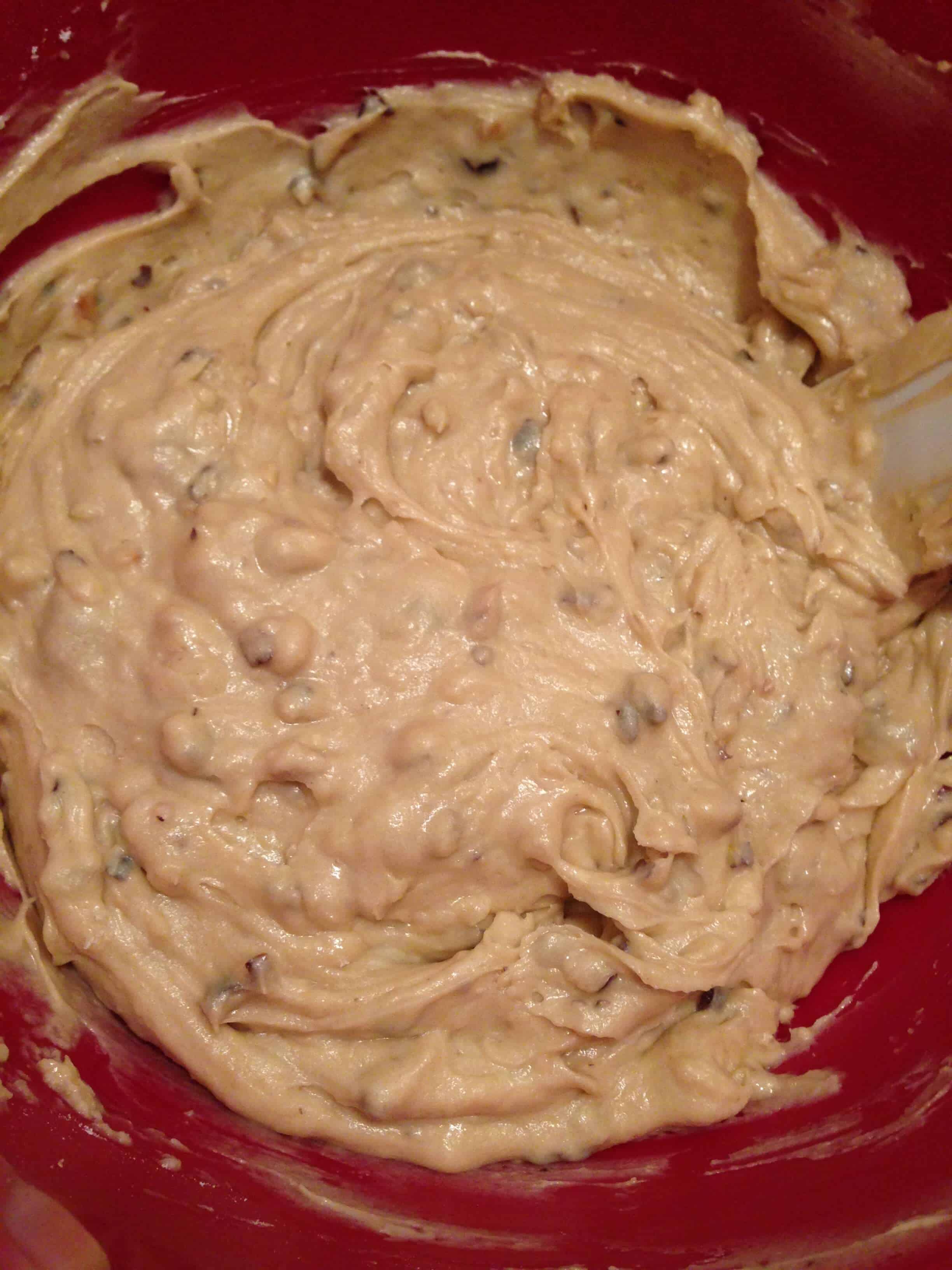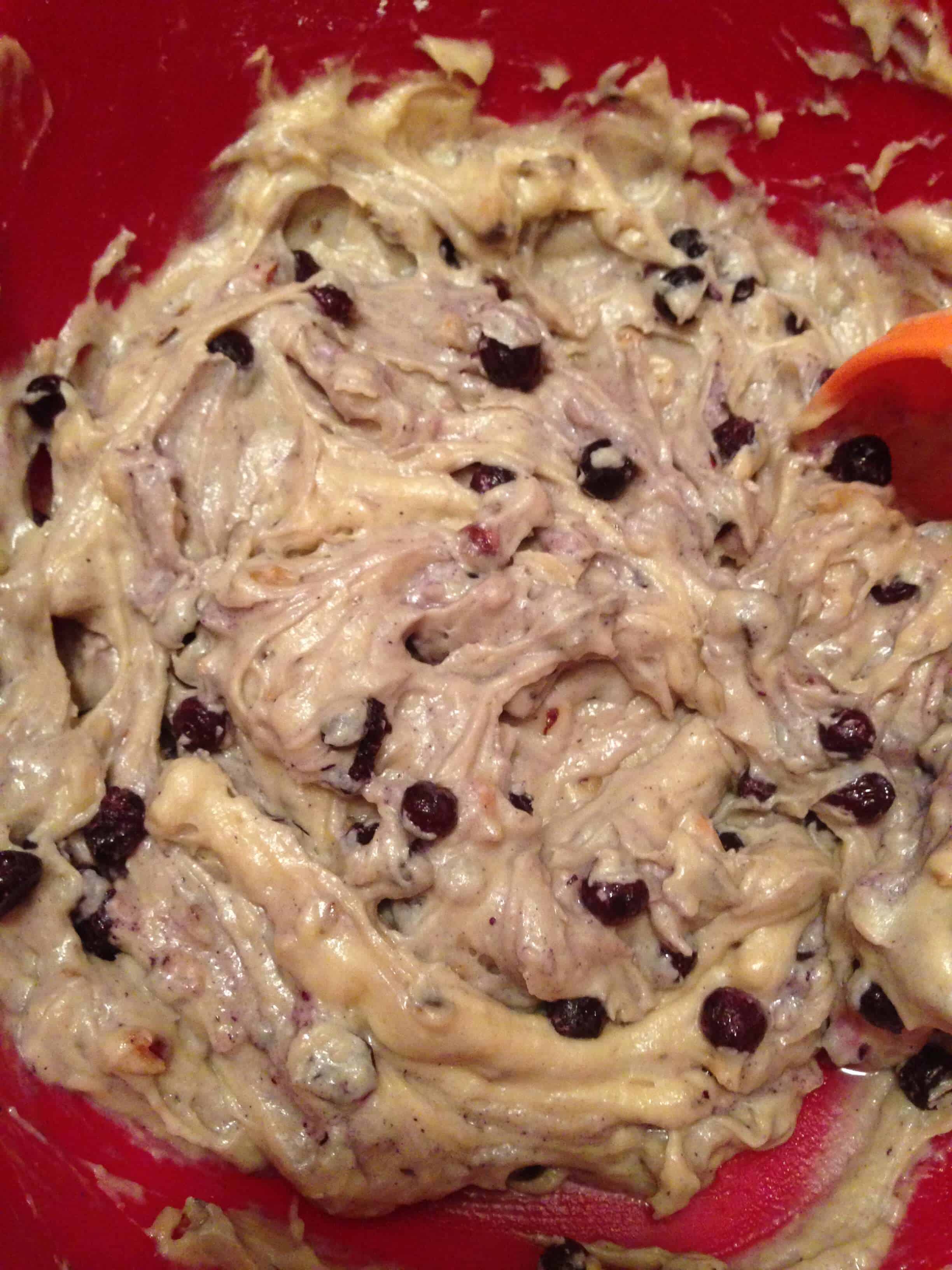 Divide evenly into prepared muffin tin. Bake for 15-18 minutes, until a toothpick inserted into the center of the cakes comes out clean.
Turn cupcakes out on to a wire rack to cool before frosting. I ended up making a double batch, and decided to also make blueberry pancake cupcakes!
After I had used half the batter to bake the maple pecan cupcakes, I added 1 cup of blueberries to the remaining batter.
Step 2: Make the Maple Buttercream Frosting
As the cupcakes cool, prepare the frosting. Combine butter, maple syrup, milk and half of the confectioners sugar in a large bowl and beat at medium-high speed until smooth.
Add remaining sugar in gradually until frosting reaches the right consistency. Frost the cupcakes using an open star tip (like a Wilton 1M).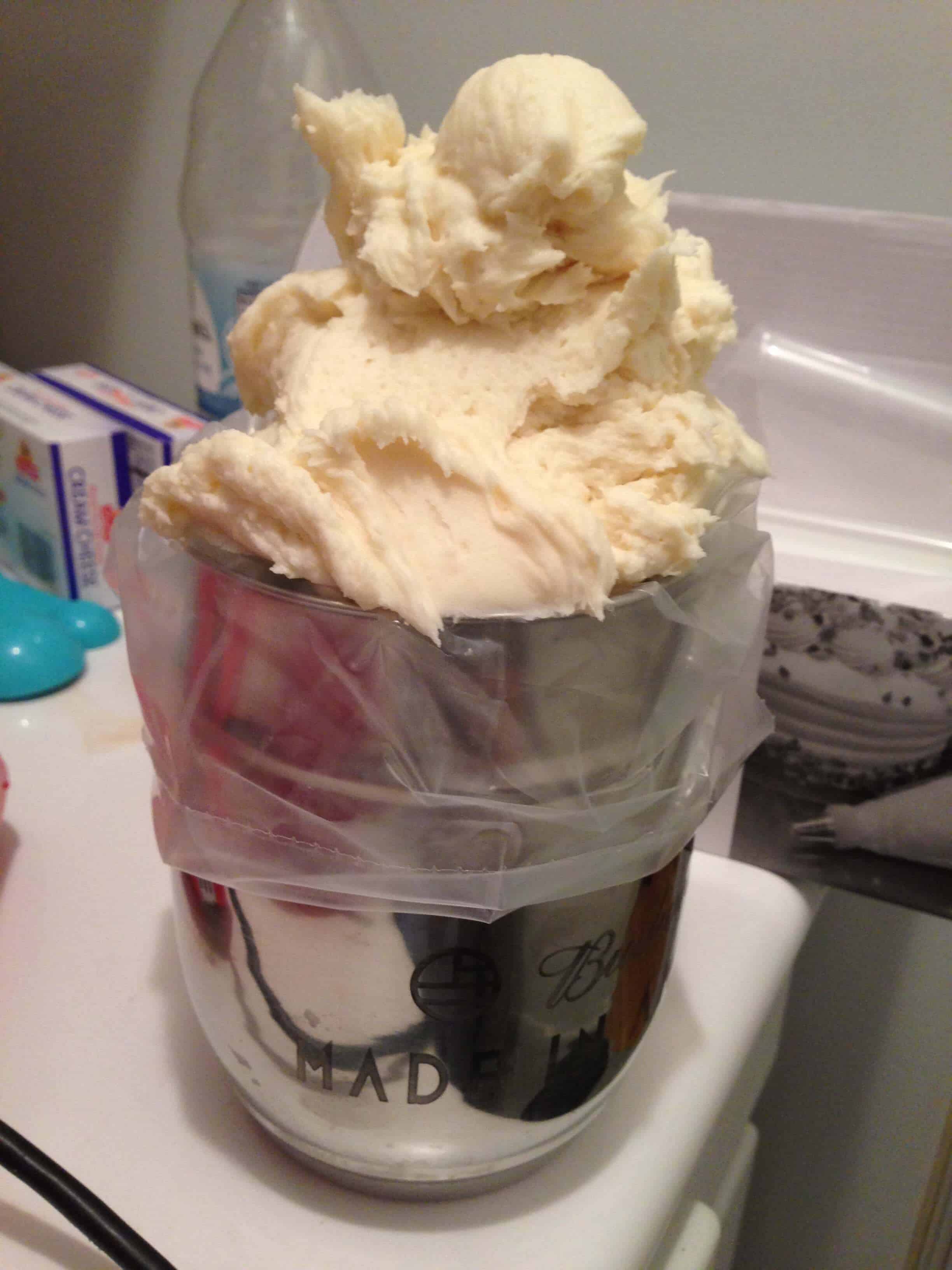 Step 3: Make the Mini Pancake Toppers
For the pancake topper, combine flour, sugar, baking powder, baking soda, and salt. In a separate bowl, beat together buttermilk, milk, eggs and melted butter.
Keep the two mixtures separate until you are ready to cook. Heat a lightly oiled frying pan over medium high heat.
Pour the wet mixture into the dry mixture, using a wooden spoon or fork to blend. Stir until it's just blended together – do not over stir!
Pour the batter onto a lightly greased pan, using approximately 1 tablespoon for each mini pancake. I could cook about six pancakes in my pan at a time. Brown on both sides, then place on a wire rack to cool.
Step 4: Decorate these Pancake Cupcakes
Once all the pancakes have cooled, top each cupcake with three pancakes, and secure with a toothpick.
Drizzle maple syrup over the pancakes and place a tiny, cold, square of butter on the top the pancake stack.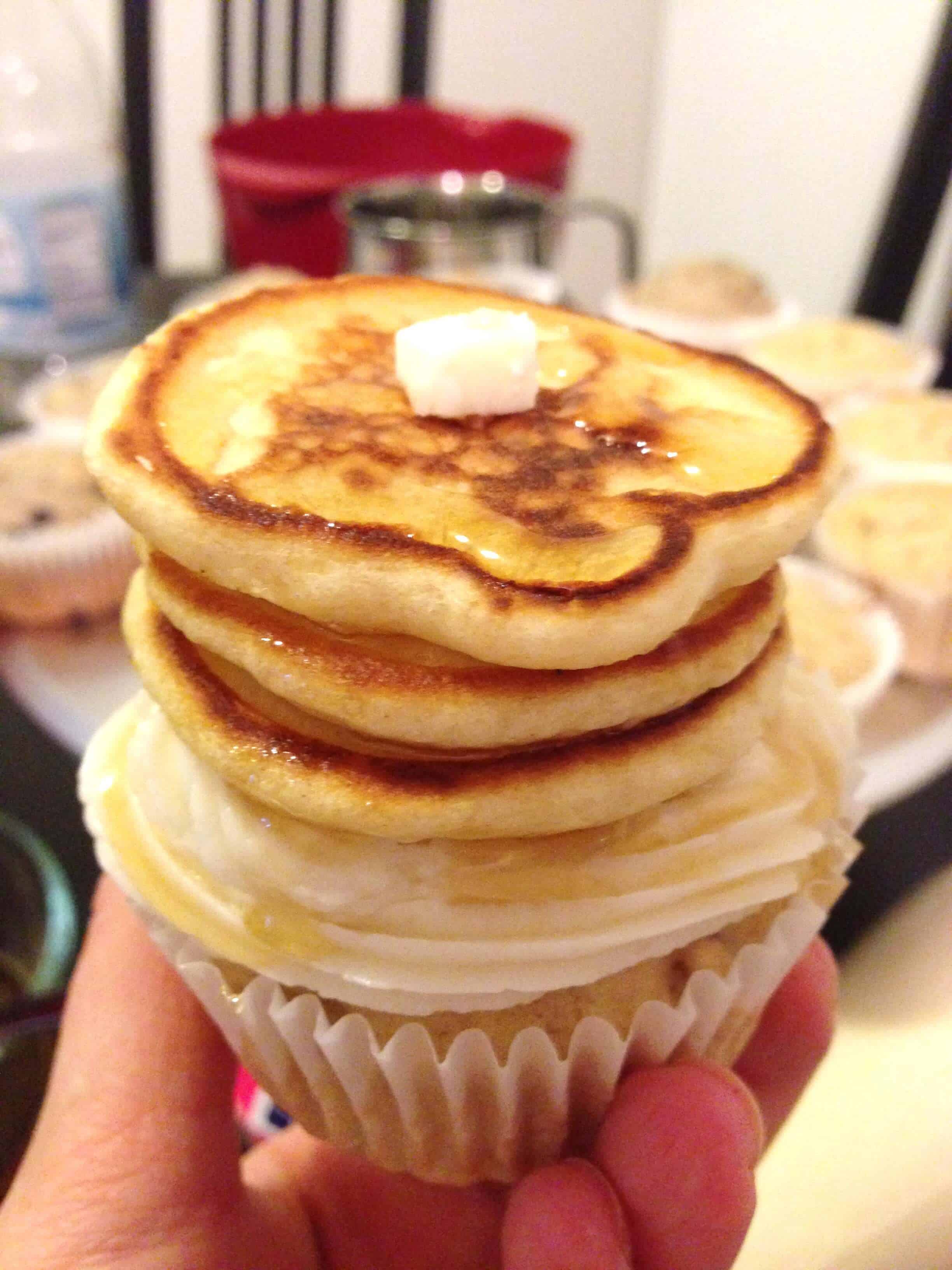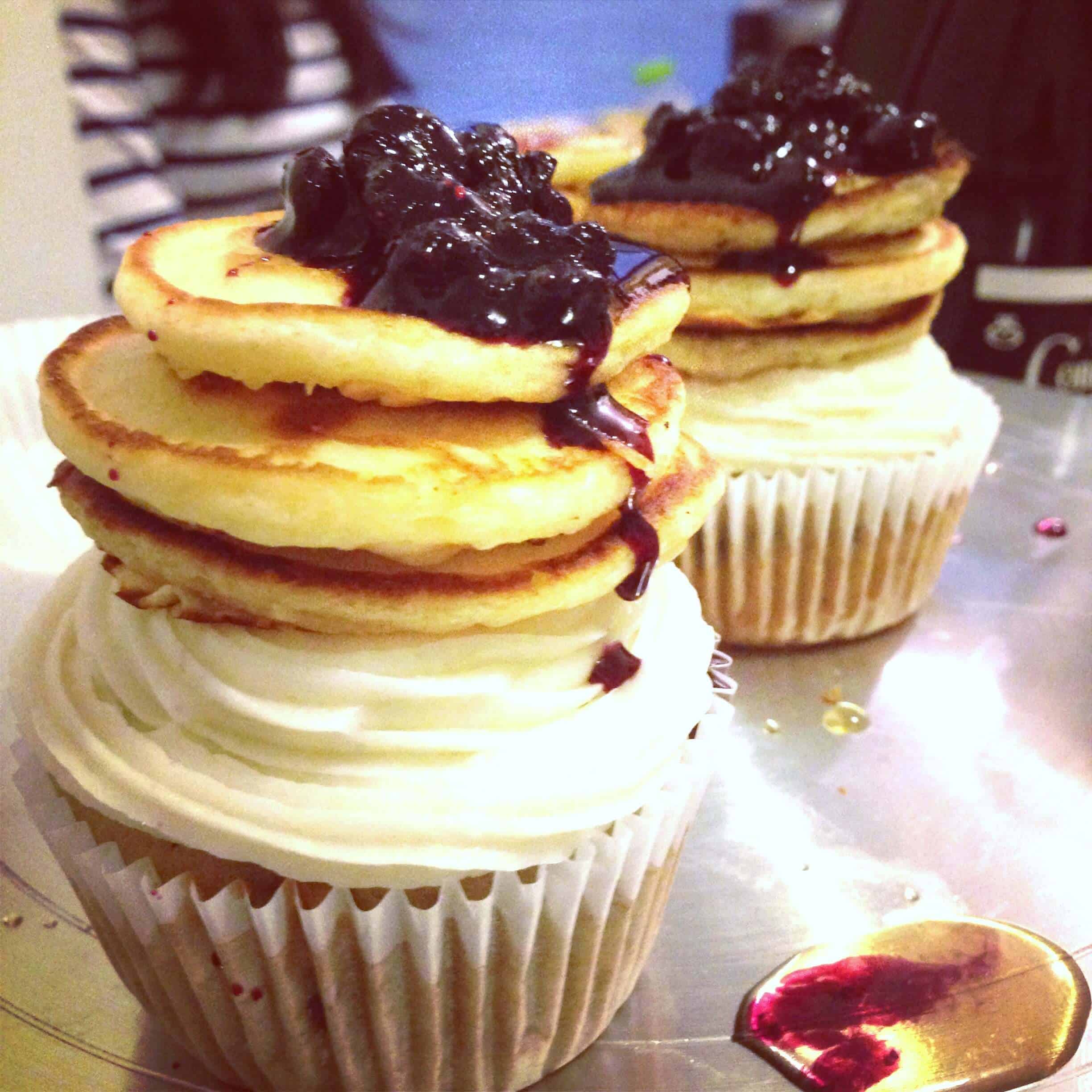 Note: I topped the blueberry cupcakes with a blueberry reduction (1/2 cup frozen blueberries, 1/2 cup light corn syrup, 1/4 cup sugar, 1/2 maple syrup).
The winner at the end of the day? It was a toss up. People couldn't decide which one was better. I think the group consensus was that the star of the show was the frosting 😀
Tips for Making the Best Pancake Cupcakes
Ingredients at room temp mix together better. Be sure you set out any cold ingredients ahead of time.
Be sure to properly measure your flour (spoon into the cup measure then level) or use a kitchen scale to measure your dry ingredients.
Mix your cupcake batter just until the ingredients are incorporated. This will ensure your cupcakes are tender and fluffy.
Use a large cookie scoop to easily fill your cupcake liners. It also makes sure your cupcakes end up being the same height.
One batch of batter can be also be used to make one 9×13 inch pancake sheet cake. Bake it at 325F for 33-38 minutes.
Making these Pancake Cupcakes in Advance
You can make these cupcakes in advance! Store them unfrosted in an airtight container for 2 days at room temperature or up to a week in the fridge.
These cupcakes can also last up to 3 months in the freezer. If you plan to freeze them, wait to frost and decorate them until they've thawed.
You can also make your frosting ahead of time or save any leftovers. This maple buttercream frosting will last in the fridge for up to a month.
Be sure to give the frosting a good stir once it thaws to get the consistency nice and smooth again.
Frosted cupcakes can sit at room temperature for a day or be stored in the fridge in an airtight container for up to 3 days. However, like all baked goods these cupcakes taste best when they're freshly baked!
Let Me Know What You Think
If you try making these pancake cupcakes, I'd love to hear what think of them! Please let me know your thoughts by sharing a comment.
Also please tag me @chelsweets! Use the #chelsweets so that I can see your amazing creations on social media.
Other Recipes You Might Like: