There is simply nothing as satisfying as whipping, piping, baking, and enjoying homemade macarons. There are so many flavors, fillings, and combinations- so here's is my macaron round up!
From fruity and decadent flavors to adorable shapes, there are truly so many incredible macaron recipes.
As usual, we are kicking off our macaron round-up with a classic! These classic vanilla macarons are just so beautiful and make for the best happy snack or gift!
From their delicious vanilla bean frosting to that splatter of edible gold paint on the shells, these macarons are just so classy!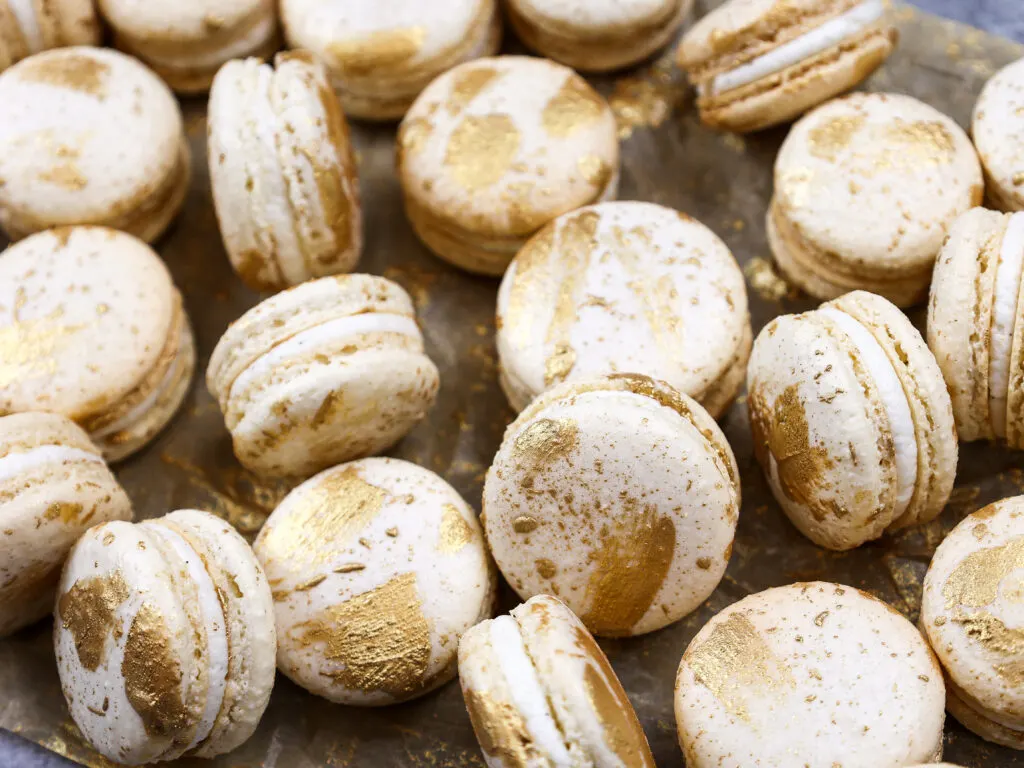 These birthday cake macarons are the perfect way to celebrate any occasion. They also look just as fun as they taste!
With some deep pink gel food coloring and colorful sprinkles, they scream "happy birthday!!"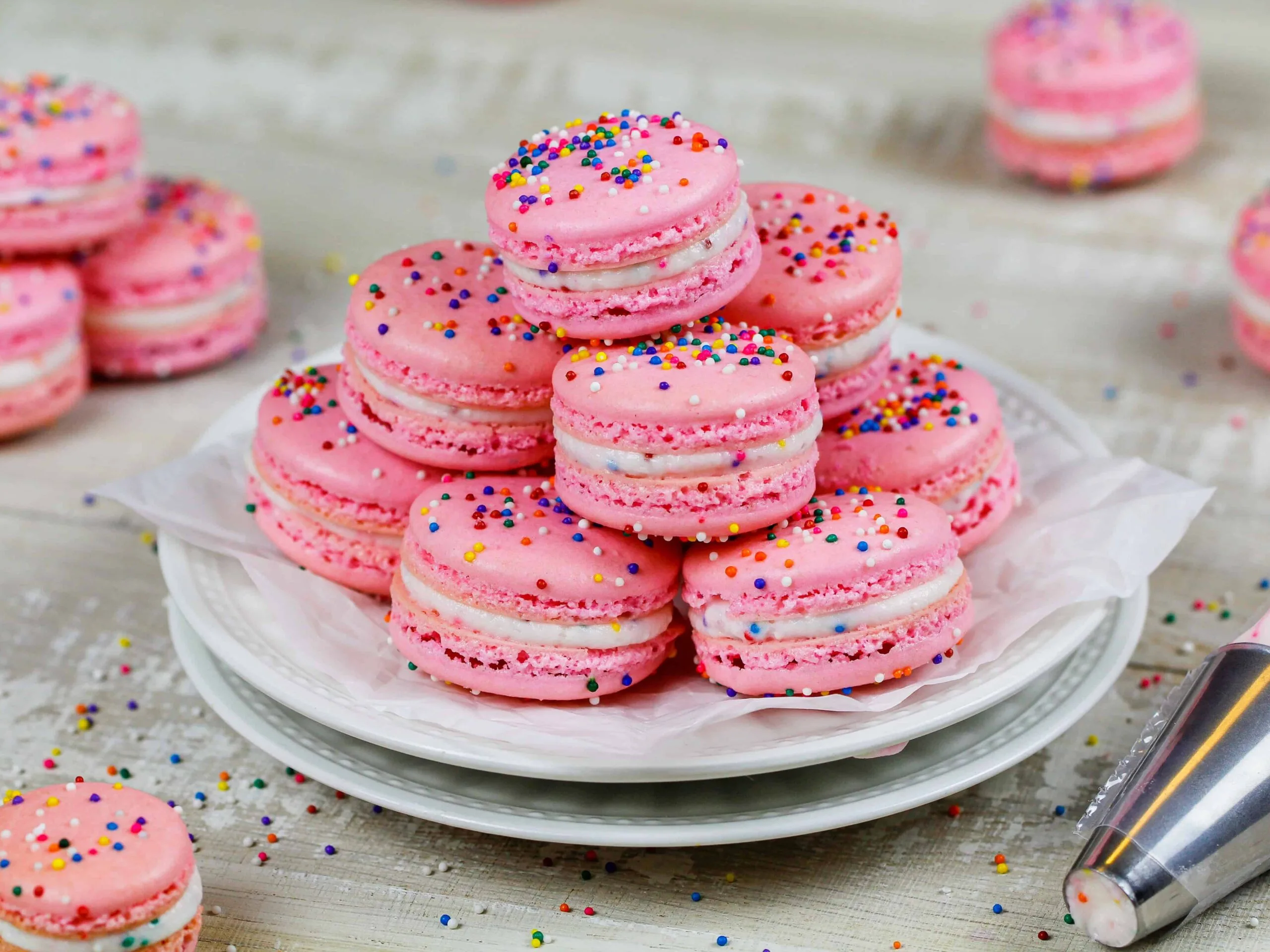 For the filling, I added some almond extract to my cream cheese buttercream, and to really bring the party… I added some sprinkles too!
These adorable macarons are decorated to look just like little donuts and are filled with delicious maple buttercream. Just imagine dipping these in your morning coffee?!
My favorite donut growing up was a maple bar, so that's the flavor I went with. However, you could definitely use a classic vanilla buttercream or even fill the centers with jelly to make jelly donut macarons!
This recipe makes about 32 macaron shells using my donut template, which can be used to make 16 macarons.
If you're looking for fresh, fruity flavors these orange macarons are for you! I went a little wild and decorated them to look just like freshly cut oranges!
These sweet slices are filled with orange buttercream and my favorite orange marmalade!
These honey lavender macarons are absolutely delicious with delicate floral notes and a hint of honey. Not to mention that gorgeous purple shell!
To make the filling I like to add a bit of lavender steeped cream and honey to my American buttercream.
These heart-shaped macarons are SO easy to make and are the perfect way to show someone you care! Whether you make these for Valentine's Day or an anniversary, they're sure to be hit.
Pipe the heart-shaped macarons onto prepared baking sheets using a template to ensure they all turn out the same size.
Okay… don't tell the other macarons these salted caramel macarons are my absolute favorite! Something about the mix of sweet and salty flavors just gets me.
These macarons are absolutely packed with caramel! Not only are they filled with caramel buttercream and have a gooey salted caramel center, but they ALSO are decorated with a drizzle of caramel sauce!
The chocolate shell gives the macarons an incredible flavor and the salt makes the whole macaron sing together!
These fruity macarons are decorated to look just like a freshly picked strawberry!! Can you tell I had a little too much fun piping these shells?
They are filled with my favorite buttercream and homemade strawberry jam.
To get that perfect strawberry shape I recommend using this template. You can also pipe regular circular macaron shells, or you can do a combination of both!
These cookie dough macarons are topped with mini chocolate chips and filled with my incredibly delicious cookie dough buttercream.
Although these are slightly more complicated than a standard chocolate chip cookie, I promise they are beyond worth it!
These red velvet macarons are equal parts beautiful and delicious.
With a generous squeeze of red gel food coloring, these incredible macarons are sure to bring joy with every bite.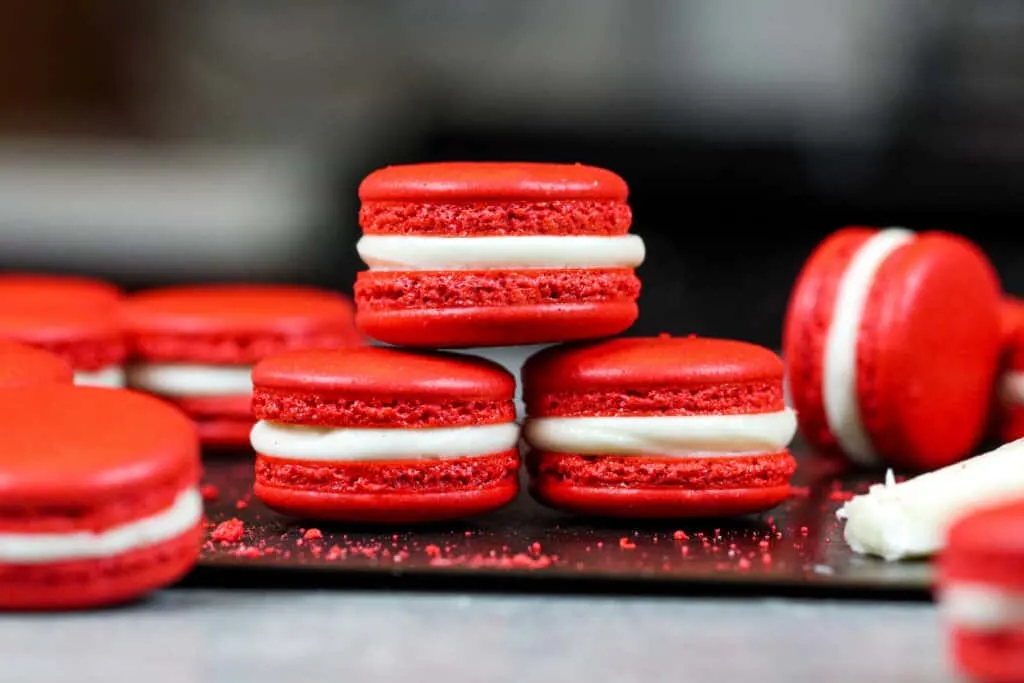 Anytime I can mash up a classic cake flavor with another dessert is a good day! They're filled with cream cheese frosting and taste just like a piece of cake.
I'm rounding out our round-up with these gorgeous coffee macarons. Chocolate and coffee, a tale as old as time and an absolutely incredible treat for any time of day!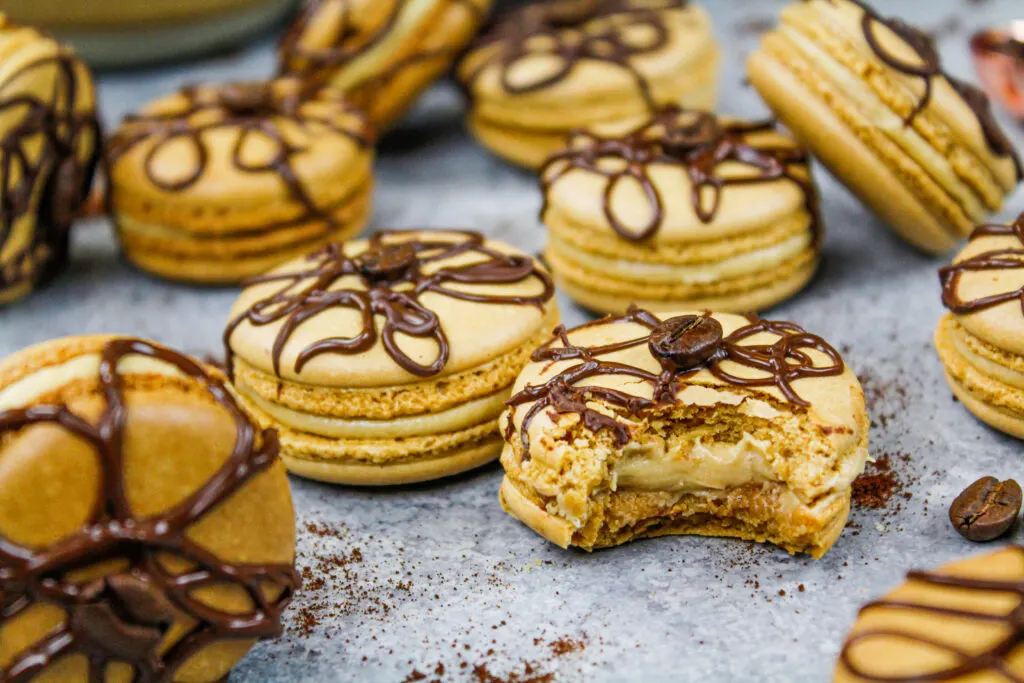 I topped each macaron with a coffee bean for extra crunch and an extra kick!
Let Me Know What You Think!
If you try any of the recipes from this delicious macaron round up, I'd love to hear what you think!