Everyone was so pumped up about my 5 ingredient peanut butter cookies, I wanted to share another easy cookie recipe with you. And let me tell you, these gluten free monster cookies deliver!!
It's the perfect recipe with everything going on right now because it doesn't use butter, eggs, or flour! But don't worry, despite how healthy they are they still taste incredible!
They remind me of overnight oats, in the best way. They're chewy, packed with peanut butter flavor, and perfectly sweet.
How On Earth Does This Recipe Work with Only 5 Ingredients??
This recipe uses only 5 ingredients, which seems too good to be true.
But when combined, these simple pantry staples come together to create an incredibly simple yet delicious cookie.
The bananas are the magic ingredient in these gluten free cookies that make everything possible.
With that in mind, it's super important you use 3 large, overripe bananas. You need a lot of mashed banana to bring this cookie dough together.
If you're not sure you're using enough, you can use a kitchen scale to make sure you have the right amount (you need about 350 grams).
By keeping the cookie dough together, the bananas act as a binder to replace the eggs that are normally found in cookie recipes.
The moisture from the bananas also gives these cookies a soft, chewy texture without using any oil or butter.
Gluten Free Monster Cookie Recipe Ingredients & Substitutions
While bananas are a big part of this recipe, the other ingredients play an important role too.
I love this recipe just the way it is, but I know some people have different preferences! For example, if you know you love milk chocolate, use that instead of dark chocolate.
Or you might not have all these ingredients on hand! If you find yourself in either of these situations, I've got you covered! I share all the swaps and variations that can be made in this recipe below.
One thing to note about this recipe, sadly the bananas cannot we be substituted or swapped out! The texture really just isn't right without them.
Peanut Butter
The peanut butter adds a wonderful salty flavor to these cookies, which balances the sweetness from the bananas.
Because the peanut butter is already salted, it means you don't have to add any additional salt into this cookie batter.
It also thickens the batter which helps keep these cookies from spreading too much. This helps them have a soft chewy texture once they're baked.
I prefer using smooth peanut butter, but you can use chunky or natural peanut butter too! Or if you have a peanut allergy, you can use pretty much any nut butter in its place.
The Oats
While bananas and peanut butter are great, they don't give this cookie batter much texture. That's where the oats come in. They give these cookies a bit of texture and substance.
I've made this recipe with quick oats, old fashioned oats (rolled oats), and steel cut oats. I think they taste best with quick oats!!
Steel cut oats and the rolled oats add a little too much chew in my opinion.
While oats are naturally gluten free, a lot of oats are processed in facility with wheat. If you're making these for someone with celiac disease, be sure that you use gluten free oats!
You can replace the oats in this recipe with an equal amount of ground flax, rice bran, quinoa flakes or chia seeds. The texture will be slightly different, but they should still taste great.
The M&Ms
This monster cookie recipe uses M&Ms, which is one of the signature ingredients in a monster cookie. There's just something about the crunch of the M&M's candy shell that makes these cookies so delicious.
The M&Ms also add a pop of color, which makes these cookies look a bit prettier. While taste is always what matters most, people really do eat with their eyes first.
If you don't have regular M&Ms, you can use any type you have on hand. I bet these would be great with almond M&Ms, peanut butter M&Ms, or even caramel M&Ms! Mini M&Ms would also be super cute.
If you don't have M&Ms on hand, you can use extra chocolate in its place.
Or if you want these gluten free monster cookies to be dairy free or vegan, you can use vegan candy-coated chocolate.
The Chocolate Chips
This part is up to you! I like these cookies best with good quality dark chocolate, but you can use milk, semi-sweet, or even white chocolate!
Chocolate chips or chunks both work great. You can also use vegan chocolate!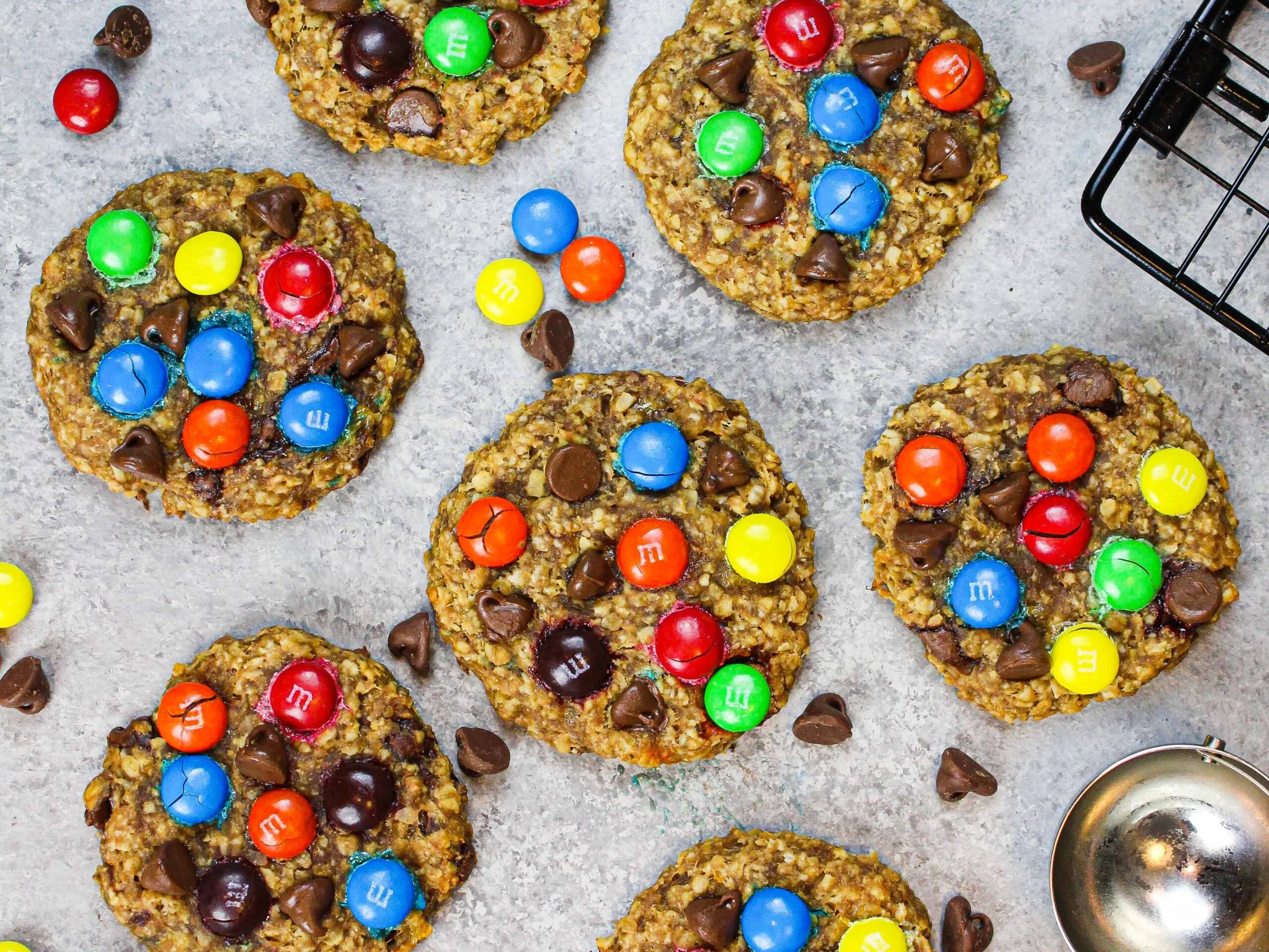 How to Make No-Bake Gluten Free Monster Cookies with This Recipe
Because this recipe doesn't use any eggs or flour, you technically don't need to bake these cookie! You could roll out 1-inch cookie dough balls, top them with a few chopped up M&Ms, and enjoy them unbaked.
I ate about 4 spoonfuls of batter while making my last batch of these monster cookies, and that's what gave me this idea.
Since then, I tested this recipe out as a no-bake monster cookie recipe, and it's delicious.
My only word of caution is that they are a bit soft, so I recommend keeping them chilled in the fridge.
To store these no-bake monster cookies, place the cookies in an airtight container and refrigerate for up to a week.
You can also freeze them for up to a month, but I recommend adding the M&Ms after you thaw the frozen cookies.
Tips for Making the Best Gluten Free Monster Cookies
Be sure you're using large bananas, so that you have enough banana to bring the dough together. You can also use a kitchen scale to make sure you have the right amount!
Use quick oats if possible, otherwise rolled oats work too.
Use a cookie scoop to make sure your cookies are uniformly sized.
Be sure you flatten your cookie dough balls to be about 1 cm tall before baking. These cookies don't spread at all, so this helps them look more like a classic cookie once they're baked.
Don't mix the M&Ms into the batter! I find the blue M&Ms always bleed, no matter what I do. Instead, press them on top of the shaped cookie dough before baking your cookies.
Press extra chunks of chocolate onto the cookies once they're baked, and garnish with sea salt to make them look and taste even better.
Don't over bake your cookies! Even if they seem a bit soft coming out of the oven, they will firm up as they cool. You want your cookies to be chewy and soft, and I find baking them for 13-14 minutes is the perfect for mine. It can vary based on the size and height of your cookies though!
How Many Cookies Does This Recipe Make?
This recipe makes 12 cookies that bake to be about 2.5 inches in diameter.
This recipe can be doubled or halved as needed.
How to Make These Gluten Free Monster Cookies in Advance & Storage Tips
Make your cookies in advance! They can last for up to 3 days at room temperature or up to a week in the fridge.
Sadly, I don't recommend freezing this batter, it doesn't thaw very well! If you have extra batter, you can refrigerate it for several days as long as you don't mix in the M&Ms.
Baked cookies can be frozen! These cookies last for up to a month if frozen in an airtight container. Move them to the fridge the day before you plan to eat them, then let them sit out at room temperature for a few hours before diving in.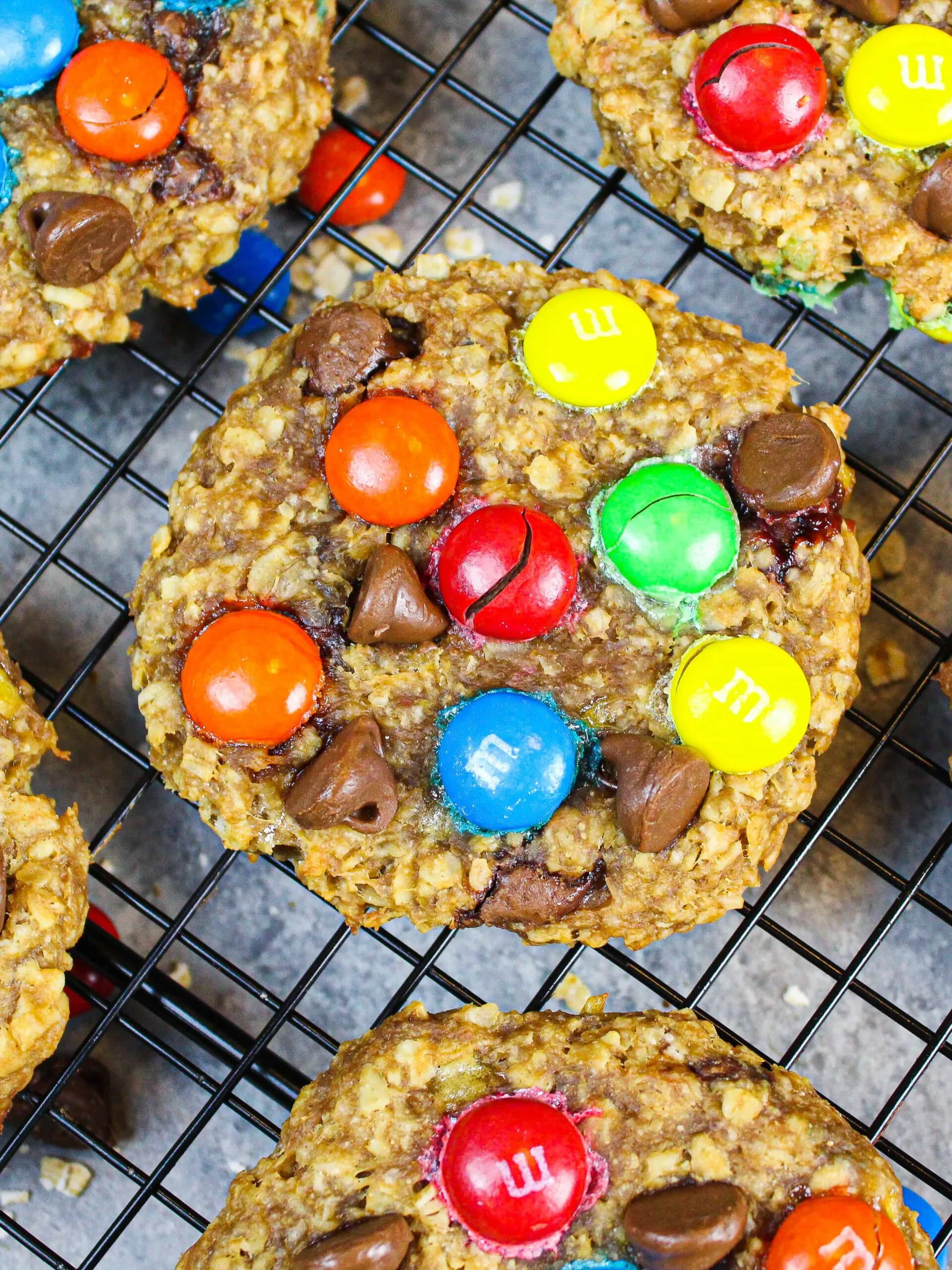 Let Me Know What You Think!
If you try this recipe for gluten free monster cookies or any variation of it, I'd love to hear what think of it! Please leave a rating and comment below.
Other Recipes You Might Like: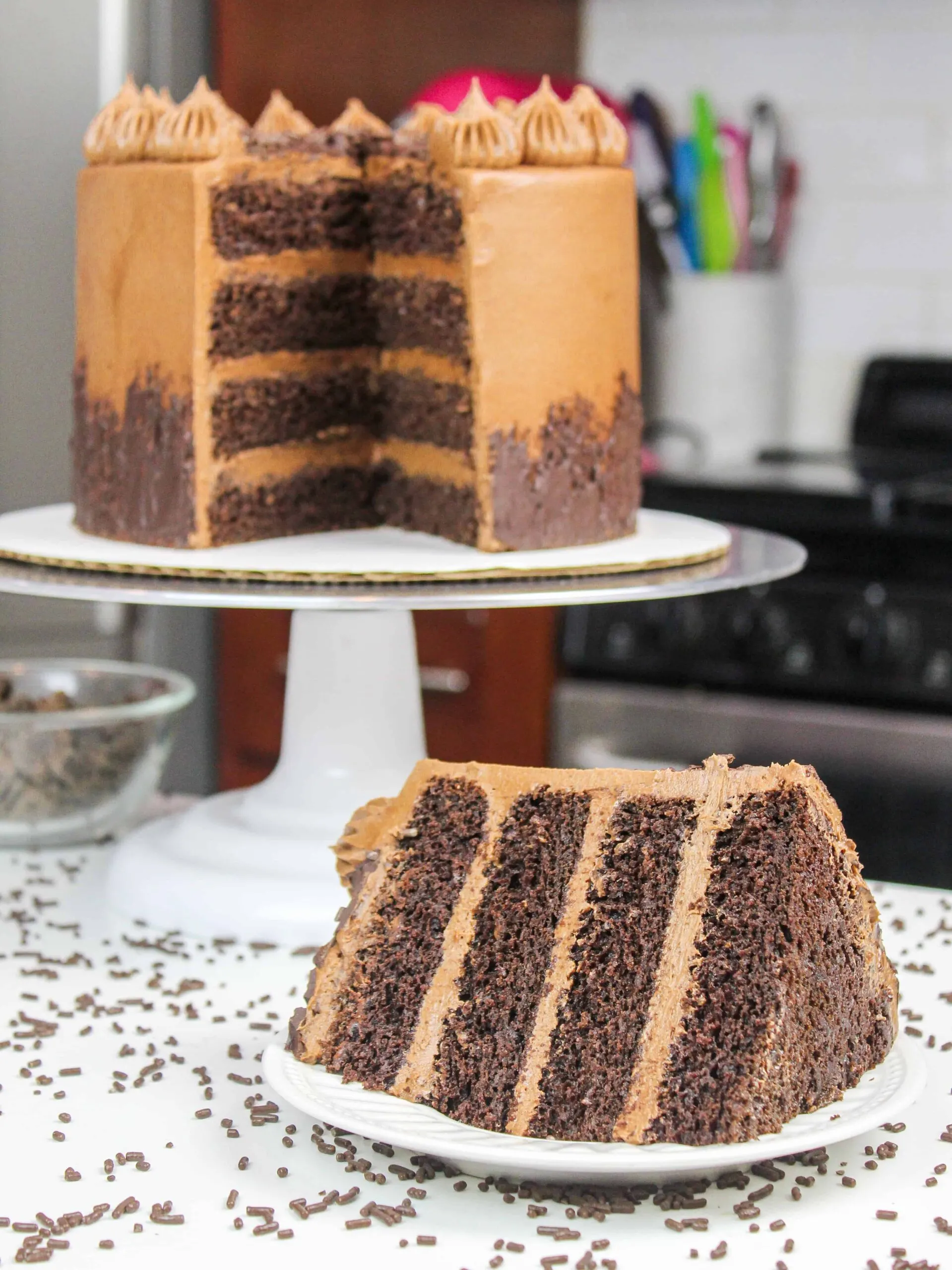 Yield: 12
Gluten Free Monster Cookies
These gluten free monster cookies are made with only 5 ingredients, and don't include any butter, eggs, or flour!! Yet they're chewy, soft, absolutely delicious, and healthy!
Ingredients
Gluten Free Monster Cookies
2 cups quick oats or rolled oats (180g) - make sure they're GF!
1 1/2 cups mashed bananas - about 3 large bananas (350g)
1/2 cup creamy peanut butter or alternative nut butter (125g)
1/3 cup dark or milk chocolate chips or chunks (58g)
1/3 cup M&Ms or candy coated chocolate pieces (66g)
flakey sea salt for garnish (optional)
Instructions
Preheat oven to 350 F / 175 C and line a large baking sheet with parchment or a silicone mat. Set aside.
Place 2 cups of oats, 1 1/2 cups of mashed bananas, and 1/2 cup peanut butter into a medium sized bowl and stir until combined.
Fold in 1/3 cup of chocolate chips then scoop and shape 12 cookies and place them on the prepared pans. Use about 3 tbsp of cookie dough per cookie. I like to use a cookie scoop to do this, but you can also use a large spoon. These cookies don't spread much, so you don't need to place them very far apart.
Flatten the cookie dough balls with your hands or the back of a spoon until they're about 1 cm thick, and press the M&M's onto the top of each cookie.
Bake for 13-14 minutes, or until the edges are golden brown.
Press a few extra chocolate chips into the baked cookies for good measure and garnish with a sprinkle of flaky sea salt if desired.
Let the cookies cool on the pan for 10 minutes, then move them to a wire rack to finish cooling.
Notes
Making These Gluten Free Monster Cookies in Advance and Storage:
Once baked, these cookies can last at room temperature for several days, or in the fridge for up to a week.
In the freezer, these cookies stay fresh for up to a month. When you're ready to eat them, move them to the fridge the day before you plan to eat them, and let them sit at room temperature for a few hours before you dive in.
Making Vegan Gluten Free Monster Cookies:
If you want to make vegan gluten free monster cookies, you can use vegan chocolate chips and vegan candy-coated chocolate!
If you can't find vegan candy buttons, you can use extra vegan chocolate chips in their place.
Nutrition Information
Yield
12
Serving Size
1
Amount Per Serving
Calories

254
Total Fat

12g
Saturated Fat

4g
Trans Fat

0g
Unsaturated Fat

6g
Cholesterol

5mg
Sodium

152mg
Carbohydrates

34g
Fiber

4g
Sugar

15g
Protein

6g