As I've settled into working from home, I've found myself not drinking enough water. I like water, but sometimes it just seems a bit boring. That's where this cucumber lemon water comes in!
It's so refreshing and makes me actually excited to drink water. It's a healthy treat that feels like a pick-me-up everytime I pour myself a glass.
Lemon Cucumber Water – Substitutions and Swaps
While I love this cucumber water recipe just the way it is, I know some of you might not have all of these ingredients on hand!
Below are some swaps and substitutions that can be made in this recipe:
Cucumber – The cucumber is really the star of this show! Sadly there are no substitutes for it in this water!
Lemon – You can use an extra lime if you don't have a lemon on hand.
Lime– You can use an extra lemon if you don't have a lemon on hand.
Mint – The mint makes this water taste super fresh and bright, but if you don't have any on hand or if you dislike mint you can omit it from this recipe.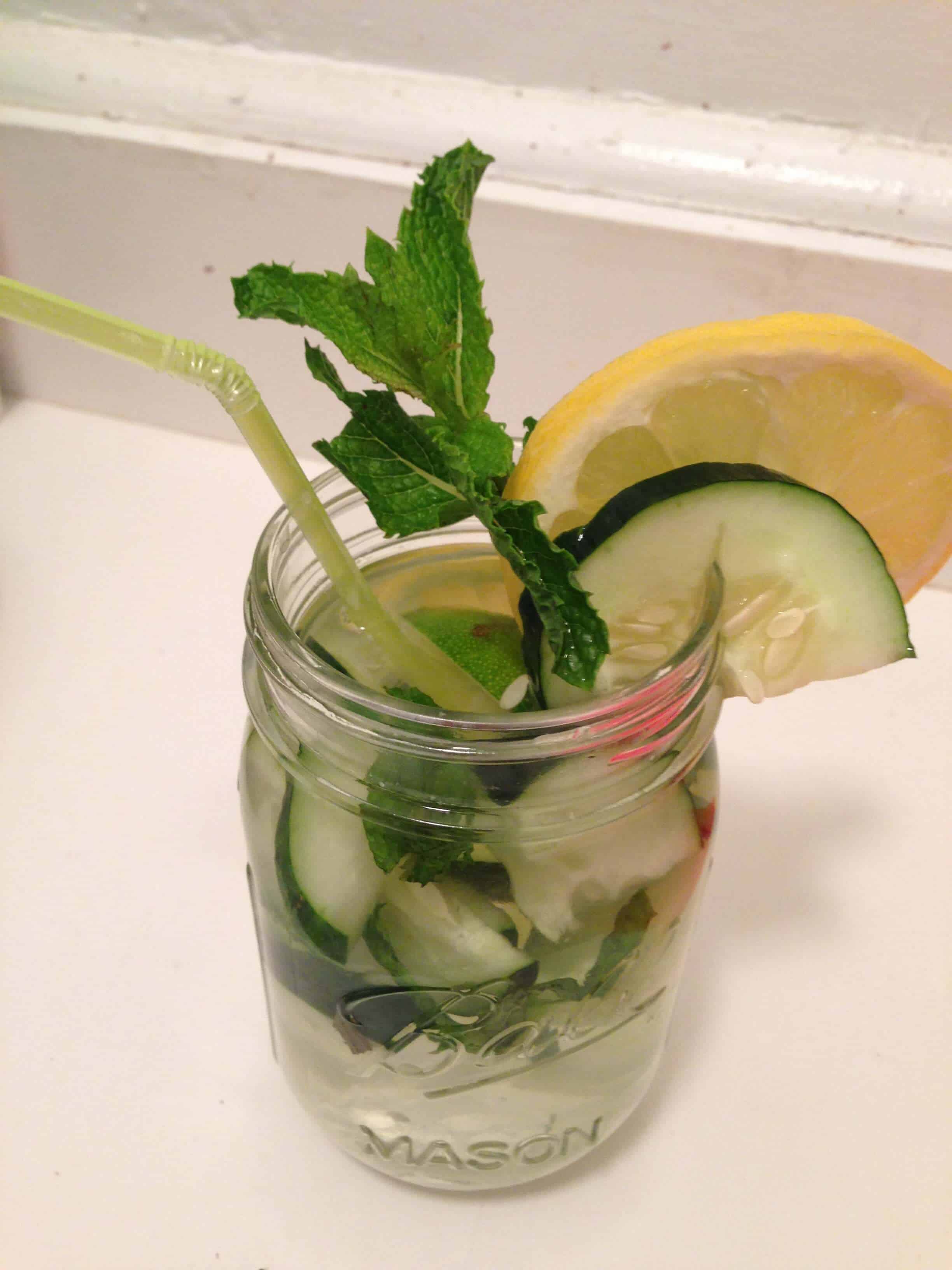 Tips for Making the Best Cucumber Lemon Water
Use a large glass pitcher that has a capacity of 2 liters.
Lightly muddle the fruit and veggies before pouring in your water to help release their juices.
Chill your glasses in the freezer to make your cucumber lemon water even more refreshing.
Garnish you glasses with a citrus slice and an extra sprig of mint to give them a gorgeous finished look.
Feel free to add in a bit of freshly squeezed lemon or lime juice to amp up the flavor even more.
Let Me Know What You Think!
If you try this recipe for cucumber lemon water, I'd love to hear what think of it! Please leave a rating, and let me know your thoughts by sharing a comment.
Also please tag me @chelsweets, and use the #chelsweets so that I can see your amazing creations on social media!
Other Posts You Might Like:
Yield: 2 liters
Cucumber Lemon Water
This cucumber lemon water recipe is super refreshing and only takes 5 minutes to make. It an easy and delicious way to flavor your water!
Total Time
2 hours
5 minutes
Ingredients
Cucumber Lemon Water
2 liters of water (1000 grams)
1 large sliced cucumber (300 grams)
10-12 fresh mint leaves, finely chopped
1 lime, thinly sliced (about 44 grams)
1 large lemon, thinly sliced (about 84 grams)
Instructions
Wash and thinly slice the lemon, lime and cucumber.
Add the lemon, lime and cucumber slices into a large pitcher, along with the chopped mint leaves. Use a large spoon or spatula to lightly muddle (mash) the fruit/veggies to help release their juices.
Add 2 liters of cold water. Refrigerate for at least 2 hour before serving.
Notes
This recipe can be doubled or halved as needed to adjust the serving size.
This lemon cucumber water stays food for up to 2 days in the fridge.
Nutrition Information
Yield
8
Serving Size
1
Amount Per Serving
Calories

18
Total Fat

0g
Saturated Fat

0g
Trans Fat

0g
Unsaturated Fat

0g
Cholesterol

0mg
Sodium

16mg
Carbohydrates

5g
Fiber

2g
Sugar

1g
Protein

1g