They say breakfast is the most important meal of the day and to me, a perfect day starts with a fluffy, decadent, cinnamon roll- so here is my cinnamon roll round up!
Last year I began making cinnamon rolls every Saturday. It was a quest to create the ultimate cinnamon roll recipe and ended up with many, many delicious variations on my classic cinnamon roll recipe.
Below is a list of 11 different and delicious rolls- from classic, to colorful and even carrot cake!
Of course, we are kicking off our cinnamon roll round-up with a classic! These quick yeast cinnamon rolls are ready in less than 2 hours and have a soft and fluffy texture with a gooey sweet center!
This recipe makes 9 perfect rolls and even holds the ultimate stamp of approval- getting a thumbs up from my husband, who is a notoriously picky eater.
They're frosted with a cream cheese icing that is truly to die for! There is simply no better way to start the day.
You've probably had blueberry pancakes but now it's time for blueberry cinnamon rolls! Blueberries give this recipe such a fun and fresh spin!
To give these rolls an intense blueberry flavor, I use blueberry jam in the filling and top them with a blueberry glaze.
After you've drizzled on that delectable blueberry glaze, sprinkle some fresh blueberries on top!
I'm making breakfast the most fun meal of the day with this funfetti cinnamon roll recipe.
These rolls have rainbow sprinkles folded into the dough and baked into each swirled layer. The sprinkles add both a pop of color and a bit of texture to each bite.
The best sprinkles for making this are rainbow jimmies. They are the longer sprinkles usually used on ice cream and they keep their color really well.
This recipe is perfect for a fun brunch with friends and family!
I love taking iconic cake flavors and twisting them into new sweets- cue these out of this world carrot cake cinnamon rolls.
They are filled with fresh and sweet shredded carrots, and topped with cream cheese frosting.
These carrot cake cinnamon rolls bake up soft, fluffy, and are packed with warm spices like nutmeg, allspice, and cloves.
Iconic cake flavor turns legendary cinnamon roll!
These Oreo cinnamon rolls are my sneaky way to normalize eating Oreos for breakfast, and I'm all for it!
The perfectly sweet chocolate filling combined with a generous drizzle of delicious vanilla glaze make this recipe a wonderful way to start the weekend.
In the filling I use black cocoa which gives the cinnamon rolls a bittersweet, chocolaty taste just like an Oreo cookie!
Oreos for breakfast- yes, please!
There is almost no combo as classic as caramel and apple- so naturally, this matchup made an irresistible cinnamon roll.
To pack these caramel apple cinnamon rolls with flavor, I use a homemade apple filling and top them with a caramel glaze.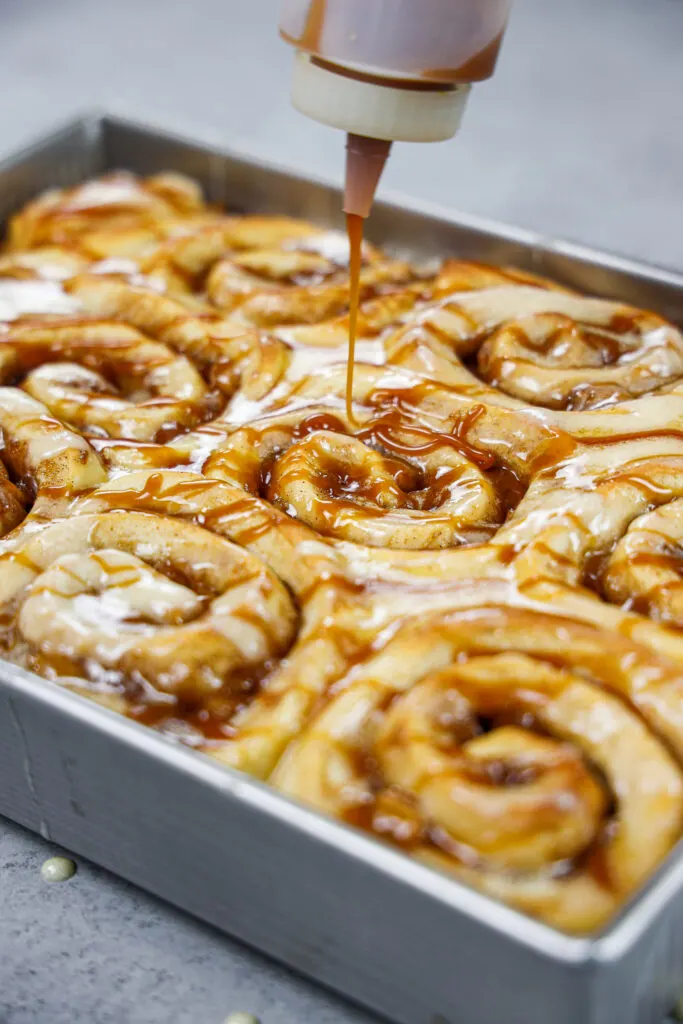 Although you can use just about any apple for this filling, I love using Honeycrisp or Granny Smith. They give the filling a nice tart bite with just a hint of sweetness.
Pair these with an apple cider mimosa and I promise this recipe will become an instant classic.
I simply cannot imagine a better way to get your morning caffeine kick than these coffee cinnamon rolls.
To give these rolls all the flavor of your morning coffee I use instant espresso powder. It gives these cinnamon rolls a fantastic coffee taste without throwing off the consistency of the dough or filling.
Although you can opt for a classic cream cheese frosting, I made a coffee glaze because you can never have too much coffee, right?!
Alright chocoholics, get ready for these triple chocolate cinnamon rolls!
This recipe has chocolate dough, dark chocolate & cinnamon filling, and yes even a chocolate glaze drizzled on top.
These rolls are filled to the brim with ooey gooey chocolatey goodness!
For this recipe, I wanted to combine all my favorite breakfast flavors into one roll. It may sound a little funny, but I promise these flavors meld perfectly to make the ultimate savory and sweet cinnamon roll.
I am a firm believer that bacon should be crispy, so I needed it to keep its wonderful crunch.
The best way to do this is to cook up the bacon and cut it up really small to create bacon sprinkles (if anyone wants to take this concept to Shark Tank, let me know).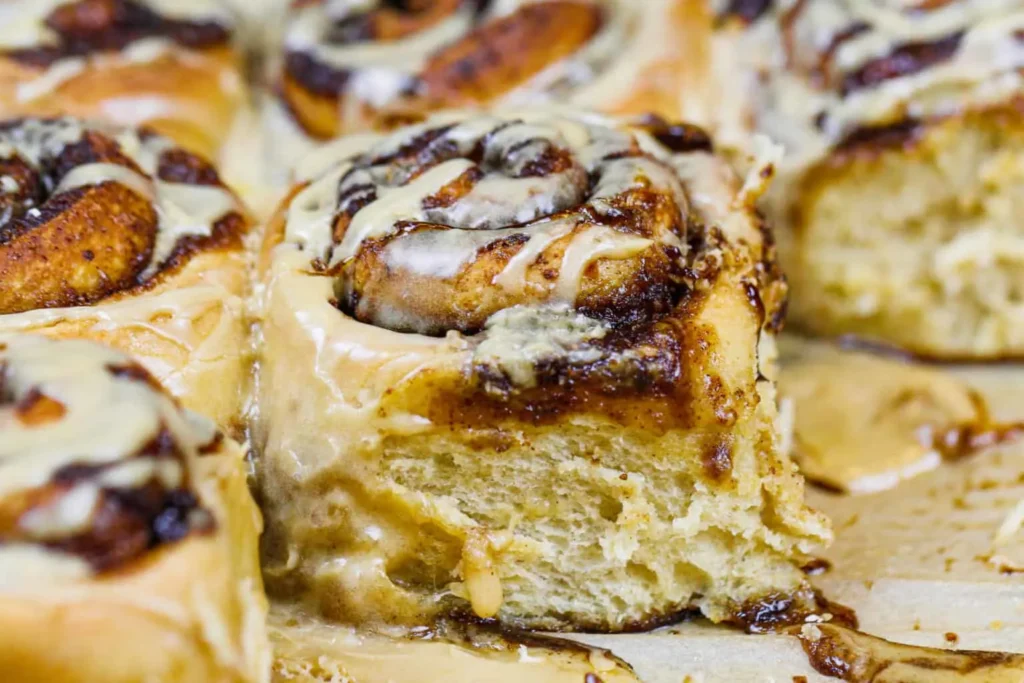 With a cream cheese maple glaze, this salty and sweet treat is sure to make all your breakfast dreams come true.
These rolls have an absolutely insane Biscoff cookie butter filling. It's rich, creamy, and so unique.
Topped with a warm cookie butter drizzle and garnished with crushed Biscoff cookies, there's really nothing better.
If you are looking to switch up a classic cinnamon roll, this recipe truly takes it to the next level.
Look, I know it's not Fall but there's still something so comforting about the flavors of pumpkin pie, so for the last recipe in our cinnamon roll round up I picked my pumpkin pie cinnamon roll.
With creamy pumpkin puree in the filling along with some warm nostalgic spices, these really do taste like home.
I don't know about you, but I am pumped for pumpkin!
Let Me Know What You Think!
If you try any of the recipes from this delicious cinnamon roll round up, I'd love to hear what you think!
Please leave a rating and let me know your thoughts by sharing a comment.