Avocados seem to be EVERYWHERE in Manhattan lately. They're on toast, in smoothies, and you can add them to pretty much any restaurant dish (for a $2 up-charge :P). But avocado frosting?? I had yet to see it.
Replacing Butter With Avocados
Everyone seems to love them!! I get that they have health benefits (healthy fat, tons of fiber, etc.), but I just can't seem to get on board.
Avocados don't really taste like much to me, and I'd so much rather have mayo or cheese on a sandwich.
But seeing them everywhere sparked something in my mind. Why not bake with them??
They're so high in fat, they can replace butter in recipes 1:1.
This lead me down the road to throwing them into my cake batter, and eventually, making a frosting with them!
I used this frosting on my chocolate avocado cake, which is seriously the ultimate summer cake.
Baking With Avocados: There's A First For Everything
I really didn't know if the recipe would work, or what it would taste like.
But half the fun of experimenting in the kitchen is just that! Trying something new, and crossing your fingers.
I was slightly disgusted as I mixed the powdered sugar into the mashed up avocado with my KitchenAid.
When I finally did muster up the courage to taste the frosting, I was so pleasantly surprised.
The End Result: Delicious Avocado Frosting
It was wonderful! It had a smooth, almost elastic texture.
Oddly enough, the sweetness of the powdered sugar was perfectly offset by the tang of the lemon juice, and the richness of the avocado.
I know if sounds wild, but it really is amazing.
The lemon juice is also crucial to keep the avocados a vibrant shade of green. The acid in lemon juice prevents browning!
At first, I thought I may be biased. I decided to bring it into my office to get my coworkers opinions. Sure enough, they raved about!
Another Benefit Of Avocado Frosting: It's Vegan
Another plus to this recipe? It contains no dairy. We swapped out the butter and heavy cream for avocados and lemon juice.
What does this mean?? IT'S VEGAN!
Some vegan frosting recipes out there can be pretty complicated, so this is a simple and easy frosting recipe for all my vegan bakers out there 🙂
The consistency of this frosting is thinner than my standard American buttercream.
I used this to fill a cake, but you could also cover a cake in it. Just keep in mind that it's not thick enough to add more than a thin layer around a cake.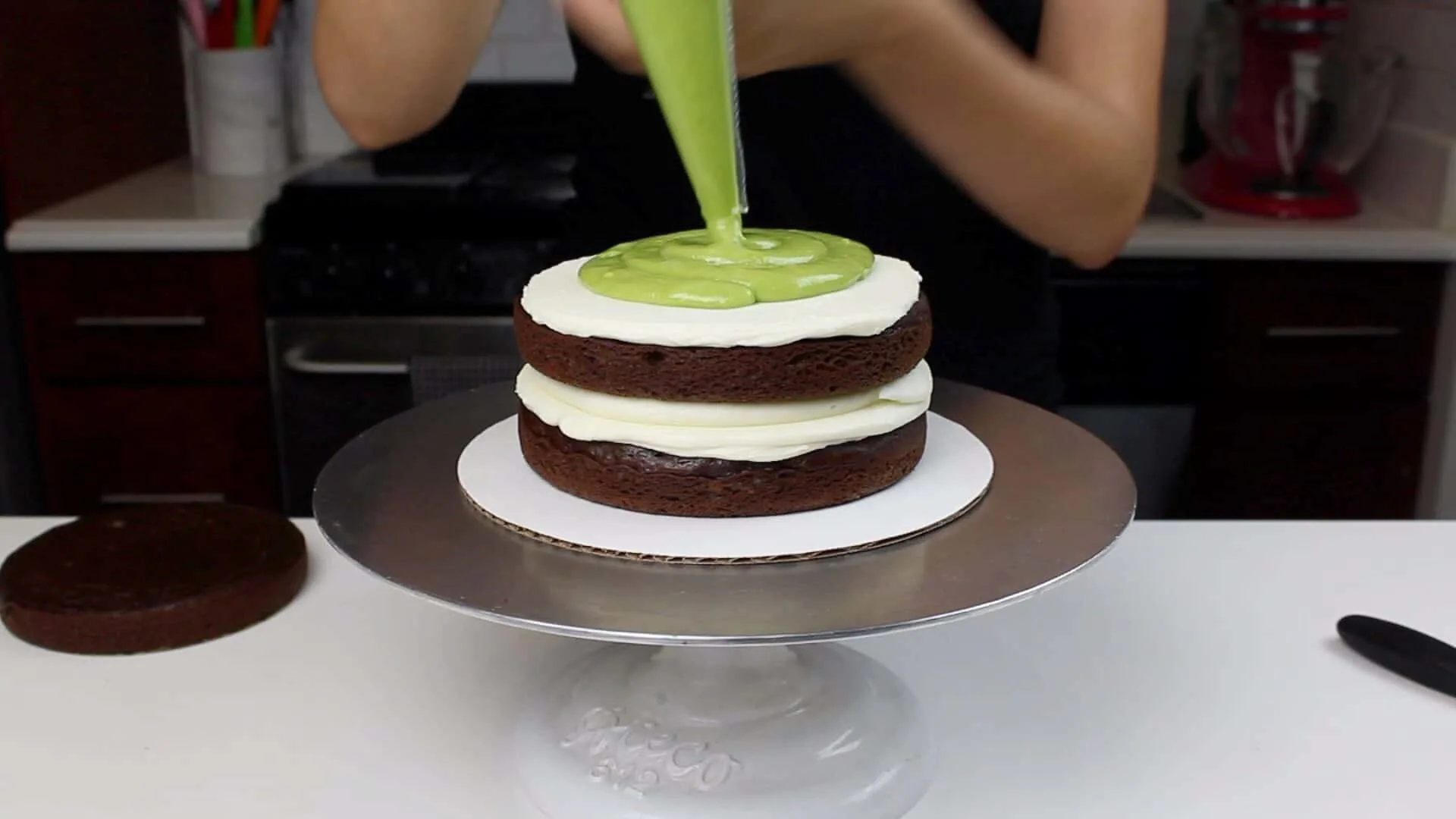 If you want to cover your cake in a thick layer of frosting, I recommend mixing this recipe with my American buttercream, using a 1:1 ratio.
This will subdue the avocado flavor a bit, but will make it so much easier to frost with.
Tips For Making The Best Avocado Buttercream Frosting:
Use fully ripe avocados; this helps enhance the texture and flavor of the frosting.
Use fresh lemon juice, rather than the bottled stuff.
Make this frosting in advance, to make life easier!! It keeps in the fridge for up to 5 days.
Add it to your favorite cake recipe, cupcakes, or even on cookies.
Let Me Know What You Think!
If you try this avocado frosting recipe, please leave a rating and comment below.
Also tag me @chelsweets and #chelsweets so that I can see your baking!
Yield: 4
Avocado Frosting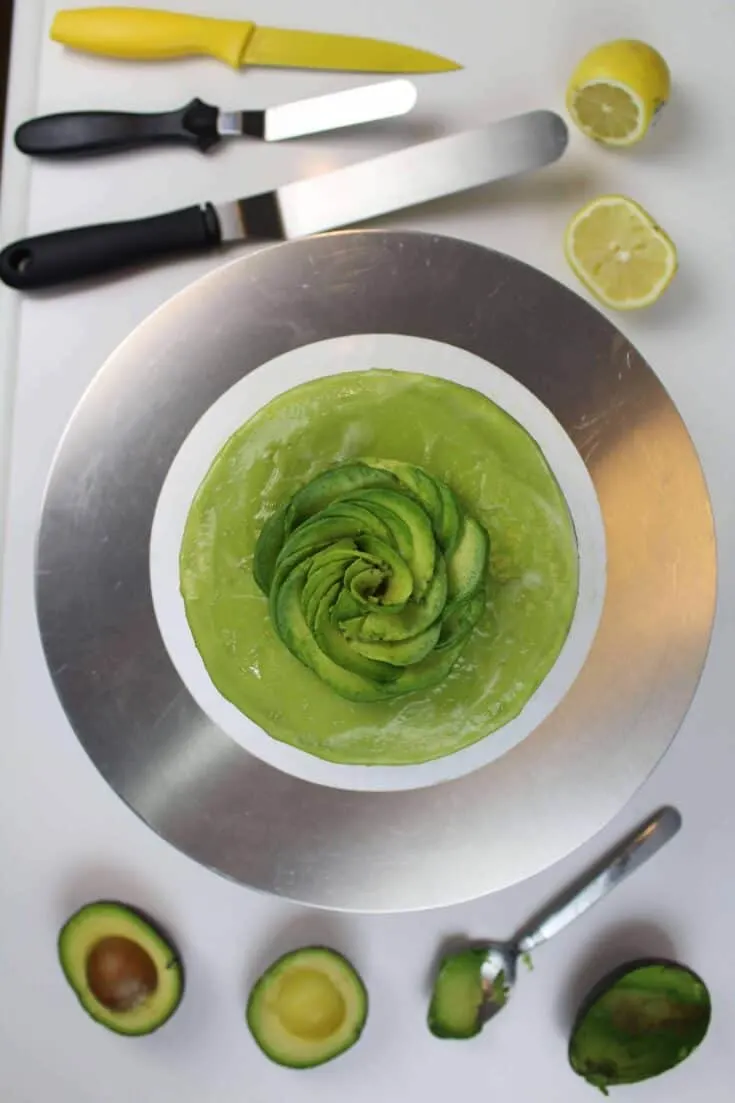 This avocado frosting recipe is the best!! It creamy, and smooth, and surprisingly well-balanced. It's so easy and simple to make, it only require three ingredients! Better yet, since it doesn't include any dairy, it's vegan!!
Ingredients
Avocado Frosting
1 cup ripe avocado meat (8 oz)
3 1/2 cups powdered sugar (454 grams) - or a 1 lb bag
1 Tbsp freshly squeezed lemon juice
Instructions
Slice and remove pit from avocados. Place into mixing bowl, and beat on a low speed using the whisk attachment until relatively smooth.
Mix in lemon juice. This will prevent the avocados from browning.
Gradually mix in the powdered sugar, one cup at a time. Scrap down the sides of the bowl after each addition, to ensure the ingredients are fully incorporated.
This frosting can be made in advance, and stored in the fridge for up to 3 days.
Notes
This recipe makes about 4 cups of frosting.
This avocado frosting can be made ahead of time, and lasts in the fridge in an airtight container for up to 5 days.
Nutrition Information
Yield
4
Serving Size
1
Amount Per Serving
Calories

576
Total Fat

10g
Saturated Fat

2g
Trans Fat

0g
Unsaturated Fat

7g
Cholesterol

26mg
Sodium

26mg
Carbohydrates

117g
Fiber

3g
Sugar

111g
Protein

9g