I have a go-to, moist carrot cake recipe that I would stake my life on. It's moist, has great texture, and has a wonderful balance of flavors. But sometimes you want something a little different, and that's where this spicy carrot cake comes into play.
I decided to spice up my favorite recipe. I experimented with a bit of cayenne and made a spicy carrot cake with a bourbon maple cream cheese frosting.
It has the perfect amount of kick in my opinion, and really adds such a fun spin to this classic flavor.
Yield: 24 slices
Spicy Carrot Cake Base:
2 1/2 cups all-purpose flour
1 Tbsp cayenne powder
1 Tbsp ground cinnamon
2 tsp baking soda
1 tsp salt
3 large eggs
2 1/4 cups sugar
3/4 cup canola oil
3/4 cup buttermilk
2 tsp vanilla extract
2 1/2 cups finely grated carrot
1 (12-ounce) can crushed pineapple, drained
1 1/2 cups chopped pecans or walnuts
Cream Cheese Buttercream Frosting:
8 oz. cream cheese, softened
1 1/2 cups (3 sticks) unsalted butter, softened
10 cups powdered sugar
1/2 tsp salt
2 Tbsp maple bourbon
1 Tbsp Pure Maple Syrup
Step 1: Bake the Spicy Carrot Cake Layers
Preheat oven to 350 degrees Fahrenheit. Line and lightly greasing three eight-inch, round, cake pans. Set the pans aside. Stir together flour, baking soda, salt, cayenne, and cinnamon.
Mix in the eggs, sugar, oil, buttermilk, and vanilla at a medium speed, until fully incorporated. Fold in the carrots, pineapple, and walnuts.
Pour the batter evenly between to prepare cake pans, and bake for 30 minutes, or until a wooden pick inserted in center comes out clean.
Allow the layers to cool for 10 minutes in the pan, then carefully remove them to allow them to finish cooling on a wire rack.
Step 2: Make the Bourbon Cream Cheese Frosting
While the cake layers cool, prepare the cream cheese frosting. Beat the butter and cream cheese, until the mixture becomes light and fluffy (about 2 minutes), then mix in the powdered sugar in several installments on a low speed.
Add in a splash of bourbon between the powdered sugar installments. Add in maple syrup and salt last, and mix on a low speed until fully incorporated.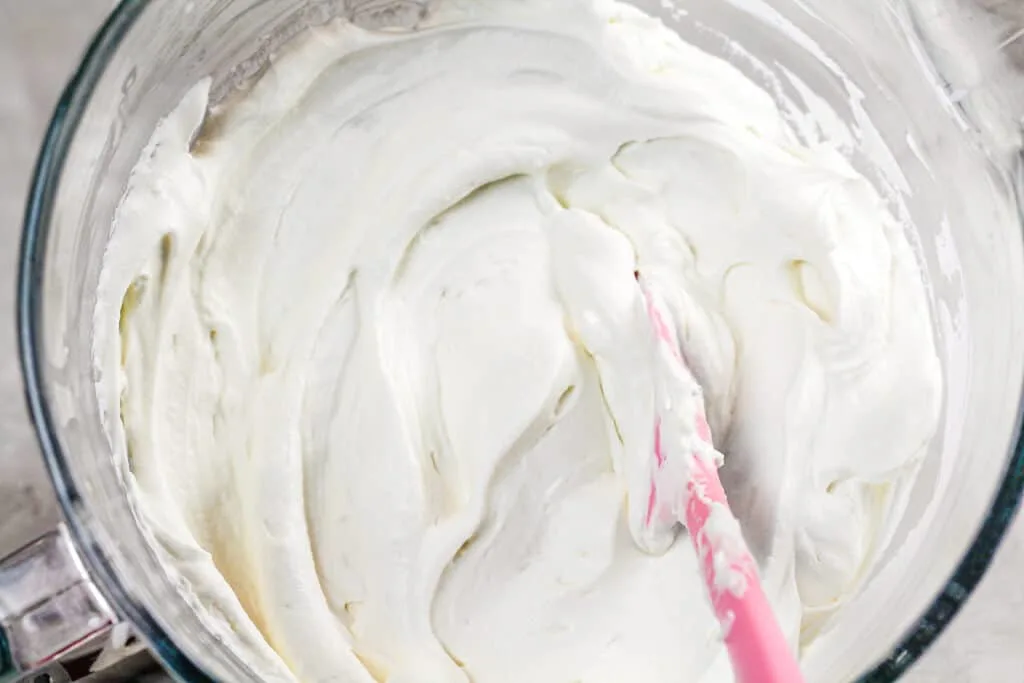 Step 3: Assemble this Spicy Carrot Cake
Once the cake layers are fully cooled, frost each layer with an even layer of frosting, and add a thin crumb coat around the cake.
Chill the cake in the freezer for 10 minutes, until the crumb coat is firm to the touch. Add a second, thicker layer of frosting, and smooth using a bench scraper. Then decorate as desired!
Tips for Making the Best Spicy Carrot Cake
Use a microplane grater to shred your carrots into super fine pieces! It's a bit of extra work, but it gives the cake an amazing texture
Chill your cake layers in the freezer for about 20 minutes before assembling the cake, to make it easier to stack and frost.
Mix your cake batter just until the ingredients are incorporated; this will ensure your cake layers are tender and fluffy
Be sure to properly measure your flour (spoon into the cup measure then level) or use a kitchen scale to measure your dry ingredients
Use a serrated knife to level your cake layers once they're fully cooled, to make it easier to assemble and frost your cake
Making this Spicy Carrot Cake in Advance & Storage Tips
Make your cake layers in advance and freeze them. It breaks the process up and makes it more approachable.
Make your frosting ahead of time too, or save any leftover frosting! It can be stored in an airtight container in the fridge for up to a month, or in the freezer for up to 3 months. Be sure to give it a good stir once it thaws to get the consistency nice and smooth again.
A frosted cake can last in the fridge for up to a week, or in the freezer for up to a month. The buttercream locks in all the moisture, keeping the cake fresh and delicious!
If you cut into the cake and have leftovers, use any remaining frosting to cover the cut section to keep it moist and store in the fridge for up to a week.
Let Me Know What You Think!
If you try my spicy carrot cake recipe, I'd love to hear what think of it! Please leave a rating, and let me know your thoughts by sharing a comment 🙂
Also please tag me @chelsweets, and use the #chelsweets on social media so that I can see your amazing creations!
Other Recipes You Might Like: