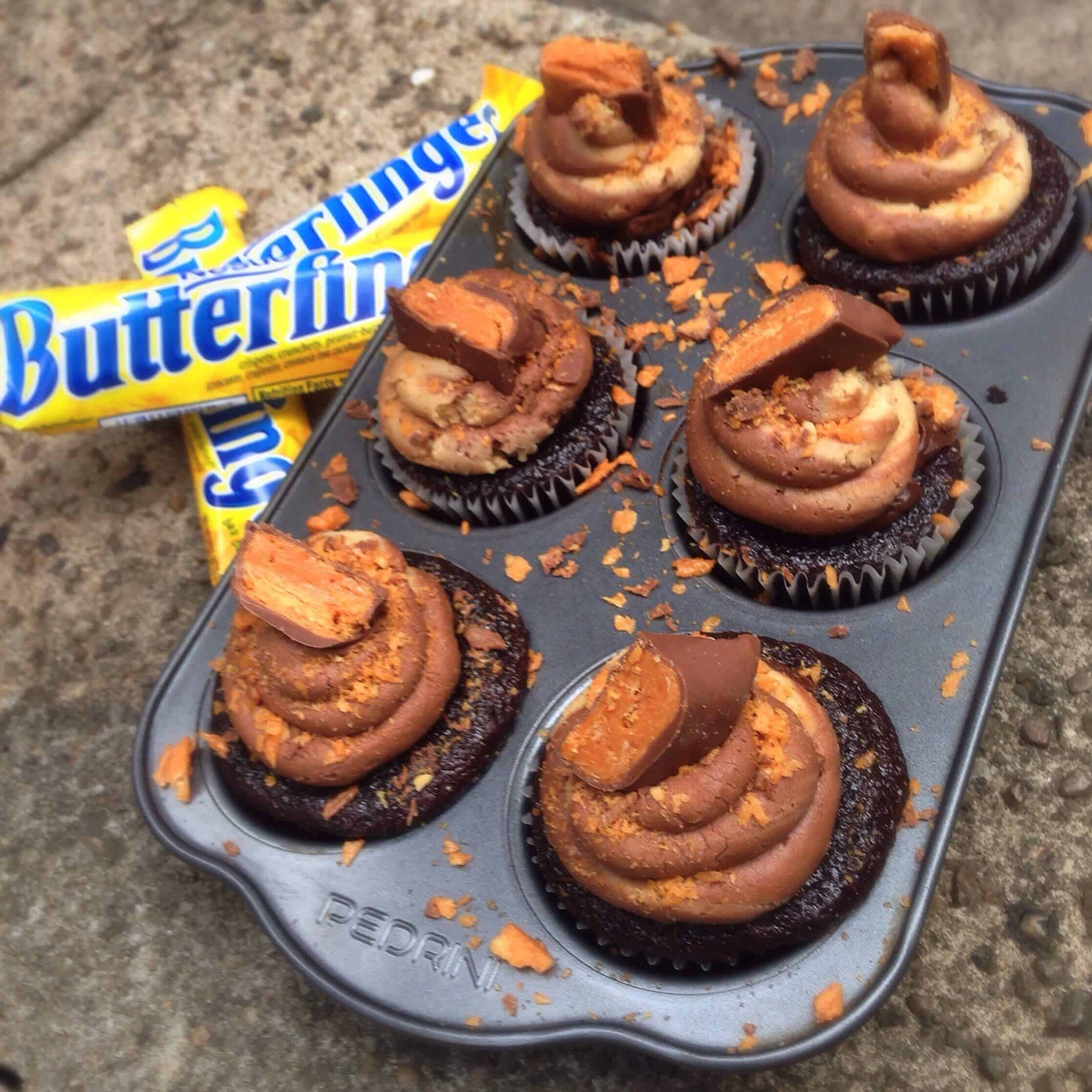 First it was the Milky Way Cake, then the Snickers Cake.…and now it's butterfinger cupcakes!! Why? Because I love candy bars almost as much as I love cupcakes 😀 And who doesn't love the classic combination of peanut butter and chocolate?!
Chocolate Cupcake Base:
4 ounces bittersweet chocolate, finely chopped
1/3 cup Dutch-processed cocoa powder
3/4 cup hot coffee
3/4 cup flour
3/4 cup granulated sugar
1/2 teaspoon salt
1/2 teaspoon baking soda
1/3 cup vegetable oil
2 eggs
1/2 Tablespoon white vinegar
1 teaspoon vanilla extract
Chocolate Ganache Filling:
1/2 cup bittersweet chocolate, finely chopped
1/2 cup heavy cream
pinch of salt
Peanut Butter and Chocolate Buttercream:
1 1/2 sticks unsalted butter, softened
1/2 cup peanut butter
1/4 cup cocoa powder
1 teaspoon vanilla extract
4 cups powdered sugar, sifted
1/4 cup heavy cream
pinch of salt
Yield: 12 cupcakes
Prep Time: 10 minutes
Bake Time: 18 minutes
Cool Time: 1 hour
Assembly Time: 30 minutes
Preheat oven to 350 degrees F. Line a standard-size cupcake pan with liners. Place the chocolate and cocoa powder in a medium bowl. Pour the hot coffee over the mixture, and whisk together until smooth. Set the mixture in the fridge for 5 minutes to cool. Meanwhile, whisk together the flour, sugar, salt and baking soda in a medium bowl; set aside. Whisk the oil, eggs, vinegar, and vanilla extract into the cooled chocolate-coffee mixture until smooth. Gradually add the flour mixture, and whisk until smooth. Divide the batter evenly between the muffin pan cups, filling them about 2/3 full. Bake until the cupcakes are set and just firm to the touch, 17 to 19 minutes. Cool the cupcakes in the pan on a wire rack for 10 minutes, then remove the cupcakes from the pan and place on the wire rack to cool completely, about 1 hour.
For the ganache, bring the cream to a boil. Pour it over the chopped chocolate, and let this sit for a minute. Add salt, and stir mixture for another minute, until fully incorporated. Let this cool and thicken, as you prepare the frosting.
While the cupcakes cool, whip together the peanut butter and chocolate buttercream. Cream the butter and peanut butter, until fluffy (about 2 minutes). Slowly add in the powdered sugar, and continue mixing until well blended. Add in the salt, vanilla, and half of the heavy cream. Reserve 1/2 of the frosting in a separate bowl, and add unsweetened cocoa. Blend on low-speed, and add additional cream until you reach the desired consistency. Beat at high-speed until frosting is smooth and fluffy, about 3 minutes.
Cut the center out of each cupcake, and fill with the cooled ganache. I wanted to pipe both frostings together, and followed the same technique I used to make my rainbow cupcakes. Stripe both frostings onto a piece of saran wrap, and roll up tightly. Twist the ends of the frosting pack. Feed this into a piping bag fitted with a star tip, and pull on of the ends through the frosting tip. Cut off excess plastic, and pipe swirls onto each cupcake.Sprinkle with crushed butterfingers, and top with a broken piece of butterfinger. BAM! If this cupcake doesn't satisfy any chocolate/peanut butter cravings you have, I don't know what will 😀