Busy season ended yesterday. It was pretty brutal, and I needed something to brighten my day. Like most people, I am a big fan of animal cupcakes. Why? Because they're adorable. I had a lot of fun making these Monkey Cupcakes last month, and they inspired me to make these panda cupcakes. Not only are they fun to look at, they taste delicious too! The cupcake base is incredibly moist and fluffy, which are two things I always hope for when I bite into a cupcake. And the vanilla buttercream? Simple perfection.
Chocolate Cupcake Base:
4 oz. bittersweet chocolate, finely chopped
3/4 cups hot coffee
3/4 cups flour
3/4 cups sugar
1/2 Tbsp baking powder
1/2 Tbsp vinegar
1/2 tsp. vanilla
1/2 tsp. salt
2 eggs, room temperature
2/3 cup canola oil
Vanilla Buttercream:
1 cup butter (2 sticks), room temperature
4 cups powdered sugar
1 tsp vanilla
1/4 cup heavy cream
1/2 tsp. salt
Decoration:
white sugar sprinkles
brown sprinkles
large chocolate chips (Ghirardelli Chocolate Chips work the best!)
Servings: 12 cupcakes
Bake time: 12-15 minutes
Preheat oven to 350 degree Fahrenheit. Pour hot coffee over chocolate, and let this sit for a minute. Stir until the chocolate is fully melted, then add in the sugar, flour, and oil. Mix until fully combined, then mix in eggs, one at a time. Add vanilla, baking powder, salt, oil, and vinegar, and mix until incorporated. I mixed by hand, but you can also mix with a hand mixer. Pour batter into lined cupcake pans, filling each liner 2/3 full. Bake for 12-15 minutes, until the cupcakes are just baked through, and a toothpick inserted in the center comes out clean. Remove the cupcakes from pans, and let them cool on a wire rack.
Once the cupcakes have cooled, prepare the vanilla buttercream. Whip the butter in a large bowl with an electric mixer, until it is fluffy. Slowly incorporate the powdered sugar, adding it in multiple installments. As the frosting thickens, add salt and vanilla. Continue to mix, and add cream until desired consistency is reached.
Once the cupcakes are fully cooled, pipe on frosting using a large, round tip.Dip the frosted cupcakes into a bowl of white sugar sprinkles, making sure that the entire surface of the frosting is covered in sprinkles. Place two large chocolate chips on the upper third of the cupcake for the eyes, pointy side down. Add a mini dollop of frosting for the whites of the eyes, and a dot of black frosting or black sprinkles for the pupils. Place two chocolate chips on the the upper edge of the frosting, for the ears. Put a chocolate chip into the center of the cupcake sideways, for the nose. Using brown sprinkles, make the mouth of the panda. That's the fun part, you can make the pandas have whatever expression you chose 😀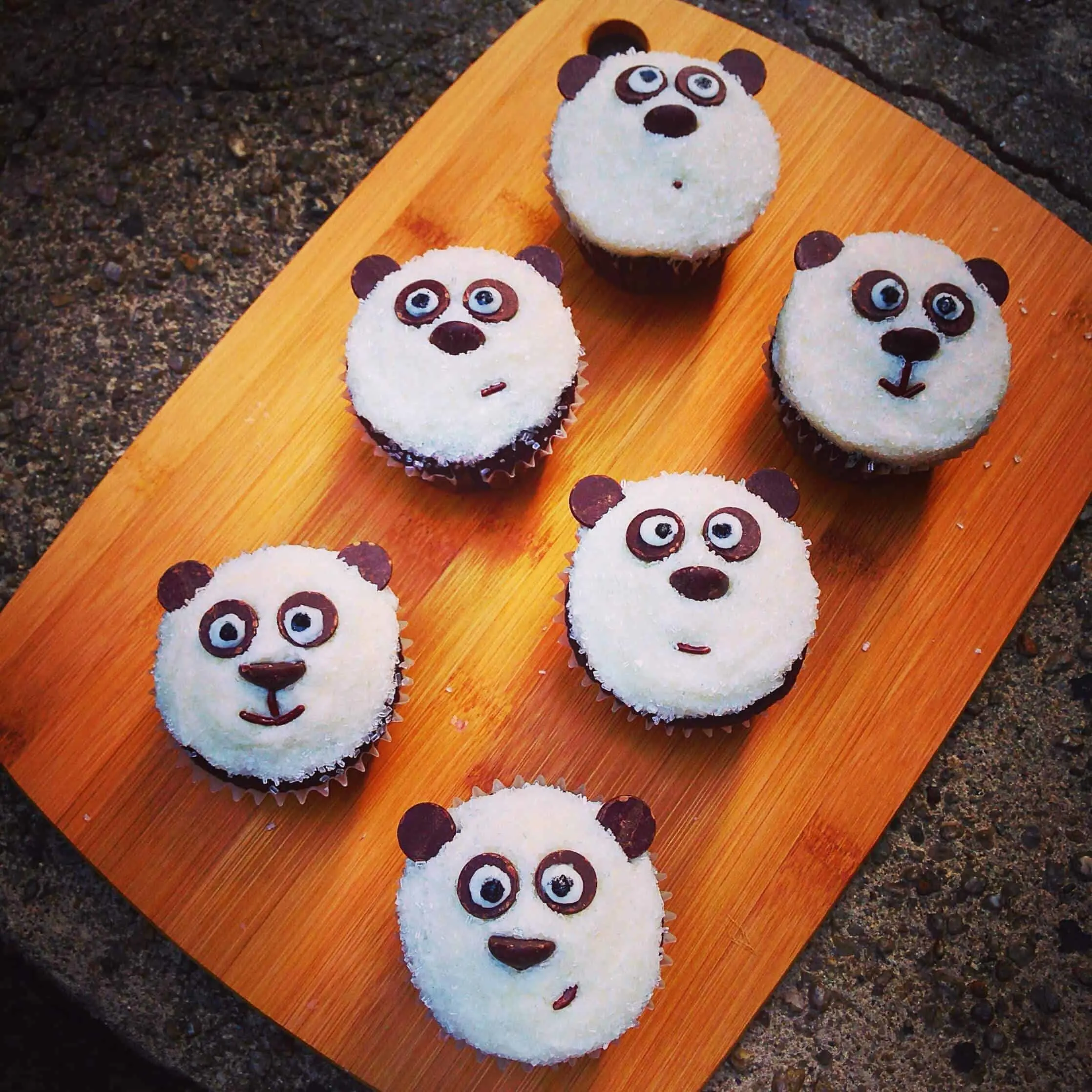 And TAH-DAH! If these little guys can't brighten someone's day, I don't know what will!