I don't usually hop on baking trends, but these 5 ingredient peanut butter cookies were too difficult to resist!!
After seeing this recipe in a ton of videos on TikTok I finally decided to try my hand at them.
I have no clue who came up with the original recipe, but if you know please share in the comments section below so I can credit them.
The fact that they're made with only 5 ingredients AND require no chill time made me think they'd be too good to be true.
They also are technically gluten free because this recipe uses no flour! I was skeptical to say the least, but I gathered my ingredients and went to work.
I'm happy to report they're just as incredible as all the videos make them seem!!
My First Batch
I whipped up my first batch in literally a few minutes, and popped them into my oven once it was warm enough.
The batter came together so quickly I had to wait for my oven to fully preheat before I could bake them!
I used my favorite creamy peanut butter, which worked great! You can also use a crunchy peanut butter if you want these cookies to have a bit more texture.
For the chocolate chips, I used a mix of jumbo dark and milk chocolate chips. I love using big pieces of chocolate because they create massive pools of melted chocolate in each cookie.
Chocolate chunks would also work great, or you can also use regular chocolate chips.
Bake Time
The bake time for these cookies can vary a bit based on the type of peanut butter you use, how large of cookie dough balls your roll, and your oven.
I found my cookies were done after about 9 minutes, but bake time can vary between 8-10 minutes. Keep an eye on them!
I also prefer my cookies soft and chewy, but if you like yours crispy you can leave the in the oven a couple minutes longer.
Making These 5 Ingredient Peanut Butter Cookies Even Prettier
While taste is always my top priority, I really do believe we eat with our eyes first!
To make these cookies even prettier, I like to press a few additional chocolate chips on top of my cookies as soon as I take them out of the oven.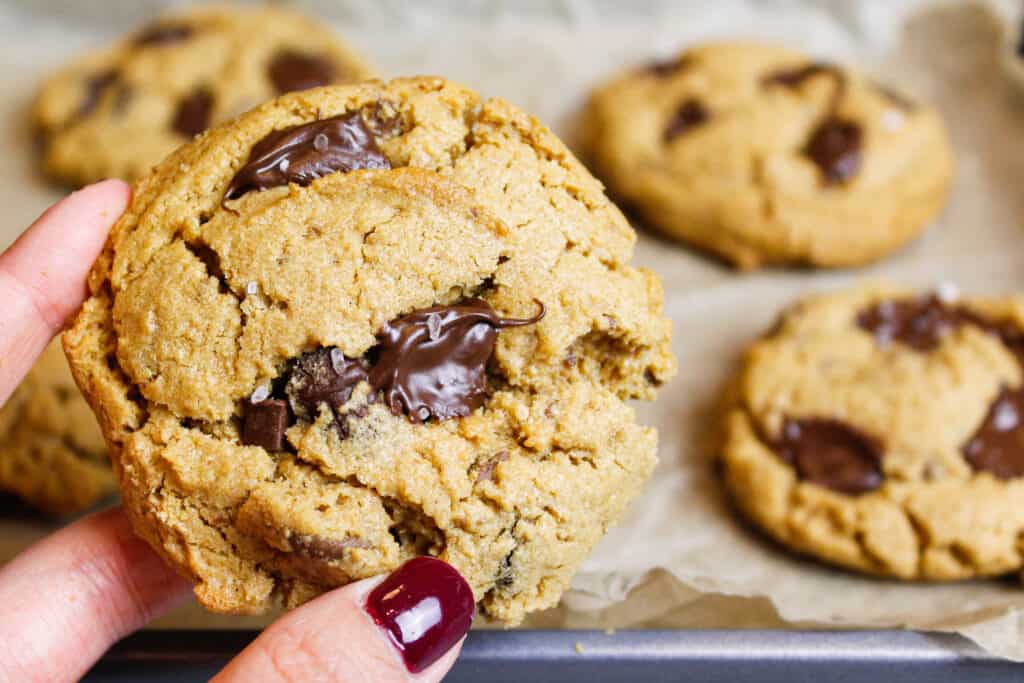 It makes giant pools of chocolate on top of each cookie that look so gorgeous.
I also decided to jazz these cookies up with a sprinkle of sea salt. It really emphasizes the salty sweet contrast in these cookies, and it looks great too!
My Opinion of These Cookies
I taste tested these cookies while they were still a little warm with an ice cold glass of milk.
They're are packed with peanut butter flavor, and the sprinkle of sea salt really takes them to the next level.
The pools of melted chocolate aren't too bad either! Something about chocolate and peanut butter together is so wonderful.
The only only downside is that they are a bit delicate!! Be careful as you transfer them to a wire rack to cool, or if you try to eat them when they're hot. They kind of fall apart in your hands if they're still warm.
But considering the simplicity of this recipe, I'm incredibly impressed. These cookies are so delicious and this is honestly one of the easiest recipes I've ever made.
Tips for Making the Best Peanut Butter Cookies:
Use a peanut butter or nut butter that doesn't separate easily! Some natural peanut butters can cause the cookies to spread more and not bake up as well
Use a cookie scoop to make sure each cookie is the same size
Press a few additional chocolate chips onto the top of your cookies when they're fresh out of the oven
Sprinkle some sea salt over the baked cookies to really amp up their flavor
You can use dark or light brown sugar in this recipe, or regular granulated sugar if you don't have brown sugar on hand
If you don't have an egg, try adding it 1/4 cup of applesauce or a neutral tasting oil (like canola or vegetable)
Let Me Know What You Think!
If you try this 5 ingredient peanut butter cookies recipe, I'd love to hear what think of it! Please leave a rating, and let me know your thoughts by sharing a comment.
Other Recipes You Might Like:
Yield: 12
5 Ingredient Peanut Butter Cookies
This 5 ingredient peanut butter cookie recipe is incredibly easy to make, and requires no chill time! They're practically fool-proof!!
Ingredients
Peanut Butter Chocolate Chip Cookies
1 cup light or dark brown sugar, packed (200 grams)
1 large egg (56 grams)
1 cup peanut butter (240 grams)
1 tsp baking soda (6 grams)
1/2 cup milk or dark chocolate chips (95 grams)
Additional Decorations (optional)
1/4 cup chocolate chunks
1/2 tsp coarse sea salt
Instructions
Preheat oven to 350 F / 175 C.
Cream together the brown sugar and egg with a hand mixer or stand mixer at a medium speed for a minute, until well combined. If you don't have an electric mixer, give this a good whisk by hand!
Add the peanut butter, baking soda, and milk chocolate and mix on a low speed until the cookie dough is smooth and no clumps of brown sugar remain.
Scoop or roll 12 cookie dough balls (about 1 1/2 tablespoons each) and place on a cookie sheet lined with parchment paper or a silicone mat.
Bake for 9-10 minutes.
Remove from oven. Press a few additional chocolate chips on top of the cookies and add a sprinkle of sea salt.
Let the cookies cool on the baking sheet for 5 minutes before transferring to a wire rack to finish cooling.
Notes
No chilling required!! This dough can be scooped and immediately put into the oven to bake.
If made in advance, the dough can be rolled into 1 inch balls and chilled in the fridge for up to a week, or kept in the freezer for up to a month.
The dough can be baked straight from the fridge or freezer, just add a couple extra minutes to the bake time.
Nutrition Information
Yield
12
Serving Size
1
Amount Per Serving
Calories

233
Total Fat

13g
Saturated Fat

4g
Trans Fat

0g
Unsaturated Fat

8g
Cholesterol

17mg
Sodium

323mg
Carbohydrates

25g
Fiber

2g
Sugar

20g
Protein

6g