It all started out as a simple idea to make some quick yeast cinnamon rolls for Christmas morning. They tasted good and were fluffy and soft, but I wasn't 100% satisfied.
That's when I began making cinnamon rolls every Saturday. It was a quest to create the ultimate cinnamon recipe.
I wanted it to be quick to make (pretty much a 1 hour cinnamon roll recipe), relatively easy for a home baker (could be made by hand), and I wanted them to taste so delicious that you went back seconds.
The ultimate stamp of approval was getting a thumbs up from my husband, who is a notoriously picky eater.
Throughout these trials and tribulations, I learned a lot. Below are the key things you need to know to make your own, drool-worthy cinnamon rolls.
How Much Flour Am I supposed to Use??
The first thing that confounded me was the amount of flour. As you can see on the recipe card, it isn't a set amount.
I tried so hard to find the perfect amount, but the truth is it will vary batch to batch, and kitchen to kitchen.
I've made these by hand, in a stand mixer, here in NYC, and in my childhood home in Seattle. Each time I use a slightly different amount of flour.
Now, the amount of flour you start with is set, at 3 1/2 cups of all-purpose flour.
But you add in your wet ingredients and a sticky dough ball begins to form, you will likely need to add in additional flour.
I do this as I knead the dough, and add in a Tablespoon at a time. You need enough to create an elastic, workable dough that you can roll out.
However, if you add too much flour you can end up with dense, chewy cinnamon rolls.
This is why it's a range. When using my stand mixer, I usually add in about 4-6 additional Tablespoons as the dough is kneaded.
But in some batches I've used less, and in a few I've used the full additional 1/2 cup of flour.
Making These Quick Yeast Cinnamon Rolls: By Hand vs.Stand Mixer
My first couple batches of cinnamon rolls were made when I was home for the holidays, and I didn't have a stand mixer.
This recipe can be made by hand or with a dough hook / stand mixer.
This recipe is definitely easier to make using a stand mixer, but a little elbow grease never hurt anyone.
Whichever method you use to make the dough, just be sure to knead or mix the dough until it gets an elastic texture, and pulls away from the bowl or counter.
Once you get to this point, stop and let the dough rest for about 5 minutes.
If you continue to work the dough, the gluten strands can become too tight. Just like adding in too much flour, this can also lead to dense cinnamon rolls.
It's pretty easy to sense when the dough is ready if you're kneading by hand.
However, if you're using a stand mixer, keep a close eye on your dough to ensure you don't accidentally overwork it.
Giving These Rolls a Bit of Height
When I think about cinnamon rolls, I want them tall. Like Cinnabon tall!
In my opinion, they should be at least 2 inches tall once they're baked. To give these cinnamon rolls that kind of height, I roll my dough out to be 18 inches long.
Yes, I use a ruler to make sure I get the dimensions right. It also helps me cut each cinnamon roll to be the exact same size 🙂
I didn't go to all the effort of making homemade cinnamon rolls just to cut them different sizes and have them bake up unevenly 😛
I also only cut 9 cinnamon rolls from the rolled dough. This means they're 2 inches tall before they rise and bake up.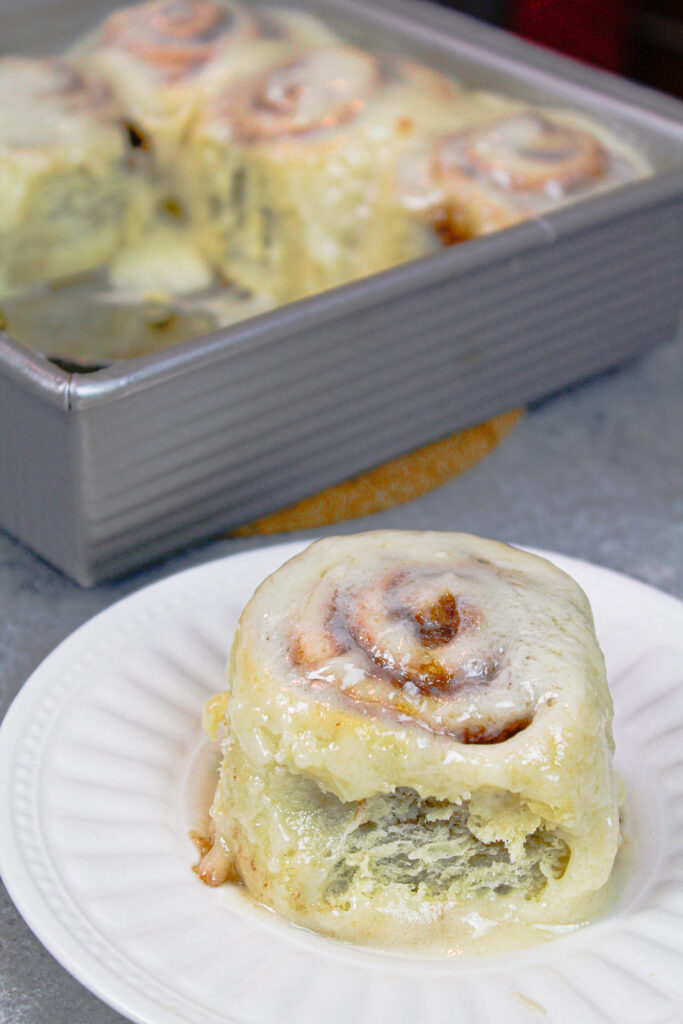 I rarely am making breakfast for more than 9 people, so this works great for me.
However, if you need to feed more people, you can cut the dough into more pieces. Just be forewarned that they will end up being shorter than mine.
The Assisted Rise
Another thing that helps these cinnamon rolls turn out soft, fluffy and tall is an assisted rise.
This recipe actually uses your oven to help the yeast rise. Don't worry, the oven is preheated at a low temperature (200 degrees F), and then turned off before you place the cinnamon rolls in there to rise.
Below is a picture of my quick yeast cinnamon rolls before popping them into the oven to rise.
The cinnamon roll pan is also covered with foil, to ensure no actual baking takes place.
I love this method, because in the winter my house is always cold. It's almost impossible to find a warm spot for the cinnamon rolls to rise.
No matter what temperature your kitchen is, your cinnamon rolls are guaranteed to rise and puff up with this method.
You also know how long it will take for them to rise (about 30 minutes), rather than anxiously checking on them every 10 minutes to see if they've risen.
The Best Way to Cut a Cinnamon Roll: Dental Floss
Now I know this sounds weird, but I highly recommend having some floss on hand to help cut your cinnamon rolls.
Most knives don't cut the rolls as cleanly and tend to kind of smush the cinnamon roll log.
On the other hand, if you use a piece of floss it cuts through the dough smoothly. It takes hardly any effort, and you get perfectly cut cinnamon rolls every time!!
Try it just once, and you'll never look back.
And if you only have mint dental floss on hand? Don't worry! I tried this with mint flavored dental floss, and my husband had no clue. I also couldn't tell 🙂
The Best Cinnamon Roll Icing
The finishing touch on any cinnamon roll has to be the cream cheese icing.
A cinnamon isn't complete without a topping that is a bit tangy, mouth-wateringly sweet, and melted everywhere.
While I was tempted to just top these with my cream cheese buttercream, I actually created quite a different topping for these cinnamon rolls.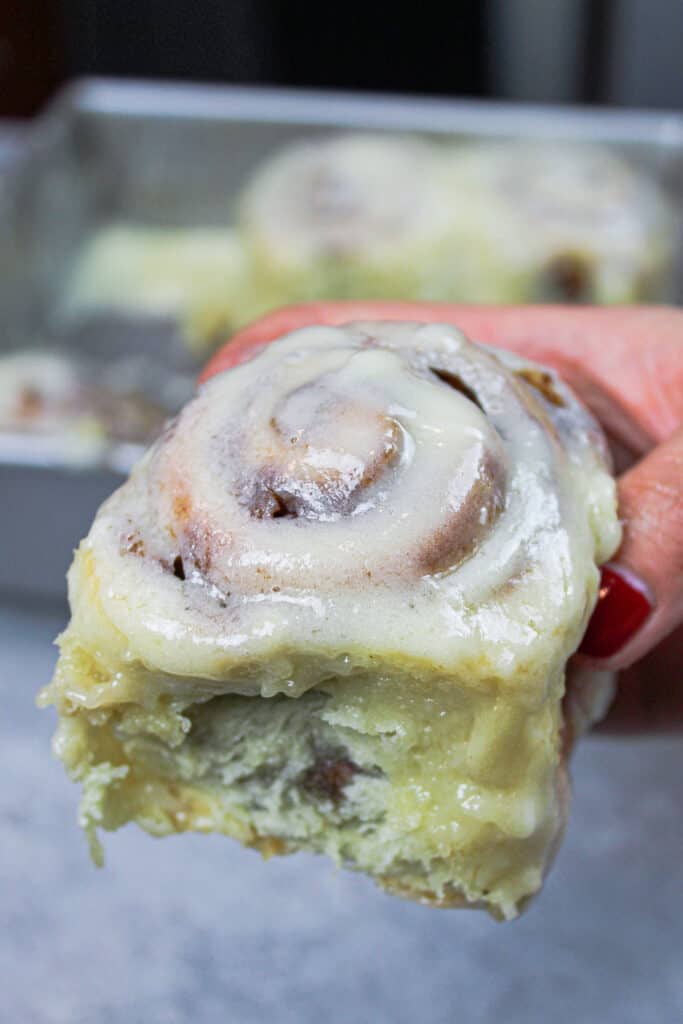 I found that I preferred using a 2:1 ratio of cream cheese to butter, to help that cream cheese flavor shine through.
It also is important to get the consistency right.
You want the frosting to be thick enough to spoon onto each cinnamon roll, but thin enough that it will melt over every inch of your cinnamon rolls.
This cinnamon roll icing uses 2 1/2 cups of powdered sugar to make it nice and sweet, and it's thinned out with some heavy cream and vanilla extract.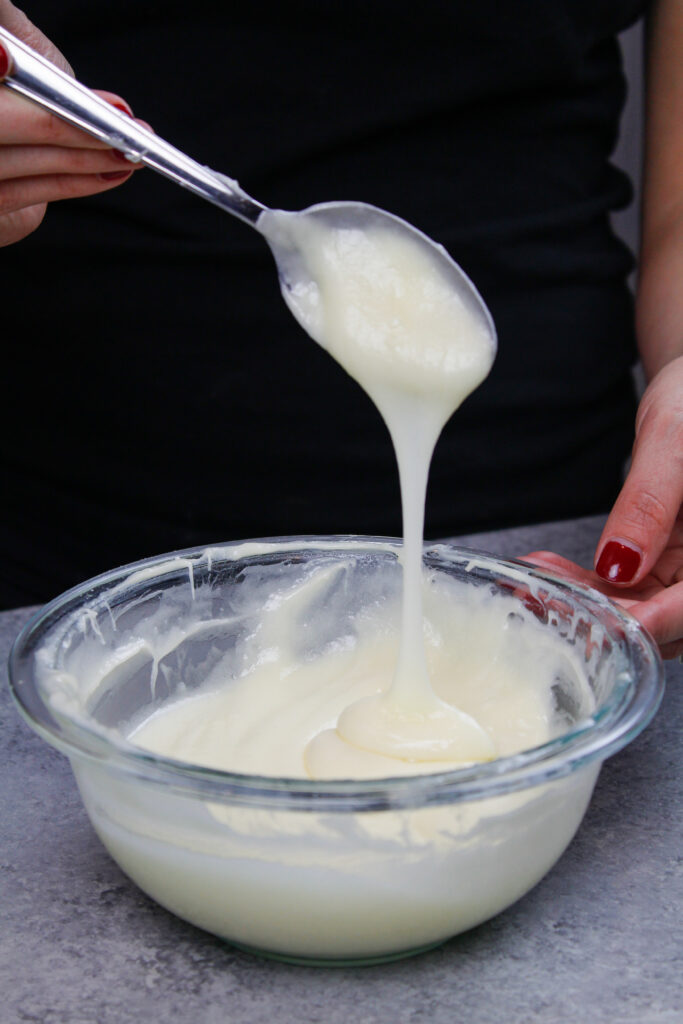 Tips for Making the Best Homemade Cinnamon Rolls:
Don't overwork the dough! Knead it just until it becomes elastic and easy to handle.
Use a ruler to make sure your dough is the right size (10in x 18in), and to cut even pieces
Use dental floss to easily cut each cinnamon roll, rather than a knife
Let the cinnamon rolls cool for 5-10 minutes, then add the frosting. This will allow it to perfectly melt over your cinnamon rolls
Only cut 9 cinnamon rolls from your log, to create tall and fluffy cinnamon rolls
Bake the cinnamon rolls in a greased, square pan (mine is 8in x 8in)
Let Me Know What You Think
If you try this recipe for quick yeast cinnamon rolls, I'd love to hear what you think! Please leave a rating and a comment with your thoughts.
You can also tag me on social media @chelsweets or use #chelsweets, so I can see you creations!!
Yield: 9
Quick Yeast Cinnamon Rolls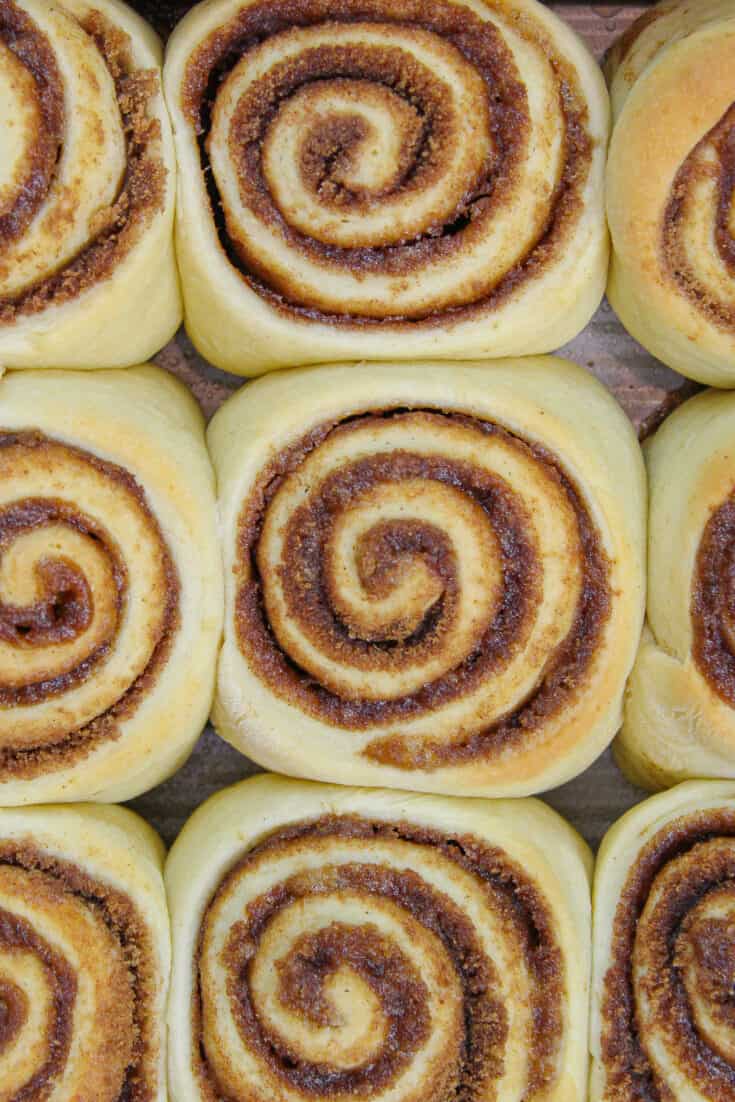 These quick yeast cinnamon rolls are ready in 1 hour, & are soft and fluffy, with gooey centers! They're frosted w/ a cream cheese icing that is to die for!!
Additional Time
20 minutes
Total Time
1 hour
3 minutes
Ingredients
Quick Yeast Cinnamon Roll Dough
3 1/2 cups all-purpose flour + up to 1/2 cup addition flour (added later in process) (455-520 grams)
2 1/4 tsp or 1 packet instant dry yeast (7 grams, 1/4 oz.)
1/2 cup sugar (100 grams)
1 tsp salt (6 grams)
1 cup whole milk (245 grams)
1/4 cup butter, at room temperature (56 grams)
1 egg, at room temperature and beaten (56 grams)
Cinnamon Roll Filling
1/4 cup unsalted butter, softened (56 grams)
3/4 cups packed light brown sugar (150 grams)
1 1/2 Tbsp ground cinnamon (9 grams)
2 tsp cornstarch (optional, but helps the filling stay in place while the rolls bake)
Cream Cheese Frosting
1/4 cup full fat cream cheese (2 oz), room temperature (56 grams)
1/4 cup unsalted butter, room temperature (56 grams)
1 1/2 cups powdered sugar (190 grams)
1/4 tsp salt (>1 gram)
2 Tbsp heavy cream (30 grams)
2 tsp vanilla extract (8 grams)
Instructions
Cinnamon Roll Filling
While the dough rises, make the cinnamon roll filling.
In a medium sized bowl, mix together 3/4 cups packed light brown sugar, 1 1/2 Tbsp ground cinnamon, and 2 tsp cornstarch.
Set aside.
Cinnamon Roll Dough
Preheat your oven to 200 degrees F.
In a large bowl or the bowl of a stand mixer, combine 3 1/2 cups of flour, 1 packet instant dry yeast, and 1 tsp salt.
In a separate bowl, add 1 cup milk, 1/4 cup softened butter, and 1/2 cup granulated sugar into a microwave safe bowl.
Heat on high power for 75 seconds, until the mixture is warm to the touch.
Stir to combine the ingredients.
Add 1/3 of the warm milk mixture into the flour mixture at a time, mixing on medium speed with a dough hook between additions.
Add in the beaten egg, and mix on a low speed until a sticky dough ball forms.
Continue to mix on a low speed for 2-3 minutes, until the dough becomes more elastic.
As the dough mixes, add additional flour, 1 Tbsp at a time until the dough begins to leave the sides of the bowl. I like to add in a Tbsp at a time, to get just the right amount.
Cover your bowl with plastic wrap, and set aside to allow the dough to rest for 5 minutes. The plastic wrap should fog up a bit from the warmth of the dough.
Place the dough on a lightly floured surface, and roll it into a large rectangle 10 inches x 18 inches. Is should be about 1/2 cm thick.
Spread 1/4 cup of softened butter over the dough, leaving 1 inch of dough on the long side of the rectangle uncovered (this will help you seal off the roll and keep it tight).
Sprinkle the cinnamon roll filling (instructions above) evenly over the buttered area.
Tightly roll the dough horizontally, toward the uncovered strip.
Cut dough log into 9 equal pieces (you can cut it into more pieces if you want smaller/shorter cinnamon rolls), and place in a greased square pan (mine is 8in x 8in).
Turn the oven off! I REPEAT, TURN THE OVEN OFF.
Cover the cinnamon roll pan with foil and place in a the oven for about 30 minutes (until the cinnamon rolls have risen).
Remove from the oven and take off the tinfoil. Turn the oven back on, and heat to 350 degrees.
Bake for 28-32 minutes, or until rolls are golden brown.

Cinnamon Roll Frosting
To make the frosting, stir together the softened 1/4 cup of cream cheese and 1/4 cup of butter with a spoon or stand mixer.
Add in the 1/4 tsp salt and 2 tsp vanilla extract.
Stir in 1 cup of powdered sugar, then add in the 2 Tbsp of heavy cream. Mix in the remaining 1/2 cups powdered sugar, and stir until the frosting is smooth.
Let the cinnamon rolls cool for 5 minutes, then spoon the frosting over each cinnamon roll.
Serve warm.

Notes
Be sure you are using instant yeast! It comes in tiny packets that can usually be found in the refrigerated section of your grocery store.
Making These Cinnamon Rolls in Advance:
If you want to make these quick yeast cinnamon rolls ahead of time, be sure to use regular yeast rather than instant yeast, and double the amount (some of the yeast may be damaged when frozen, so doubling the amount ensures your cinnamon rolls will rise properly). Freeze the cinnamon rolls after they have been cut and proofed in a greased pan.
Cover the cinnamon rolls with an airtight lid or plastic and freeze for up to a week. To thaw, take them out 2 hours before you plan to bake them, and then follow the recipe to bake.
Recipe Yield
If you want to make smaller cinnamon rolls, cut the rolled dough into 12 pieces.
Nutrition Information
Yield
9
Serving Size
1
Amount Per Serving
Calories

579
Total Fat

21g
Saturated Fat

12g
Trans Fat

0g
Unsaturated Fat

7g
Cholesterol

74mg
Sodium

412mg
Carbohydrates

91g
Fiber

2g
Sugar

46g
Protein

8g